The market is flooded with on-the-go bars, so today I am narrowing it down to my current top 5 Paleo Bars.
I know that real foodists say you never need a bar to make it through life, but the realists say that yes. you. do. because, well, life. Life and the day-to-day are not slowing down anytime soon, so having the best options at your fingertips is crucial.
I could have easily chosen 10 or more, but for simplicity's sake, I stuck with 5.
Top 5 Paleo Bars
Click HERE to save these for later.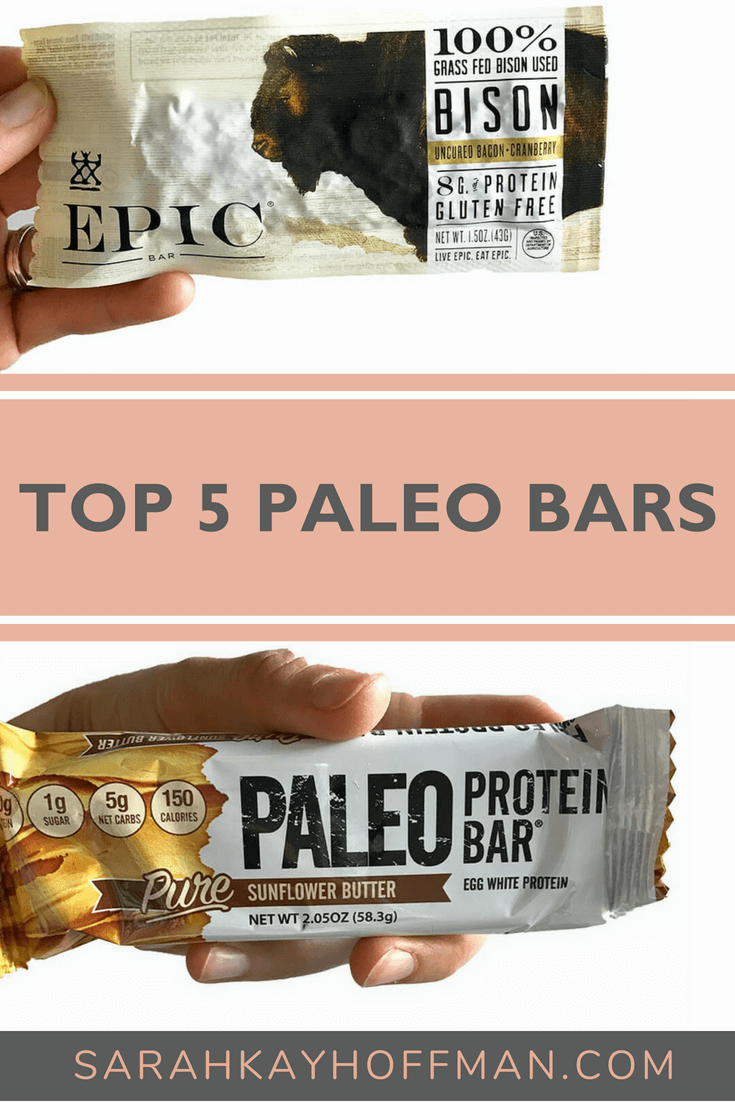 I tried this bar for the first time at Expo West this year and fell in love. Sadly, I haven't been able to get my hands on any since. It's on the "to get" list.
Facts:
70 calories
3 grams of sugar
8 grams of protein
Ingredients: Organic grass fed beef, organic uncured bacon, organic dried apples, organic cane sugar, organic honey, sea salt, organic molasses, organic spices, cultured celery powder, organic garlic powder, lactic acid culture starter
Wondering where you can get these? Click HERE, and see tab "Find a Store." (Don't want to do that? Then I'll help you. They are available at Fresh Thyme, HyVee – yay! for my Minnesota friends!, PCC Natural Markets, Whole Foods, Sprouts, Kings, new Seasons Market, Wheatsville Food Coop, 7 Eleven, Natural Grocers, Heinen's, Ingles, Earth Fare, Earth Origins, Plaid Pantry Convenience Stores. They are also available online at Amazon.com, Amazon Fresh, Organic Prairie, Fresh Direct, Jet, and Thrive Market.)
I know, I know. I keep on talking about this one, but I'm obsessed. There are only 2 downfalls with them…..one is that they are a little hard to chew. You really have to work at it. And the other is the price. It seems a little steep to pay almost $30 for 12. But still. I just can't get enough.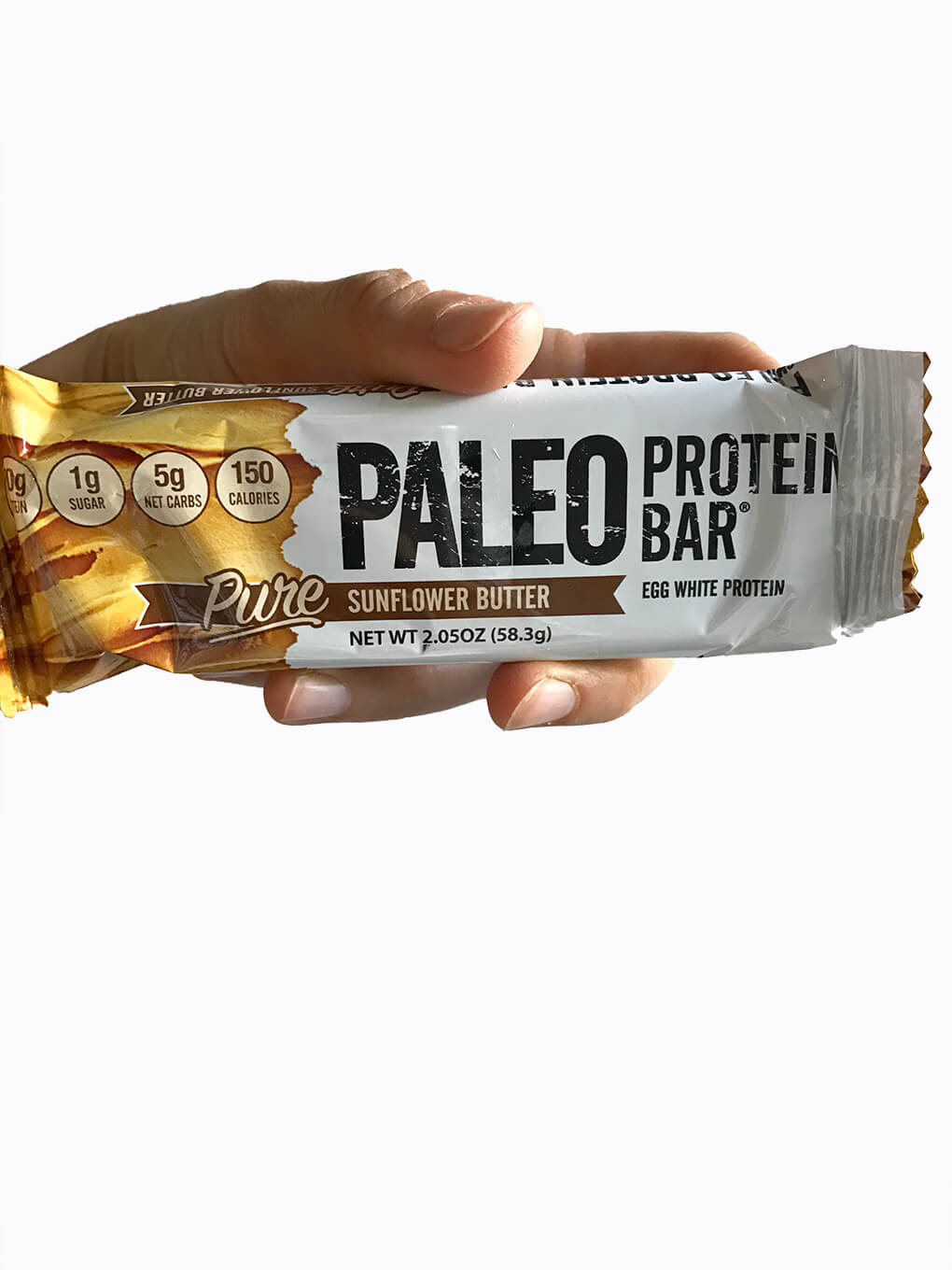 Facts:
20g Egg White Protein (Vegetarian) No Added Sugar 1g (Monk Fruit Sweetened)

1 Bar= 150 Calories, Complete Protein Meal Replacement (Creamy) (Taste Like PB)

Organic Prebiotics Improves Digestion, Curbs Appetite Up To 4 /hrs (GMO/Soy Free)

Made In A Dedicated Gluten Free Facility (5 Net Carbs)

Ingredients: Egg Whites (From USA Cage Free Chickens), organic sunflower butter, organic prebiotic tapioca fiber, monk fruit
I love this combination of lamb and veggies, though, I will admit that eating lamb too often is hard for me to do. I don't know why, but lamb is one of the only animals I have a hard time with. That said, it's one of my favorite meat flavors, so when I do have it, I always make sure it's sourced as premium as possible. These bars are.
Facts:
Allergen-Friendly: nightshade-free, nut-free, dairy-free, gluten-free, grain-free, soy-free

Paleo, Primal, Whole30, AIP (AutoImmune Protocol) Compliant

No added sugar, No added chemicals, No added hormones, No added antibiotics

Great for kids, traveling, hiking, biking, Crossfit or athletic snacks

Family-run business; produced with only U.S. lamb in our own facility in Colorado, USA

Ingredients: Natural Lamb, Organic Vegetables, & Fruit (Spinach, Apricots, Dates, Garlic, Celery, Onion), Sea Salt, Oregano, Rosemary, Turmeric
This is the only one on the list that is not a bar but don't fault me for technicalities. You will love this one, and if you need another great AIP travel snack option, this will be your jam.
Facts:
Made WITHOUT: Artificial Preservatives, Gluten, Added Sugars, Soy, Antibiotics or Added Hormones

Ingredients: Pasture Raised Chicken, Date Syrup, Pineapple Juice, Apple Cider Vinegar, Rosemary, Ginger, Garlic, Sea Salt, Lemon Juice
Epic has so many different bars and meat sticks, and even though I've totally been digging their Turkey Strips, I still have to give my top pick to the bar.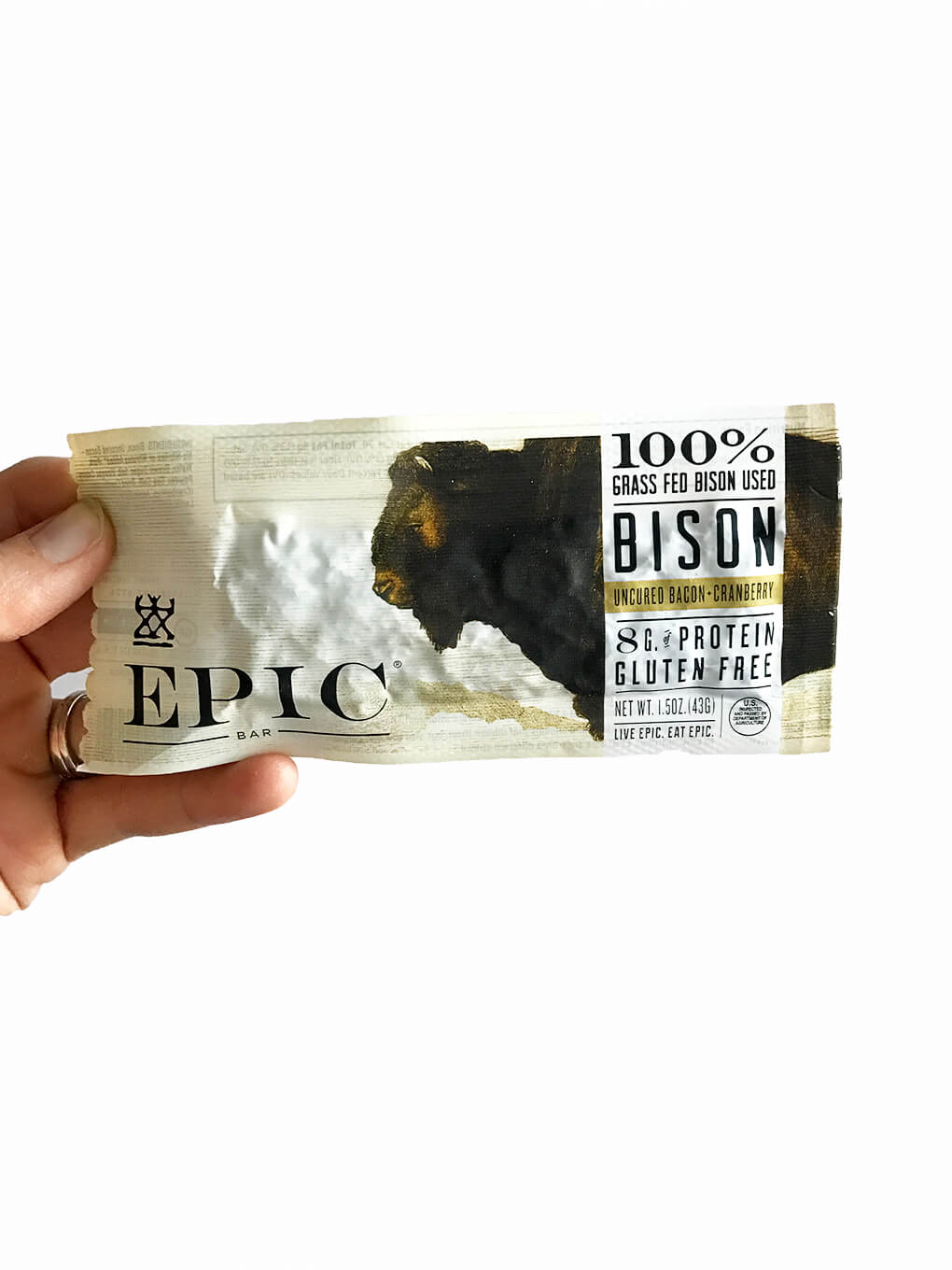 Facts:
The Bison Bacon bar delivers a substantial serving of 100% grass fed and organic buffalo, brilliantly combined with humanely certified uncured bacon

Tender bison, savory bacon, and tart cranberries combine to create an epic tasting bar unlike anything you have experienced

Enjoy a 1.5-ounce bison bar

An epic source of omega-3s, cla, vitamin B12, vitamin E, antioxidants, gluten free, paleo friendly, no sugar added food

Ingredients: Bison, uncured bacon, pork, water, brown sugar, salt, vinegar, celery powder, cranberries, apple juice concentrate, lactic acid, sea salt
Like I said, I have more favorites beyond these top 5, so here are my two current "honorable mentions:"
Those are my top "meat" Paleo bars ones. I do enjoy the likes of
Larabar
,
Simple Squares
, etc., but for me, those are more sweet treat and dessert by nature than the ones above (minus the Paleo Bar). That said, if you'd like me to put together a list around them, I am more than happy to!
What are your favorite Paleo bars?
Xox,
SKH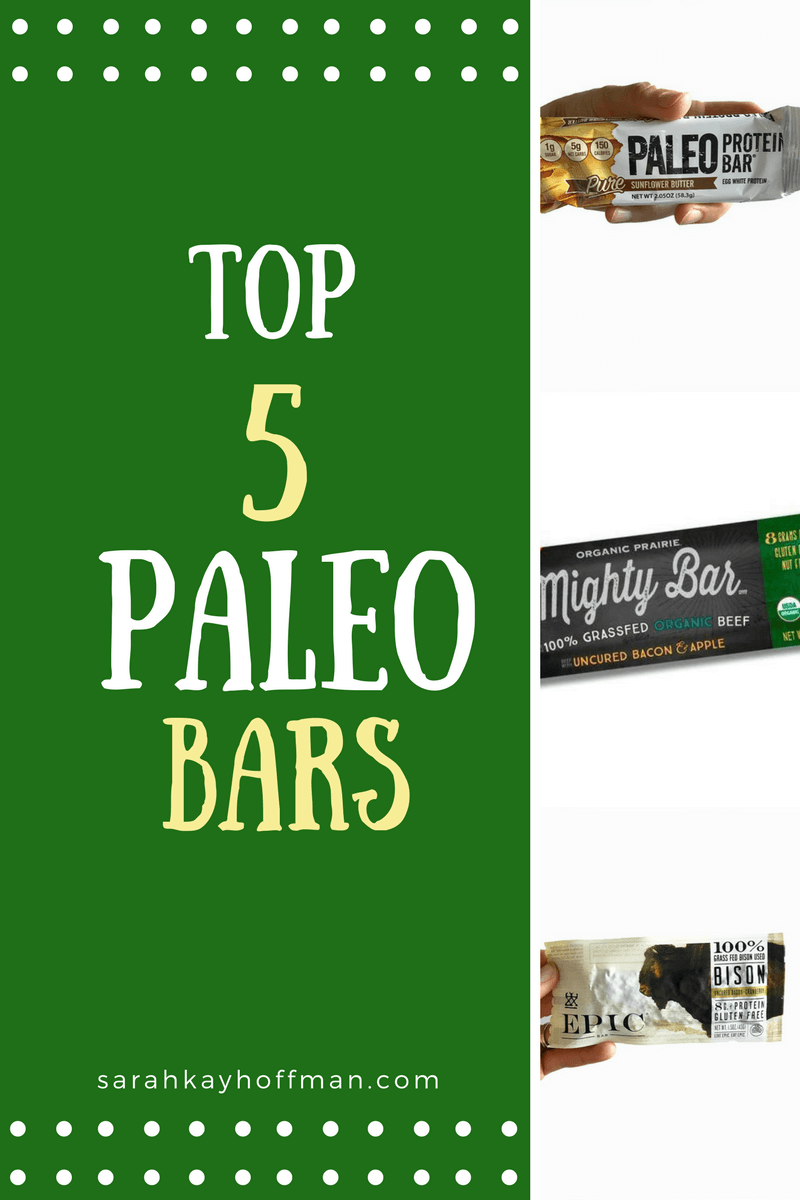 You will heal. I will help.