Darling, I'm here to teach you how to make my Apple Cider Instant Pot recipe.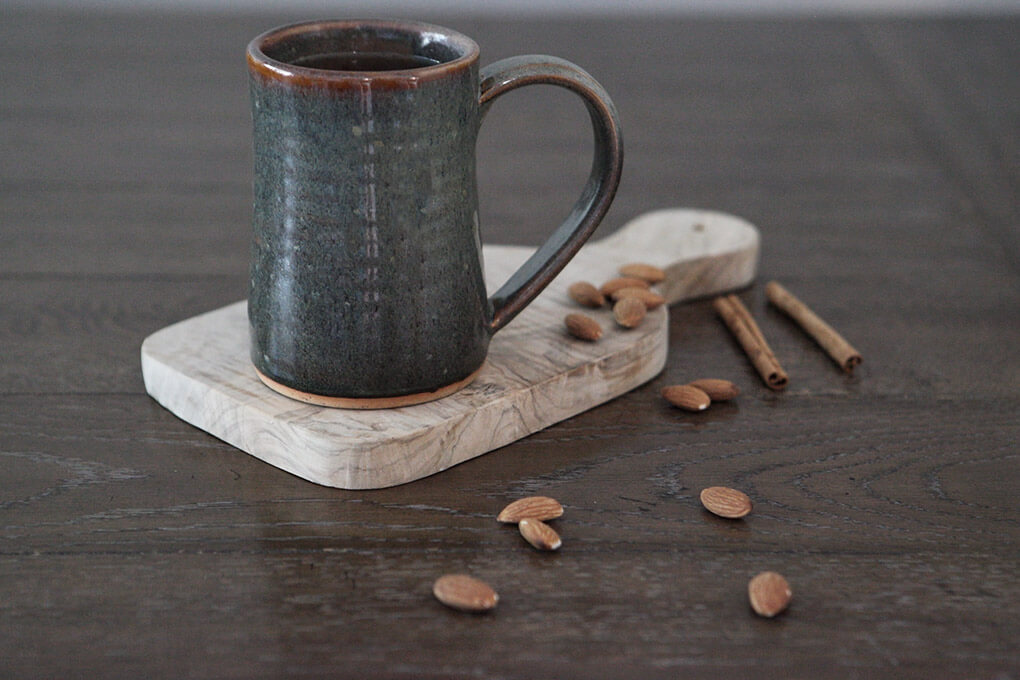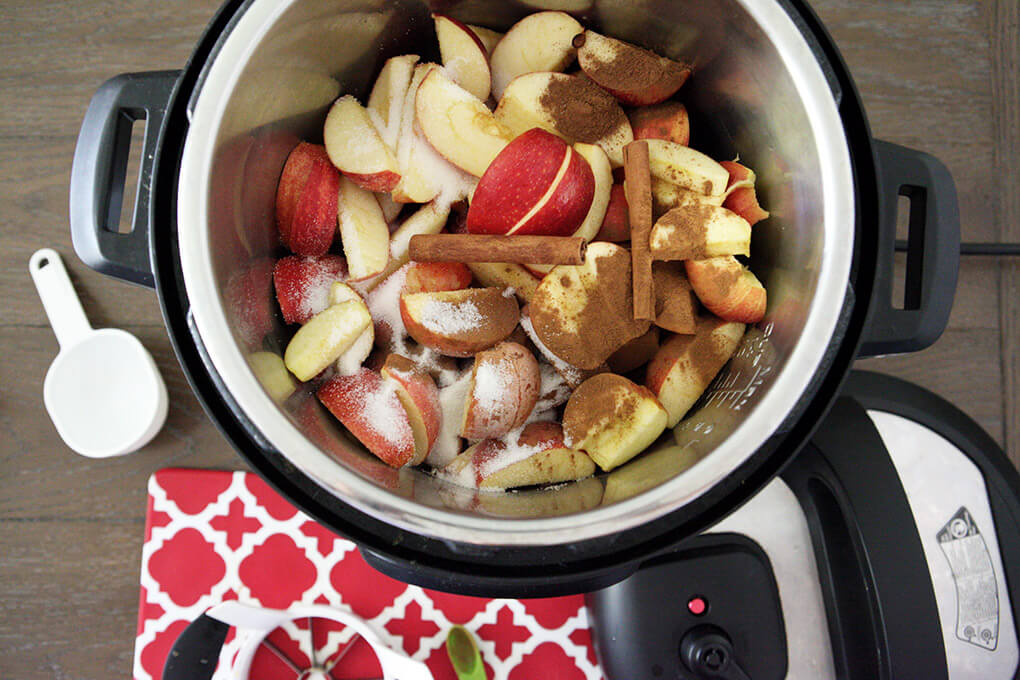 But first you should know why it even came to be that I would have a need for this recipe.
I mean, besides the fact that I love fall, there was a real reason.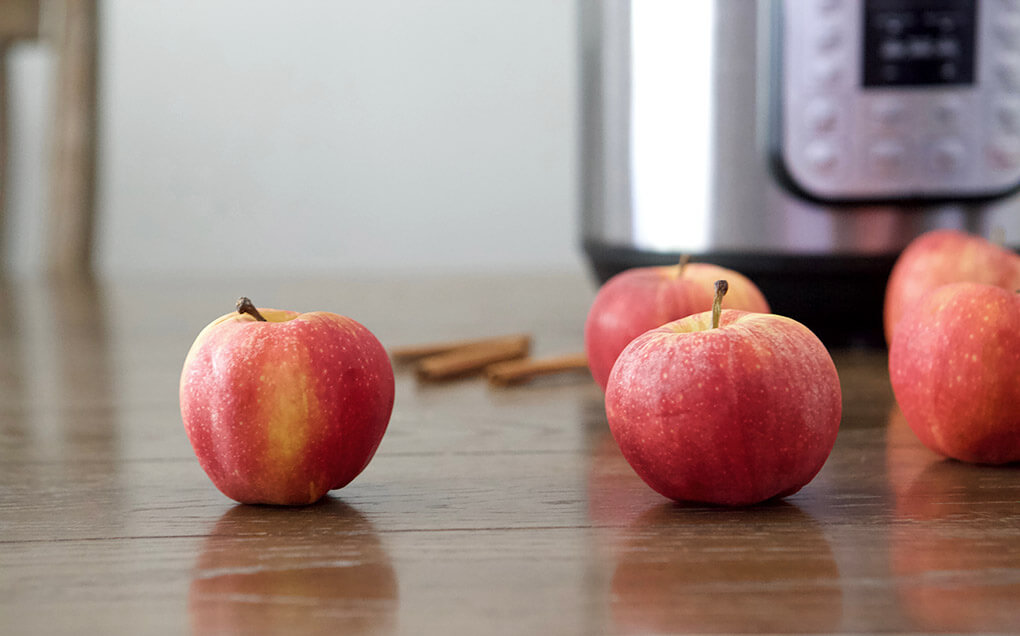 Somehow I got it in my head that I wanted an Apple Cider Latte, but when I realized that I have never had a high-quality packaged Apple Cider, I knew I'd have to make it on my own.
But listen, ain't no one got time for hours spent stewing over a pot on the stove these days. (You either? Good. Then make sure to follow my Instant Pot Pinterest board by clicking here: Paleo Instant Pot Recipes.)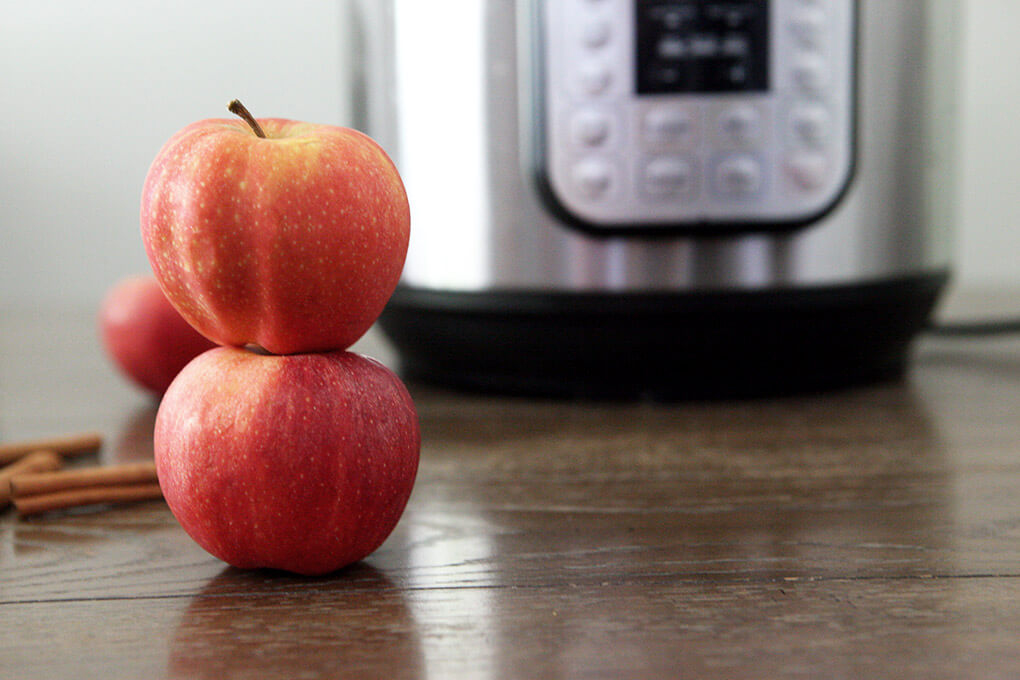 Enter this idea for making it in the beloved Instant Pot. 
How to Make Apple Cider in the Instant Pot
Click HERE to save this post for later.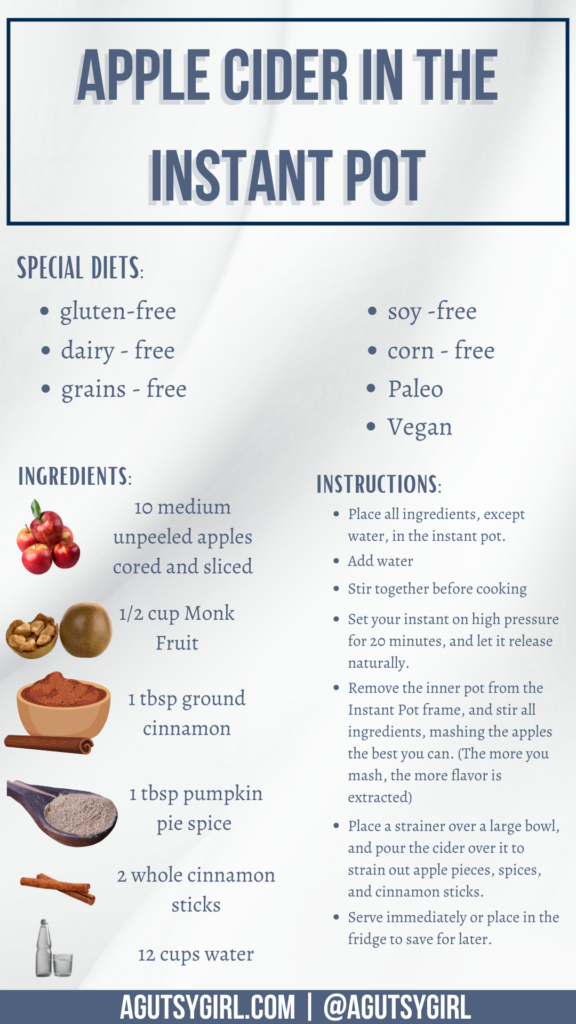 I'm sure there are several ways to make Apple Cider in the Instant Pot. But I wanted to keep it basic and simple because, well, I am basic and simple and these days I continue to prefer less ingredients.
Let's talk about a few of said ingredients.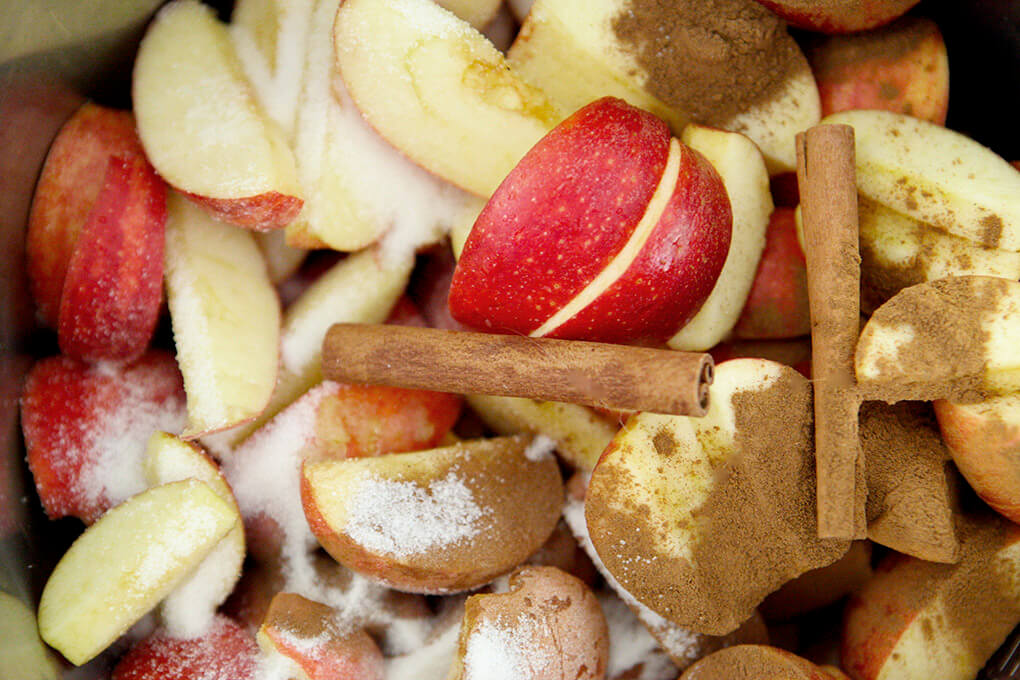 You only need 5 ingredients and, of course, the Instant Pot. I have THIS 8-quart Instant Pot. I use and recommend this one because it's large enough for bone broth. Seriously, that's why I chose it (and yes, I'm still planning to give you my Instant Pot Bone Broth recipe). 
If you don't have that Instant Pot (and a smaller one instead), you'll need to reduce the amount of ingredients and water you use by a little. If you do, I don't know the exact portions, as this recipe was tested twice in the 8-quart Instant Pot. 
You'll notice I used Monk Fruit in this recipe. Why? Because Apple Cider does use sugar, but I didn't want to use traditional sugar in this recipe since there is plenty in the apples already.
Instead of the Monk Fruit, you can instead use regular sugar or Coconut Sugar, which is another one I will use in the future.
---
By the way, I like Lakanto for Monk Fruit and many other items. When you purchase anything from Lakanto HERE, just use my code AGUTSYGIRL at checkout to save 15%.
---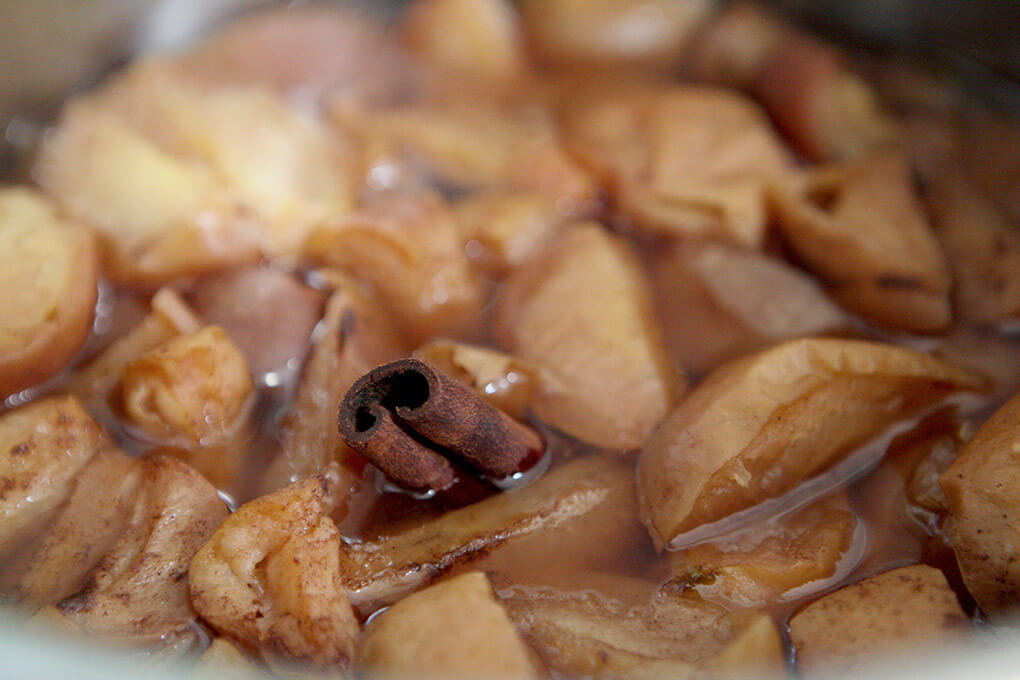 The ingredient you might find a little odd is the Pumpkin Pie Spice.
I don't even know what's in packaged Apple Cider, but I'm certain this is not one of them. What is are things like cinnamon, nutmeg, and cloves.
That is, essentially, what Pumpkin Pie Spice is, so I condensed the ingredients to make it simpler. And let me tell you….it worked wonderfully!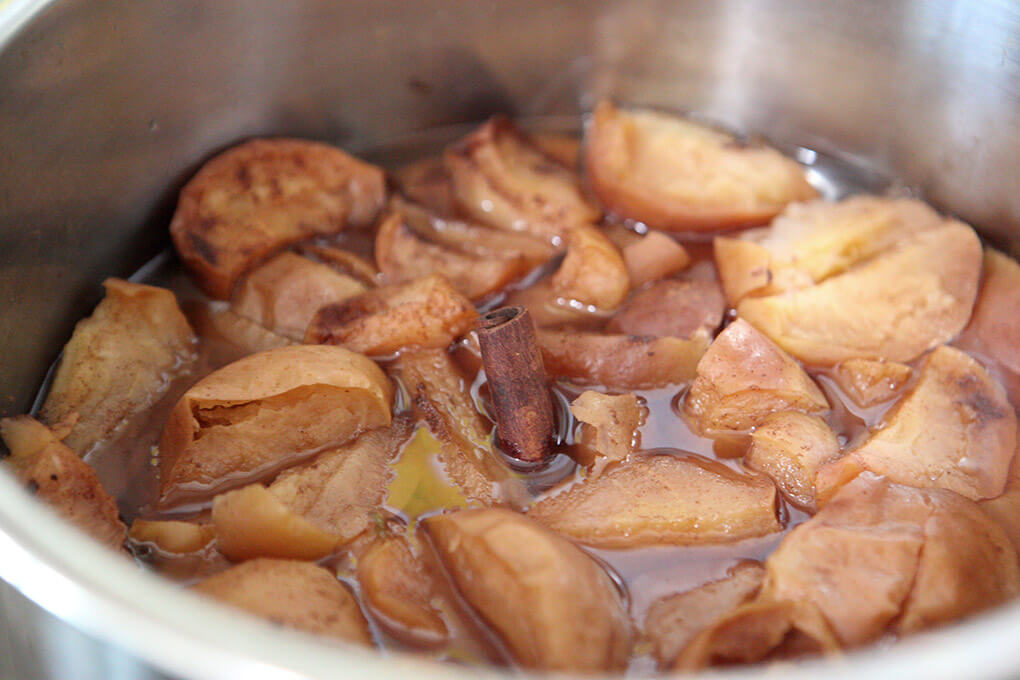 Once you have your ingredients and Instant Pot, you're set to make this delicious, simple recipe.
Apple Cider Instant Pot Recipe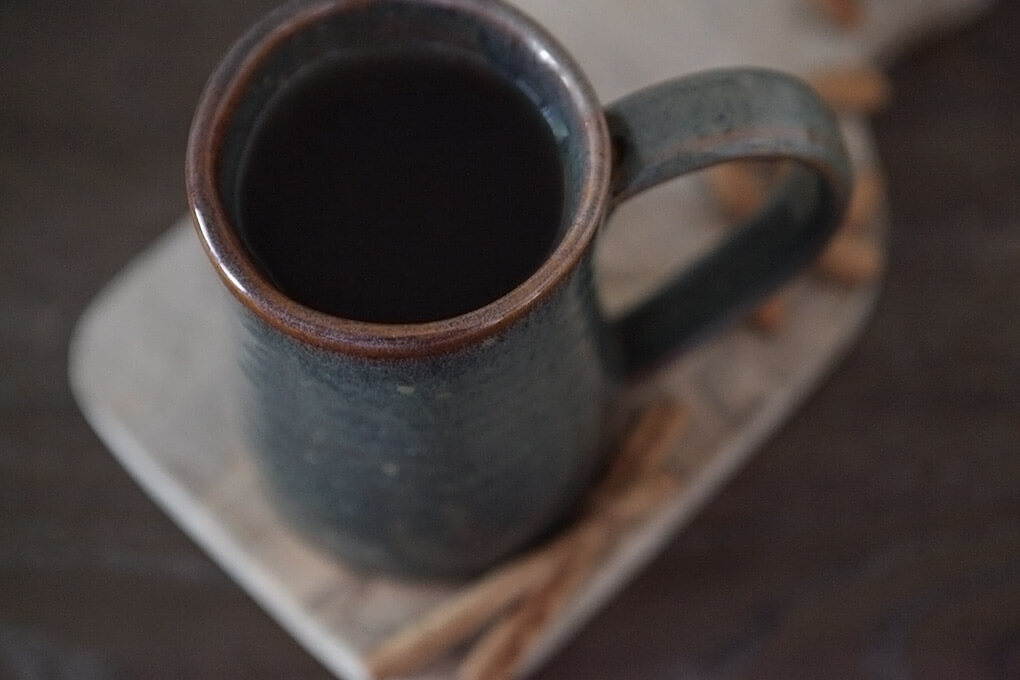 How to Make Apple Cider in the Instant Pot
Prep time:
Cook time:
Total time:
A simple recipe for how to make Apple Cider in the Instant Pot.
Ingredients
10 medium unpeeled apples, cored and sliced
½ cup Monk Fruit
1 Tbsp ground cinnamon
1 tsp Pumpkin Pie spice
2 whole cinnamon sticks
12 cups water
Instructions
Place all ingredients, except water, in the Instant Pot.
Add water.
Stir together before cooking.
Set your Instant Pot on high pressure for 20 minutes, and let is release naturally.
Remove inner pot from the Instant Pot frame, and stir all ingredients, mashing the apples the best you can. (The more you mash, the more flavor is extracted.)
Place a strainer over a large bowl, and pour the cider over it to strain out apple pieces, spices, and cinnamon sticks.
Serve immediately or place in the fridge to save for later.
Notes
You don't have to use Monk Fruit if you don't want any added sweetener. We did, and I'm glad we used it. You could also opt for regular sugar or coconut sugar, if desired.
Oh, and about that latte — click HERE to grab some Apple Cider Latte magic.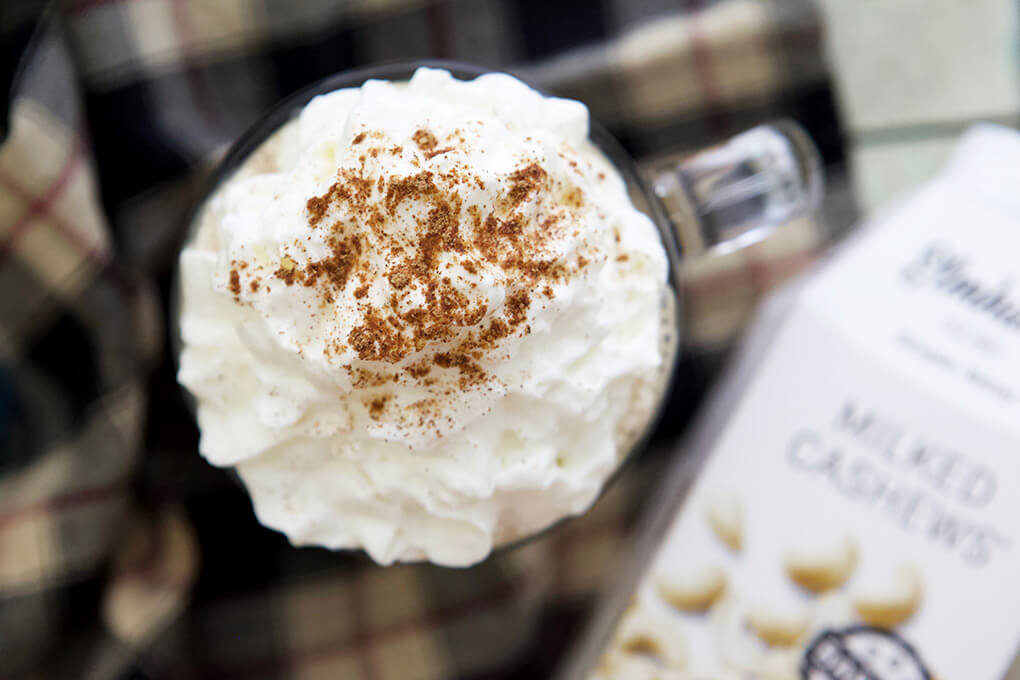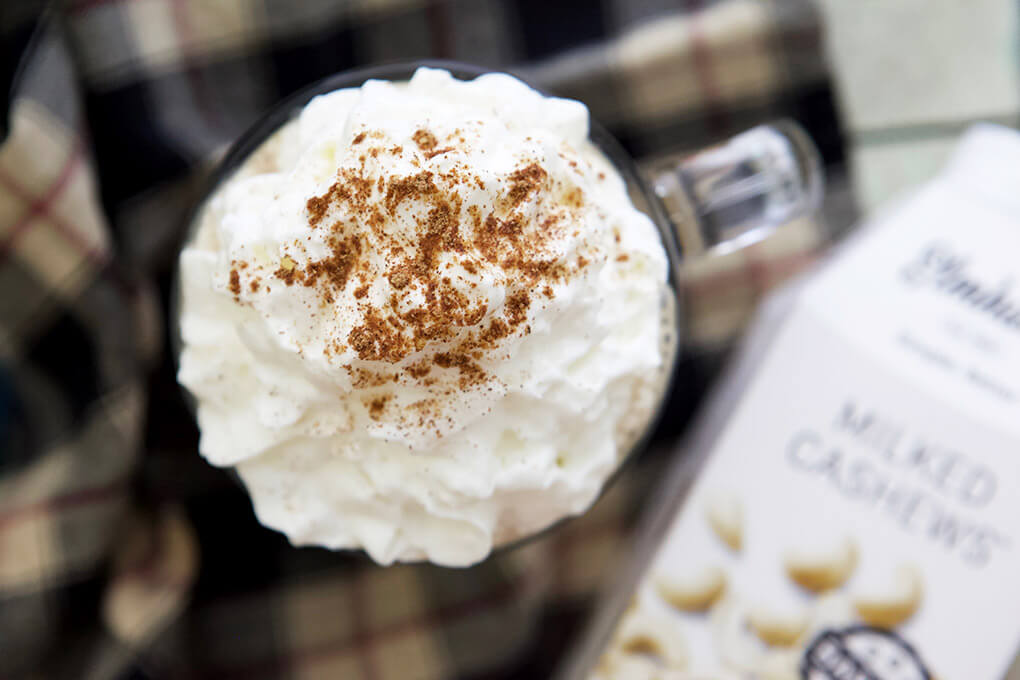 If you liked this post, you might also enjoy: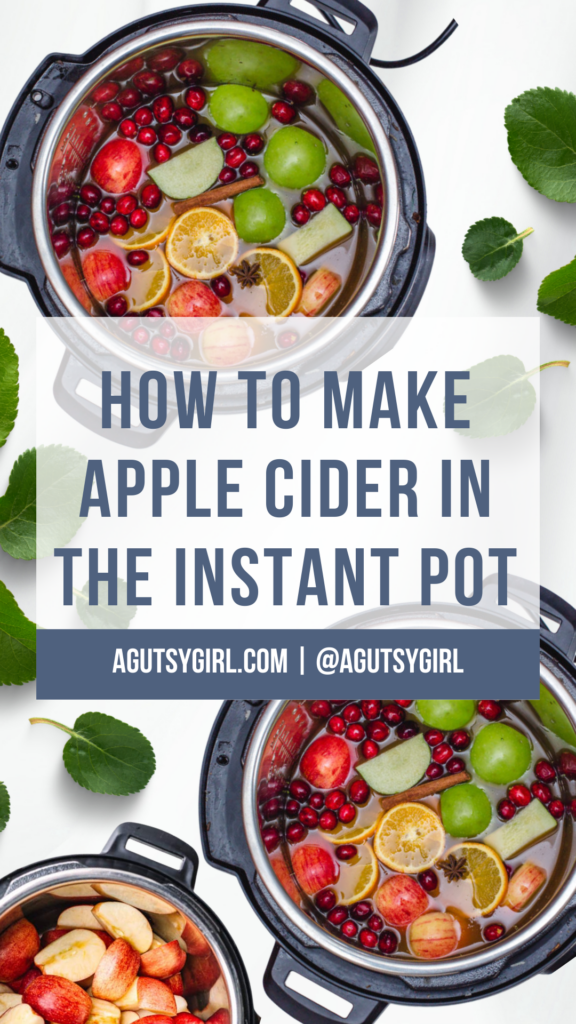 Xox,
SKH
You will heal. I will help.