Inflammation and inflammatory markers are huge topics in the gut health world.
So I brought the incredible Dr. Tyler Jean on A Gutsy Girl podcast to chat all about it.
Subscribe Today:
Apple Podcasts | Google Podcasts | Spotify | iHeart Radio | RSS
---
Inflammatory Markers (and your gut)
Click HERE to save this post for later.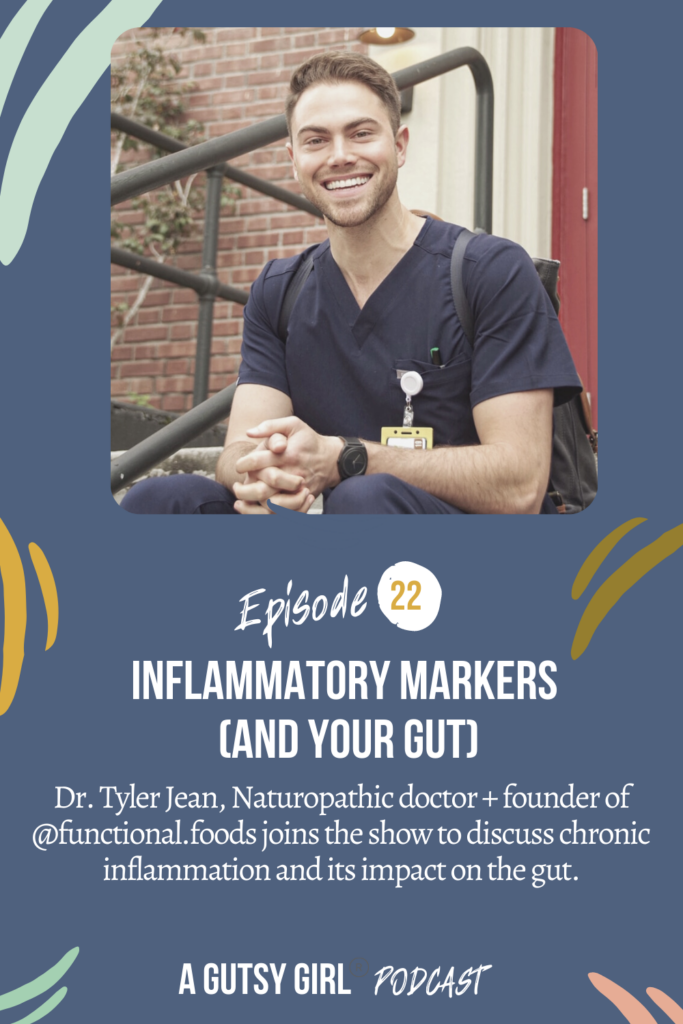 Resources Mentioned
Primal Kitchen – get it via Thrive Market
Don't Miss These Thoughts
Our gut health is central to our systemic health.

Dr. Tyler Jean

The body has an innate ability to self heal when given the chance.
Dr. Jean's personal story and how he came to the world of integrative health.
What is chronic inflammation? Dr. Tyler Jean is breaking it down.
Chronic inflammation is a symptom that is an adaptive response.
What does chronic inflammation have to do with IBS and/or IBD?
Symptoms of chronic inflammation
3 food categories that cause inflammation
What Dr. Jean eats on any given day
A sign of good health is being able to tolerate a variety of foods.
How to eat sardines (without even knowing it)
What is something people get wrong about chronic inflammation?
Top things Dr. Jean thinks we can do for gut health.
Dr. Jean's top 3 convictions around gut health.
Cardinal Signs of Inflammation
Dr. Tyler Jean goes through many different causes of inflammation. Here is a list of 9 he mentions:
high blood sugar (hyperglycemia)
chronic stress
sleep deprivation
alcohol
inflammatory foods
gut dysbiosis
obesity
gingivitis
nutrient deficiencies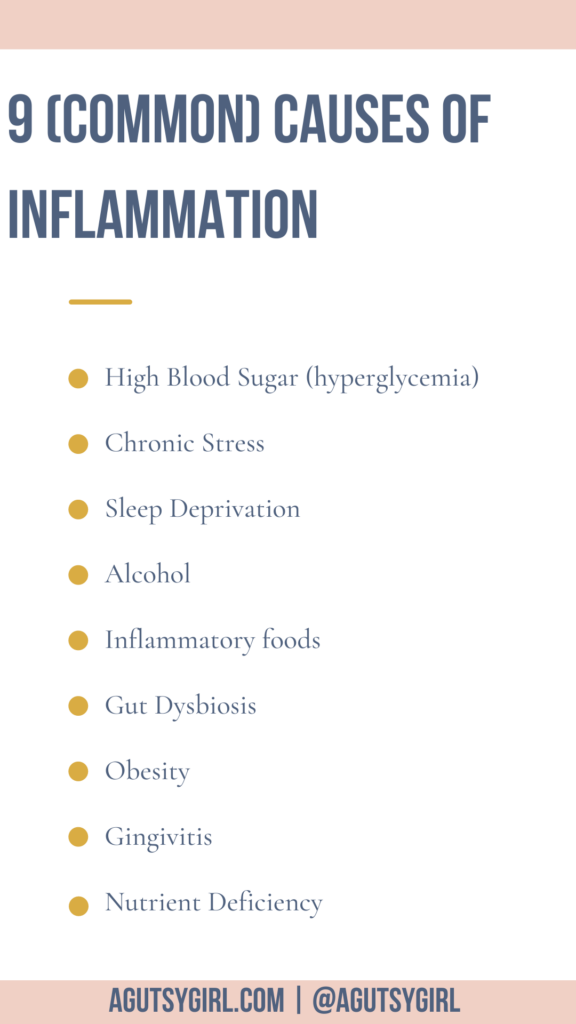 Fried Foods
Something I say on the show today and have been talking about more lately is the idea that it's not always the best idea to start with eliminating entire food groups (i.e. gluten, dairy, eggs).
Instead, consider cutting things like processed/packaged foods and fried foods first. In other words, cut the ingredient(s) vs the ingredients.
Typically that's going to get you much further than arbitrarily cutting entire food categories like gluten, dairy, eggs, etc.
More from A Gutsy Girl
1. Welcome to A Gutsy Girl Podcast
2. Hang out on Instagram
3. BFF's on YouTube
4. Free resource: The Master Gutsy Spreadsheet
5. Rated-G Email Club
Wrap Up
Time to wrap this up. As always, a huge goal for this show is to connect with even more people. Feel free to send an email to our team at podcast@agutsygirl.com. We want to hear questions, comments, show ideas, etc.
Did you enjoy this episode? Please drop a comment below or leave a review on Apple Podcasts.
Xox,
SKH
You will heal. I will help.