First time here? AGG = A Gutsy Girl, and this is the Ultimate AGG Product and Services Guide.
---
Updated at the end of 2022 to add: Since this post was originally published, AGG and the offerings have massively grown. We are so grateful to be able to help women worldwide on their gut health and gut healing journeys.
---
If you never want to purchase a thing from me, you don't have to.
I've been very clear over the years that I started this for you.
I wanted girlfriends online who were going through the same things I was.
Now that I'm healed, I keep doing it for you, too. I want to be the trusted, helpful resource you've been searching for.
So at the end of 2019, I threw in my full-time, all-I'd-ever known career to pursue A Gutsy Girl full-time. And while I still continue to give, give, and then give some more (completely free of charge), can you imagine me telling our family,
Sorry. No income this month. But don't worry, I am doing everything I can for women around the world. Pro bono?
See what I mean?
I whole-heartedly believe that you can live out your dreams and passions while serving to the nth degree.
But I also whole-heartedly believe that you can do all that and still create a booming business (I know so because here I am, and I even teach a niche course to other creators who are desiring the same — you'll find it below!).
So if you're looking for more than (+ detailed and dialed in information) the 1,000+ free articles, information, and resources I've put together on this website, below are the things I offer.
I was inspired to put this together after receiving hundreds of messages during the past year around,
Where do I start? Which product of yours do you recommend getting first? What's the difference between the different products and services? Etc.
The Ultimate AGG Product and Services Guide
Click HERE to save The Ultimate AGG Product and Services Guide for later.
---
Download the full PDF guide for free….
Click HERE for the full clickable PDF.
The categories are broken down as such:
books
e-courses
supplement line
health coaching
other resources
Note
These are the products and services A Gutsy Girl offers that are consumer facing.
If you are a brand and/or interested in hiring me to speak, consult and/or interview for research purposes, you can learn more HERE.
You can also contact team A Gutsy Girl HERE.
Inquiring minds would like to know:
What products and/or services are you hoping to see next? Leave your ideas and thoughts in the comments below.
If you liked this post, you might also enjoy:

Xox,
SKH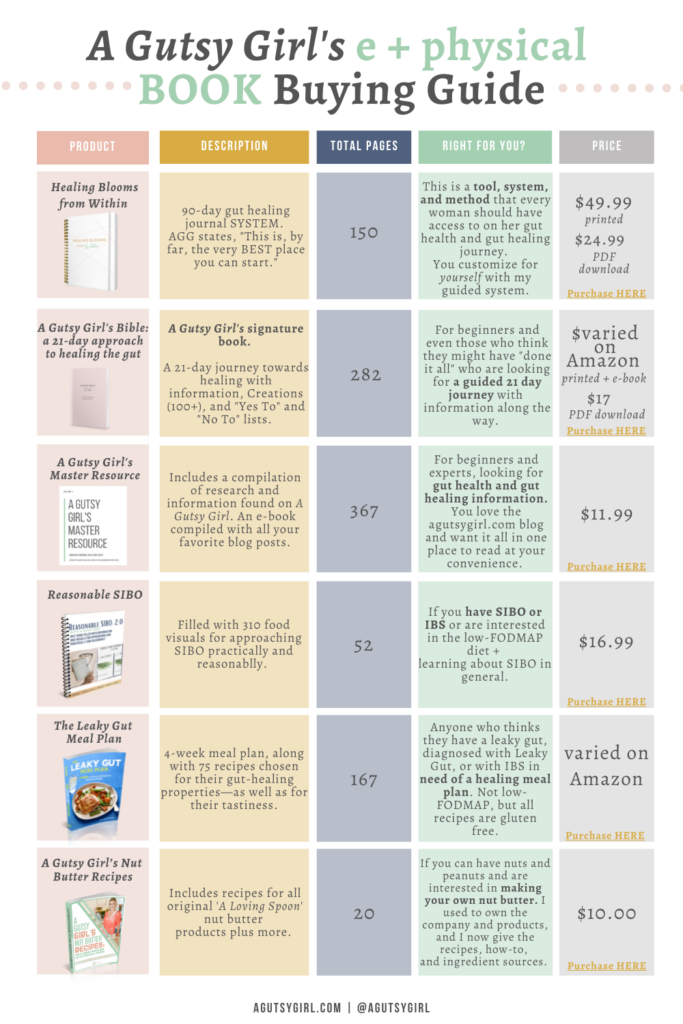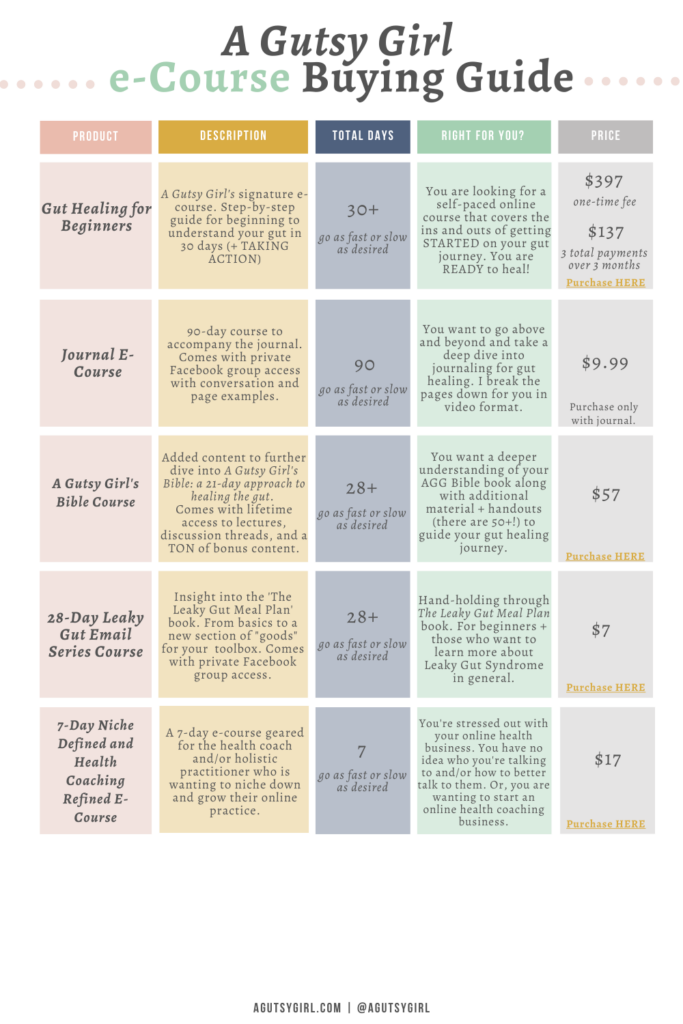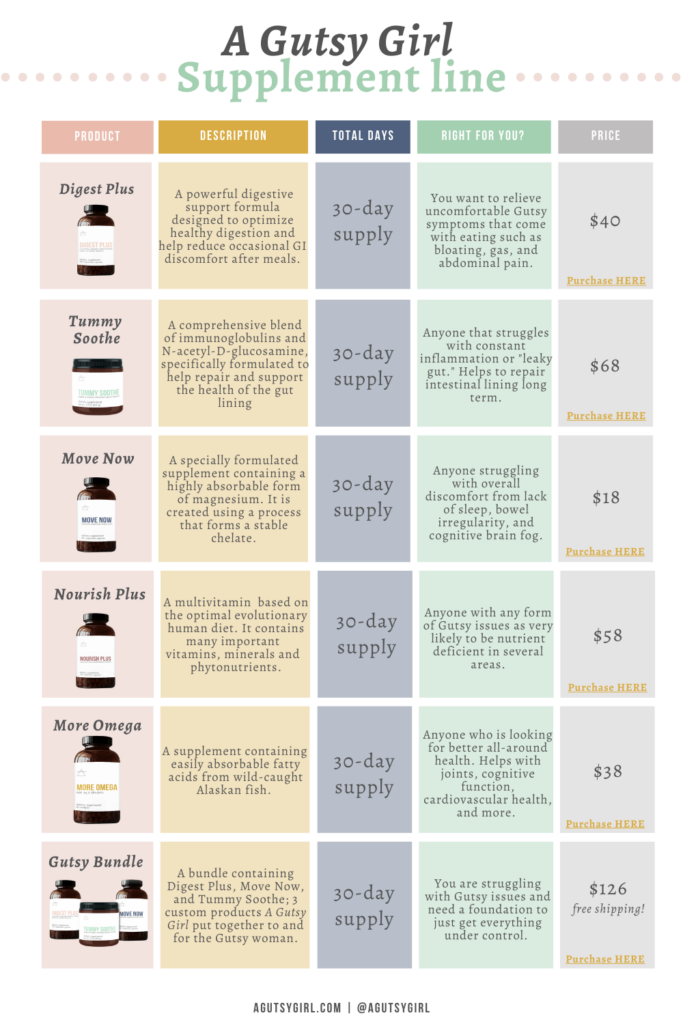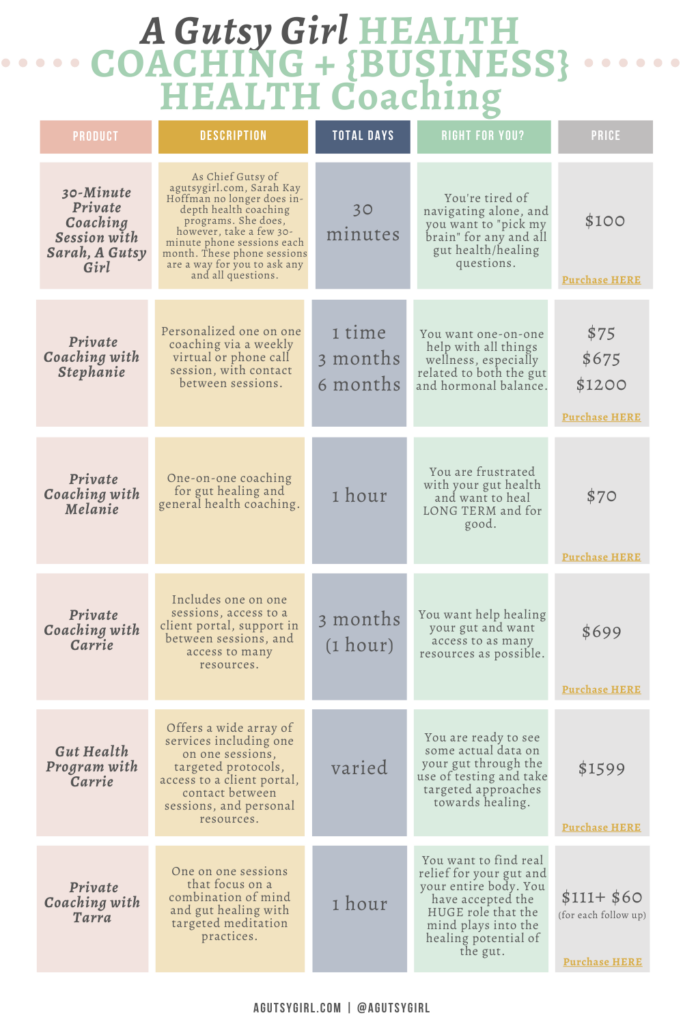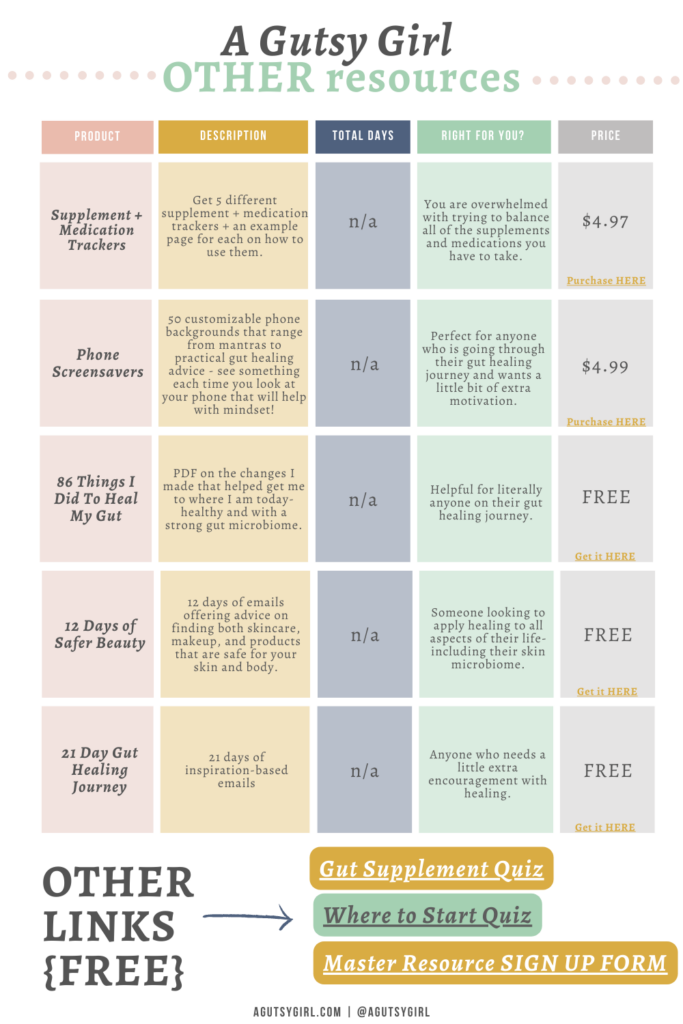 You will heal. I will help.