What are the best beef liver supplements out there?
While you might not be interested in beef liver capsules as a dietary supplement, my goal with this article is to share more about why they can be so helpful on your gut healing journey.
3-Meat Greek Balls
I have been making these 3-Meat Greek Balls for quite some time already.
They include organic chicken liver, but you can also easily swap that for grassfed beef liver.
Either way, these meatballs are an excellent choice if you want to eat your way to high-quality beef liver.
But honestly, how many meatballs can one eat?!
Or, what if you just can't stomach liver, but want their benefits?
Well, then that's where the best beef liver supplements are going to come into play.
Key Nutrients: Liver
Just look at how nutrient-dense liver is.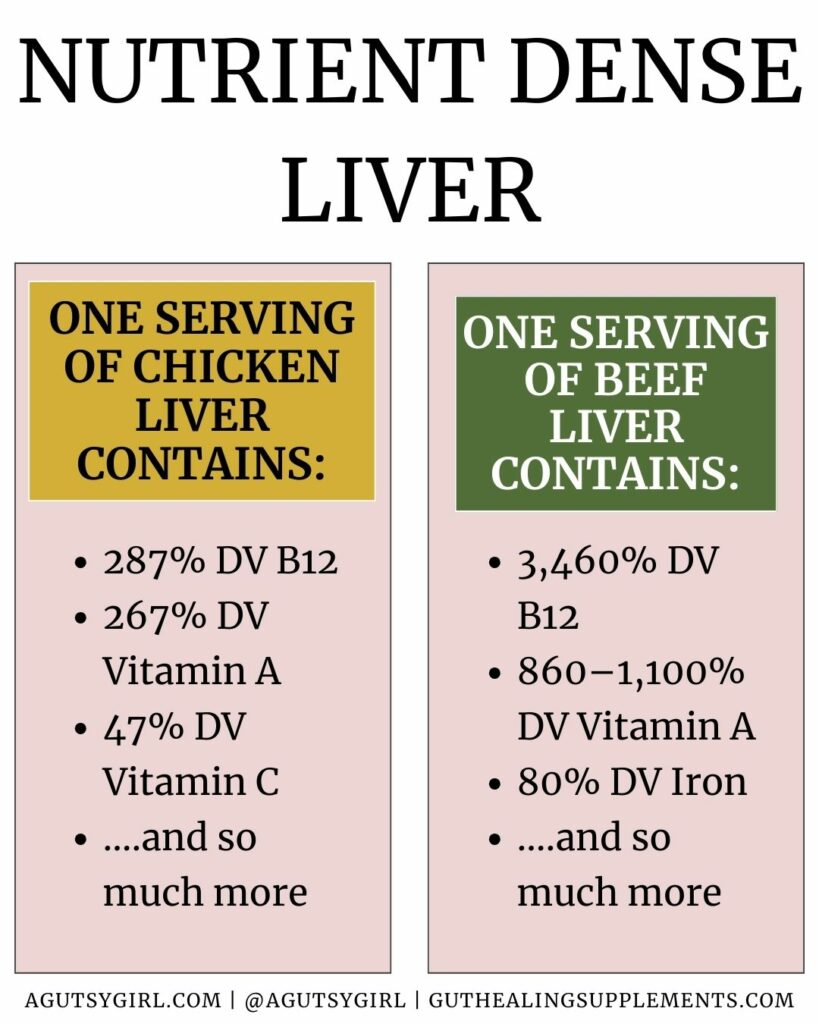 ONE SERVING OF CHICKEN LIVER CONTAINS:
287% DV B12
267% DV Vitamin A
47% DV Vitamin C
….and so much more
AND ONE SERVING OF BEEF LIVER CONTAINS:
3,460% DV B12
860–1,100% DV Vitamin A
80% DV Iron
….and so much more
Choosing nutrient-dense foods like this plays a crucial role in our overall health.
So if you're not up for the strong taste of liver, then the answer is to supplement.
I'll show you how.
Best Beef Liver Supplements
Click HERE to save this post for later.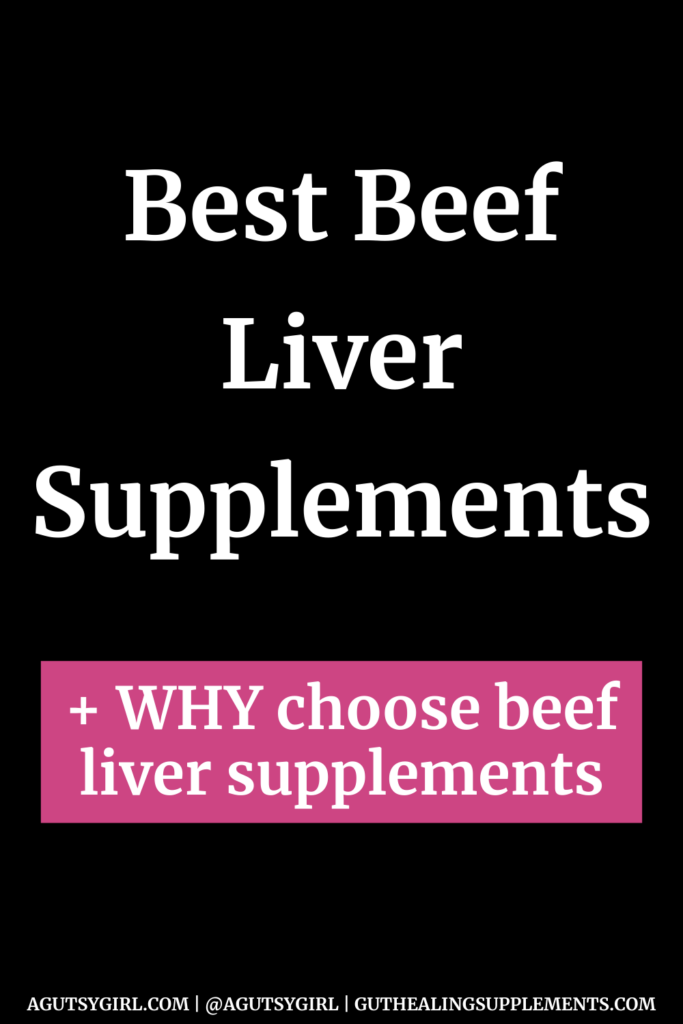 Desiccated beef liver supplements contain beef liver that has been dried and ground into powder. The supplements provide the micronutrients found in fresh liver in a more concentrated form that, for some people, may be more palatable (Duizer, J Food Sci 2017)
You might see the word desiccated and wonder what that means?
Desiccated is simply an adjective which means,
having had all moisture removed; dried out
In this context, then, it's simply a dried, powdered form of liver. In other words, you'll be getting the benefits of beef liver without having to consume the prepared organ meats in their original state.
Depending on how you prefer taking your supplements will determine the form you can choose for desiccated liver.
I personally love the Perfect Supplements grass-fed beef liver supplements. Not only does Perfect Supplements produce high-quality products, but their grass fed beef liver comes in both/either grass-fed beef liver supplement capsule and also powder.
Here is more on each product.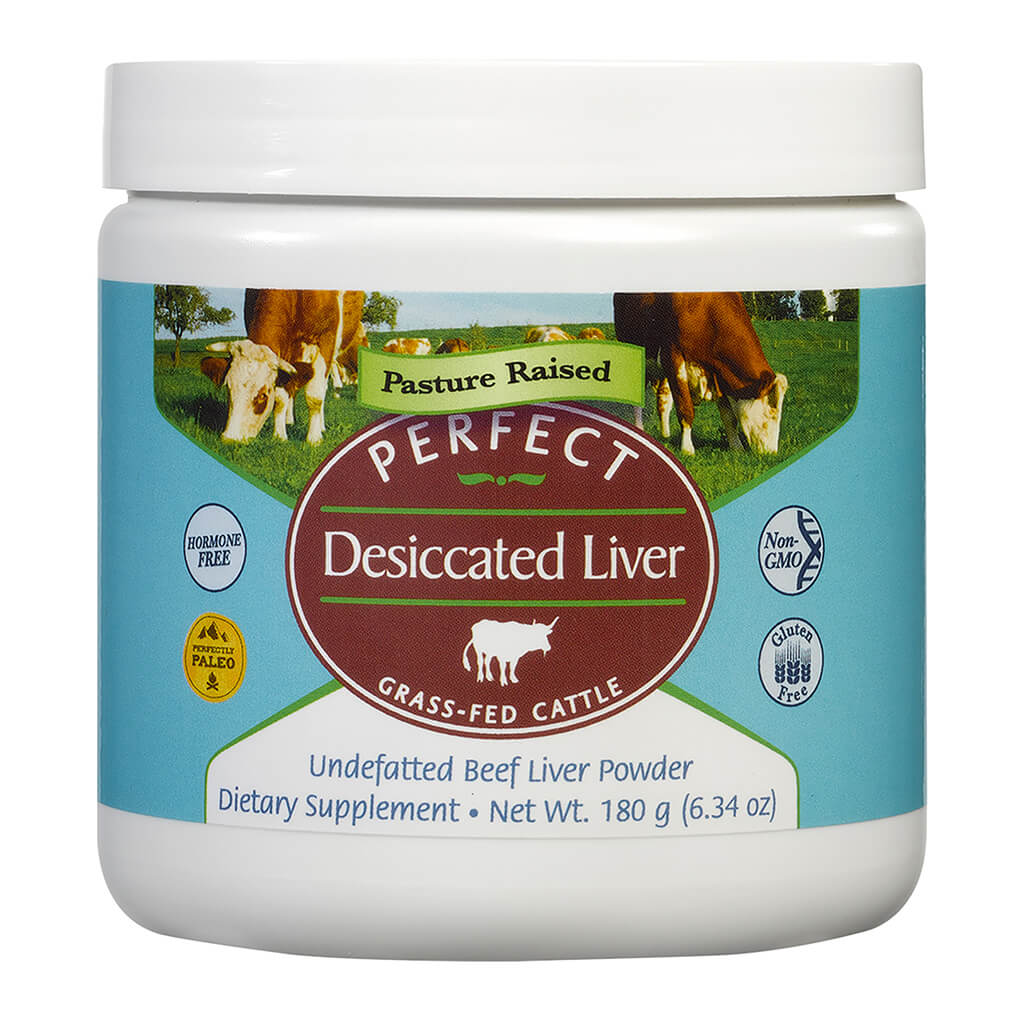 Use code AGUTSYGIRL at checkout to save an automatic 10%.
Desiccated Liver Capsules
See them HERE.
With the capsules, you'll get a 3g serving of Grass-Fed Beef Liver with ONLY 4 capsules per day.
The Health Benefits + Nutritional Value of Perfect Desiccated Liver
Some of the numerous health benefits of the Perfect Desiccated Liver include:
Nutrient dense
High-quality protein
Boost energy levels
Boost overall immune health
Top choice for boosting metabolism
Helps improve digestion
Maintains healthy cholesterol
This is the only Desiccated Liver to Receive Perfectly Pure Certification
The only Glyphosate Residue Free Desiccated Liver
Contains 70% protein by weight
2.8mg of naturally occurring Iron per 3g serving
969 IU of naturally occurring Vitamin A per 3g serving
1.41mcg of naturally occurring Vitamin B12 per 3g serving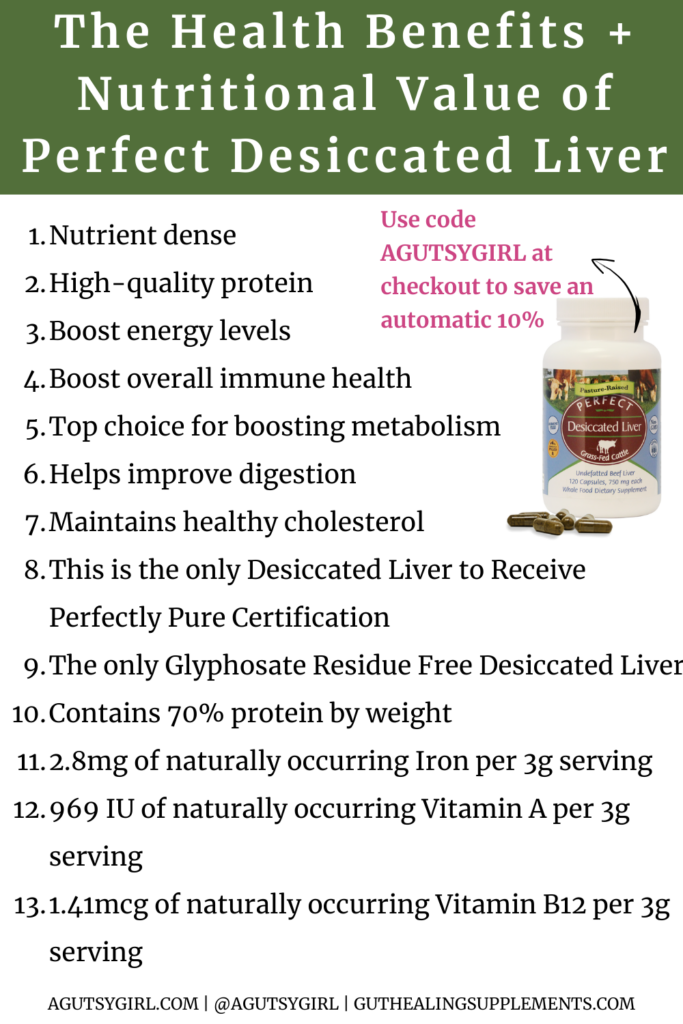 Choose these beef liver pills if you:
Have an aversion to the taste of liver.
Are looking for a slightly lower price point.
This beef organ supplement gets a 5-star out of 1440 reviews!
Desiccated Liver Powder
See it HERE.
The powder is a great way daily to get 3g per serving of Grass-Fed Beef Liver with just 1 scoop of Perfect Desiccated Liver Powder.
The health benefits are the same for the powder as the pills, but with the powder it can be a more convenient way for some to take the supplement.
Choose this beef liver powder in its purest form if:
Taking pills it too exhausting for you.
The taste of liver is not bothersome.
Which one would I choose? For starters, I might try the pills because these days I don't take too many pill-based supplements on any given day. Also, I don't enjoy the taste of liver.
That being said, I'm a fan of powders because they are far easier than pills.
It's tolerable and easy when I mix it in to my Beef Bone Broth.
Grass-Fed Liver Benefits
As it relates to overall health and healing for the Gutsy community, these are my top 4 reasons you should consider grabbing a bottle or two of desiccated liver HERE:
Have SIBO. Remember, with small intestinal bacterial overgrowth, you are likely depleted of b vitamins, namely B12. Supplementing with this highest quality beef liver is an effective way to help increase these key vitamins.
You are tired of constantly feeling fatigued and exhausted. A great benefit for supplementing with the most nutrient-dense foods is that energy levels can feel restored. Exhaustion is no way to live; energy production is key! Tim Ferriss stated (regarding these ancestral supplements), "Long story short, this is one of the few whole food supplements that has noticeably increased my energy levels consistently in the last year. I tend to take 4 caps upon waking and–for this week–another 4 caps around 2pm. At my current red-line pacing, I burn through B vitamins, etc., at a rapid clip."
Need a boost with overall digestion. Liver contains substances which help to remove toxic substances from the body to promote a rebuilding of healthy immune system and digestive systems.
Have been diagnosed with any other digestive disease or disorder which may be robbing you of essential nutrients and vitamins. And if you don't want to go to the doctor, but need some at-home nutritional testing, check out THESE.
Adding in these best beef liver supplements to your daily routine can do wonders for obtaining optimal health.
Furthermore, there is almost no risk to you when you try anything from Perfect Supplements. You can view their return policy HERE. I love supporting companies who stand behind their products 100% of the time. 
Bonus: Multi-Organs Supplement
If you're looking for even more organs in one supplement, Perfect Supplements also has a blend of 6 Glandulars, Pasture Raised in New Zealand.
These multi-organs include:
Thymus
Spleen
Liver
Pancreas
Heart
Kidney
….all in equal parts, each unique to its contributing factor to your Perfect Health
Questions about these top beef liver supplements and/or why I think they are the best choice? Leave them in the comments below.
If you liked this post, you might also enjoy:
Xox,
SKH
You will heal. I will help.