Wellness testing at home has become a really big thing.
Personally, I am a huge fan of wellness testing at home for these 2 primary reasons:
Testing is a critical step in any gut-healing protocol. I've discussed it more times than I can count now, but without knowing what's wrong, how can you fix the problem?
Access. The advancement of wellness testing from home gives more people access to the tests they might need but are either too afraid to go get from their doctors or financially unable to do so.
Wellness Testing at Home
Click HERE to save this post for later.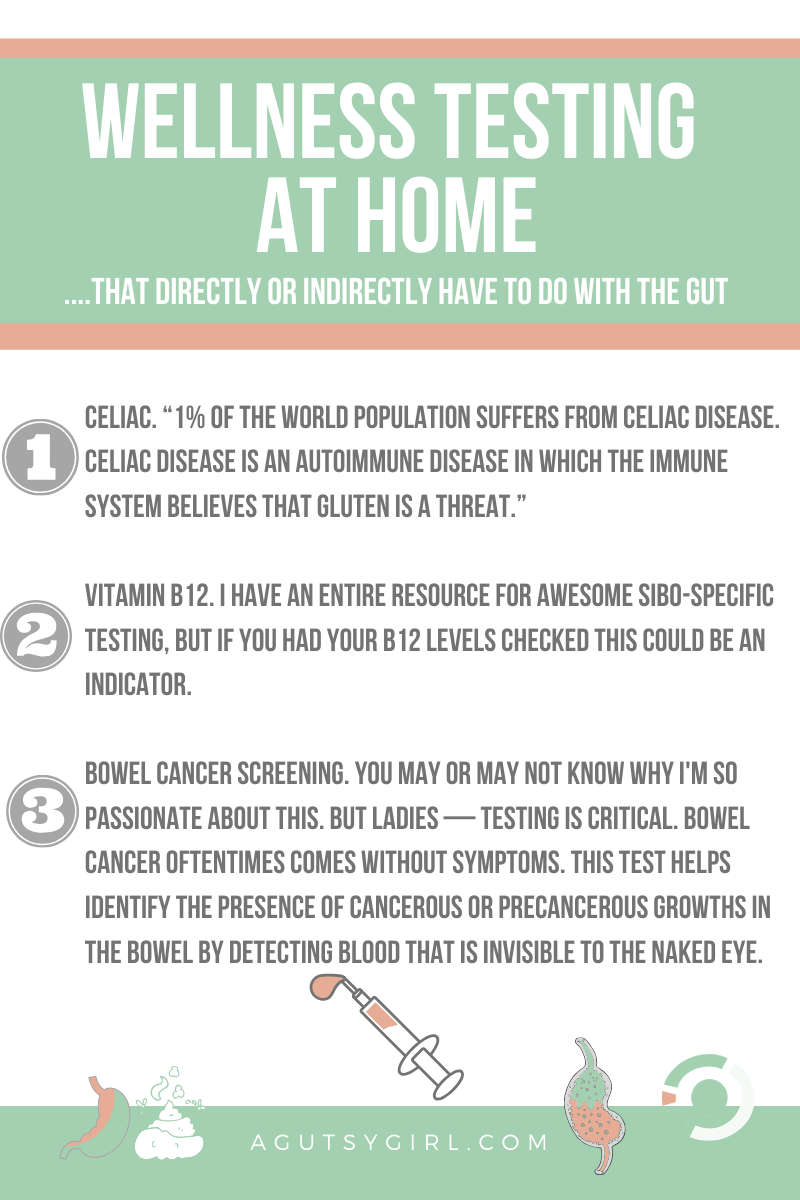 In the past, I have shared these resources on testing and testing from home options. Click to read each.
I still stand by all of them. And today, I have another option to share.
LetsGetChecked
LetsGetChecked has tests for the following categories:
Sexual Health
Women's Health
Men's Health
Wellness
For today's purposes, I'm sharing more about the Wellness testing at home with LetsGetChecked.
Here is a list of all the wellness tests they offer:
Cortisol
Cholesterol
Kidney
Celiac
Vitamin D
Vitamin B12
Iron
Omega 3
Liver
Bowel Cancer Screening
Lyme Disease
C-Reactive Protein
Diabetes
Folate
I thought I'd check in on my thyroid, so I had them send me the thyroid test. The test came in a small, white box.
And this is how the process works.
LetsGetChecked Thyroid Test Steps
Fill out your information. When you open the box, you'll see a small form on the inside of the top cover. Simple information needs to be filled out.
Activate the kit. You have to make sure the kit gets activated prior to testing and shipping back to them. This gets done online.
Collect your sample. This is a blood sample. It's a simple prick to the finger.
Send it back immediately. LetsGetChecked even sends a prepaid return envelope to make sending it back easy.
Within 2-5 days of the lab receiving the samples, you'll know the results. The results are reviewed by their medical team. If anything is out of range, you will be notified with a call. After the call, all results are released to your online account where you can view your personal health profile at a glance.
I chose the thyroid test because I'm curious. My gut has been incredible, and yet I know that problems in other parts of the body all lead back to the gut. This is my way for testing that.
Gut-Specific Tests
That said, if you are looking for a gut-specific test and want a more narrow recommendation, I'd suggest:
Celiac. "1% of the world population suffers from Coeliac disease. Coeliac disease is an autoimmune disease in which the immune system believes that gluten is a threat."
Vitamin B12. I have an entire resource for awesome SIBO testing that you'll find HERE, but if you had your B12 levels checked this could be an indicator. See B12 and SIBO HERE.
Bowel Cancer Screening. I'm not about to make this a sad post, but if you want to know why I'm passionate about bowel cancer, read THIS. Ladies — testing is critical. Bowel Cancer oftentimes comes without symptoms. This test helps identify the presence of cancerous or precancerous growths in the bowel by detecting blood that is invisible to the naked eye.
If you're interested in any of the LetsGetChecked tests, click HERE. At checkout enter in code 'GUTSY20' to save 20%.
Disclosure: If you purchase, I make a minimal amount via affiliate income. This income helps keep my blog up, running, and thriving so I can produce all this content for you, for free. You can read more HERE.

Xox,
SKH
You will heal. I will help.