There is something you should know about these past several months, and it kind of has nothing to do with 21 quick meals for new moms.
I remember when we first got Samarah, and a friend (who doesn't have children) said to me, "Don't be one of those moms who says you don't have time to workout, eat, or take a shower." I laughed, "Duh, obviously not. That's not me. That's just a lame excuse." (Fun fact side note: this post is sponsored by Providence St. Joseph Health, and little miss Samarah Josephina was born at the St. Joseph's in Stockton, CA. THIS NICU sign is at at the hospital!) 
And back in those days, I was pretty good about working out, eating (well), and showering every single day.
These days? 
I could never agree with what she said, but I fully believe that this is something you can only understand once you are a child or more in (because yes, even one child is super, duper hard work)!
Since we got Amiya, I have found myself saying more often than not, "Okay, Ceci and Ryan, don't expect a gourmet meal tonight. I just. Don't. Have. It. In. Me." And guess what? That's coming from someone who not only needs specific food to continue healing, but also totally adores the kitchen and the process of cooking and baking all the things.
And so during these past months, I have gotten crafty with quick meals that are still healing and nutritious for our entire family. 
Because I am always getting asked the questions, "How do you find time to cook and bake, and how can I make healthier options for our family?" I decided to finally share several ways and ideas with you today, 21 (and then some dessert), to be exact. 
Disclosure: This is a paid, sponsored post in partnership with Providence St. Joseph Health. All opinions started here are 100% my own. Learn more about plus connect with them on Facebook, Twitter, and/or Instagram.
21 Quick Meals for New Moms
Click HERE to save this post for later.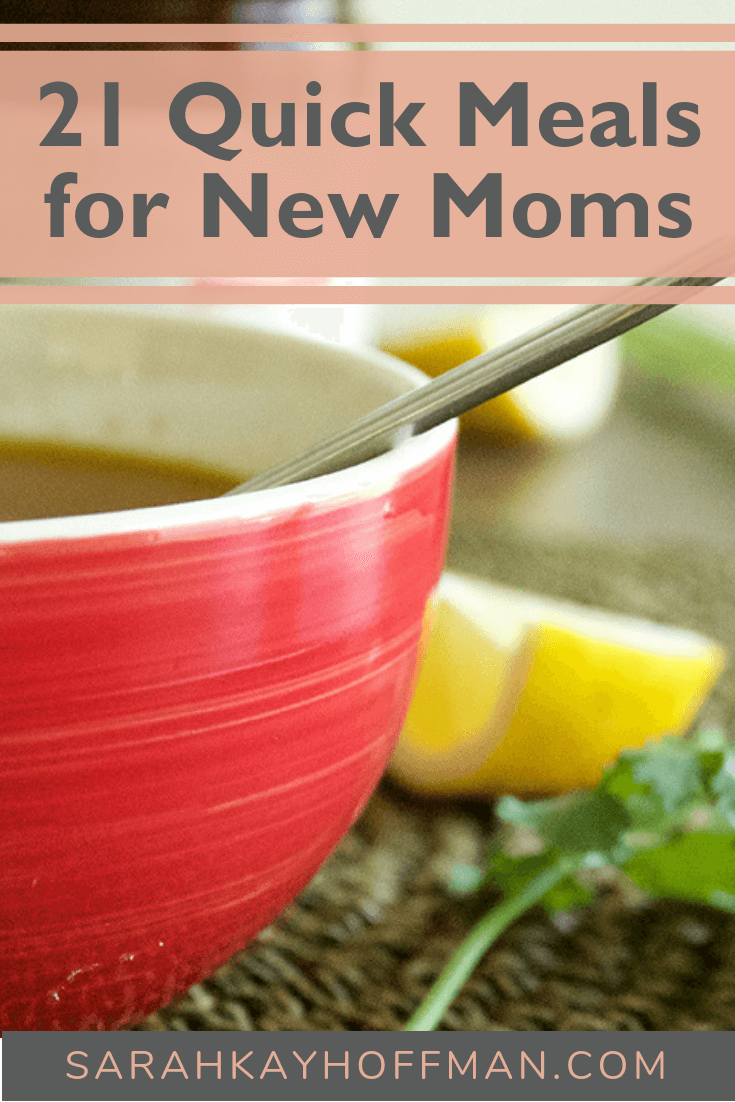 Seven Layer Casserole. A dish that was born out of my love for our growing family and increasing pantry items. 
Chicken Sausage Skillet with Zoodles. Anytime we can zoodle a "veggie noodle," it's pure love! (For the record, THIS is a great spiralizer, and if you need a ton more spiralizing inspiration and recipe ideas, check out Ali's blog!)
Paleo Chicken Fingers. Chicken fingers that you can feel good about eating. They will be done before you know it!
Chipotle Turkey and Sweet Potato Chili. On a cool day, what's better than chili?!
Simple Texas Hash. It's simple and includes all the things, in one dish! 
Pumpkin Pie Smoothie Bowl. This can triple-act as a breakfast, snack, and/or dessert option. If you need a boost of protein, but want full flavor and a full belly quickly, this will do the trick. If you have toddlers and older children, too, they will also love it. 
"Rice" Bowl. Start with this Buttery Vegan Riced Cauliflower. Then, to make a full meal from it, simply add any other meat, fish and/or veggies desired. Finally, top with more herbs, spices, and nutritional yeast, if desired.
Slow-Cooked Lemon-Pepper Chicken Drummies. These are amazing, and it doesn't get easier than the slow cooker. We recently made these at our house for dinner paired with spaghetti squash. I baked the spaghetti squash, then scraped it out in individual bowls. I place a couple chicken drummies in each bowl, along with plenty of the "sauce" to accompany it. A huge hit! 
Slow Cooked Bacon-Wrapped Chicken Drizzled with Honey. A little sweet mixed with a little savory, and you can't beat another slow-cooked meal! 
Cashew Beef Stir Fry. I'm a huge fan of the stir fry, and if cashews and beef are not your thing, simply make an easy "kitchen sink" stir fry by throwing your favorite vegetables, meat or fish, and spices, herbs, sauce in a pan with some oil and stir fry them up. It will be done in a flash.
Bone Broth, Bone Broth! No, I'm not saying that sipping on bone broth is a meal, but I am saying that it can be the base to a really great meal. Ever heard of Chicken Noodle Soup? This is the legit version. Once you make a huge batch of broth you can save it in the fridge for several days to use as the base for your meals, or place in the freezer to grab as needed. p.s. Mixing this with the Buttery Vegan Riced Cauliflower is so, so good and simple. 
Whole Roasted Chicken with Veggies. I make this meal probably once per week. Here's how I do it. I place a whole, organic chicken in an oven-safe pan, breast up. Cover and stuff with any and all herbs/spices desired. Place your favorite veggies around it. We have been doing a lot of cut-up sweet potatoes, onion, Brussels sprouts, and baby carrots lately due to fall abundance, but you can choose your favorites. Finally, place several pats of oil on the chicken and around it (we tend to use THIS or THIS or THIS every single time). Top with a little Kosher Salt. Bake for about 1.5-2 hours (depending on the size of your chicken) on 375 degrees.
Sweet Potato Hash. This is a great meal idea for both breakfast and dinner alike. 
Pasta or Rice, Meat or Fish, and Veggies. This is something you can make in bulk on Sundays, and stash away to eat all week when you're low on time or energy. Here's how:

Buy a couple boxes of pasta and/or rice. We like Ancient Harvest, Tinkyada, and anything Organic Jasmine White Rice. (Yes, that's white rice. Why white rice vs. brown for me? Read: White vs. Brown Rice.) Make it up.
Choose a meat or fish. We tend to stick primarily with organic beef, turkey, shrimp, tuna, chicken, and sausage links primarily. Make that up, set it aside. 
Pick your favorite veggies. Steam or saute them in a large batch. Set aside.
Place all parts in different containers (I'm a fan of glass jars as often as possible), and when you need something to eat quickly, pull out, mix as desired then "flavor" with whatever you're craving at the moment. Oils? Herbs? Spices? Sauce? Dressing? Your choice.

One Skillet Chicken Thighs with Butternut Squash. If you have a smaller family, and perhaps have just welcomed your new and first love home, this is a perfect "starter" skillet meal.
Jumbo Taco Salad. We do this a lot when we need something simple, quick and packed with flavor + nutrition. Here are several things ours consist of lettuce, arugula, olives, tomatoes, peppers, cheese (raw whenever possible), ground beef, mushrooms, salsa, olive oil, cilantro, sauteed onions, avocado, and sometimes tortilla chips crunched in.
Easy Thai Red Curry Soup. Like Thai? Then you'll love this recipe that will take 45 minutes or less to prepare.
Paleo Fish and Chips. Simple, quick, and a nice spin on the original fish 'n chips. 
Crock Pot Santa Fe Chicken. More crock pot ideas because you can never have enough. It is, by far, the easiest way to eat super awesome and healthy food as a new mom. Scout's honor. (Need a slow cooker? I totally recommend a digital slow cooker. I have loved mine so much, namely, because I can do my slow-cooked bone broth overnight while we sleep!)
Hamburger Pie. My brand new recipe! See below and/or click HERE to save it to your Pinterest for later. 
Bonus: Not Meals, Desserts. Because…..Dessert!
Puppy Chow. Make this once, freeze, and enjoy for several days to come!  
Hamburger Pie
Click HERE to save this recipe for later.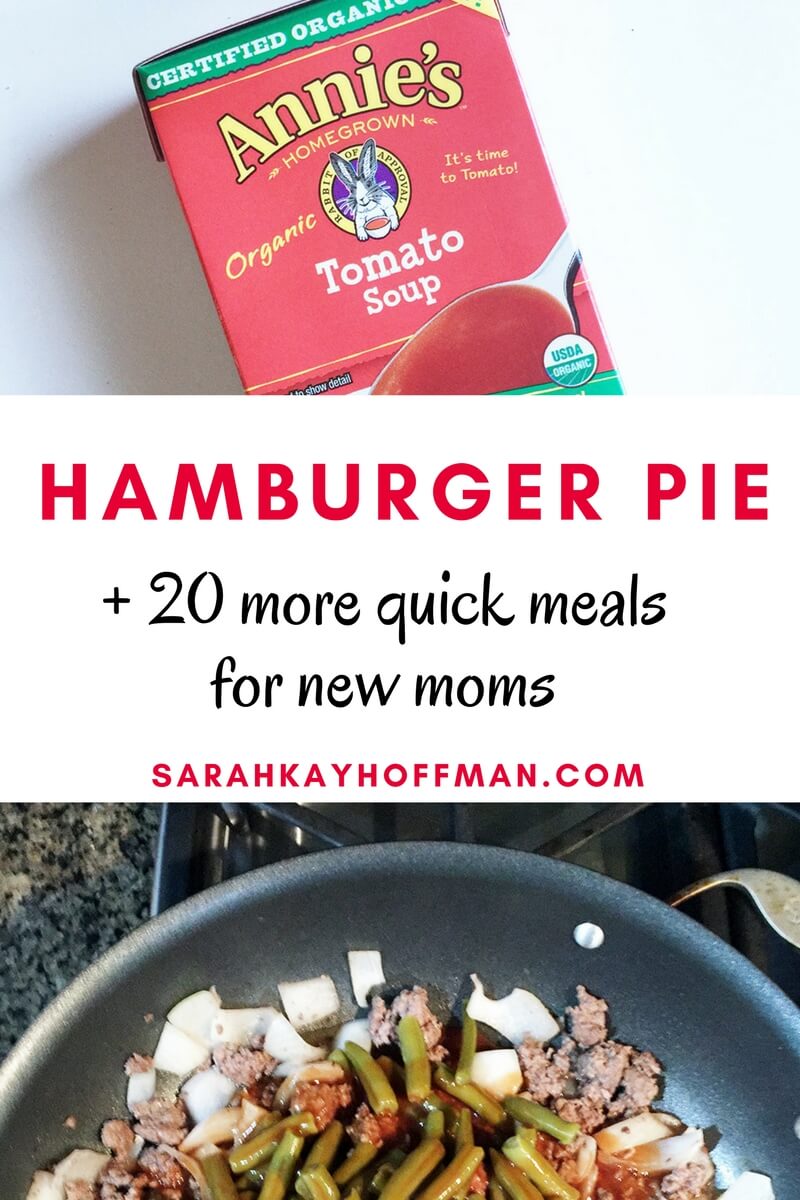 Hamburger Pie
Author:
Sarah Kay Hoffman
Prep time:
Cook time:
Total time:
A spin on the classic Hamburger Pie recipe, using Yucca.
Instructions
Remove the skin from yucca.
Place the yucca in boiling water, and cook until just soft enough to poke a fork through.
Cut the yucca up into small chunks, and allow to cool slightly.
Place chunks of yucca into a good blender (I used a Vitamix) along with Buttery Coconut Oil, coconut milk, water, and salt. Blend until it reaches a pureed consistency.
Preheat oven to 350 degrees.
Brown the onion and ground beef.
Add green beans, tomato soup, and mix well.
Place mixture into a casserole dish.
Place yucca on top of mixture.
Cover with foil and bake for 40 minutes.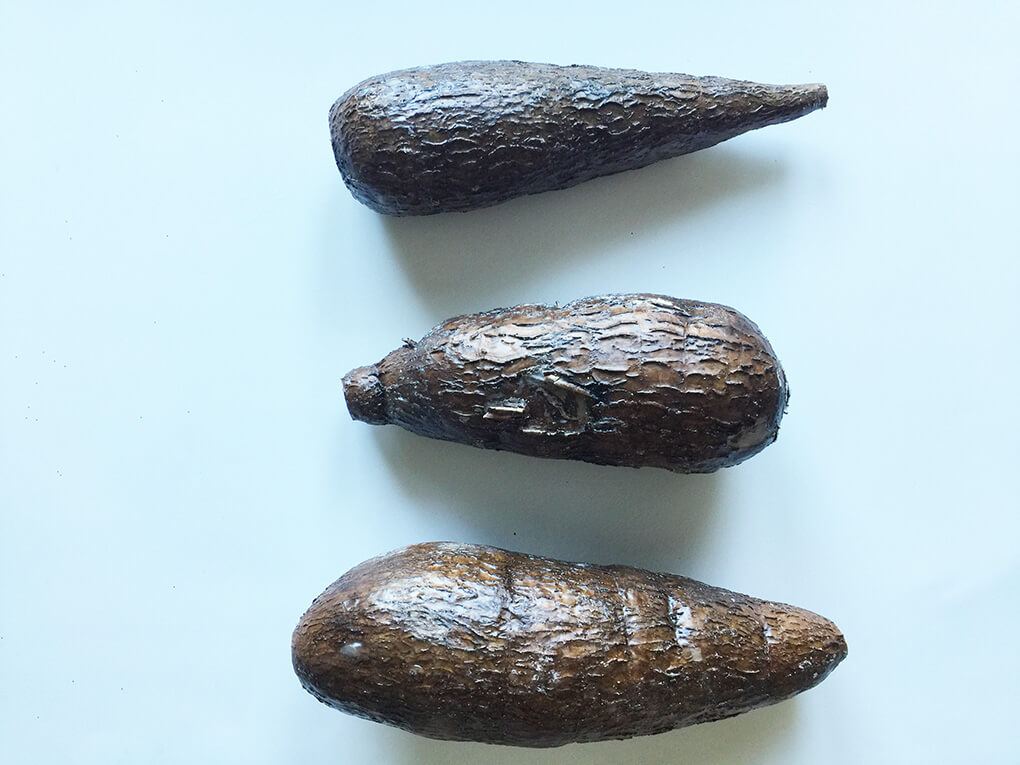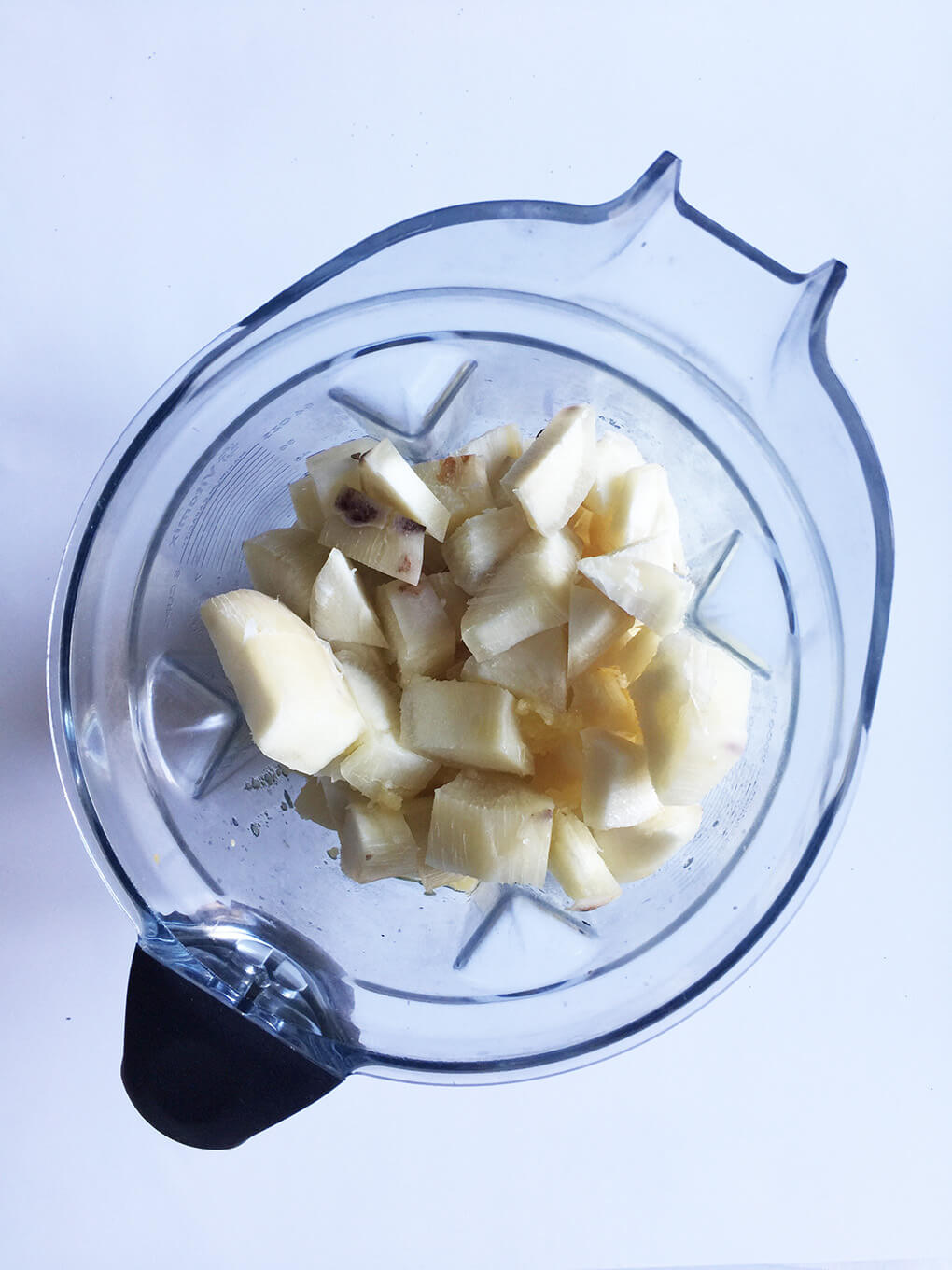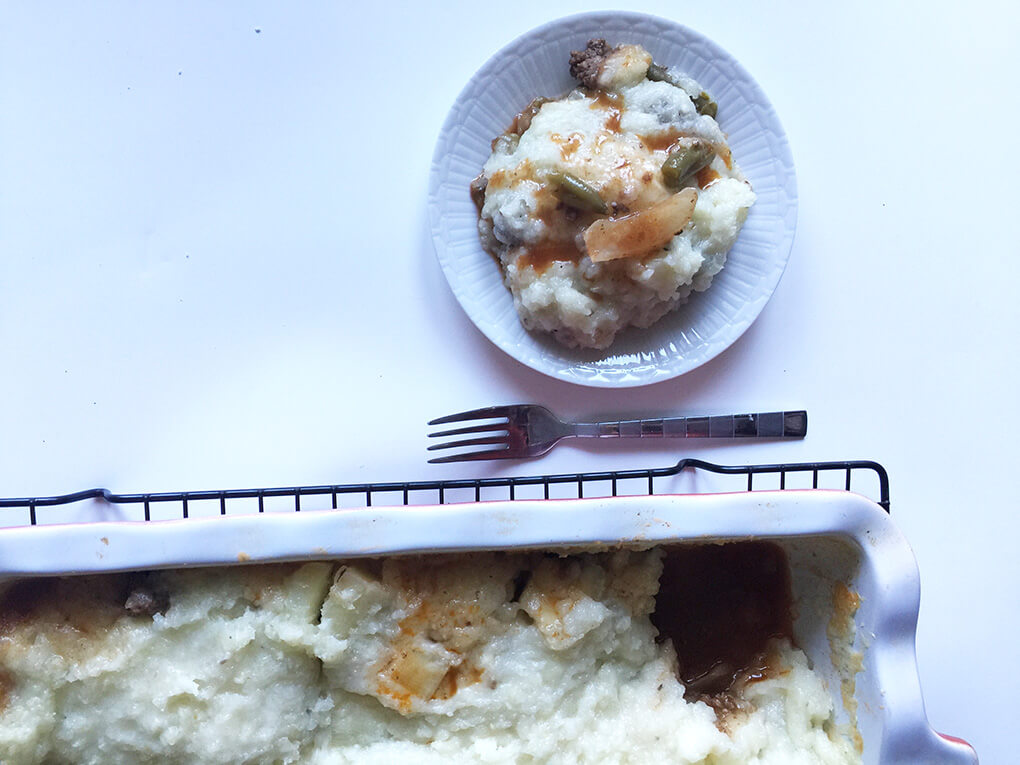 Alright, moms, what is your favorite quick or simple meal?!
p.s. Are you on Instagram? If so, come follow me over there, as I'm always sharing our daily eats via standard pictures and Instagram Stories!
Xox,
SKH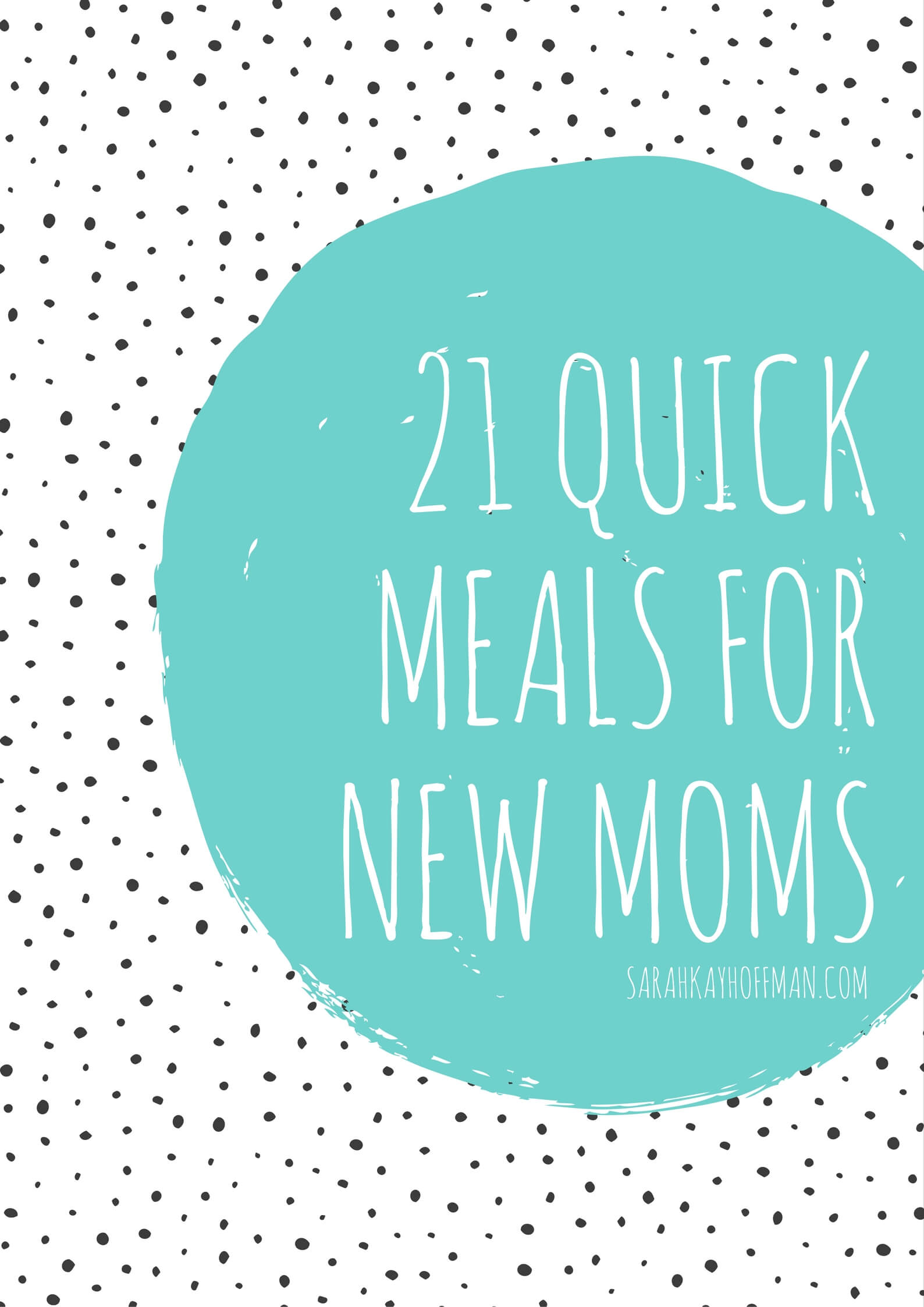 You will heal. I will help.