Have you ever tried a tofu scramble? Now you can, and you might end up loving it!
It's Friday! Big weekend plans for you?
I'm looking forward to another relaxing weekend at home, likely cooking, reading, relaxing and studying. Next week is going to be so busy! I'm headed to Long Beach for the Mega IIN Conference, and then staying in Los Angeles a few days for work. Super excited, but really just need some downtime before I head out.
I'm starting the weekend off today with a long overdue trip to Whole Foods, followed by a quick stop at Trader Joes. Between the two, I am confident I would never need another grocery store as long as I lived. Unfortunately, we live far from both. I have a list of things to get at both….I'll share them later.
One thing I need to get from Trader Joes is their High Protein Tofu. I just love it, and I need it to make my Tofu Scramble. It's been a few weeks since I've made this, but it was so good that I've decided it will make the perfect Saturday morning breakfast. Join me?!
Tofu Scramble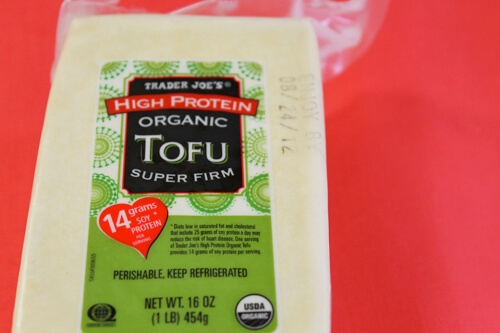 (This recipe is compliments of Joshua Rosenthal's book, Integrative Nutrition: Feed Your Hunger for Health & Happiness) <– Go ahead, download it. FOR FREE! It's Friday!)

Tofu Scramble
Prep time:
Cook time:
Total time:
Ingredients
1 block firm tofu (make sure it's organic)
2 to 3 Tbsp olive oil (I only used 1 Tbsp)
½ tsp Tamari Soy Sauce (Tamari is gluten-free, but regular soy sauce is not)
⅛ tsp turmeric
1 red onion (I didn't use a full onion. Use however much you like.)
½ red bell pepper
⅛ tsp paprika
1 tbsp umeboshi vinegar (I didn't use this.)
dash of black pepper
Instructions
Press tofu to remove excess water and then crumble into small pieces.
Chop onion and pepper. (I sliced the onion and red pepper with one of my new knives I got for Christmas from the Kuhn Rikon Essential Paring Knife Set. I used the orange one, the nearly straight blade of the sheep's foot paring knife which is designed for small jobs like mincing, peeling and trimming. Slick-ness!)
Heat oil.
Add tofu, Tamari, and turmeric.
Saute for a few minutes.
Add vegetables, paprika, vinegar and black pepper to the tofu.
Cook for 5 minutes or until the mixture thoroughly heats and flavors blend.
 
This recipe pairs perfectly with a cup of
amazing coffee
. Anything organic + (fair trade when at all possible) is my preference. How about you?!
Xox,
SKH
You will heal. I will help.