You need this Lavender Coffee Recipe in your life today!
To know me, is to know just how much I love that morning cup of coffee.
What Makes this Lavender Coffee INCREDIBLE!
First, so that we are clear, when I create recipes and give food and drink ideas for A Gutsy Girl the one thing I always aim for is, "How is this benefitting the gut?" I don't believe we have to give up our favorite things – i.e. coffee – in order to heal.
I do believe that sometimes, many times, we just have to figure out a way to take the things we love and change them them up a bit.
So here are the things that make this Lavender Coffee recipe not only incredible, but also incredible for your gut:
Coffee
Now, obviously in order to make this delicious drink you need the coffee. And I also know that many gut healing "gurus" will tell you that you have to cut that cup of hot coffee for healing. I'm here to tell you that might NOT. And, in fact, I still healed and drank coffee.
One of my secrets for still enjoying it, though, was making sure there was a perfect balance of coffee meets milk of sorts (you know, to dilute it).
The key here is that your coffee is high quality, organic, and that you aren't over-doing it (i.e. living off caffeine all day long for energy).
To make this drink, you simply need a basic coffee maker or even a simple french press. No need for any fancy espresso maker. You CAN, if you want, but you do not need to.
I didn't for this Lavender coffee recipe.
Milk
For my recipe below, you'll make note that I used reduced fat coconut milk. I only used the reduced fat so that it was a creamy milk in texture vs. thicker (like I would use for a pudding of sorts).
Coconut was a huge staple on my healing journey, but more so than that, I just love the taste of it.
You might not, and that's okay. But if you're focused on healing your gut, then the kind of milk you use does matter. Here are the milks I might recommend choosing from:
Whole milk, organic OR raw milk. While I realize that dairy milk is always getting a bad reputation in the gut healing world, it's not an absolute. 
Unsweetened, plant-based milks with just 2 ingredients (nut + milk): Almond milk, walnut milk, hazelnut milk, cashew milk (HERE is a great guide for these + more)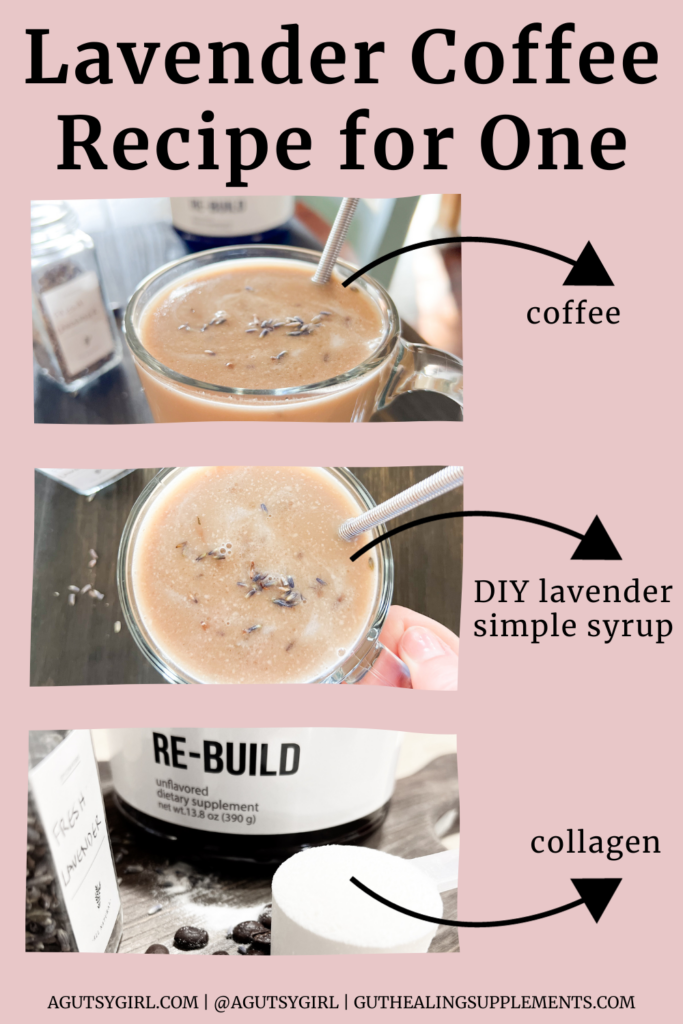 Lavender flavor
Okay, this one is key.
See below for more information on why lavender, but most lavender coffee drinks will use a standard lavender simple syrup.
NOT this one. NOT us.
We make our own with simple ingredients.
Instead of a traditional homemade lavender syrup, you'll infuse the milk with fresh lavender and a little sweetener. That's it.
Typically when you make your own lavender syrup it's water, sugar, and lavender. Then, you strain and have your own lavender simple syrup, a lavender water of sorts.
For this recipe, we are simply skipping the stop of making lavender syrup as a stand along ingredient and simply merging it right into the finished product.
Collagen
I never go a day without infusing collagen right into my coffee.
It's the perfect way to boost coffee with protein + the gut-healing goods! 
Re-Build contains a unique blend of three patented collagen peptides supported by clinical research showing their efficacy for supporting collagen production, bone strength, joint health and integrity, skin elasticity, and more.
My collagen is part of our Gut Lining Bundle because that's the intention — to help re-build your gut lining! 
Why Lavender?
Well, I am obsessed with the fresh floral flavor of lavender, but here are some other health benefits of culinary lavender buds (according to Everyday Health):
Could help treat skin blemishes like acne
May offer a natural remedy for pain
Helps combat fungus growth, such as C. albicans
Might reduce stress
And, in fact, one study found "that consumption of lavender herbal tea can reduce depression and anxiety scores and since it is inexpensive and accessible, it is suggested to be used as a complementary treatment in reducing anxiety and depression."
Even more benefits of the tea include:
sedative effects (sleep aid)
reduces inflammation
supports the digestive system (amen!)
boosts immune health
But again, the great thing about lavender is that it just tastes incredible!
Alright, are you ready for the full recipe card to dig in?
Lavender Coffee Recipe for One (with a Collagen boost!)
Click HERE to save this Lavender Coffee Recipe for later.
Lavender Coffee Recipe
Coffee, steamed milk, and fresh lavender with a boost of collagen for the perfect morning cup of Joe.
Ingredients
1 1/4

cup

milk

as desired

1/2

cup

coffee

brewed strong

1

Tbsp

monk fruit

or sugar of choice

1

Tbsp

dried lavender blossoms

1

scoop

collagen peptides

Re-Build
Instructions
Brew your coffee or espresso and set aside.

In a small saucepan add 1 1/4 cups of milk, 1 Tablespoon sugar, and 1 Tablespoon dried lavender. Bring to a boil then let it simmer for about 10 minutes.

Remove saucepan from the stove, and using a strainer, strain out the lavender flowers. 

Place the mixture back in your saucepan and heat over medium, adding in the scoop of Re-Build collagen peptides. 

Place the espresso or coffee on the bottom of a cup.

Once the milk reaches desired temperature, add it to your coffee cup.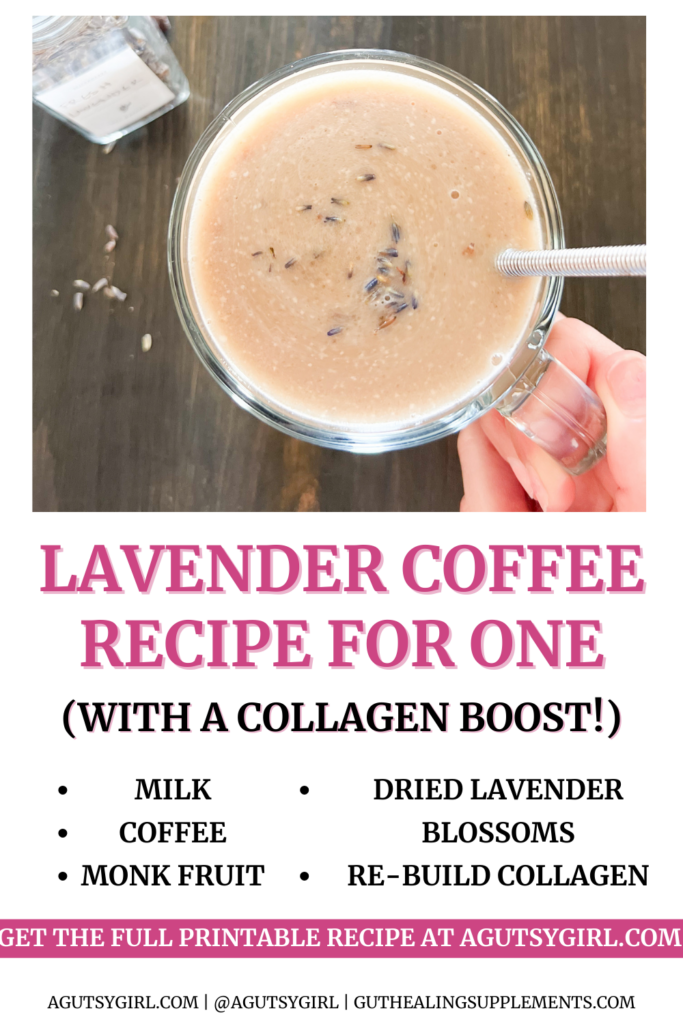 For a Relaxing Morning
Once you make this recipe, you might not even have the need to head to your local coffee shop on the daily any longer.
Seriously, this lavender lovers recipe holds its place among all other fancy drinks.
The next time you make this, you can play with more flavor options and/or variations of the recipe, too. Consider:
Honey lavender syrup recipe (yes, just add delicious honey vs the monk fruit!)
Iced lavender latte (just add ice)
Vanilla lavender latte (same as above, but then also add in some pure vanilla extract prior to straining)
Endless options for the coffee addict 🙂
Let me know what you try and how you love this easy peasy recipe.
If you like this type of information on gut health routine, you might also enjoy:
Disclosure: All opinions started here are 100% my own. I appreciate your support, as this compensation helps with expenses to keep this website up and running, and for me to continue sharing all that I can with you. Some of the links in this post are affiliate links. This means if you click on the link and purchase the item, I may receive a small commission at no extra cost to you.
Xox,
SKH
You will heal. I will help.