I put together 36 gluten-free items from Thrive Market.
National Milk Day was earlier this week and today it's National Gluten Free Day. Such an eye roll to so many people, but not for us Gutsy sisters, yes?!
Because I love Thrive Market and the accessibilities to all the things no matter where you live (trust me, we live in small, farm town with just one basic grocery store).
Almost a year ago, I shared 24 Low-FODMAP Items from Thrive Market, and today I am adding this one for your online shopping convenience.
Thrive Market continues to be a staple way for how we get food. I have every intention of sharing my Small Town Grocery Shopping Part Two post with you soon, so stay tuned.
36 Gluten-Free Items from Thrive Market
Click HERE to save this post for later. If you find this information useful, click HERE to share on Facebook with family and friends.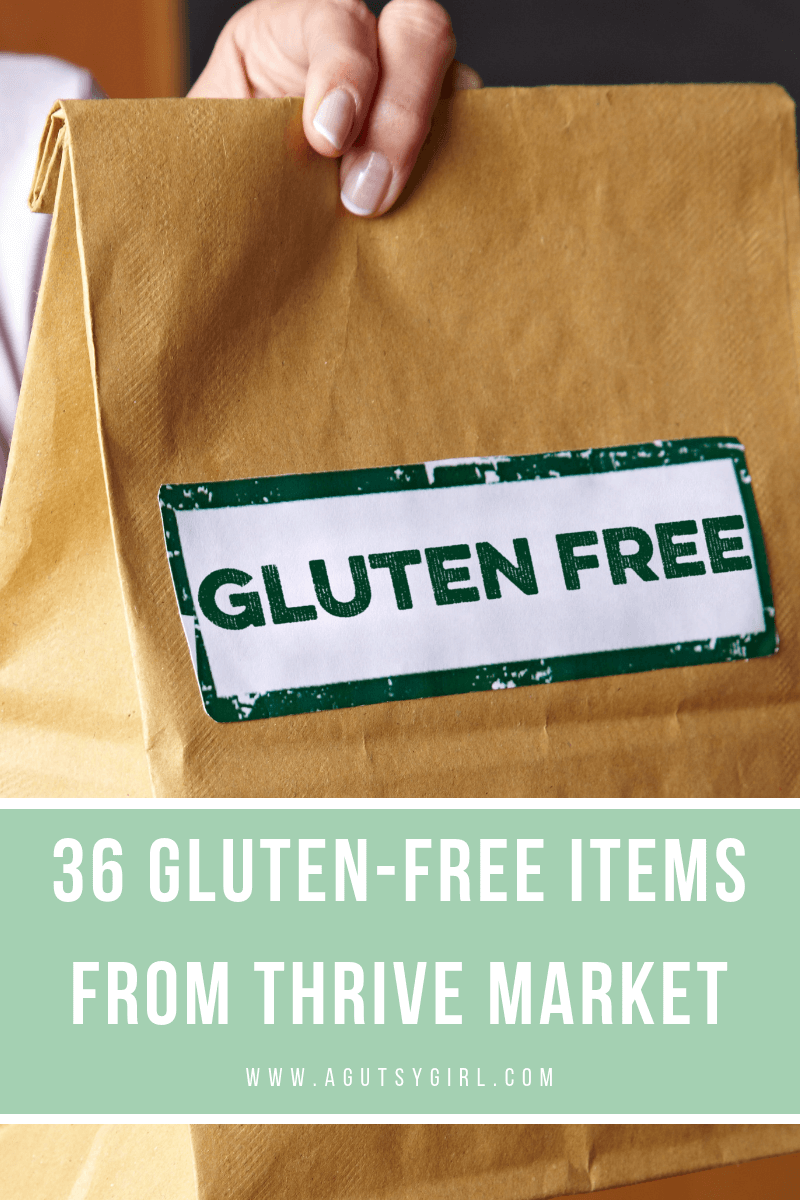 Below are items I do buy or are in my pipeline to try. I have listed out the item along with their Thrive Market price, and then in parentheses, I've listed how much you'd pay for it at a conventional grocery store.
These are all Certified Gluten Free items from Thrive Market. I decided to just stick with the Certified Gluten Free Items so that no matter where you fall on the avoidance-of-gluten spectrum, you would be "safe."
36 Items
Simple Mills Artisan Bread Almond Flour Mix – $6.49 ($7.99)
Thrive Market Paleo Pizza Crust Mix – we tried this for the first time about a week ago – huge hit at our house! $7.99 ($10.29)
Birch Benders Paleo Pancake & Waffle Mix – $4.99 ($6.49)
Bob's Red Mill Gluten-Free Cornbread Mix – $2.99 ($3.75)
Thrive Market Organic Tapioca Flour – $2.99 ($3.49)
Thrive Market Non-GMO Cassava Flour – $11.99 ($17.99)
Simple Mills Fine Ground Sea Salt Almond Flour Crackers – $4.19 ($5.99)

Siete Lime Grain Free Tortilla Chips – $4.39 ($5.49)
Primal Kitchen Chipotle Lime Mayo – $7.49 ($9.99)
Purely Elizabeth Ancient Grain Granola Cereal – $5.49 ($7.99)
Enjoy Life Dark Chocolate Morsels – $4.69 ($6.29)
Mary's Gone Crackers – Organic Super Seed Crackers – $4.69 ($5.99)
Vegan Coconut Milk Powder – super interesting. I have never tried this one. Have you? $2.79 ($3.75)
Jovial Organic Brown Rice Tagliatelle – my family loves the Jovial brand. Their pasta tastes super authentic, even when it's gluten free. $4.99 ($5.49)
Plant Snacks Sea Salt Yuca Root Chips – $2.99 ($3.99)
Nutiva Organic Classic Hazelnut Spread – $5.79 ($7.99)

Organic Gemini Organic Tigernut Flour – $10.99 ($13.99)
Simple Mills Sundried Tomato & Basil Almond Flour Crackers – these tastes like little pizza bites. I love putting some Miyoko's Cream Cheese on them for a snack. Addicting! $4.39 ($5.99)
Let's Do….Organic – Organic Heavy Coconut Cream – $4.49 ($4.99)
Thrive Market – Organic Gluten-Free Rolled Oats – $4.99 ($7.89)
The New Primal Snack Mates, Classic Turkey Sticks – $4.99 ($5.99)
King Arthur Flour Gluten Free Measure for Measure Flour – $9.99 ($12.99)
Hippeas Organic Vegan White Cheddar Chickpea Puffs – $2.99 ($3.99)
Thrive Market Paleo Flour – $9.99 ($13.99)
Sir Kensington's Dijon Mustard – $4.99 ($6.69)

Kettle & Fire Grass-Fed Beef Bone Broth – $7.49 ($9.99)
Pure Organic Chocolate Brownie Bars – $18.49 ($26.28)
Miracle Noodle Spinach Angel Hair Shirataki Noodles – $2.49 ($3.49)
Pamela's Cinnamon Graham's – $4.49 ($5.49)
Justin's Cinnamon Almond Butter Squeeze Pack – $11.99 ($14.99)
That's It Apple and Coconut Fruit Bars – $14.49 ($21.99)
The New Primal Noble Made Hot Buffalo Sauce – $6.99 ($7.99)
Jovial Organic Brown Rice Shells – Make a Vegan Mac 'n Cheese with these = incredible! $3.59 ($4.79)
Quinn Classic Sea Salt Pretzel Sticks – $3.59 ($4.49)
Square Organics Chocolate Coated Mint Organic Protein Bar – I admit it. I'm addicted to the Mint Chocolate Chunk Quest Bars. I mean, I'm really addicted to all the Quest Bars, but I don't love their ingredients – at all. Found these on Thrive Market, and wondering what they are like. Have you tried them? $22.99 ($31.99)
Organic Gemini Tigernut Raw Chocolate Clusters – $3.29 ($3.99)
And More!
Obviously, this is not an exhaustive list, but it's a start. The Certified Gluten Free tab that can be found via the Thrive Market Homepage currently contains 21 pages full of products. Surely you'll find plenty. And remember, with just $49 in purchases, there is free shipping.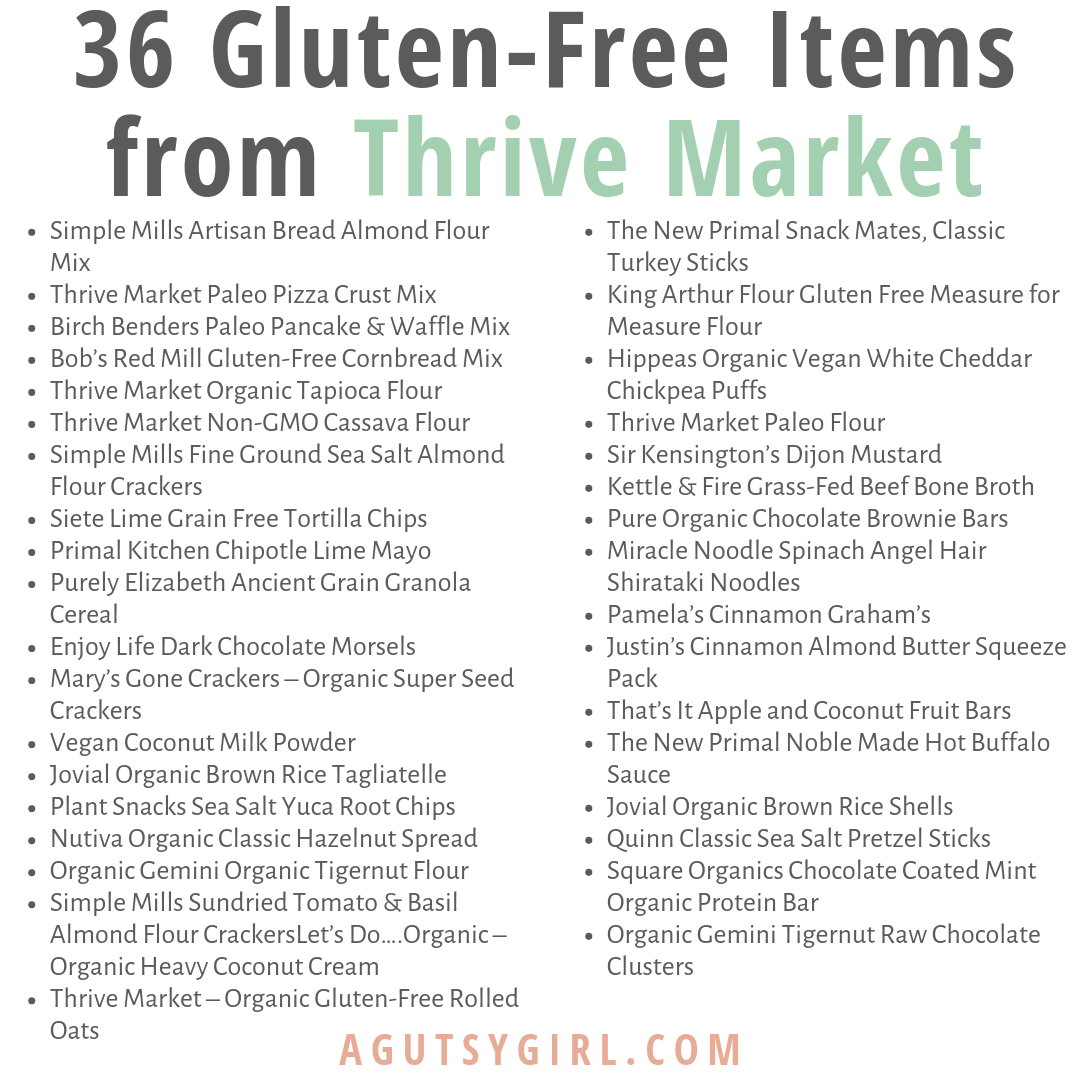 p.s. If you follow me on Instagram, each time a Thrive Market shipment arrives, I do an unboxing so you can see what we're buying, eating, and loving.
p.s.s. If you're interested in all things gluten free, I probably have hundreds of helpful articles on my blog. Just click HERE to get started down the gluten-free rabbit hole.
Xox,
SKH
You will heal. I will help.