Since it's been a few years that we have been ordering from Thrive Market, I wanted to share my Thrive Market Food List.
But I'm not just here to share any old Thrive Market grocery list, I'm here to share my favorite products for any specific diet you might be following.
That's one of the truly awesome things about this online grocery store – you can easily drill down to find the items that fit any specific dietary need. And I mean any. But we'll get to that in awhile.
What is Thrive Market?
First, what exactly is this online grocery store?
Thrive Market is on a mission to make healthy living easy and affordable for everyone.
As an online marketplace, membership-based market (1.2M+ members), Thrive Market delivers the highest quality, healthy and sustainable products at member-only prices, while matching every paid membership with a free membership to someone in need.
Thrive Market carries a curation of organic and non-GMO products including pantry essentials, non toxic cleaning supplies, clean beauty items, baby and bath products, and even biodynamic wines.
They offer over 90+ filters and values on site, allowing members to shop by their own diet and lifestyle.
Members save an average of 30% on every order & receive fast & free carbon-neutral shipping on orders over $49!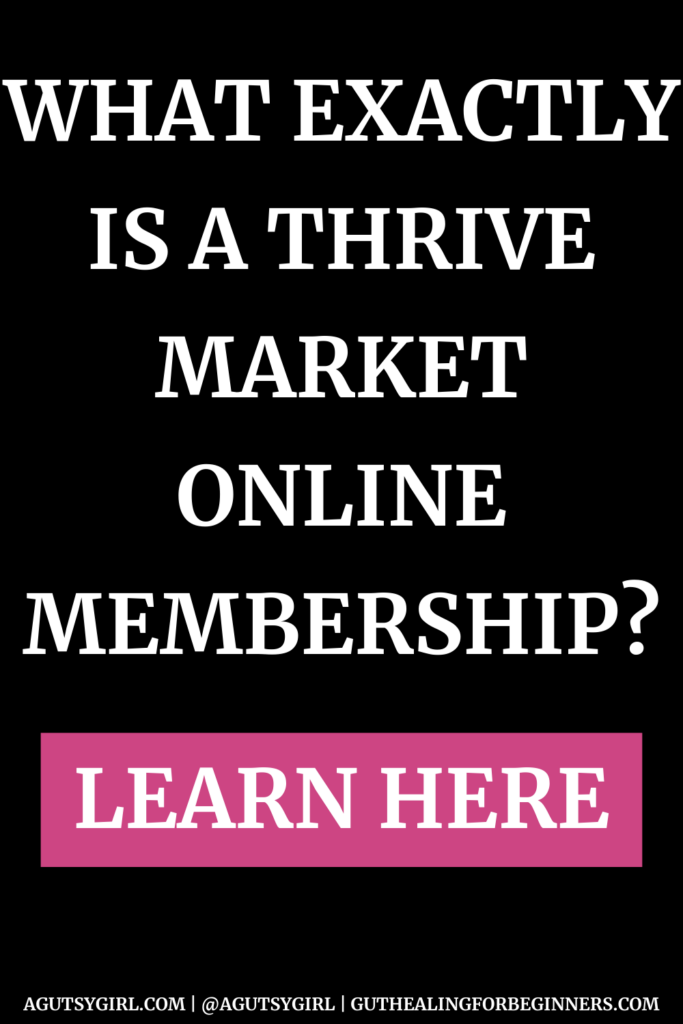 How Does a Thrive Market Membership Work?
It's simple. Think of it like you would any offline membership like the one you might have for Costco.
Purchase your Thrive Market yearly membership HERE. The membership has an annual membership fee of $59.95 or on a monthly basis for $12.00. The membership fee is what gets you access to our discounted prices, exclusive sales, free gifts with your orders, and so much more. Thrive Market also guarantees that you will make back your annual Thrive membership fee in savings each year. If you don't, they will pay you the difference in Thrive Cash when you renew. (Note: Get 30% OFF your first order and a FREE gift when you join the Thrive market membership.)
And then you go to the website and start your Thrive Market order.
Once you have added your favorite items to your grocery cart, the order ships directly to your doorsteps.
And that's it. You can order from this online store whenever you need a re-stock of your favorite things.
Why I Personally Love My Thrive Market Membership
Thrive Market continues to be a staple way for how we get healthy food at wholesale prices.
In case you are new around here, we live in a small town in Southern Minnesota where the only local grocery store is Walmart. While I can and do make the Walmart work, it's definitely not ideal.
Therefore, having access to natural products, organic brands, and organic products from Thrive Market has been a great option.
Furthermore, I love that it ships directly to my doorsteps. I do far less impulse buying when I'm not physically in the store with food surrounding me.
As an awesome bonus + PRO TIP….I will tell you that I often wait for killer members-only deals and free full-size product gifts that I know our family loves and place my order then. 
Deals
At the top of the website, you'll see an icon for "Deals."
This is one of my favorite features.
When you click it, you'll see all the various Thrive Market Deals, broken down by different categories like: babies & kids, beauty, food, frozen foods, gifts, home, meat & seafood, new products, etc.
Beneath that, you'll find the products you have already purchased that are on sale. I love this feature because I am easily able to re-order my favorites at an even higher discounted rate.
Finally, they give recommendations for products I might like – that are on sale – based on previous purchases along with brand new items.
I'm always discovering the best new products in organic food using these features!
Thrive Market Food List (63+ Ideas)
Click HERE to save this post for later. If you find this information useful, click HERE to share on Facebook with family and friends.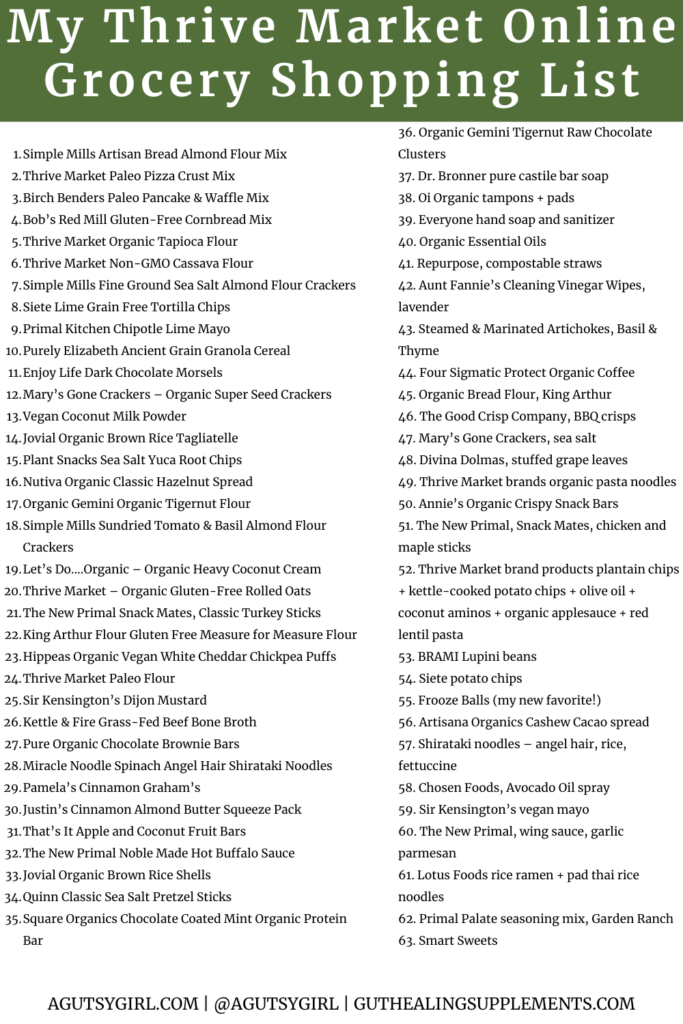 Alright, so what are some awesome, high quality product I personally buy and that you, too, can get from this awesome online marketplace?
Here is a shopping list of 36 gluten free items.
Not only have I provided a list for you, but I have also listed out the price you'll pay vs (in parentheses) how much you'd pay for it at a conventional grocery store so you're able to get a good idea of the savings.
These are all Certified Gluten Free items from Thrive Market. I decided to just stick with the Certified Gluten Free Items so that no matter where you fall on the avoidance-of-gluten spectrum, you would be "safe."
36 Gluten-Free Items from Thrive Market at Great Prices
Simple Mills Artisan Bread Almond Flour Mix – $6.49 ($7.99)
Thrive Market Paleo Pizza Crust Mix – we tried this for the first time about a week ago – huge hit at our house! $7.99 ($10.29)
Birch Benders Paleo Pancake & Waffle Mix – $4.99 ($6.49)
Bob's Red Mill Gluten-Free Cornbread Mix – $2.99 ($3.75)
Thrive Market Organic Tapioca Flour – $2.99 ($3.49)
Thrive Market Non-GMO Cassava Flour – $11.99 ($17.99)
Simple Mills Fine Ground Sea Salt Almond Flour Crackers – $4.19 ($5.99)
Siete Lime Grain Free Tortilla Chips – $4.39 ($5.49)
Primal Kitchen Chipotle Lime Mayo – $7.49 ($9.99)
Purely Elizabeth Ancient Grain Granola Cereal – $5.49 ($7.99)
Enjoy Life Dark Chocolate Morsels – $4.69 ($6.29)
Mary's Gone Crackers – Organic Super Seed Crackers – $4.69 ($5.99)
Vegan Coconut Milk Powder – super interesting. I have never tried this one. Have you? $2.79 ($3.75)
Jovial Organic Brown Rice Tagliatelle – my family loves the Jovial brand. Their pasta tastes super authentic, even when it's gluten free. $4.99 ($5.49)
Plant Snacks Sea Salt Yuca Root Chips – $2.99 ($3.99)
Nutiva Organic Classic Hazelnut Spread – $5.79 ($7.99)
Organic Gemini Organic Tigernut Flour – $10.99 ($13.99)
Simple Mills Sundried Tomato & Basil Almond Flour Crackers – these tastes like little pizza bites. I love putting some Miyoko's Cream Cheese on them for a snack. Addicting! $4.39 ($5.99)
Let's Do….Organic – Organic Heavy Coconut Cream – $4.49 ($4.99)
Thrive Market – Organic Gluten-Free Rolled Oats – $4.99 ($7.89)
The New Primal Snack Mates, Classic Turkey Sticks – $4.99 ($5.99)
King Arthur Flour Gluten Free Measure for Measure Flour – $9.99 ($12.99)
Hippeas Organic Vegan White Cheddar Chickpea Puffs – $2.99 ($3.99)
Thrive Market Paleo Flour – $9.99 ($13.99)
Sir Kensington's Dijon Mustard – $4.99 ($6.69)
Kettle & Fire Grass-Fed Beef Bone Broth – $7.49 ($9.99)
Pure Organic Chocolate Brownie Bars – $18.49 ($26.28)
Miracle Noodle Spinach Angel Hair Shirataki Noodles – $2.49 ($3.49)
Pamela's Cinnamon Graham's – $4.49 ($5.49)
Justin's Cinnamon Almond Butter Squeeze Pack – $11.99 ($14.99)
That's It Apple and Coconut Fruit Bars – $14.49 ($21.99)
The New Primal Noble Made Hot Buffalo Sauce – $6.99 ($7.99)
Jovial Organic Brown Rice Shells – Make a Vegan Mac 'n Cheese with these = incredible! $3.59 ($4.79)
Quinn Classic Sea Salt Pretzel Sticks – $3.59 ($4.49)
Square Organics Chocolate Coated Mint Organic Protein Bar – I admit it. I'm addicted to the Mint Chocolate Chunk Quest Bars. I mean, I'm really addicted to all the Quest Bars, but I don't love their ingredients – at all. Found these on Thrive Market, and wondering what they are like. Have you tried them? $22.99 ($31.99)
Organic Gemini Tigernut Raw Chocolate Clusters – $3.29 ($3.99)
And More of the Best Thrive Market Products
Here is a list of other favorites:
Beauty Products & Personal Care Items
Dr. Bronner pure castile bar soap
Oi Organic tampons + pads
Everyone hand soap and sanitizer
Household Items
Organic Essential Oils
Repurpose, compostable straws
Aunt Fannie's Cleaning Vinegar Wipes, lavender
Healthy Snacks + Other Grocery Items
Steamed & Marinated Artichokes, Basil & Thyme
Four Sigmatic Protect Organic Coffee
Organic Bread Flour, King Arthur
The Good Crisp Company, BBQ crisps
Mary's Gone Crackers, sea salt
Divina Dolmas, stuffed grape leaves
Thrive Market brands organic pasta noodles
Annie's Organic Crispy Snack Bars
The New Primal, Snack Mates, chicken and maple sticks
Thrive Market brand products plantain chips + kettle-cooked potato chips + olive oil + coconut aminos + organic applesauce + red lentil pasta
Siete potato chips
Frooze Balls (my new favorite!)
Artisana Organics Cashew Cacao spread
Shirataki noodles – angel hair, rice, fettuccine
Chosen Foods, Avocado Oil spray
Sir Kensington's vegan mayo
The New Primal, wing sauce, garlic parmesan
Lotus Foods rice ramen + pad thai rice noodles
Primal Palate seasoning mix, Garden Ranch
Smart Sweets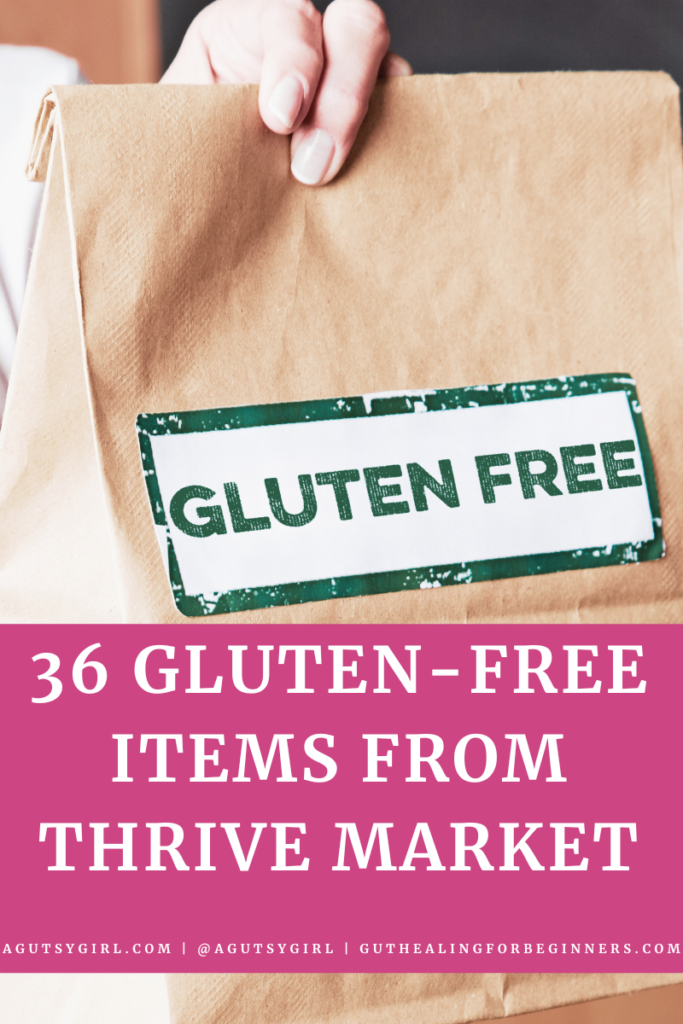 My Honest Thrive Market Review
My honest review of Thrive Market is that it is an A+ option and one of my favorite places to find the best products at off retail prices.
There have been times when product has been shipped with dents in boxes or something broken. But customer service has always been excellent to work with and whenever that happens they always give Thrive Market credit so the next time I order, I can simply re-order the product that was damaged.
While some people throw a huge fit over things like this, I don't. Maybe it's because I don't have access to high-quality food at my fingertips on the daily. Or because I know that accidents happen. But either way, I believe it's a small price to pay for having access like this to my favorite brands.
Besides, remember that with just $49 in purchases, there is free shipping!
Other Thrive Market Things
Here are other things you might be interested to know:
Thrive Market gives back! Every annual membership sponsors a free membership for a family in need. They believe that healthy food is a priority—not a privilege. So if you're a family in financial need—including students, teachers, veterans, nurses, and first responders—you qualify for a free one-year membership through Thrive Gives. With it, you'll get access to member-only benefits from Thrive Market.
You're able to pay it forward. Any Thrive Market member can gift their savings or any dollar amount at checkout, supporting initiatives like:

Grocery discounts & stipends for Thrive Gives members to use on our site
Nonprofit partners that help us reach people in need
Food & product donations following natural disasters

Diets to filter by. You are able to filter all food options by any of the following: keto, Paleo, gluten free, raw, vegan, organic, vegetarian, vegan, AIP, low FODMAP, Whole30 and Mediterranean. Furthermore, you can also filter by health and ingredients like: alcohol-free, caffeine-free, contains probiotics, dairy-free, dye-and color additive-free, fragrance-free, high fiber, high in protein, low-glycemic, no added sugar or sweeteners, paraben-free, peanut-free, no antibiotics / synthetic hormones, salt free, pesticide free, soy-free, yeast-free, non-GMO, big 9 allergen-free, grain-free, vegetable & seed oil free, egg-free, etc. Yes, there is something for everyone in the Gutsy community.
There is an app. Like all other "cool kids on the block," Thrive Market an app so you can easily shop any time. With this app (available for for iOS and Android) you can:

Scan your pantry favorites at home for healthier shopping options
Track deliveries & get live updates
Enjoy exclusive gifts & deals
I'd love to know your thoughts on Thrive Market if you, too, have a membership.
What do you like? Love? Hate? What is on your own grocery list?
If you liked this post, you might also enjoy:
Disclosure: All opinions started here are 100% my own. I appreciate your support, as this compensation helps with expenses to keep this website up and running, and for me to continue sharing all that I can with you. Some of the links in this post are affiliate links. This means if you click on the link and purchase the item, I may receive a small commission at no extra cost to you.
Xox,
SKH
You will heal. I will help.