Heather Filipowicz is a Gutsy Girl Living Out Her Dreams.
It's been a long time since I've featured one of your stories. I love featuring you and allowing you to tell your gutsy story. Having a Gutsy story isn't just about living with IBS and/or IBD. It's about being Gutsy, being fearless, in all areas of your life. We all embrace this in some way or another. The following Gutsy story is from a former client and current friend. I remember coaching her on these thoughts long ago, and I've loved watching her step out of her square box. I think you will enjoy it, too!
p.s. Ready to tell your story? Contact me!
Heather Filipowicz is a Gutsy Girl Living Out Her Dreams
Everyone has that dream. You know, that nagging, niggling thing in your mind that you place excuse after excuse in front of. "I'll do that when I retire." "I don't have enough money." "I can't do THAT." "There isn't enough time. I'm too busy."
I was that person, and then I wasn't.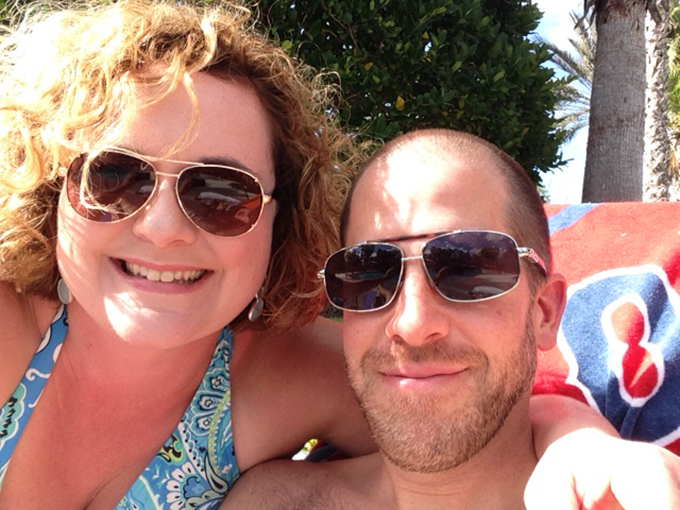 My husband Joe and I always dreamed of oceans – turquoise waters and the sway of palm trees, warm sun on our faces and sand in our toes. Yet, we lived in Buffalo, NY. Buffalo is spectacular in the summer, but come mid-January it is not our ideal living location. We always said "We will move when Logan (our 6 year old son) graduates from High School. Graduation cap goes up in the sky, for sale sign goes in the lawn."
Then we woke up. We realized that we aren't guaranteed tomorrow, all we have is today and if we don't set an example for Logan that dreams are for the taking then we would have failed him, failed us. No more waiting.
We hustled. We researched. We had vision boards. We read books about facing fears and dreaming big. Our mindset changed. We worked on our goal early in the morning and late at night. We decided that now was the time to take the leap because Logan is 6 years old, adventurous and still thinks we are the center of his universe. We were clear on what we wanted and we didn't waiver.
Our dream became our reality. After two months of split living, on December 7th our family of 3 moved into our home in Wesley Chapel, Florida, complete with sunshine and palm trees. We left behind everyone we knew and loved – family, friends, and colleagues. Joe had a new job, and I was jobless for the first time in my life since I was 12.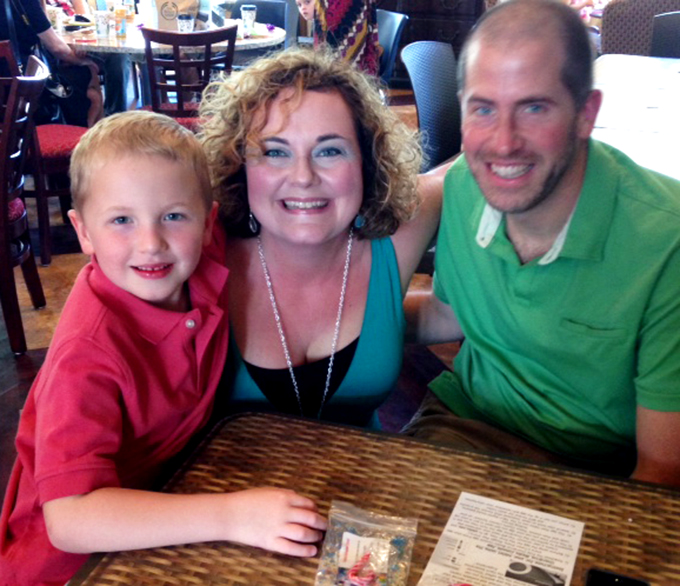 The funny thing is once you start dreaming, you can't stop. With a big dream accomplished, new ones come along. I wanted more for me and my family. I wanted more time with my son, more balance in my life and more control over my future. I didn't want to go back to working long hours and have my son in daycare day after day. I wanted to be there more for him and to change the future for our family.
So here I find myself, working on building my own business. The CEO of Redefining Awesome is what I like to call it. I want to change my life and the lives of others by getting more out of life. I allowed myself to think bigger and take the leap. Scared? You bet. Guaranteed to work? Nope. Does it seem crazy to many people I know? For sure. But yet again, I think about Logan. I want him to know that dreams are worth pursuing. I want him to know that hard work, determination, sacrifice, and grit have never failed me in my pursuit of anything worth having.
Dreams aren't these crazy things that only exist in our brains and heart that just sit there. They are real and by not even attempting to go after them we are letting ourselves down. Listen to that voice that keeps nagging your brain and your heart. Taking the leap isn't easy, but anything worth it in life shouldn't be easy. Take the leap. Trust me, it's worth it.
Heather Filipowicz is Redefining Awesome and lives in Wesley Chapel, FL. She blogs about life, dreams, health and parenthood at Sassy Inspiration. She is living life on her terms as an AdvoCare Distributor and Non-Profit consultant. She believes in eating "the gutsy way" and knows that Sarah Kay Hoffman changed her life through her coaching and kindness. Mom to Logan and wife to Joe, she has mastered the art of stepping on Lego's in the dark, making bone broth and finally embracing her curly hair.
SKH note: Lest what you might think, I did not pay Heather to say those things about me. She added that last paragraph, in italics just as is. I left it in because I adore it. By far my favorite line, "Mom to Logan and wife to Joe, she has mastered the art of stepping on Lego's in the dark, making bone broth and finally embracing her curly hair."
Xox,
SKH
You will heal. I will help.