Today is my IVF story Part III. Click HERE for Part I. Click HERE for Part II.
Our two little beans were there, you know, the embryos.
Clearly, I was on cloud 9.
If you missed Monday's post, HERE is what happened next.
….I was in that room all by myself. The emergency room was fairly quiet that day, yet it took an extremely long time for the doctor to come in. When she finally did come in, she asked questions about the past couple days, recent activity, etc. I told her immediately, "The only thing different was that I had an IVF procedure yesterday." Instead of calling my IVF doctor (who was about 40 minutes away), she said my appendix could be rupturing, and that we should do a cat scan. She assured me I'd start to find some relief with pain meds that she would ensure were given to me immediately.
My IVF Story Part III
Click HERE to save this post for later.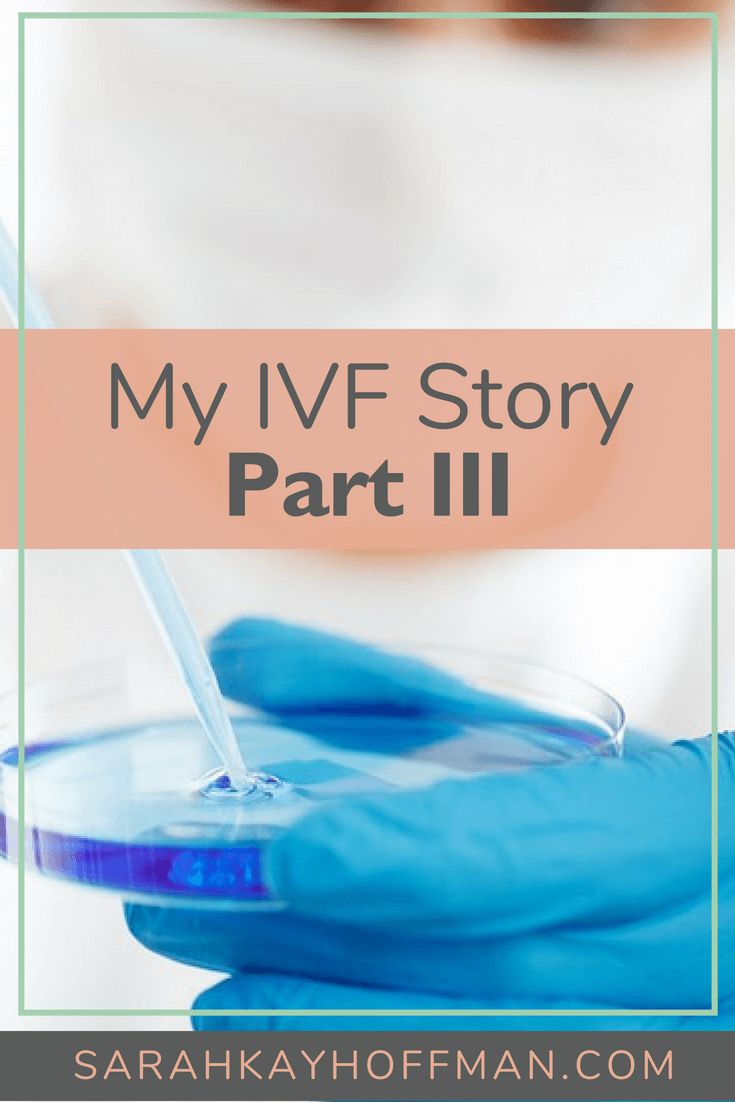 I laid there in pain and agony, with no pain meds. When the nurse came in to take me for my cat scan she stopped to look at my chart notes. With a confused look on her face, she said, "Wait, you had an IVF procedure yesterday? Do you know the risks of a cat scan, and that it could interfere with the procedure?" I said, "No." The doctor butted in the room at that point and said, "She knows. Her appendix could be rupturing. We need to." At this point, there was still no call to my IVF doctor, and by this point, it was now over an hour from when I first got there; still in pain, still no pain meds per the doctor's promise.
I wasn't thinking clearly; I had a sick feeling about the cat scan (and no longer wanted one) as soon as the nurse "warned me," but at the same time, the doctor scared me that I could die if my appendix ruptured.
They wheeled me into cat scan. Again, no pain meds, excruciating pain. I laid there in that tube. I was warm. My mind was going eight million miles per hour. As the table shifted out of the tube, a tear fell down my face. It was the most bizarre feeling, but somehow I knew at that moment that it was not my appendix. It was something else and ultimately hope was expelled from my body that the embryos had any kind of fighting chance.
Awhile after I had gotten back to my room (still no pain meds, still in agony), the doctor came in and said, "Well, just what I thought. You have had multiple cysts burst."
"Cysts?" I replied. "How could that happen?" I didn't understand. I have never had even one cyst burst in my entire life.
Her response haunts me to this day. Throughout everything during those few months, this is the one and only thing that still stings me deep to my core. Without a care in the world or regard for anything she said,
Well yeah (smirk)…..what did you expect (hands in the air)? You had an IVF procedure done yesterday. That's kind of what happens when you choose IVF.
It was in that very moment when I learned that not everyone will understand, not everyone will be compassionate and not everyone will agree with the IVF process.
I bit my lip damn hard. I wanted to scream, "But you told me you thought my appendix was bursting so we had to do a cat scan?" And I wanted to cry out,
For the love of compassion, you have none lady, none. You have just faulted and shamed me for going through hell all in the name of a child; a child we wanted to love, a baby we wanted to hold.
Ryan got there soon after. I cried. Each time a tear shed, he tried to make it stop because, again, still no pain meds and feeling emotion was absolutely painful.
About that time, my IVF doctor was finally called. She was, naturally, livid, and told Ryan and myself that I needed pain meds immediately to carry me through until I could get to San Ramon, California. She said we needed to stop at home, grab overnight clothes and somehow get me to the hospital she was at.
I finally got my pain meds at Sutter in Tracy, right before heading to San Ramon. (Side note: I left there, absolutely disgusted. God willing, I will never, ever need to return there again.)
We made a pit stop at home.
I made it to my second hospital and emergency room of the day in San Ramon, California.
The day turned to night by the time we got there, but yet darkness turned to light.
Multiple Ruptured Cysts
I immediately had a team of people helping me. I got pain meds, in the correct doses and I could finally at least breathe – a little (literally, I could hardly breathe because come to find out blood was getting into my lungs). In San Ramon they did the unthinkable – gasp – take my blood counts. When my IVF doctor got there she administered an ultrasound complete with images, and she also told us that my blood counts were continuing to drop. She would need to monitor me all night.
I was so thankful to finally be in a place that felt warm, safe and intelligent.
My heart was broken, but I knew I would be okay.
Remember yesterday whenI told you there were 17 eggs total; 9 "retrieved?"
The other 8 burst, that's what happened.
While in the hospital that night, watching The Cosby Show every few hours during blood draws (11pm, 2am, and 6am), I started to think about so many different things. One thing I thought about was how, during college, I had a friend who would have painful cysts that would burst nearly every month. Many of those months she would end up in the emergency room. How many burst at a time? One to three. I had 8.
The next morning I was given a gluten-free breakfast in the hospital (yes, I swear they were that awesome!), a sweet Golden Retriever came to visit me and after my last blood draw at 10am, I was cleared to have Ryan bring me home.
I was still in a ton of pain, but nothing like the previous day. I knew the worst of it (the physical pain anyways) was almost over.
The final part of my IVF Story is tomorrow.
Xox,
SKH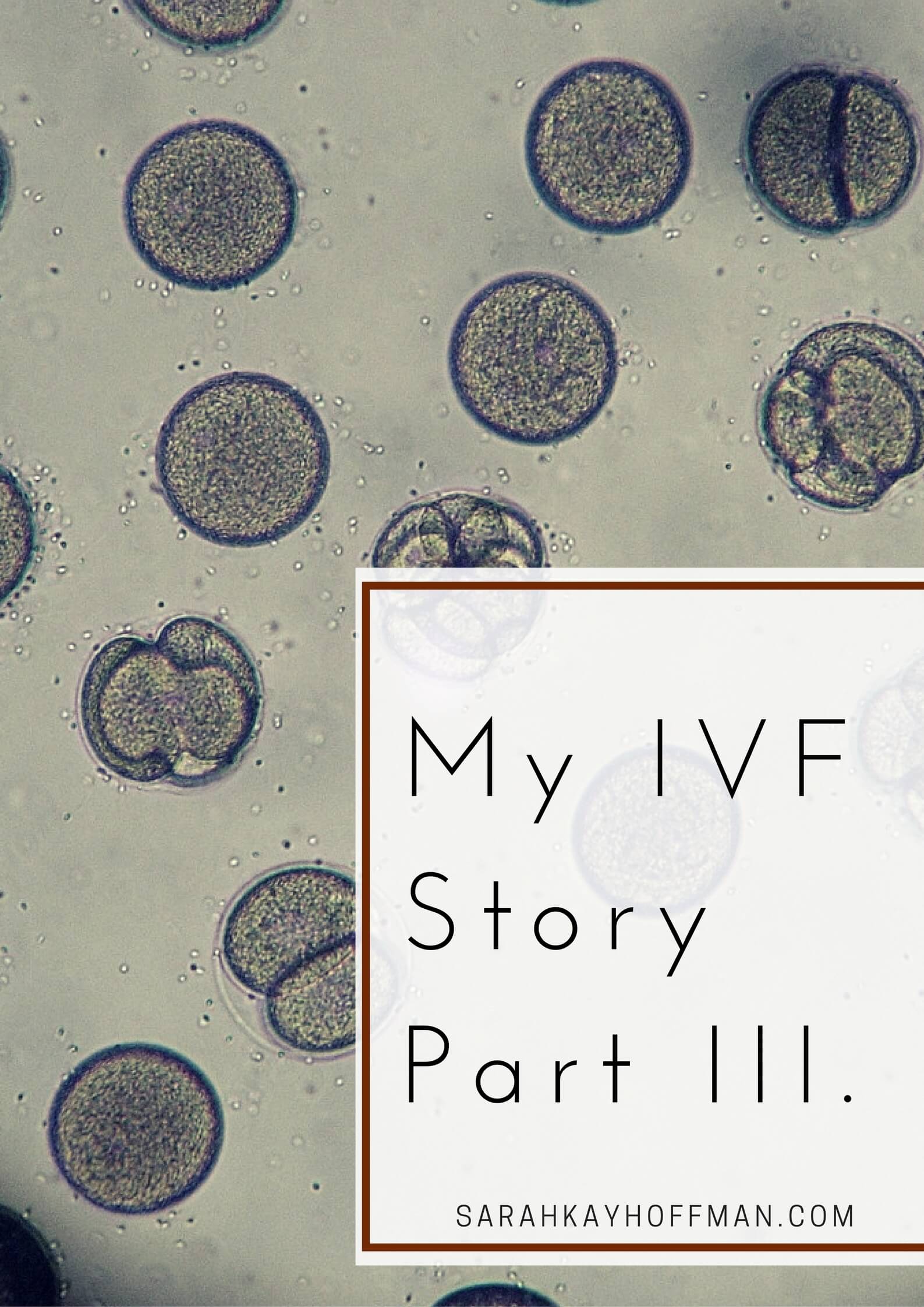 You will heal. I will help.