Bent not broken…..this can pretty much sum up the current situation.
Pink said the way I'm currently feeling best,
We're not broken just bent
I'm having surgery tomorrow.
There. I said it.
And after my doctor's appointments this past Monday, I'm scared.
There. I said it.
Life has many ways of testing a person's will, either by having nothing happen at all or by having everything happen all at once.
I found that quote by Paulo Coelho on Monday, right after my appointments.
Such a nice quote for one to stumble upon, especially if current circumstances are calm, cool and collective.
Those circumstances are not where I find myself this morning, at 6 am.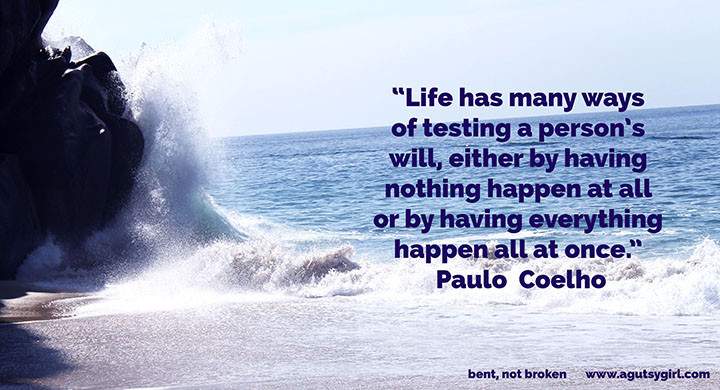 Life is happening all at once.
I can't speed it up (believe me, some things I wish I could), and I certainly can't slow it down.
Bent Not Broken
Today I feel bent not broken.
My surgery tomorrow will address what I hope to be this final battle.
My mission around this blog has always been to show women the determination and fight and how we pull from the deepest part of ourselves – you know, Gutsy.
I have never run away from women's issues, and I'm not about to start now.
I'm looking forward to answers, and more importantly, I'm looking to finally move forward from this.
After all, everything is happening at once and most of it is truly the most amazing thing of my entire life.
I can't wait to share. (p.s. I now can share because the last important person that I wanted to tell in person, I was able to see, tell and share everything with on Monday!)
After this rain comes the rainbow.
I'm bent not broken and because I will not break – I cannot break – this, too, will only make me stronger….er, Gutsier.
Wish me luck….I'll catch you on the flip side.
Xox,
SKH
You will heal. I will help.