We're talking gluten free protein bars with the BodyBar Protein founder, Ayarpi Reganyan on today's podcast show.
You know what's fun? Meeting other Gutsy women who learned how to turn a lemon into lemonade.
That's exactly what Ayarpi did.
Not only inspiring, but also practical, Ayarpi is someone you'll relate to.
Subscribe Today:
Apple Podcasts | Google Podcasts | Spotify | iHeart Radio | RSS
---
Ayarpi Reganyan is the Founder of BodyBar Protein and an ambassador for the IBD community.
BodyBar is designed to reset the bar and serve as a better-for-you replacement for traditional nutrition bars.
Ayarpi founded this company because of her struggles with inflammatory bowel disease and saw a need for a protein bar with simple and clean nutrients, that everyone- not just those with an autoimmune condition – can feel good about eating.
Gluten Free Protein Bars (Episode 25 with Autoimmune Warrior and BodyBar Protein Founder, Ayarpi Reganyan)
Click HERE to save this episode for later.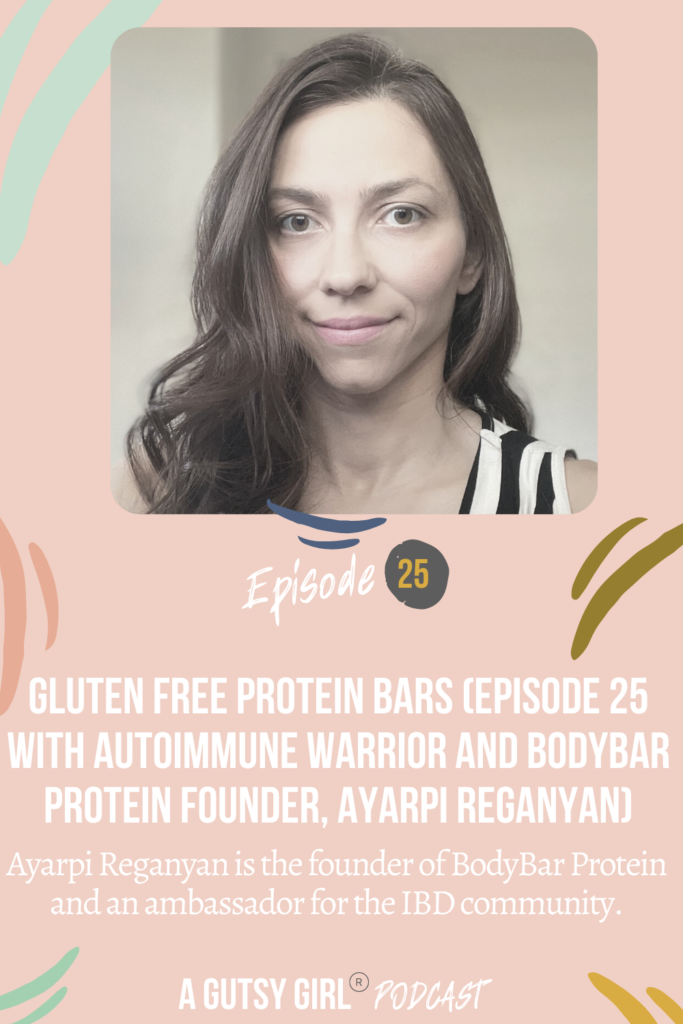 Resources Mentioned
Don't Miss These Thoughts
"Decided to turn my struggles with digestive disease into an opportunity." – Ayarpi
Ayarpi's journey and story; symptoms that then lead to her IBD diagnosis
"What can I do for myself?"
"A diary is really huge; I highly recommend it."
"I knew I had to be open to suggestions, advice, and changing things in order to see results."
Top 3 things she did to get well.
The importance of community on your journey with invisible illness.
All about BodyBar Protein
Why the BodyBar Protein uses Sunflower Lecithin
More from A Gutsy Girl
1. Welcome to A Gutsy Girl Podcast
2. Hang out on Instagram
3. BFF's on YouTube
4. Free resource: The Master Gutsy Spreadsheet
5. Rated-G Email Club
Wrap Up
Time to wrap this up. As always, a huge goal for this show is to connect with even more people. Feel free to send an email to our team at podcast@agutsygirl.com. We want to hear questions, comments, show ideas, etc.
Did you enjoy this episode? Please drop a comment below or leave a review on Apple Podcasts.
Xox,
SKH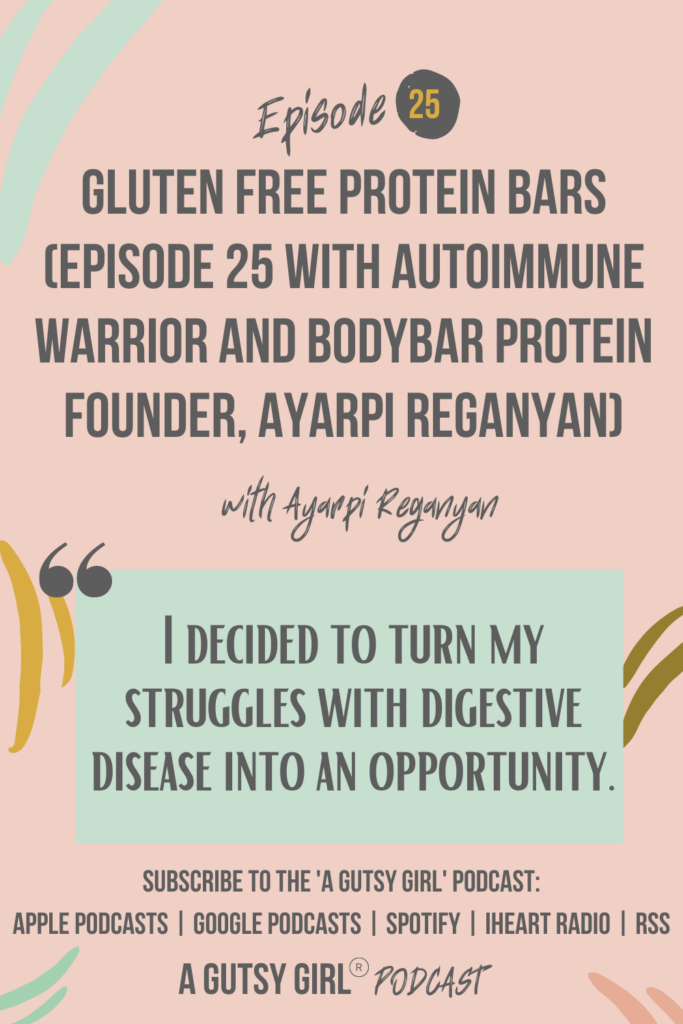 You will heal. I will help.