I'm introducing you to the ultimate gut healing journal today.
This is my official announcement and introduction to the project because I want your every last thought on it.
Updated August, 2020: It's ready and available for purchase!
The Ultimate Gut Healing Journal
Click HERE to save this post for later.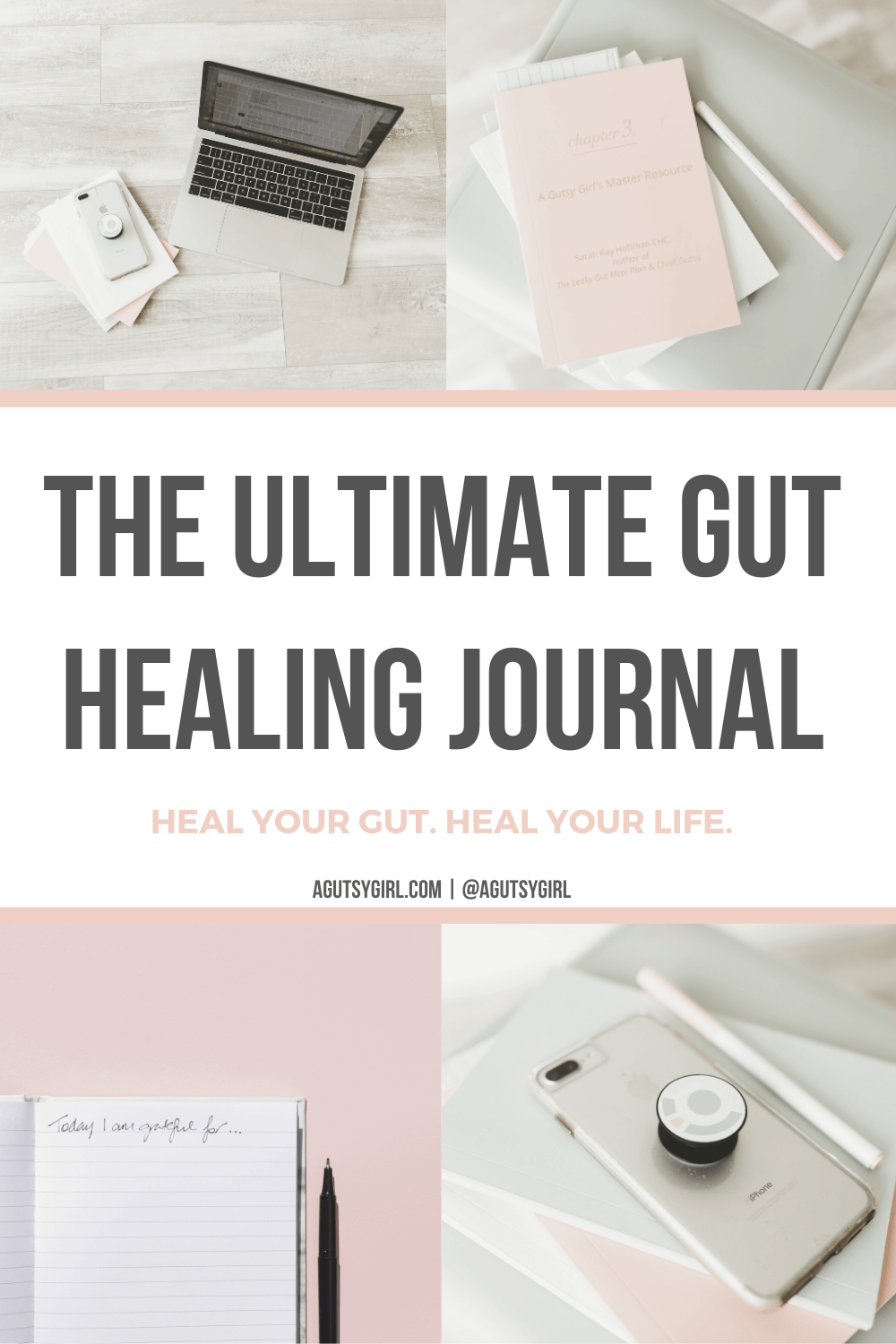 The goal today is to give you the rundown, low down, and all general pieces of information so you can:
get excited!
voice your opinion
Who?
The journal is for YOU! Every single person that reads this website is likely either beginning or somewhere in the middle of their gut healing journey. Beyond you, though, here are people who will find it invaluable:
Mom's (or any caretaker) trying to understand what could be going on with their child(ren)'s gut.
Health coaches to use in conjunction with their clients.
Doctor's and other medical practitioners who need to be able to peek inside a patient's day-to-day in order to better serve them.
Anyone who thinks something is just not right from a health standpoint, and is trying to understand it all better and/or the next steps to take.
Where?
You'll be able to purchase this journal online (likely also through Amazon). However, this is not an e-journal. This is a physical product, just like my book The Leaky Gut Meal Plan.
Because it's a physical product, I'm hoping to also sell it into various retail stores, gift shops, etc. While it will serve a massive purpose, it's also going to be feminine, cute, creative, and interesting.
What?
The official name has not been set yet. However, this is the ultimate gut healing journal because I've never found anything like it on the market. And if I had, I would never have gone a decade searching for the perfect gut-healing journal, but ultimately creating my own.
When?
Honestly, I'm not sure when it will be ready. It seems kind of crazy, doesn't it? That I would sign a contract for this huge project during a time when life seems quieter.
But for me, this was really important to do now.
Your gut healing will never stop. And all those "unexplained issues" are never going to be solved without the tools to help solve them.
That said, the project is underway. And I think the creative and physical designing part of the project takes 90 days.
I'm hoping this can be in your hands by the end of summer.
Why?
Because you will heal and I will help. This is part of my never-ending contribution to helping you heal.
How?
The how is the most important part!
First, when I had the idea that I wanted to finally bring this to life, my friend Nicole referred me to Leanna of Weller Smith Design.
I had an intro call with her, then submitted my general idea and sketch. She came back with a pricing proposal and a detailed outline with everything we would be doing.
Once I said "Yes," it all began. I am super excited to work with Leanna to bring this to life for you.
I've started working on all the initial look, feel, and details.
But this is where you come in and why I wanted to share the project with you immediately. I want to know,
What does your ultimate gut healing journal contain?
I'm listening to any and all feedback, whether you'll personally use it, you are a doctor who would like to have your client's use it, etc.
What would be the most beneficial parts and pieces? I feel like I've thought of it all, but you have a unique perspective, too, and I want to hear it.
I'm combining all thoughts and ideas onto a spreadsheet. Voice your thoughts! Click HERE to contact me to let me know and/or leave them in the comments below.
Looking forward to sharing the journey with you….
But really, how excited are you?!

Xox,
SKH
You will heal. I will help.