Just checking in and support is all I have for you today.
I'm always here cheering you on and providing support. But now is the time that I wanted to just write a real and raw post for you, and for me.
Checking In and Support
Overnight, literally overnight, everything seemingly changed. If you think the change has been easy for me, it has not.
I am so used to studying, reading, researching and producing helpful content around gut health and gut healing for you, but right now there is a perfect storm of two things going on:
I'm feeling less than certain about what is actually helpful for you. I don't want to add more noise to the chaos that is, and I absolutely do not want to instill anymore fear into your lives. Believe me, I know how much you were already plagued with on a daily basis.
In addition to A Gutsy Girl full-time, I'm now also Samarah's Kindergarten teacher and Amiya and Isaiah's preschool safe place.
And let's not forget that in addition to the above changes, like you, at any given moment I'm also feeling:
scared
sad
tired
lonely
grateful
thankful
happy
motivated
unmotivated
confused
anxious
calm
And so many more things. I find myself locked in at one position for 3 minutes, then flipped 180 degrees the next.
So why am I sharing this with you?
Because I want you to know that, especially during trying times, I see you.
Like you, I am a wife, mother, friend, sister, daughter, etc. When the going gets tough, sometimes the tough have a hard time getting going. And admitting that to yourself, your friends, and your family is OK.
Don't Dwell in the Negative
But I also don't want you (or me) to dwell on the negative 24/7.
There is something very important I must share with you today.
On Monday, I did a Zoom live presentation. These are some of the thoughts I started with:
I know you're scared right now. And I know you're scared on multiple levels. If your health wasn't great before, it definitely did not get any better during these past couple of weeks. You're filled with fear, anger, and frustration.

I am filled with many of the things you are. The only thing I no longer have to worry about is the state of my gut health….because I am healed.

And since I'm healed, I can tell you with 1,000% conviction this —> the inability to be out and about freely could absolutely, positively go to your healing advantage right now.

Let's set your mindset to one that's conducive for gut healing today, and then make this happen!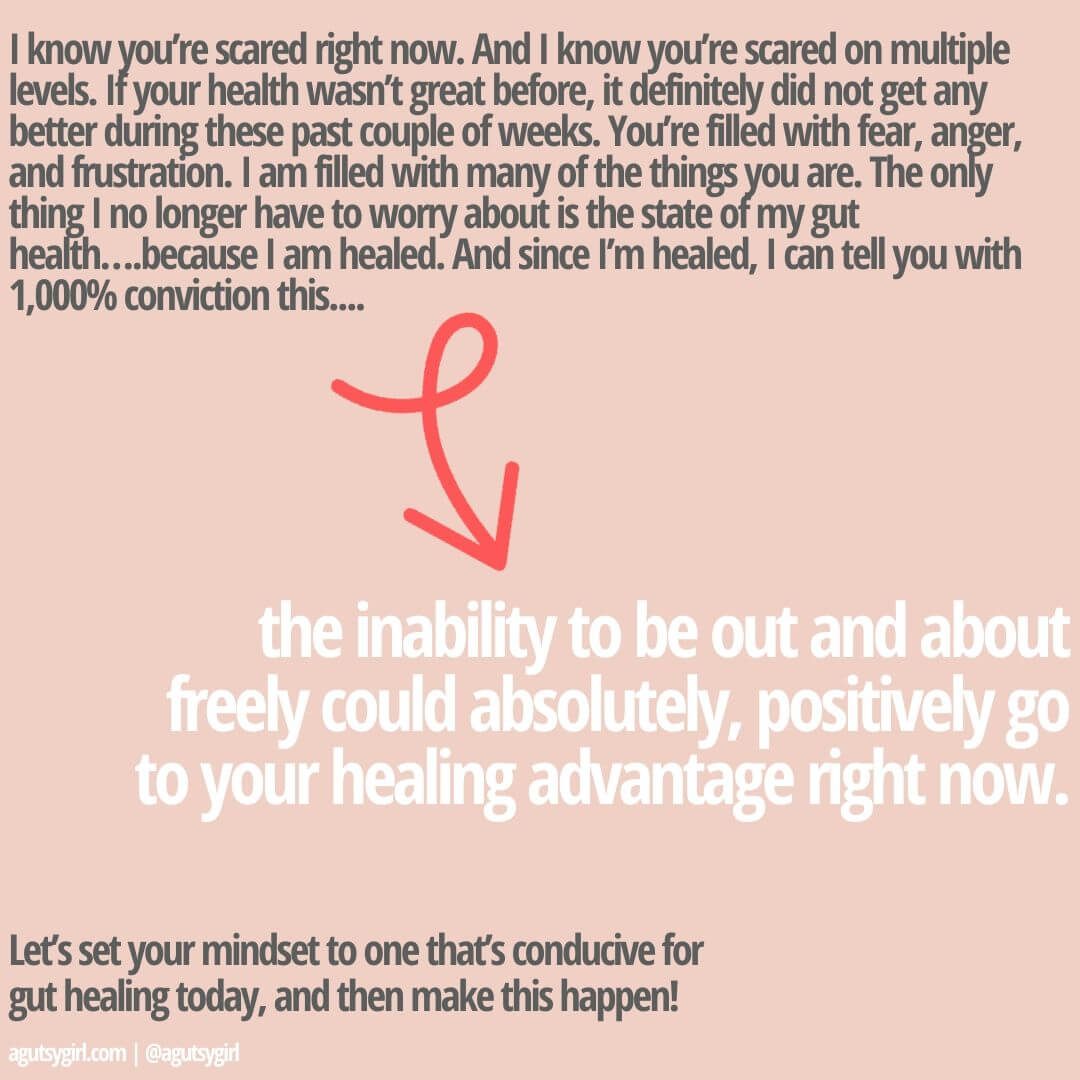 In case you missed the presentation, I have created a way for you to still have full access to it. Sign up now, and the PDF, audio, and live Zoom will be sent your way.
So what does that even mean?
Less is More
"The inability to be out and about freely could absolutely, positively go to your healing advantage right now."
When I go back in time and look over the hundreds of words and notes that filled pages-upon-pages of journals there are some very clear trends and patterns.
One of those patterns includes a version of these words:
Went out to eat, so I have no idea what was in the food.
Had drinks tonight, and then went out for pizza later.
And in the days that followed, I was always miserable.
But here's the thing, I could not figure it out because there were way too many variables at play.
First, there wasn't a clear diagnosis. Then, the food was all over the place 20% of the time (which doesn't work when trying to understand which foods you are / are not reacting to). And finally, on any given day, I was exposed to so many environmental and "other" factors that could not be controlled.
Guess what?
All of that is called LIFE. And it's the reason most people can never, truly figure it out.
But right now, while you might hate the idea of less…..less could be more for your healing journey.
And I want you to focus on that right now.
In the presentation there are many ideas (based on my three pillars of gut healing) so you can get started, from home, today.
I'd love to know how you are doing right now, today. Also, what type of content do you need during this time? Leave me a message in the comments. I'm always listening.
If you liked this post, you might also enjoy:
Xox,
SKH
You will heal. I will help.