"Oh hi," almost Christmas! Here I am, showing up with the 'A Gutsy Girl's Favorites Issue 15.' 
The Christmas and holiday season snuck right up. Before the New Year hits, I wanted to get one last favorites issue in for the year to round out 2019.
So here we go. There are just six; a simple six.
A Gutsy Girl's Favorites Issue 15
Click HERE to save this post for later.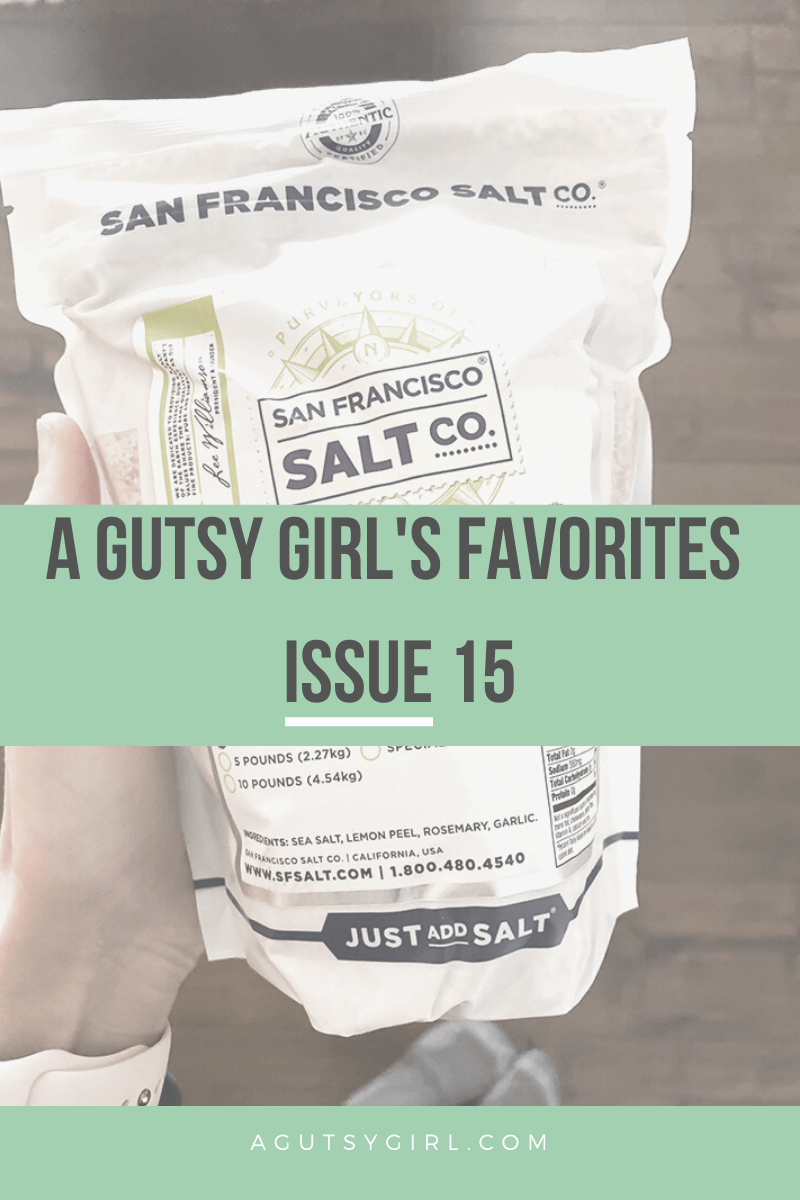 This one had to make the number one spot because I'm obsessed. In November, we went to a school fundraiser; I won this. It is incredible. People have been saying how great weighted blankets are, but until you get one, it's hard to fully explain. This one is heavy and soft, and has a permanent home on our bed. In fact, the color is even perfect and the word 'happiness' is etched it on the inside. 

I actually ordered a 2-pound bag of salt off Amazon. I've always loved the San Francisco Salt Company, and I found a tiny container of this specific blend at Walmart (of all places). We started using it on all the things, namely fried eggs and white rice. I can't even tell you the joy! Anyways, when I returned to Walmart to buy more, they no longer carried it. Never fear, Amazon was near. Just 4 ingredients, too: Pristine Sea Salt infused with Lemon, Rosemary & Garlic.

Podcasts

I've been soaking up all the podcast goods this past month. Here are some of my current favorites: The Goal Digger Podcast (Jenna Kutcher), Screw the Nine to Five (Jill & Josh Stanton), Online Marketing Made Easy (Amy Porterfield), and Simple Pin Podcast (Kate Ahl). I haven't been as focused on the health-based ones because I'm immersed in that life 24/7. 

Speaking of Jenna's podcast, she recently mentioned this book by Elizabeth Gilbert. Since I loved Eat, Pray, Love, I figured I'd grab this one, too. Digging in this weekend!

100% A Gutsy Girl

I have been doing A Gutsy Girl 100% of the time for about a month now. Obsessed and overjoyed. I literally jump out of bed each morning, so excited to come to work. I'm sure you've noticed the uptick in content produced. What you haven't seen yet is the work I've been doing behind-the-scenes on my new e-book, 'A Gutsy Girl's Master Resource.' I'm hoping to have this ready for you for the new year.

Artisana Organics Cashew Cacao Spread

Recently, with my Thrive Market order, I received this for free. Yes, another bonus to having a Thrive Market Membership is that almost always you get something for free with orders! Anyways, I kind of ordered that day just so that I could try this product. I've always been a huge fan of Artisana's nut butters. It arrived this week and confirmed – so incredible! It's thick, chocolatey, and creamy. Our whole family loves it, and after the trial, we will purchase it regularly. You'll find it HERE on Amazon or via Thrive Market HERE.
Favorites
And there you have it – A Gutsy Girl's Favorites Issue 15. Now tell me….anything new and lovely you found lately? Let me know if you have any of these on my list!
Previous Favorites
Xox,
SKH
You will heal. I will help.