I made this boosted Green Smoothie after I made a similar smoothie that was un-boosted (is that even a word)?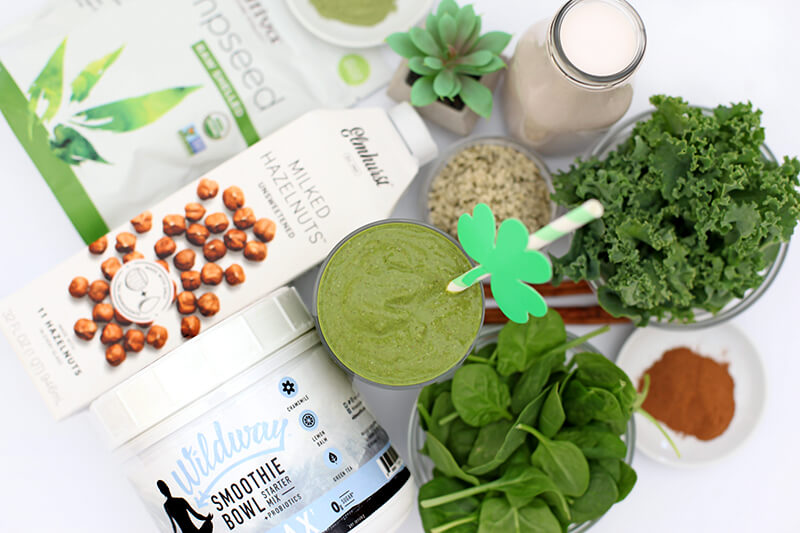 Anyways, I wanted to share it here today because it also uses bananas (today is National Banana Day – who even knew such a thing existed)?!
This Boosted Green Smoothie is definitely on the list.
I do love smoothies, but one thing I'm not sold on with them is that a lot of times they are filled with just a protein powder, milk, and 3 different fruits. 
Never would I sit down for a meal and eat that many fruits at once. 
If you are craving fruit, then by all means, go for it. It's not going to kill you and you aren't going to gain weight from that alone (don't listen to what people try to tell you about fruit).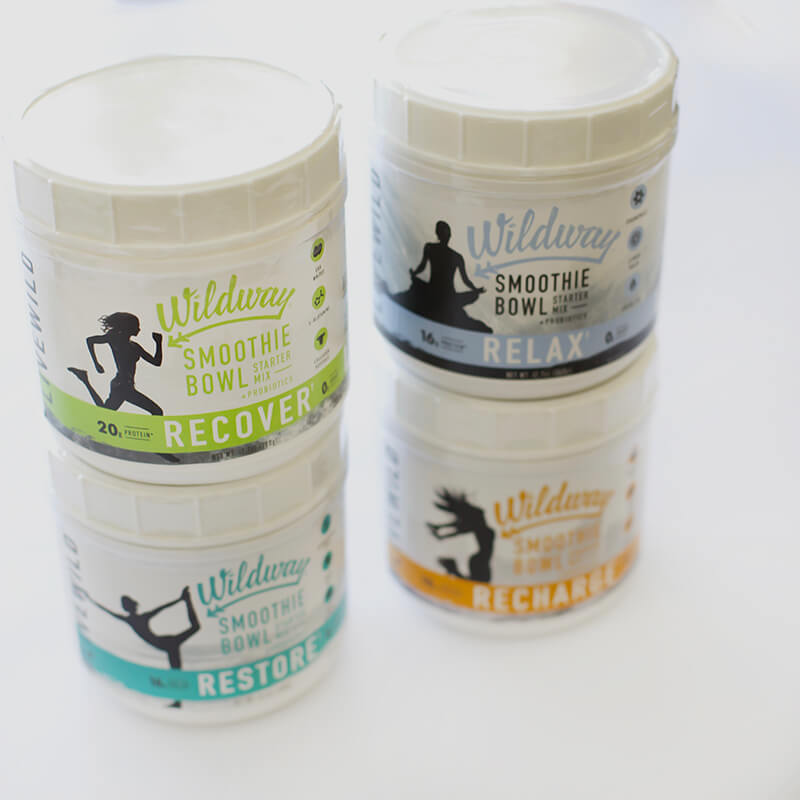 But for me personally, the reason I'll choose a smoothie is so that I can pack all the goods in one glass. 
It's why I just recently wrote and published my Top 13 Gut Healing Boosts for Smoothies.
This Boosted Green Smoothie falls into all the boosted categories.
There are greens, nutrition, and flavor, all while remaining low sugar. 
Boosted Green Smoothie
Click HERE to save this recipe for later.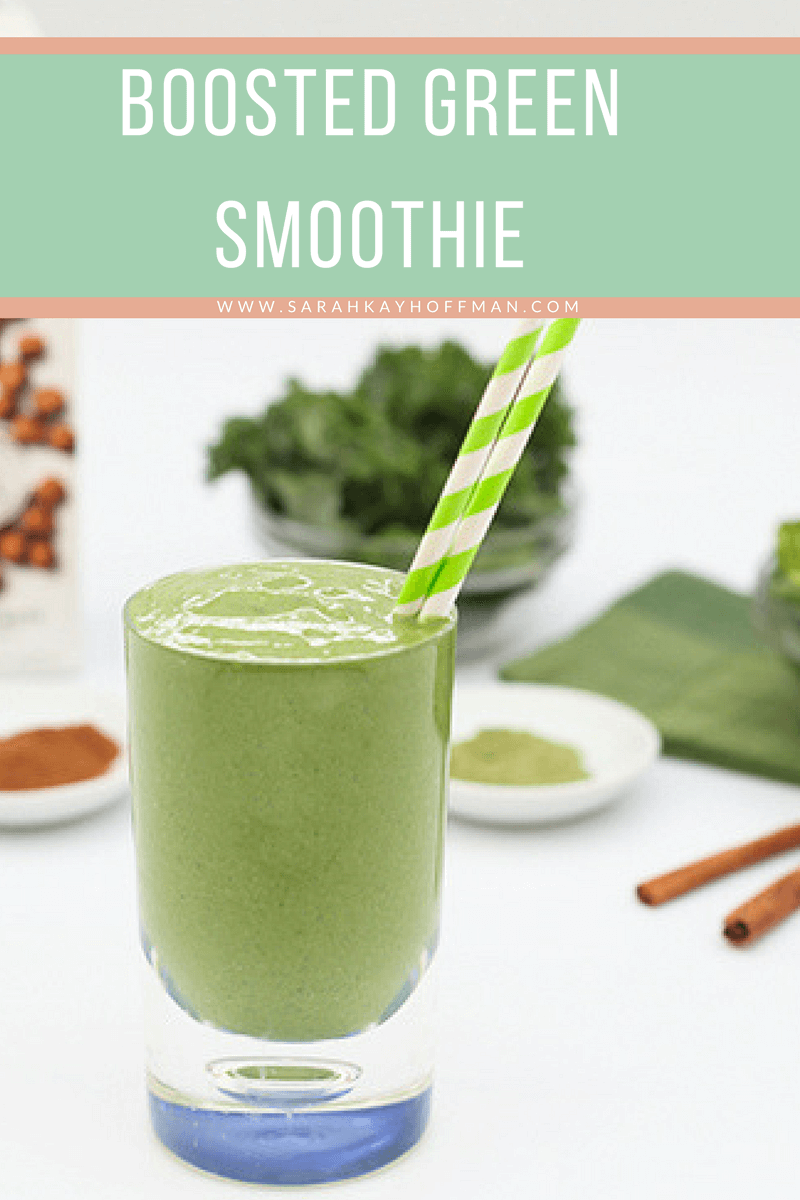 Boosted Green Smoothie
Author:
Sarah Kay Hoffman
Prep time:
Cook time:
Total time:
A smoothie filled with greens, nutrition, and flavor that's low in sugar and contains no gluten, dairy, or soy.
Instructions
Place all ingredients in a blender and blend until completely mixed together.
Serve immediately.
Notes
You can make the Boosted Green Smoothie recipe low-FODMAP simply by removing the avocado.
Notes for this Boosted Green Smoothie
Yes, yes you can easily make this smoothie low-FODMAP. Simply just remove the avocado. If you need more thickness once you remove it, use a whole banana. If your SIBO is alive and active, just make sure it's an un-ripened banana.
Elmhurst milks are 100% Vegan and incredible. If hazelnut is not your thing, you can sub in any of their nut milks. If you can't do nuts, you can swap in the Milked Brown Rice, for a delicious, low-FODMAP alternative. 
Is the moringa critical? No, but moringa is an incredible boost, and you can read all about it HERE. Additionally, moringa acts as an adaptogenic herb. I am currently in the process of writing a post about them for Y'all. 
Do make note that the Wildway Smoothie Bowl Starter Mix does include egg whites. The ingredients for the one I linked include: Egg whites, hydrolyzed collagen peptides, MCT oil powder (MCT oil, tapioca starch), coconut flour, L-glutamine, flaxseed, Bacillus coagulans GBI-30, 6086. So many amazing components to it, but in case there is something there you cannot have, know that you could swap this out and choose one of the 13 gut healing smoothie boosts I provided.
Let me know if you try this one, mmmmmkay?!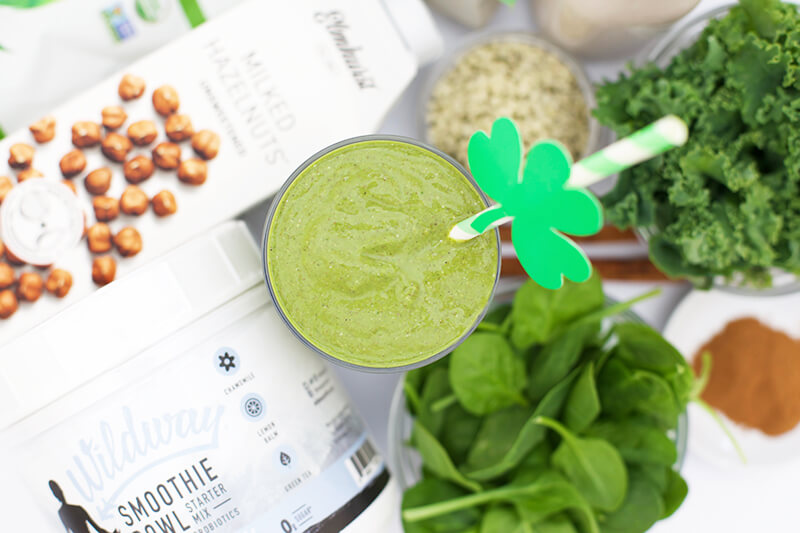 Xox,
SKH
You will heal. I will help.