Have you heard about Ion Biome yet?
To be clear, Ion Biome used to be RESTORE.
I went to Expo West, learned about them, added them to my 2016 Natural Products Expo West Favorite Brands and Products post and in the months to follow learned even more.
RESTORE is now ION* (Intelligence of Nature), which is the same formula in a new package.
Post updates (2021) to reflect ION verbiage. My initial interview with Zach Bush referred to it as Restore, though.
---
Try ION* today and use my code AGUTSYGIRL at checkout to save 15%.
Ion Biome
Click HERE to save this post for later.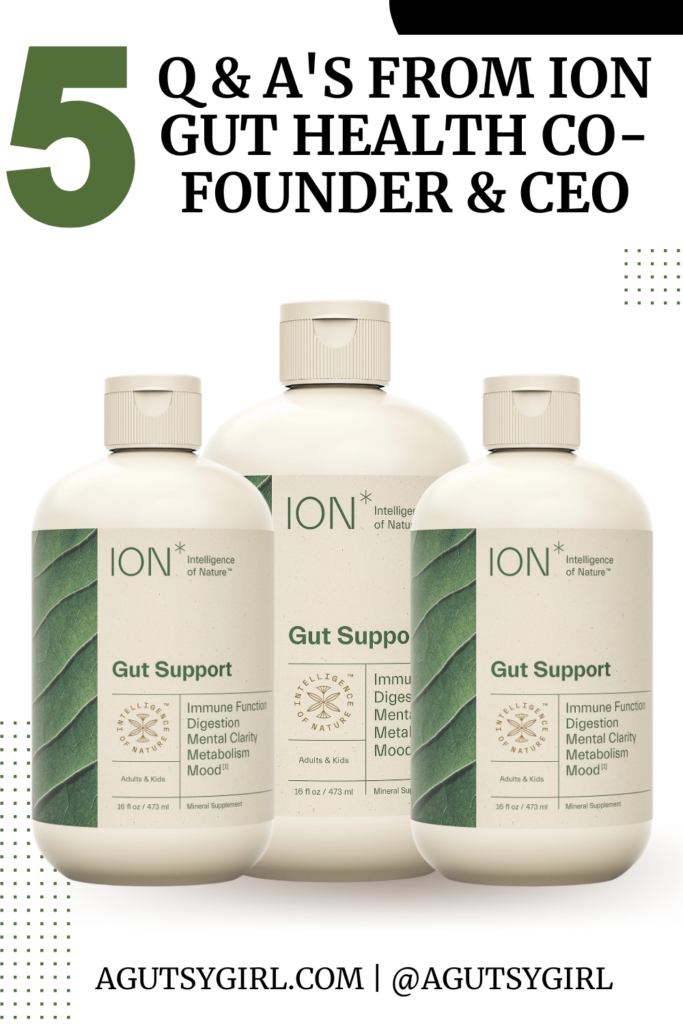 Ion Biome is getting plenty of buzz. Some recent comments I've seen include:
Life changing interview and product. Started taking Restore a few days ago & am loving it!

Restore is an excellent product. Now even easier to get at GNC stores.

This is one of the only products available the will address the issues of Leaky Gut ! Check into it if you are having unexplained chronic digestive issues or brain fog. Best wishes for great health.
And so, I wanted to understand more about the product. I put together a series of 5 questions for Co-Founder and CEO, Zach Bush, MD.
Ion Biome Reviews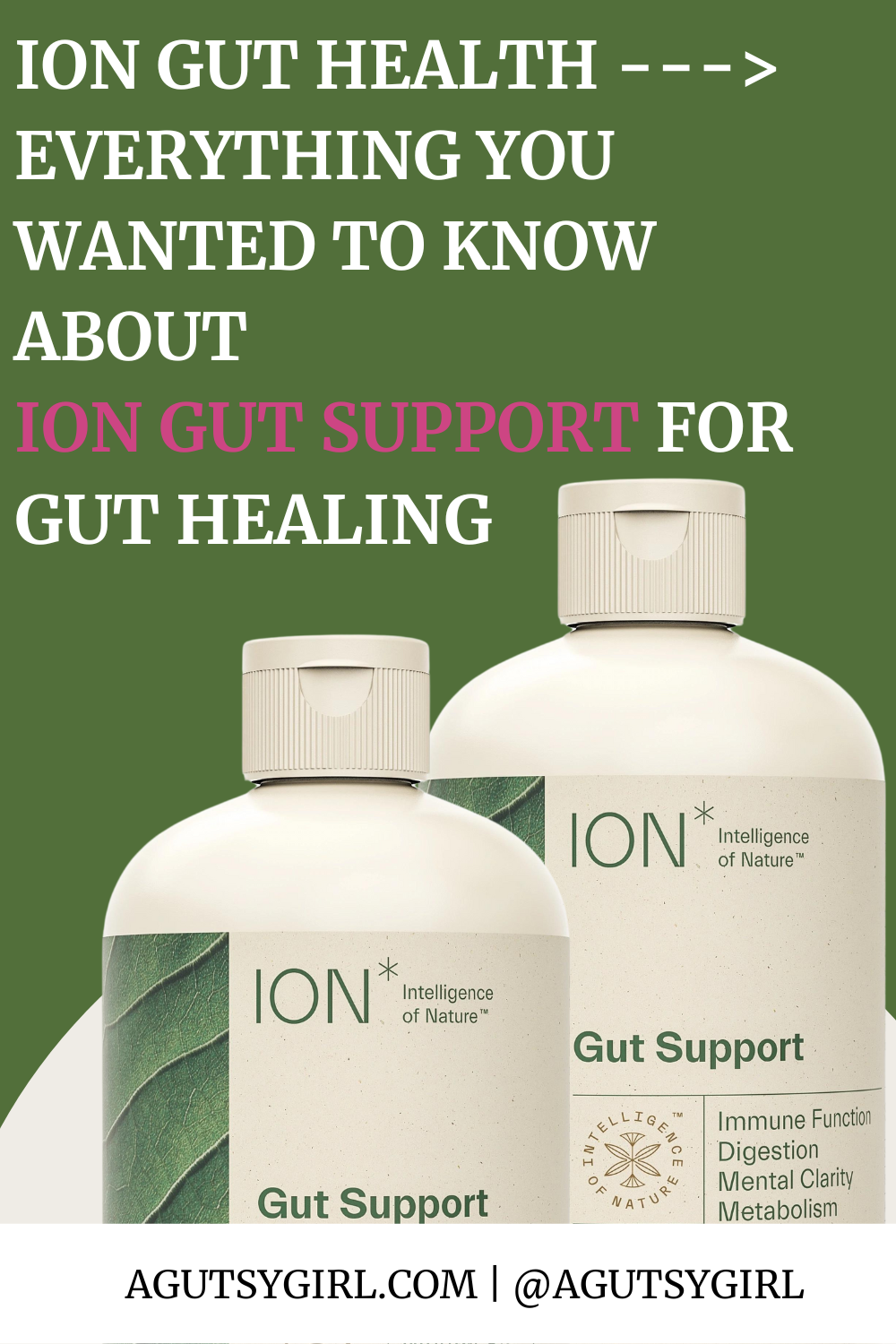 Zach Bush
Zach Bush MD is a physician specializing in internal medicine, endocrinology and hospice care.
He is an internationally recognized educator and thought leader on the microbiome as it relates to health, disease, and food systems. Dr Zach founded *Seraphic Group and the nonprofit Farmer's Footprint to develop root-cause solutions for human and ecological health.
His passion for education reaches across many disciplines, including topics such as the role of soil and water ecosystems in human genomics, immunity, and gut/brain health.
His education has highlighted the need for a radical departure from chemical farming and pharmacy, and his ongoing efforts are providing a path for consumers, farmers, and mega-industries to work together for a healthy future for people and planet.
How did you come up with the idea for Ion Biome?
Revolutions in science are rarely preconceived, and true to this reality, RESTORE was discovered by accident.
My background in tumor research dealt with the mechanisms of cell communication, which has previously been recognized to be mediated by mitochondria (little tiny bacteria-like organisms that live inside our cells).
A few years later, working at my Integrative Medicine and Nutrition center – Revolution Health, we discovered molecules in the soil science literature that looked to have the same potential for cell-cell communication, but being radically different in the backbone structure of these molecules it was clear they came from a unique source in the soil (this time from bacteria, not mitochondria) – and would exhibit unique properties if successfully utilized for cell-cell signaling.
We ultimately found a mechanism to mobilize this molecular communication system, and RESTORE was born.
How does ION work?
ION delivers cellular communication and critical trace nutrients to that cellular environment to stabilize normal biology.
Cells, and ultimately your body, are healing machines.
The communication network of ION does not do anything on its own, it simply supports the bodies normal mechanisms of repair.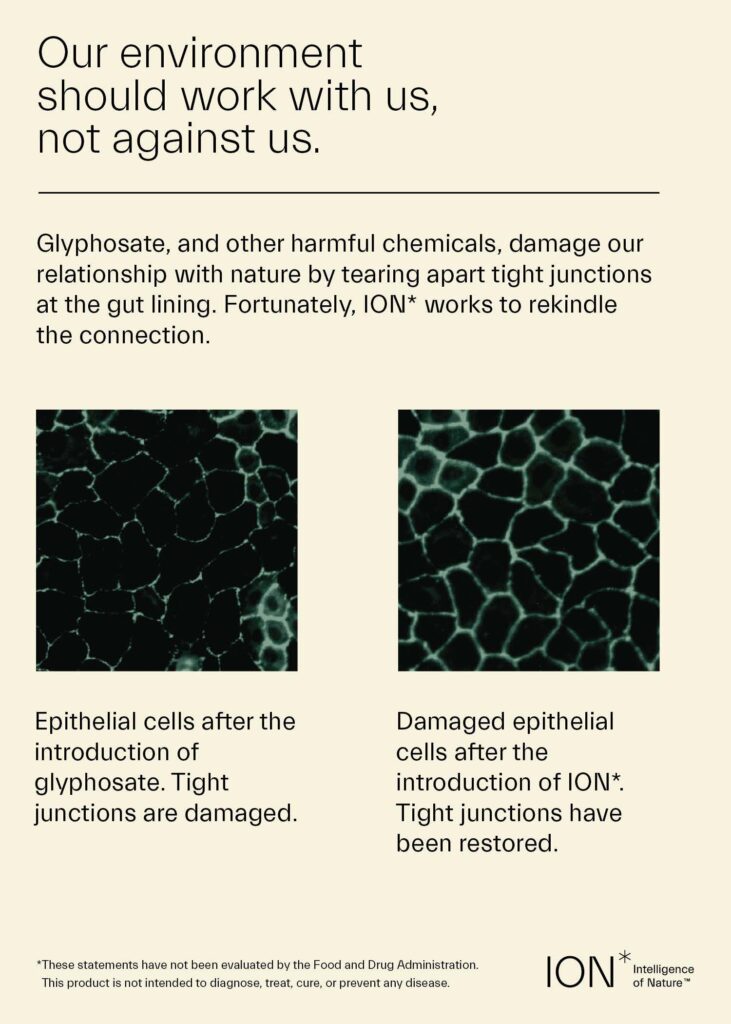 Why should someone with IBS/IBD believe in ION Biome? 
IBS and IBD are conditions that have their root cause in inflammation.
The source of this underlying chronic inflammation and dysfunction of the immune system roots in the injury to the barrier system of the gut lining – small proteins called tight junctions – protecting you from the outside world.
Unfortunately, in our daily lives now we face the presence of potent toxins to these tight junctions, herbicides like RoundUp, pharmaceuticals, refined gluten, etc.
ION supports the presence and integrity of these critical barrier systems.
Do you currently have any "big name" and/or institutions backing ION?
All of the laboratory studies that we have done with ION have been repeated by University-based lab scientists.
ION is on the frontline of defense in over 700 physician offices in the country.
You'll even find the product at GNC and many natural health stores around the country.
What is next for ION?
ION and the science behind the product are quickly changing the public awareness of the toxicity of our food chain and farming practices.
We are always expanding our mission to accelerate fundamental changes in consumer awareness and behavior. Together we can bring down the chemical industries that have so damaged our environment, and tried to monopolize global food supply.
We eager to see food by the people, for the people.
---
Your burning question for me is:
Have you tried using ION? Do you like it? Have you reaped the benefits?
Yes, of course, I have tried it. I first started using it in the travel-sized option around the time my Travel Guide came out, and I believe that it made traveling easier for me (since it's so hard to control food when I am not able to cook at home).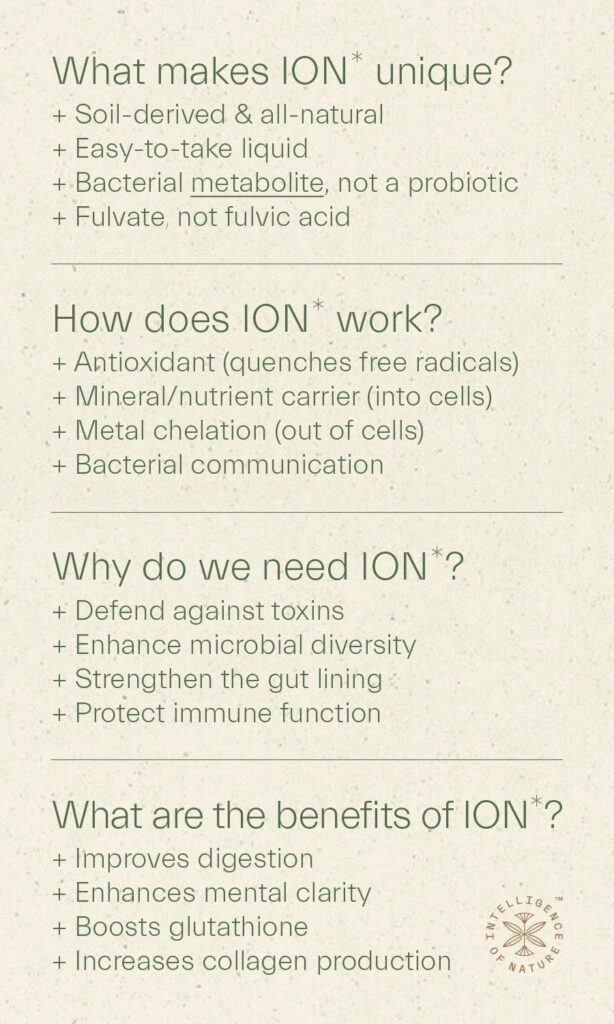 Personal ION Biome Gut Healing Review
I also tested it out on a more consistent basis around the time I was taking the SIBO antibiotic.
I asked Dr. Bush about this, and he commented:
Antibiotics wipe out the micro biome, decimating both the bad bacteria and the good – leaving your immune system at a pretty vulnerable state. Restore will give your bodies the tools to rebuild its biome, which is crucial. Additionally, Restore's mechanism closes the tight junctions in the gut membrane, where about 80 percent of your immune system lies. Your immune system, which is already in this vulnerable state, will get a much-needed break from inappropriate invasion across the gut membrane.
All of that said, though, I cannot 100% attribute the healing to any one thing, but instead a combination of many things.
This is how I view gut healing in general, though.
There is no one thing that makes or breaks healing.
Has ION helped? Likely, yes.
Is it the one and only thing you would need in order to heal? Likely not.
Without a healthy gut (70% of the immune system is located there!), the other great things you're doing for yourself won't be able to do what they're supposed to be doing.
I was thrilled to be supporting gut restoration during a time I really needed the various other things to work.
Where to Buy ION
You can grab ION HERE.
Remember, code AGUTSYGIRL at checkout will save you 15%.
They even have a product for your pet, and it can be found HERE.
And one for your skin HERE.
Finally, there is a great Sinus product they created HERE.
I'd love to know if you've tried it, your experience with it, and/or if you're interested in trying it?
p.s. A reader reached out recently saying, "Hi!! Hope all is well! So wanted to tell you that I just got back from the allergist and get this…0 food allergies!!! ION is a miracle worker!!!!! A surprise even for the doctor! Back in 2015 was allergic to even lettuce, now nada!! Happy dance!!"
If you liked this post, you might also enjoy:
Xox,
SKH
You will heal. I will help.