I want to share with you the 6 things I do when gluten attacks.
One year at Thanksgiving, we had all the gluten-free goods a girl could ask for.
I'm not entirely sure where the gluten steeped in, but the only thing I can think of is that I had the Pumpkin Pie "filling" off the top of the actual Pumpkin Pie. Perhaps all the touching of the two got to me, or perhaps there was even some of the pie mixed right in with the filling.
It doesn't matter.
What matters is that I spotted it immediately late Friday night. Here's how I knew: canker sore on my tongue, sore throat, fatigued and I woke up in the middle of the night with chills, achy and as though I were getting the flu.
Glutenized I was.
Those are always some of my classic symptoms. The following days were filled with fatigue. And no one has time for this fatigue, so over time, I taught myself 6 things to do when gluten attacks.
Maybe one or all of them can help you today.
BTW – My food journal is how I was able to track symptoms, understand ingredients, and correlate what was going on.
6 Things I Do When Gluten Attacks
Click HERE to save this post for later.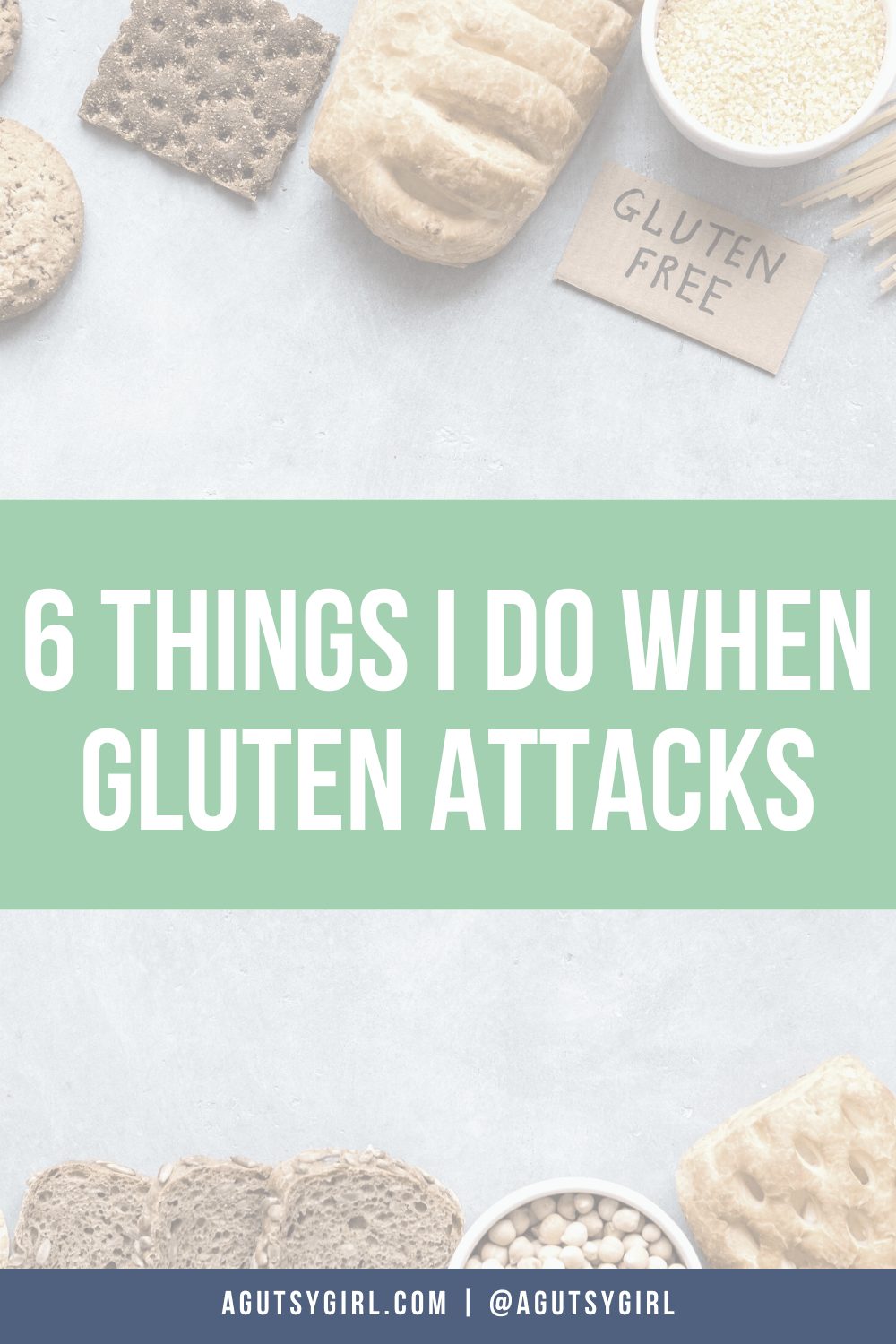 Tried and true Gutsy Bible

Though it might seem like A Gutsy Girl's Bible was just to produce for you, darling, I'll have you know it was initially for me. The things I teach and preach in it work. And so, when gluten attacks, I follow the book to a "T."

Gentle movement

You'll find me working out, but just a little. And the reason is so I am able to get some sort of circulation going throughout my body. Please make certain that you are reading this correctly. It's a gentle workout; nothing intense. I do not believe intense workouts and gut healing can co-exist.

Basics

I return to the very basics. This can and oftentimes does look different for everyone. For me (and many others) the eats are very, very plain (think meat, fat, broth – see #6).

Instant movement

I drink one cup Traditional Medicinals Chocolate Smooth Move (please make note that I do not recommend this for long-term use – it contains Senna which is potent, very potent and we never want to have our systems rely on it). (Updated in 2019 to add: I'd now choose the Intestinal Movement Formula over Smooth Move in a heart beat.)

Sleep

Sleep, sleep, then sleep some more (if the body says it's tired, then it is!) I promise, the more you sleep it off, the faster you'll feel better.

Broth

I drink my homemade bone broth. In fact, I drink it like it's going out of style.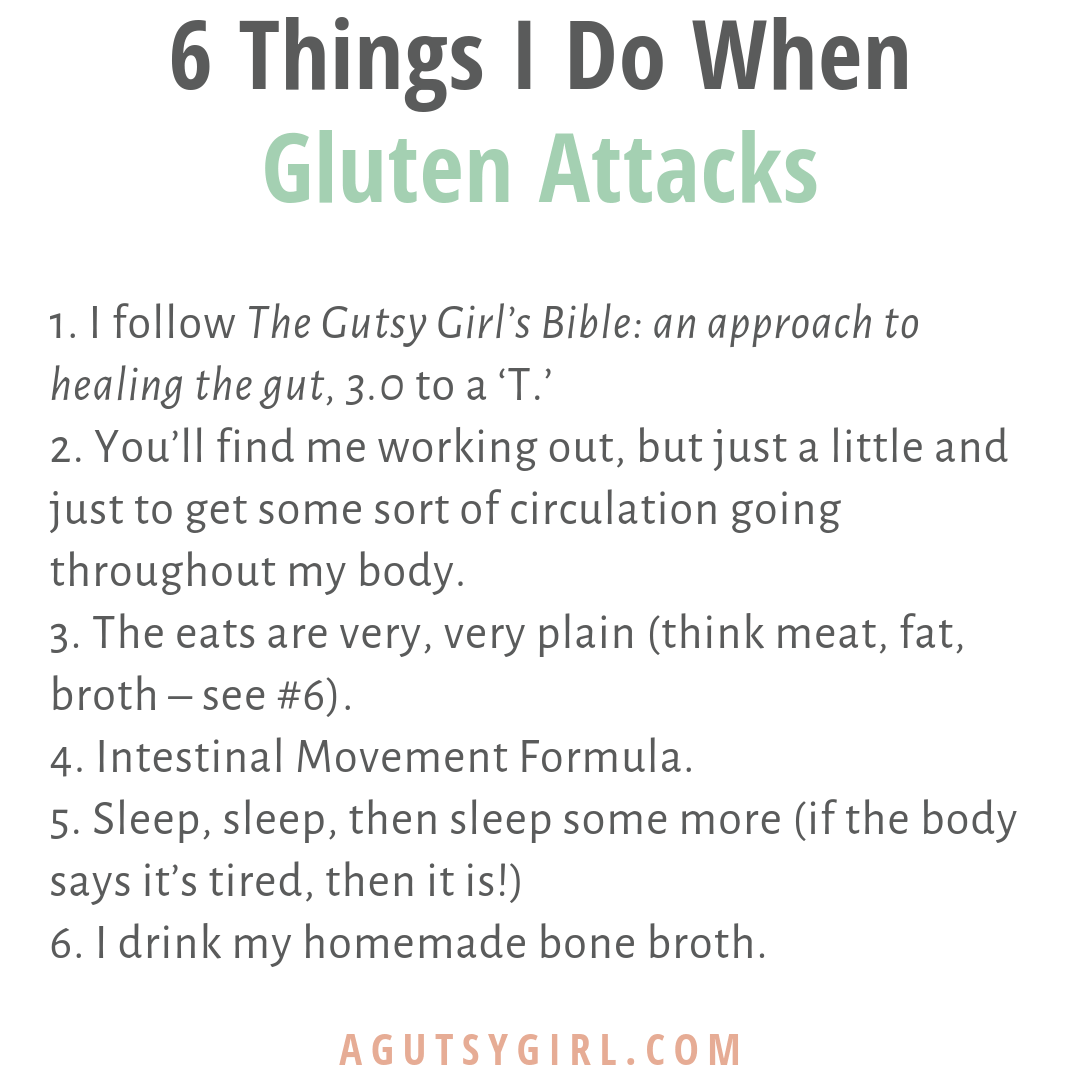 And that's it.
No need to make it difficult or confusing.
You are already under enough stress with the attack on your body.
Just be consistent with these 6 action items, and you will be feeling awesome again before you know it.
By the way, please also remember that gluten's symptoms can be found outside the gut.
If you liked this post, you might also enjoy:
Question: What do you do when you are glutenized? And each time you become glutenized, do your reactions get stronger and stronger?

Xox,
SKH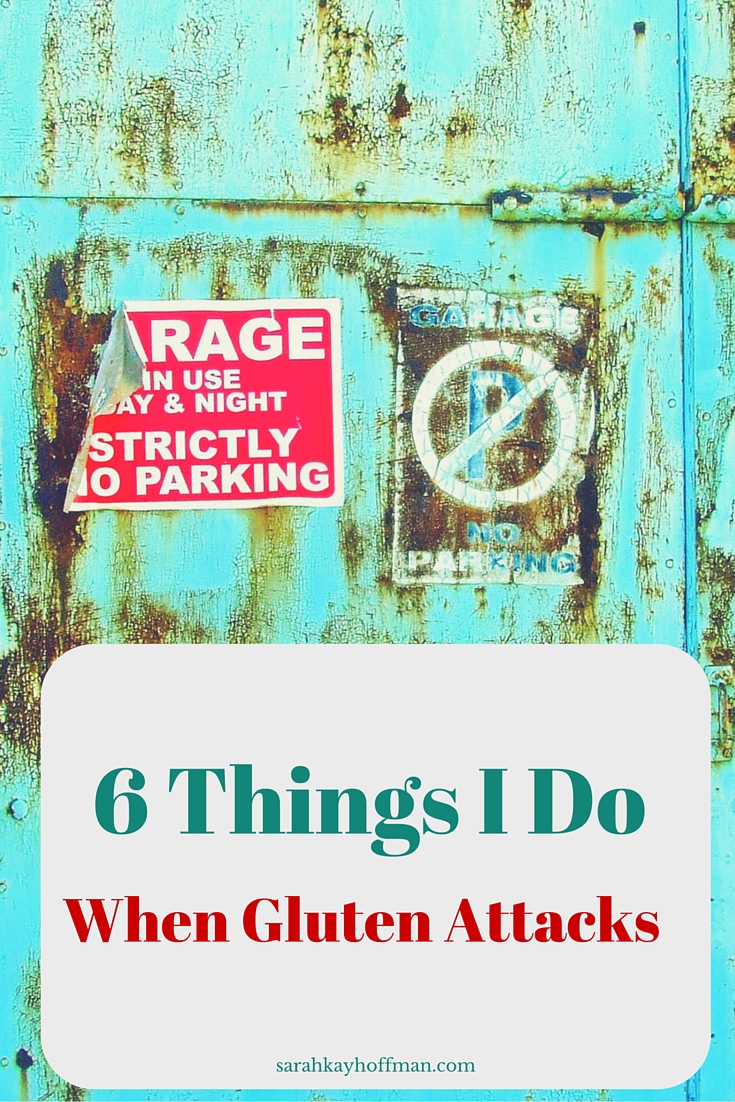 You will heal. I will help.