Is the 'size zero' diet trend killing our guts?
I would say "yes."
And today on the A Gutsy Girl podcast show, Episode 21, Noelle Tarr (aka Coconuts and Kettlebells) and I sit down to discuss it all.
Subscribe Today:
Apple Podcasts | Google Podcasts | Spotify | iHeart Radio | RSS
---
Meet my Internet friend, Noelle Tarr!
Noelle is a Nutritional Therapy Practitioner (NTP™), certified by the Nutritional Therapy Association®, and a National Strength and Conditioning Association (NSCA®) Certified Personal Trainer.
She's the founder of coconutsandkettlebells.com, the author of the best-selling cookbook, Coconuts and Kettlebells. She's the host of the top-ranked women's health and fitness podcast, Well-Fed Women, and the creator an innovative personalized home workout program, Strong From Home.
Noelle is also a wife, mom of two incredible toddlers, and boxer dog mom. As a marine-corps wife, she's lived all up and down the Eastern Seaboard, and current reside in the gorgeous area of Northern Virginia.
Size Zero Diet Trends (killing our guts?)
Click HERE to save this post for later.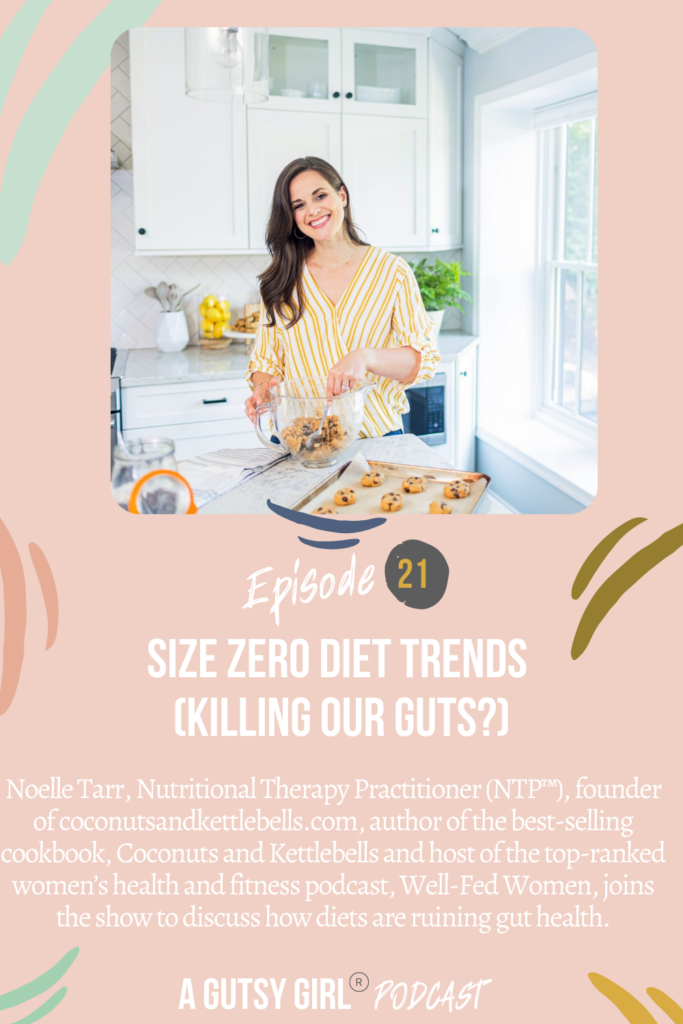 Resources Mentioned
Don't Miss These Thoughts
Noelle's personal story, and something many people don't know about her
What am I doing to myself? Who am I doing this for?
It's not calories in, calories out. It's how can I manage inflammation?
The #1 gut symptom Noelle sees in her practice from women who have chronically dieted
When you are under-eating, you are also under-eating nutrients.
Noelle's "diet culture" definition
By the way, food does not have morality.
Eating too little is a stressor.
What is the "Shame Cycle?" It's also found in Noelle's book, Coconuts and Kettlebells
Noelle's advice for getting out of the diet culture cycle.
Health is not a body size.
Noelle's top 3 convictions around gut health and gut healing.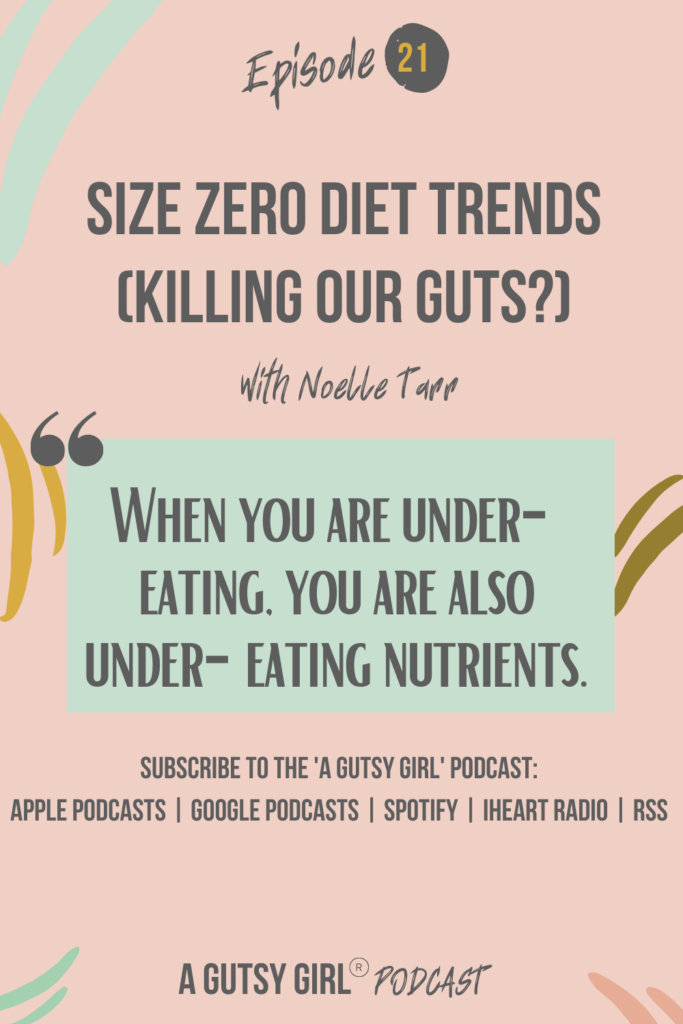 More from A Gutsy Girl
1. Welcome to A Gutsy Girl Podcast
2. Hang out on Instagram
3. BFF's on YouTube
4. Free resource: The Master Gutsy Spreadsheet
5. Rated-G Email Club
Wrap Up
Time to wrap this up. As always, a huge goal for this show is to connect with even more people. Feel free to send an email to our team at podcast@agutsygirl.com. We want to hear questions, comments, show ideas, etc.
Did you enjoy this episode? Please drop a comment below or leave a review on Apple Podcasts.
Xox,
SKH
By the way, if you want to hear me discuss more about my downward spiral to gut he#$ due to a vicious (and highly damaging) dieting cycle, I talk about it more in the first episode.
You will heal. I will help.