The best part of certain meals is not the meal itself, but the preparation – or lack thereof! Take for instance my Slow-Cooked & Gluten-Free Butternut Squash Chili.
I stumbled upon the original recipe, Black Bean and Butternut Squash Chili in the September, 2011 issue of Oxygen Magazine. It looked amazing and super simple. So I figured I would give it a try, changing mine up some. You won't need a pot or pan or mixer. In fact, all you need is a slow cooker and time.
By the way, while we're on the whole "slow cooker" thing, have I ever told you that I'm obsessed with the slow cooker? I have not one, not two, but three of them – one of which is actually 3 mini slow cookers in one. You think that nuts, right? I think it's crafty and time-saving. Seriously, you plop all your food into it, cover and let it do its job for several hours. And then bam – like magic – a healthy meal has been prepared for you.
Okay, so back to the recipe. Here is my version of a slow-cooked & gluten-free butternut squash chili. 
Slow-Cooked & Gluten-Free Butternut Squash Chili
Click HERE to save this recipe for later.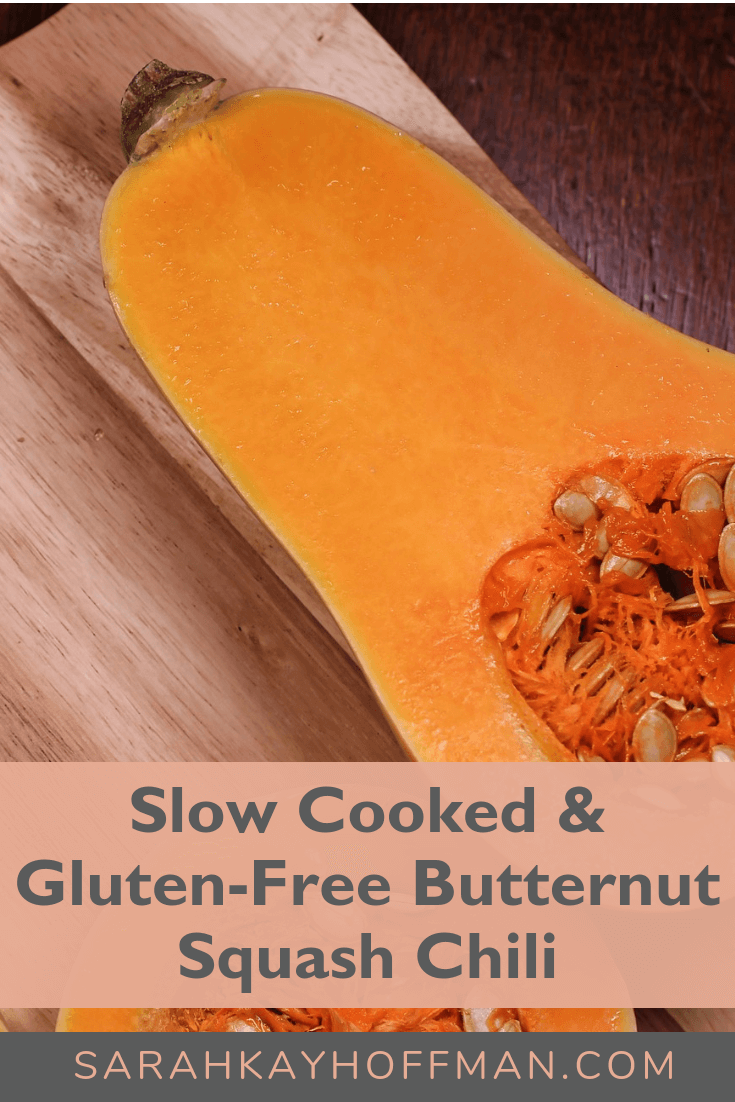 Slow-Cooked & Gluten-Free Butternut Squash Chili
Author:
Sarah Kay Hoffman
Prep time:
Cook time:
Total time:
A comforting, gluten-free, chili recipe filled with fall flavors.
Ingredients
½ small red onion, chopped
4 cloves garlic, minced
2 x 14.5 oz cans of tomatoes (I get the no-salt added ones)
4 cups butternut squash, cubed
1 can black beans, rinsed and drained (I also get these with no-salt added, making sure to rinse and drain them)
1.5 pounds beef, cubed
1 bay leaf
1 Tbsp cumin
1 Tbsp chili powder
1 Tbsp oregano
½ tsp sea salt
⅛ tsp cayenne pepper
½ tsp cinnamon
½ tsp nutmeg
pepper sprinkles
2 cups water
Instructions
Cut up all vegetables and make sure your meat is not frozen.
Place the vegetables and beans in the bottom of the slow cooker.
Add the beef, spices, seasonings and water.
Cover and cook on low for 7-8 hours.
Taste. Adjust any seasonings.
Notes
Optional (to serve at the end with): Coconut Yogurt (the thicker the better), avocado, fresh basil leaves, and/or fresh cilantro leaves.
Xox,
SKH
You will heal. I will help.