I have 8 things I am doing for SIBO, Adrenal Fatigue and Autoimmune today.
Today is Day 120 since I started my new protocol after being diagnosed with severe adrenal fatigue, a low functioning thyroid, and SIBO. If you have followed my blog for any length of time, you know that these are additions to Colitis which I was diagnosed with in 2008.
The struggles of autoimmune and a less-than-perfect functioning system are real.
Almost 1/3 year has passed since I began addressing these new issues. I have learned so much. Tomorrow I see my holistic MD again, and so I wanted to reflect prior to the visit.
8 Things I Am Doing for SIBO, Adrenal Fatigue and Autoimmune
Click HERE to save 8 Things I Am Doing for SIBO, Adrenal Fatigue and Autoimmune for later.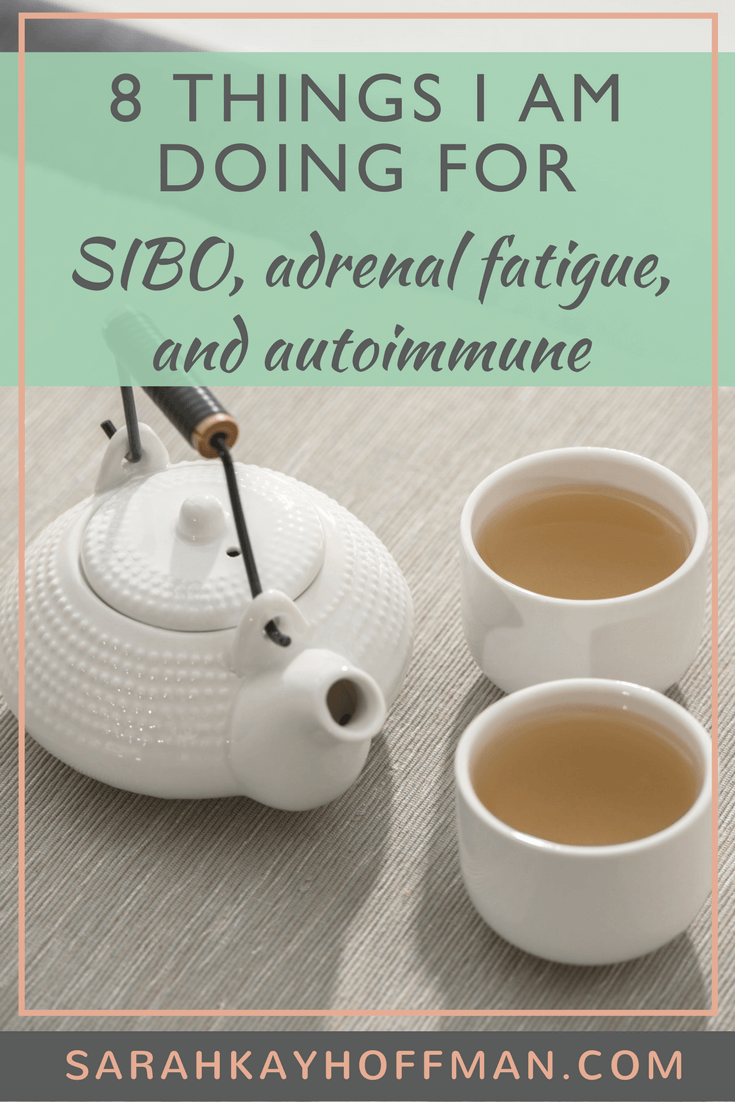 Diet
It will come as no surprise that my diet hasn't changed a ton. I have focused on diet heavily for a couple years now. I know my body, and I know a lot about how food interacts with it. When I was diagnosed with SIBO, though, a few critical things changed. These are the things I eat (and by the way enjoy!) on any given day:
meat
fish
bone broth
sardines (yes, I finally did it!)
super ripe bananas
hemp seeds
oranges (I'm finding that I can't do anymore than 1/2 to 1, though)
yucca
kabocha
hemp protein powder
greens (kale, arugula mostly)
olive oil
smoothies (which include various fruits that are low-FODMAP)
organic tea
Want even more? Get access to my FREE GUTSY MASTER SPREADSHEET HERE.
I don't do: gluten, grains, dairy, soy, corn, legumes, refined sugar, artificial – chemical – preservatives anything. I'm also strictly adhere to a low-FODMAP diet, which trumps everything else when in doubt. Finally, I consume very little alcohol, and typically never more than 2oz at a time.
Supplements
The supplement regimen is a part-time job. Truth be told, I am not always perfect with it, but I am doing my very best.
I take roughly 8 supplements regularly. Some of them are in pill form, some are "beads," and the rest are liquid sublinguals. Additionally, I have B12 injections that I am supposed to be doing 2-3 times per week. This has been my biggest downfall and disappointment. I still have not administered a shot to myself because I can't bring myself to do it.
I feel like this B12 injection is a key component I am missing, but for some reason I can't bring myself (or allow my husband) to do it. (Side note: I still do all the supplements and things I did to heal my Perioral Dermatitis as well.) (Updated + working! supplements as of March 2017 can be found HERE.)
Medication
I have not yet mentioned the medication I take, but I am ready to tell you. Low Dose Naltrexone is the name. The Healthy Economist published a fantastic article recently about it. You can learn more by reading, "Using Low Dose Naltrexone for Autoimmune Disease." I take 4.5mg before bed at night. And I know this medication is helping. But more than that, I feel ok with the decision to be on a medication because of it.
Coffee Consumption
I believe in the power of coffee, but by "power" I mean its power to keep me sane and inspired – not it's power for fake energy.
And thus, my coffee consumption has been greatly reduced. It has been so hard, but not tragic. I drink a combination of organic regular + decaf (about 1-2 cups) each day. I do my very best to stop at that. (As of 2017, I drink even less coffee – on most days. As of 2019, HERE is how I drink my coffee.)
Tea Replacement
Disclosure: This post was sponsored by Traditional Medicinals. While I was compensated to write a post using their teas all opinions are my own.
The ritual of a hot beverage is calming to me. These days, though, once the morning coffee ends, I have completely replaced coffee with tea. But like coffee, not all tea is created equally and a lot of tea contains unnecessary processing and ingredients. Furthermore, there are many tea ingredients which are not low-FODMAP and so I had to be very selective with my tea choices.
3 Teas I'm Drinking to Help Support My Healing
Click HERE to save these for later.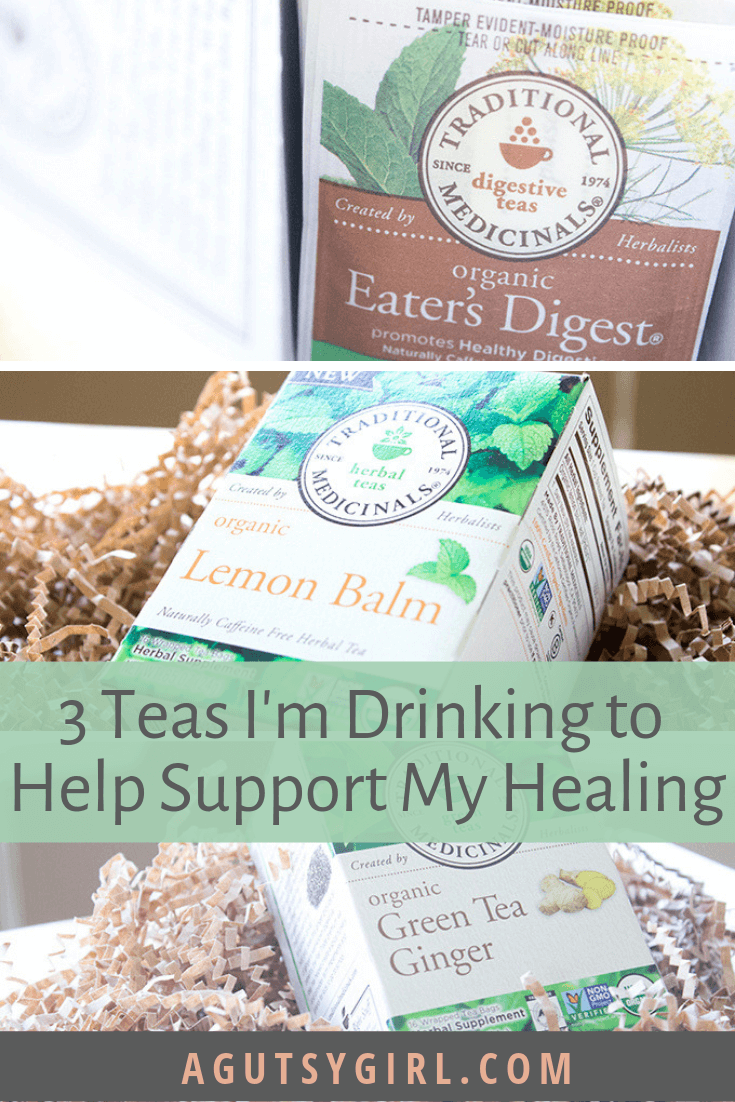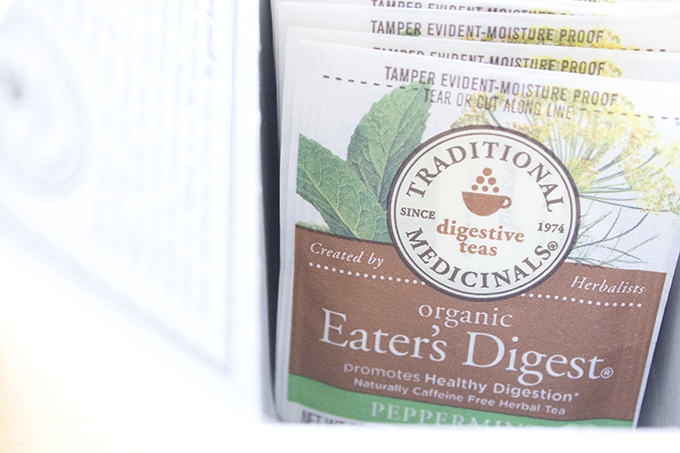 As I mentioned above, when it comes to tea, you should always check the ingredients. Tea is one of those things that seems simple enough until it's not. This one contains many things which are helping me not only feel better but also soothe. It's a mild peppermint flavor, and I tend to drink it post-meal.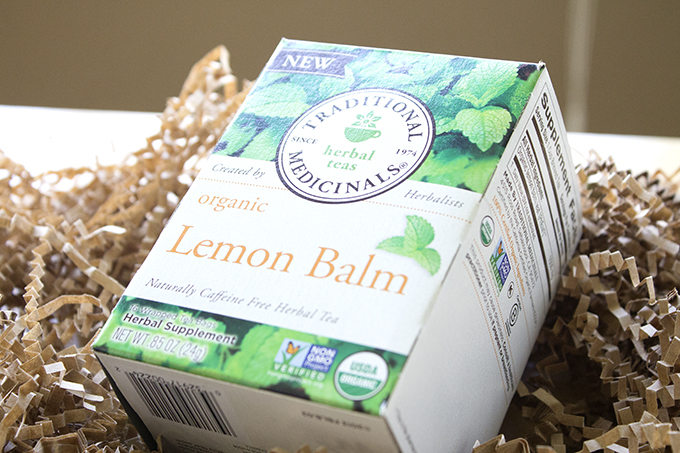 Lemon, in all forms, have been a huge addition to these past 120 days. From cleaning to kitchen decorations, in recipes, lemon has been good to me. While Lemon Balm is not related to lemon, this herb's name comes from its notable lemony fragrance and taste. There is just one ingredient in this tea. I have incorporated the tea into my morning routine, as lemon balm supports digestion (read THIS, too!) and helps calm frazzled nerves (<– = most of my adrenal fatigue problem). It has replaced plain lemon water, and I enjoy the pleasant and friendly morning taste. For the record, adding a little raw honey would be lovely to this tea, but until I have the green light, honey is, of course, high-FODMAP.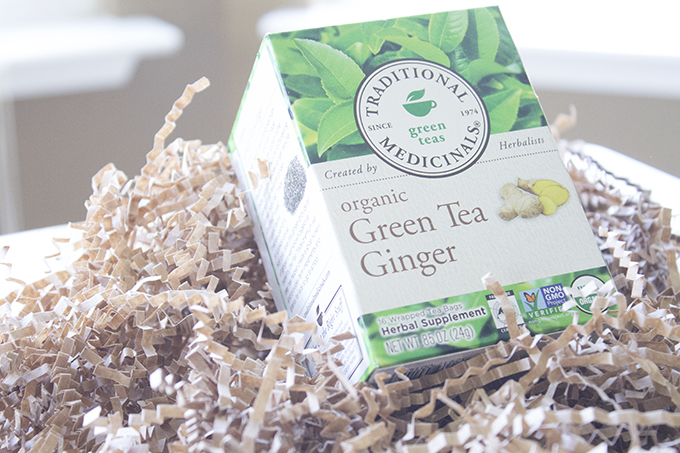 The idea of drinking a green tea + ginger is one that has become a staple for so many. Green tea has been enjoyed for thousands of years as a healthy beverage, and this tea provides the extra wellness benefits of ginger.* Not only do these two fine ingredients help get digestive juices moving*, but their combination is powerful and delicious. In fact, did you know that, "Ginger rhizome has also been a staple in both Ayurvedic and Chinese Medicine, traditional practices that are thousands of years old?" If you understand my healing protocol well, you know that these holistic, traditional practices are what I engage in. I love this tea in the deep of an afternoon….most afternoons.
Workouts
I have stayed very consistent and true to how I said I'd workout for healing. I lift at the gym 1-3 times per week, typically no more than 45 minutes. Additionally, I set up a nice Bikram practice for about a month, but I haven't done it in about a month – my body wants and needs to go back. For "cardio," I stick to walking primarily, and we walk a lot (but probably not enough). I hit anywhere from 6-10K steps per day.
Updated in 2019 to add: What I Really Think About Workouts and Healing.
Sleep
The baby is, hallelujah praise the Lord, finally sleeping through the night. It took about 15-ish months, but we got there. And thus, I am sleeping so much better. It has made all the difference.
There aren't many nights when I get less than 7 hours of sleep anymore. Most nights I aim for 8+. Some nights I sneak in 9-10 hours. (Sleep and gut healing is a real thing.)
Lifestyle
I am not going to pretend I have this piece all figured out. My goal was healing through intention in 2015. Most of that intention was lifestyle-based. This piece is the hardest for me since I work full time + have a start-up business. Some things I am doing to stress less and enjoy more include: clearing the clutter, MOPS, walking with friends, sitting in silence with tea and a notebook for personal writing, trips and travel, reflexology and reading The Bible.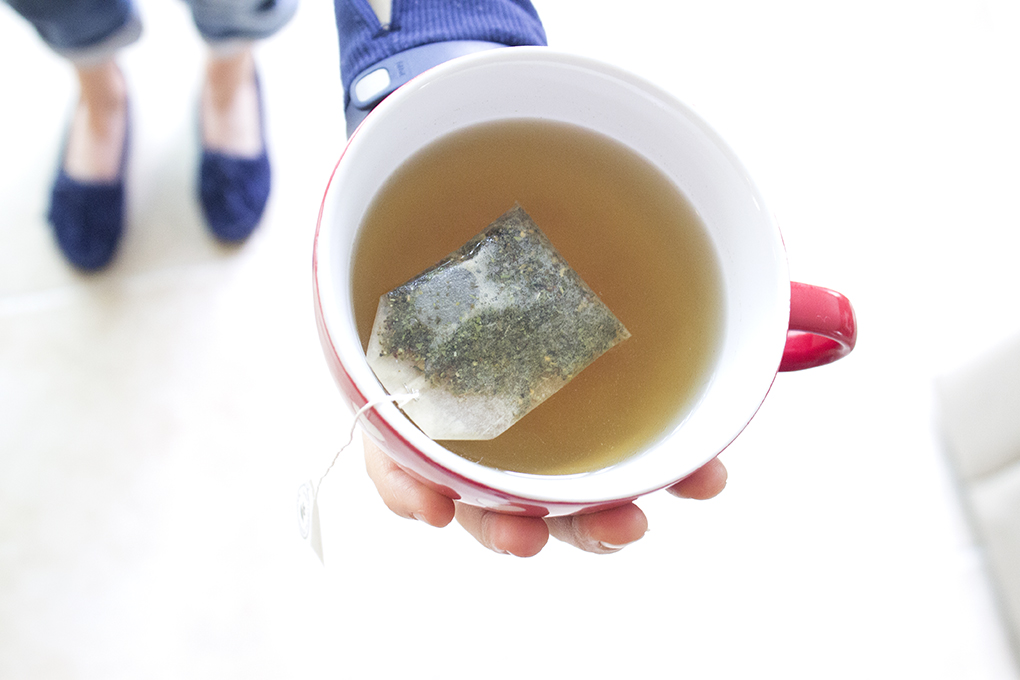 With all these changes, how are you feeling?
I have more good days than bad. Quite honestly, that frustrates me so often.
With all that I'm doing (or not doing) now, shouldn't everyday be good? Shouldn't I be "healed" by now?
But no, no it should not and no it will not.
Autoimmune means you will find yourself in remission, but not cured. There is no cure for the things I have. And if you're not cured, then bad days are bound to happen because life happens. I refuse to live in a bubble, and even if I did live in this bubble, I'd still likely have bad days (um, hello, that would be so stressful!)
As a friend recently told me, "More good than bad days are all I can ask for."
She's right. There was a time when I had 10% good days, 90% bad days.
I would say I've progressed to about 75% good days, 25% bad days.
Tomorrow I see my holistic MD (and then I'll follow up with more!). I am ready for the next 120 days, for phase 2 and for learning more, growing more and healing more.
Did you enjoy 8 Things I Am Doing for SIBO, Adrenal Fatigue and Autoimmune?
Xox,
SKH
* These statements have not been evaluated by the Food and Drug Administration. This product is not intended to diagnose, treat, cure, or prevent any disease.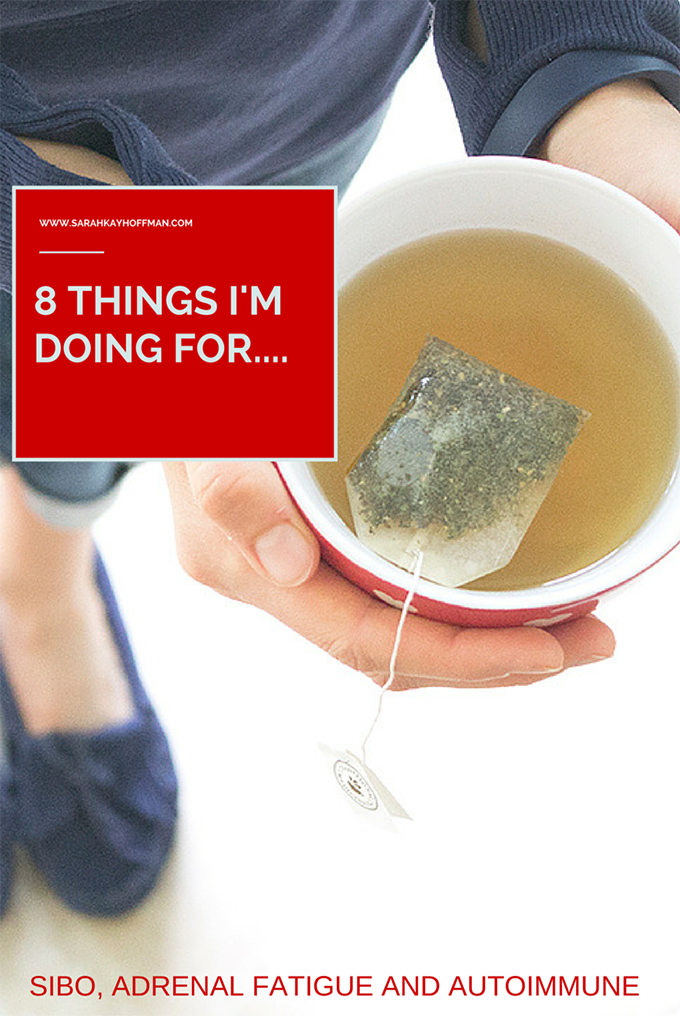 You will heal. I will help.