Almost anywhere you Google search, you can find a review Jamie Eason's LiveFit Trainer Workout Program.
Updated in 2019 to add this word of caution: Do you have gut problems? Proceed with all the caution because I don't believe that intense workouts like this and gut healing can co-exist. For more on that, read HERE.
Heal first with me HERE or HERE.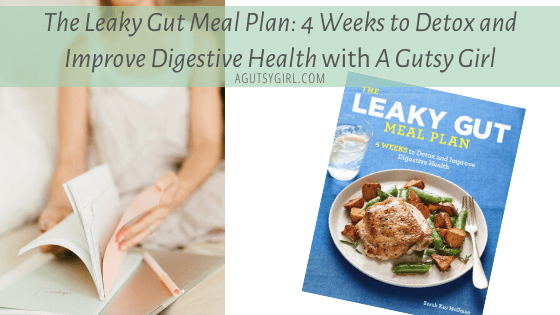 Because the workout program is such a popular one, with a ton of buzz, I figured that yet another review would be good for the Internets! After all, when I was deciding whether or not to do it, I read as many blog posts on it as I could find. So this is my very own review Jamie Eason's LiveFit Trainer Workout Program.
I'll break the review Jamie Eason's LiveFit Trainer Workout Program down by phase. Each phase was 4 weeks long, for a total of 12 weeks.
Review Jamie Eason's LiveFit Trainer Workout Program
Click HERE to save this post for later.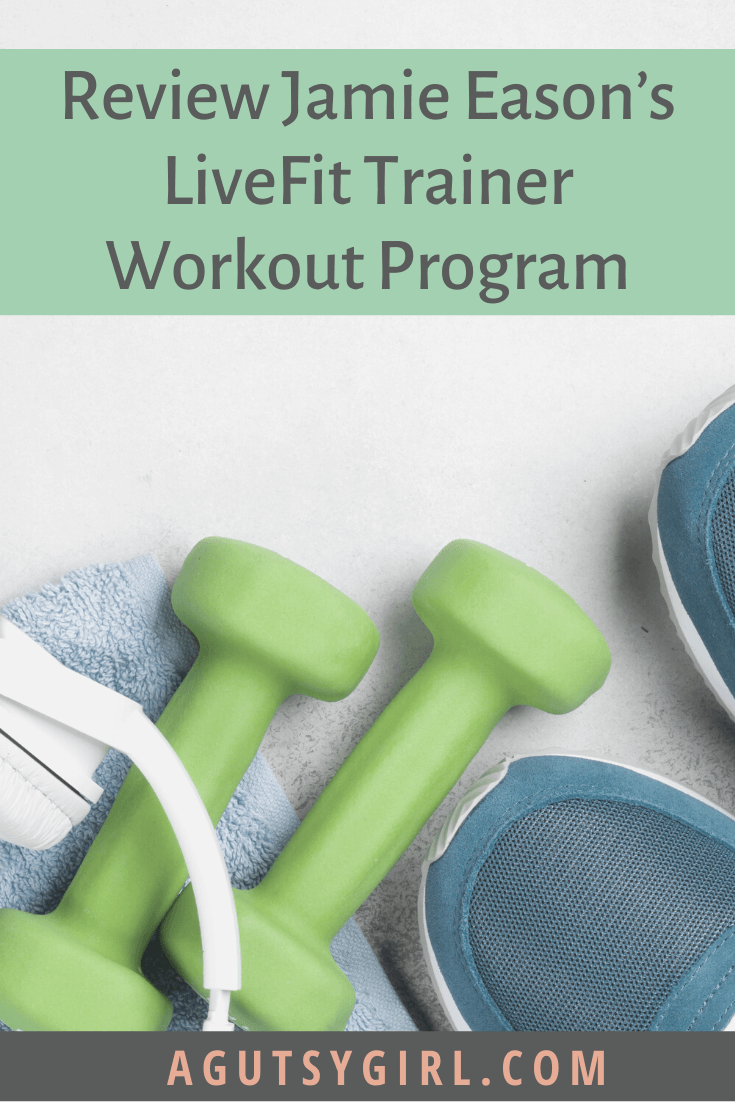 Phase 1 (Weeks 1-4)
Phase 1 is where you'll learn this new "lifestyle" of training and eating properly. The workouts are pretty basic, and definitely an honest amount of work, but nothing that is too taxing on the body. Many people have complained that they didn't like this phase because there is no cardio. I have to say that while I was doing it I agreed. I craved that cardio. Other than my walks with Ryan and the dogs, I really didn't do too much cardio. I cheated a few times and did some because it drove me batty –> at the time. Jamie's explanation as to why you don't do any cardio in this phase is simple,
This'll ensure your body is adding the muscle you want, and not using up too many calories for immediate fuel rather than muscle building.
Your training is only 4 days a week, but your nutrition needs to be spot on. (More on nutrition at the end.)
Sample workouts during Phase 1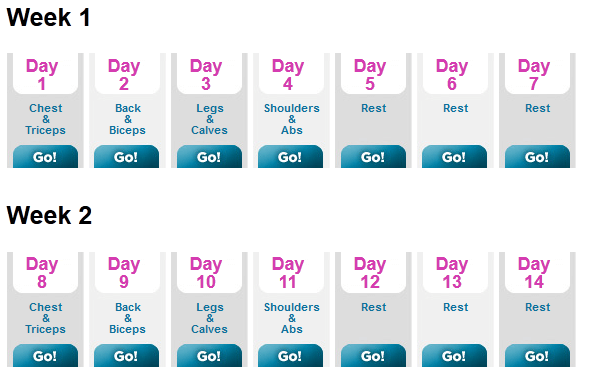 Phase 2 (Weeks 5-8)
Phase 2 is where you really begin to kick it up a notch. You add cardio back in, along with the various super setting.
During phase 2, you're still lifting pretty heavy. Sets are usually 4+. You will lift 6 times per week, focusing on different body parts, but you will have 2 legs days per week. (Jamie does say that you can do 2 days of a different body part if you need it more, but since most people need leg work, she uses that.) I must be honest, I was so excited for all those days of lifting.
Your cardio is done on 3 of the days, so you'll need to plan for an additional 30 minutes. This is the point in the program where many people simply don't have enough time. By the time you do 45 minutes – 1:15 weight training and 30 minutes of cardio, you might easily be looking at upwards of 1:30 in the gym. For me, this was perfectly fine because I began to crave everything about my new workouts.
However, the cardio Jamie recommended during this phase was, "30 min medium intensity (running, elliptical, step-mill)." 30 minutes of medium intensity on those "machines" make me want to scream. They spell b-o-r-i-n-g to me. Instead, I was doing other things for cardio at my gym such as boot camp, TRX (which is not cardio, but still a switch up) and kickboxing.
And again, your nutrition needs to stay spot on during this phase.
Sample workouts during Phase 2
Phase 3 (Weeks 9-12)
Phase 3 is where the program gets really intense. If you don't like training hard and you don't like the gym, then this is the point of the program where you will fall off for sure.
You will spend a lot of time in the gym; likely no less than 1:30. Your workouts are filled with both intensity and longevity. Jamie says that this phase is where you "burn unwanted fat, save hard-earned muscle." You won't lift as heavy, but all of your workouts will include: high-intensity interval training (HIIT), plyometrics, super-sets and active rests.
During weeks 9 and 10, you should plan to be nearly drenched with sweat by the time you leave the gym. The workouts involve less weight, but you'll be doing about 15+ exercises, with little or no "active" rest. Once your "weight workout" is done, you then do 30 minutes of HIIT running sprints.
During weeks 11 and 12, you do circuit training -> 140+ reps per circuit, with less weight. You also do cardio, but now you'll switch to 30 to 40 minutes per day back on medium intensity. (And again, I did not do that cardio.)
You will workout 6 of 7 days per week during the entire Phase 3.
Once again, your nutrition needs to stay spot on during this phase, but during this phase, you also begin to carb cycle.
Sample workouts during Phase 3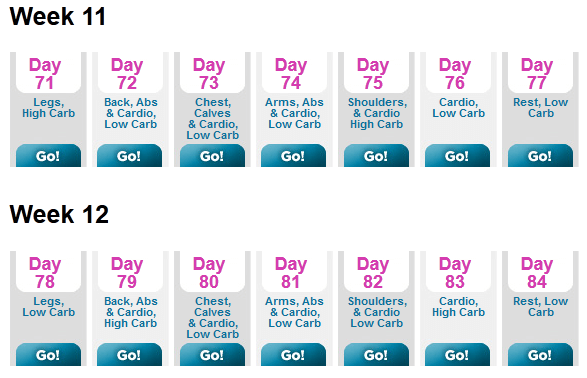 Nutrition
Jamie spells out the nutrition for you very clearly. You will eat a lot of protein, and you will learn to eat 5-6 times per day. For the most part, you eat fairly normal until about mid-way through when you start to calorie count. Once you reach Phase 3, you begin to really calorie count and carb cycle. Click here to use the calculator to find out how many calories/carbs you would do on either your low/high carb days.
Did I follow her nutrition plan? Yes and no.
Yes, I: ate super clean, calorie counted when told do so and did carb cycling.
No, I: Did not take the supplements she recommends because I just don't do a ton of them period. I did use protein powders sometimes and did my daily routine of a multivitamin, fish oil, enzymes, HCL, Vitamin C (pure ascorbic acid) and probiotics.
Additionally, I did not eat the egg whites like she recommends, since my body cannot tolerate them. Furthermore, I did not do all the carbs she has on the plan either; I simply can't or I'd be so bloated and miserable. Finally, I drank on some of those days. And one day a week I had a cheat meal or two. Yes, I adore fro yo – no judging:)
I am gluten free, and have colitis. I know exactly what works for my body, so that's what I follow….it's not a diet. It's my life.
If you are new to "nutrition" and a healthier way of eating, Jamie does provide a great template, but if you want more hand-holding + a customized approach for it, consider this.
The Good
There is so much awesome to this program. I loved that all my workouts were written already, and what I would be doing each time I set foot in the gym. I loved that it was intense (but I also hated that – which you'll see next). The program got me super excited and motivated, which I needed at this time. I got stronger….
I got stronger….mentally and physically (I also got weaker physically – which you'll see next). I learned more about myself. My body changed.
The Not-So-Good
Notice I didn't say "the bad?" I'm not going to rip on anything from the program.
At the end of the day, this was a mass program, one that is designed for mass appeal and not customized. It is the same for diet, one size does not fit all. Therefore, anyone who complains about the program and says that it's "bad" clearly doesn't understand that it was not customized for them – and only them. I believe 1,000% in the power of bio individuality, which is the idea that what works for one, will not necessarily work for another; what is a cure for one, is poison to another. This applies to diet. It also applies to workouts. And mostly, it applies to life. (And….end rant.)
All of that said, for me, yes, the LiveFit Workout Program was exactly what I needed. However, it was so intense that by the end I felt stronger, yet weaker. Somewhere around week 8 or 9, I believe my body started to break down.
When I wrote my blog post about "mental vs physical," I thought I was being strong by mentally pushing through. I didn't listen to my body. My right leg was becoming a dead weight. I couldn't figure out why. The truth is that I still don't know why or what caused it, but I am still having the problem….a completely fatigued leg. (I imagine it happened during the leg work, plyo, HIIT time). I have plans to see a chiropractor because the trainers from my gym thing it could be a pinched nerve.
Life threatening? Um…no:) A pain? Yes.
Phase 3 had me digging deep inside during each and every single workout. And while that was great for my mind, I truly feel that I over trained. (Keep in mind that most days I was doing even more than what she said as well – 2-a-days, going-going-going.) Admitting that is hard. But it's the truth. For some – for many – this program can cause that. It would be the main precautionary I give.
Proof
I'm not one to post scantily clad pictures of myself on my blog. I took them each week, though. The progress in my body was amazing! I have some ab pictures that make me smile, smile, smile. These are just 2 (very covered up) ones: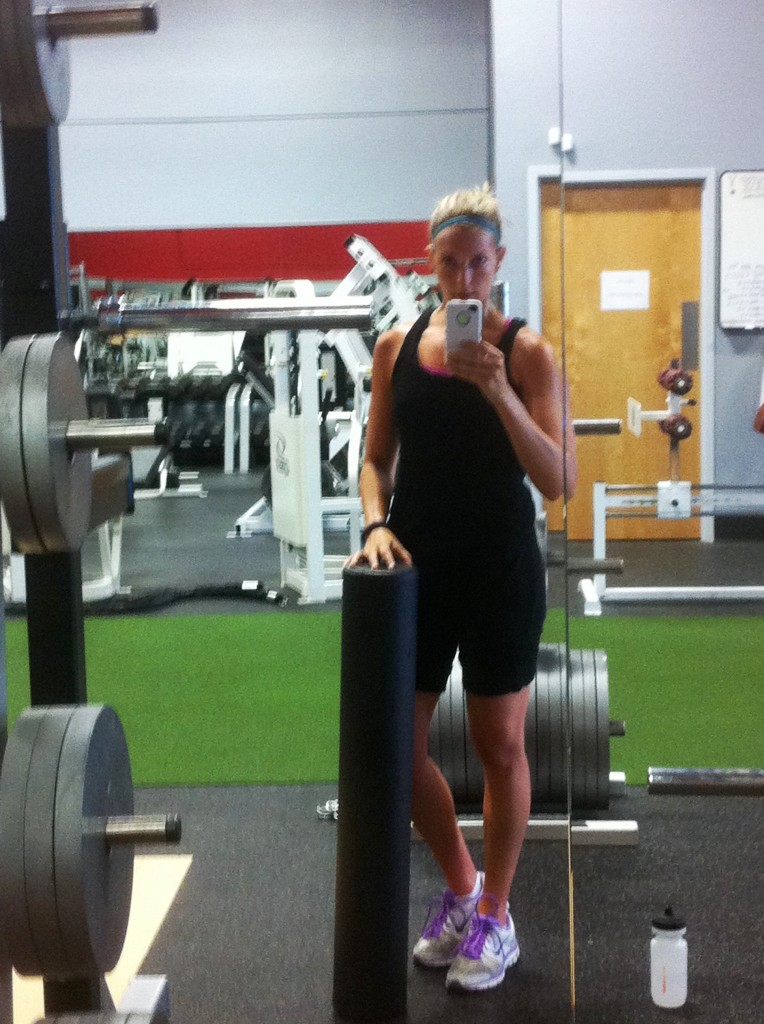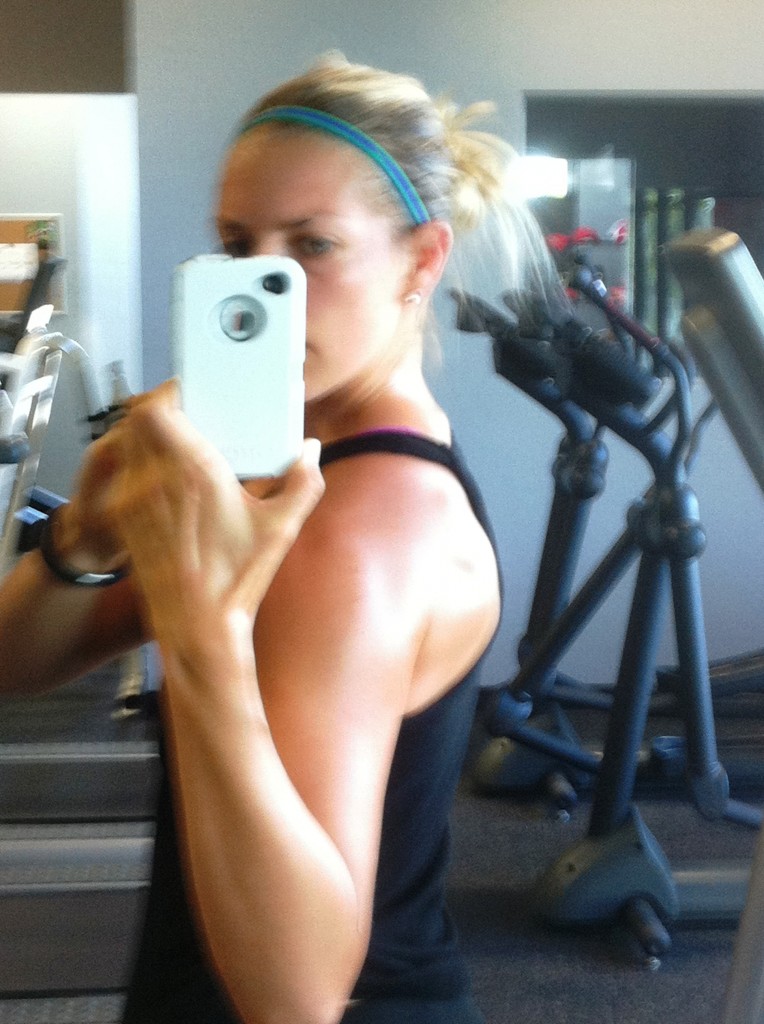 I have a pull-up bar in my house. The pull-up bar is in full view of Ryan's office. One day, when I got home from the gym, I stripped down. I got a firm grip on my pullup bar, and I slowly lifted myself up. As I was doing so, Ryan was clearly watching. He said,
Wow – look at you – you have the "V" you've always wanted.
That alone made me uber, uber, uber excited. How can I really complain about anything from the program when I have never, ever, ever in my life had that before? EVER!
Remember that Nothing changes if nothing changes.
What's up next for me fitness wise? Yes….plans are being made. I will tell you next week. As for this week and next week? Random workouts, clean eating (per the usual) and resting every second I get. My new workouts will start July 9th.
I can't wait.
Question: Have you done the LiveFit Workout Program? Thoughts? Thinking of doing it? Questions?!
Fitness is nothing without a healthy gut. Grab The Gutsy Girl's Bible or my meal-plan book, The Leaky Gut Meal Plan HERE.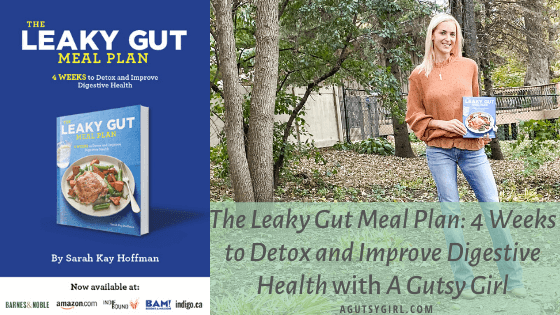 Xox,
SKH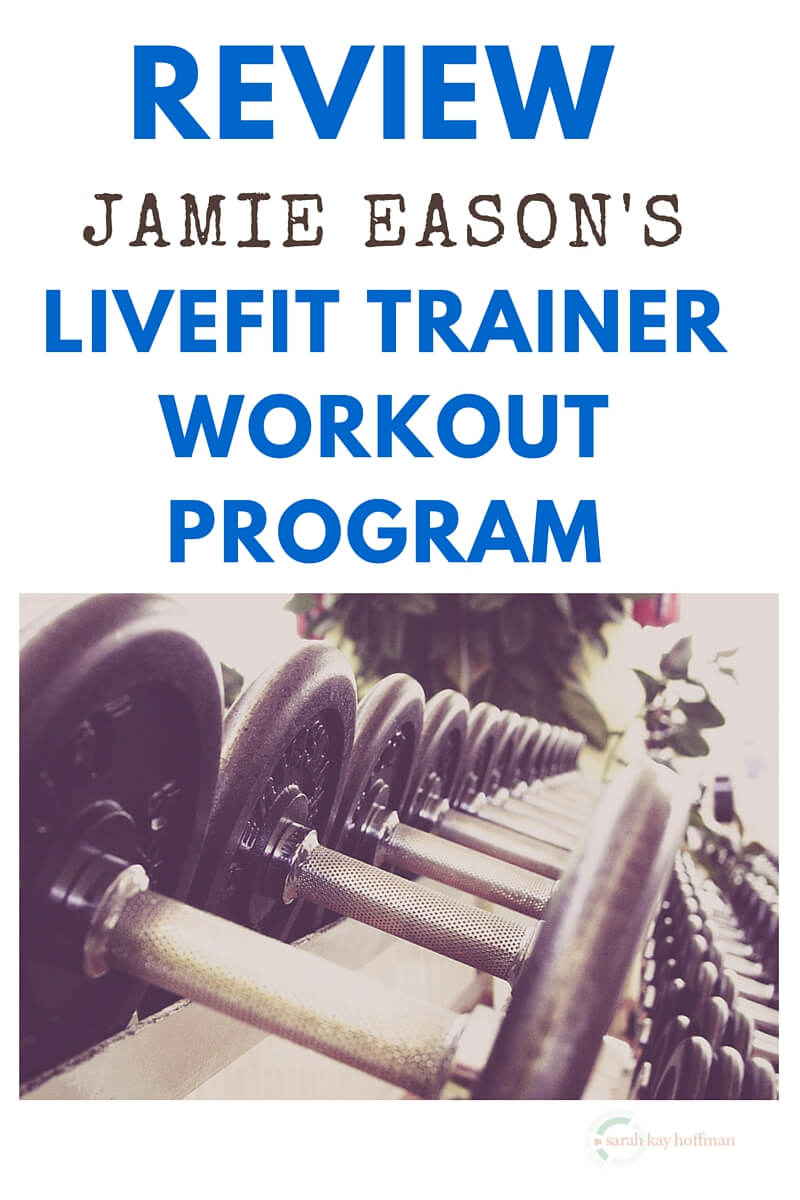 You will heal. I will help.