That moment of commitment. You might not think much about it, but it's an important moment.
I spent most of my day yesterday en route to Minnesota via air.
While I am not a fan of air traveling anymore (of course for digestive reasons), the one thing I always appreciate is my time to read, think and relax.
As I was sifting through the January 2012 Oprah Magazine, I stumbled upon this from Martha Beck (don't judge the image quality):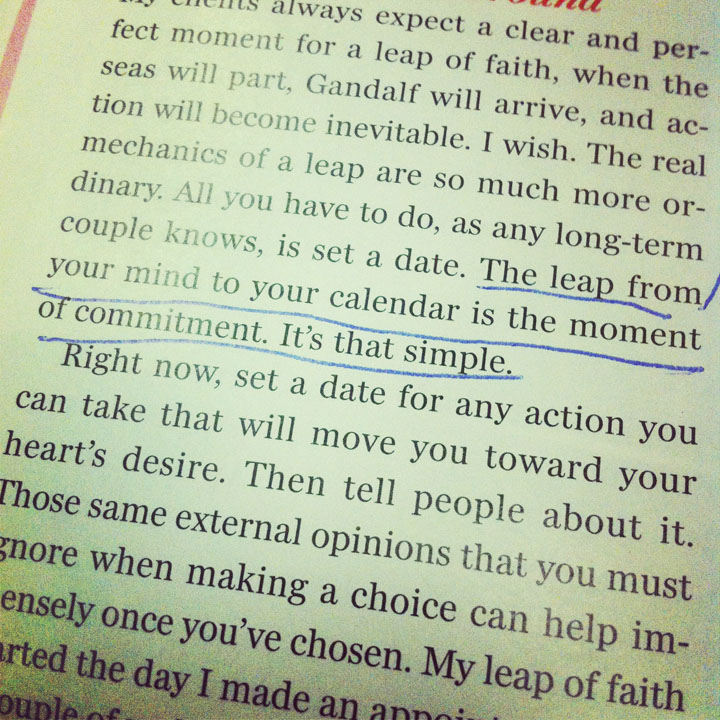 "The moment from your mind to your calendar is the moment of commitment. It's the simple." (Martha Beck)
Moment of Commitment
I became fixated on those very simple words.
I began to think about this moment in the mind. In this moment, what drives the mind to action or a lack thereof.
I thought back on my clients: what ultimately pushed them over the edge – the edge where the commitment was formed? Surely, it was not the success they now have. The success they now have was an outcome of that moment. So what was it?
The feeling of being sick and tired of being sick and tired? The frustration of bloat? The discomfort of alternating constipation and diarrhea? The horror of putting on jeans – jeans that always felt too tight and clung miserably to the waist?
Whatever it was, in that moment they found themselves placing a date with me, and more importantly making a commitment to themselves via the calendar.
These moments are life changing.
I spent the rest of that plane ride writing, re-writing, "my story." I will relaunch this in January because the truth is that it acted as my own moment of renewed commitment.
It really is that simple.
Interested in similar topics? Check out Habits, Coffee Cups, and Healing and How to Bullet Journal for Gut Healing.
Xox,
SKH
You will heal. I will help.