The "Why I am a Gutsy Girl" feature aims to highlight gutsy girls of all kinds, shapes, sizes and from various backgrounds with different stories.
If you have IBS or IBD, you have a story. If you are a caregiver (like the gutsy feature today), you have a story. If you have a gutsy child, you have a story. If your digestive system rocks….well, you still have your own gutsy story! If you are a woman and have a gutsy story, contact me for the chance to be featured!
Here's Rebecca's story….
I am a wife, dog mom, full-time public relations professional and full-time caregiver.
In 2007, just a few weeks after we began dating, my husband was diagnosed with Crohn's Disease. I remember the day that he was diagnosed clearly. My mom had just begun chemotherapy for non-Hodgkin's lymphoma and I drove up to be with my husband after his colonoscopy. I arrived at his house, stuffed animal in tow, to find him in the bathtub, soaking after the procedure. I sat in the bathroom with him to keep him company and make sure he didn't fall asleep in the tub.
That was it for me. I don't know what clicked, but I knew in that moment that I loved him and was going to be with him the rest of my life. Two years later, he and I got married with Crohn's in tow.
I didn't know much about Crohn's Disease when we were married. But I've made it my mission to understand the disease and everything he experiences. I go to all his doctors' appointments with him and ask an incessant amount of questions. I research medications, procedures and symptoms online until I am satisfied with what I find (or am freaked out by what I read). However, no amount of research or information can prepare you for the difficulties of being a caregiver.
Ten months after we were married, my husband was hospitalized for the first time. He had gone to have a colonoscopy with his new doctor after not having one for several years. I greeted him in the recovery room after the procedure and waited as he rolled side to side trying to release air. After a bit he felt better and got dressed. However, within minutes we knew something was wrong. He was very lightheaded and nauseous. We told the nurse that something was wrong and we couldn't leave, but she kept insisting that he was fine and it was normal what he was feeling.
It wasn't.
We sat him back down and the nurse realized quickly that he had spiked a 104 fever and everything was not okay. After a few days in the hospital, his doctor realized that when she pushed the scope through the severe stricture in his intestines, she must have micro perforated (made a tiny hole) his intestines, causing E. Coli to get into his bloodstream. It was during this hospital stay when I realized that if I wanted my husband to get the best treatment possible, it was up to me.
Since that hospital stay, my husband has been hospitalized twice –  once for a blockage and then a month afterwards for a bowel resection. During each stay, I made sure I understood everything going on so that I could ensure he was getting the best care possible.
When he had the blockage, I insisted that the emergency room doctor consulted with his gastroenterologist before deciding anything regarding his treatment. I nudged the nurses when he was in pain for more pain medication. I brought him things to read and play with to distract him in the hospital. I also managed to convince the hospital to let me bring our dog in to visit him while he was admitted.
Afterwards, when we found out he needed surgery, I found myself making lists to prepare for the surgery- questions about the procedure and recovery, medications, physical limitations after surgery, and anything else that came to mind. I went to all pre-op appointments with him to ensure that, even if he wasn't asking questions, I was getting all of the information.
Surgery day came and I felt prepared (or as prepared as you can feel prior to your loved one having surgery). He went into the procedure and came out with flying colors. The resection went well and while he had a long recovery ahead of him, we were prepared. Even though I had started a new job several months prior, they let me cut my hours in half for two weeks and work from home/hospital the entire time so I could help with his recovery.
He stayed in the hospital for five days and I was there by his side the entire time. I made sure he had his medication, found nurses when the narcotics were making him feel sick, made him get out of bed to move around even though he didn't want to, encouraged him to eat small amounts throughout the day, and helped him to shower. I bought him silly hospital pants and a stuffed animal replica of our dog to cheer him up.
When he was finally released from the hospital, I brought him home to a clean apartment (thanks to my mom) fully stocked with easily digestible foods. I cooked him whatever he wanted, whenever he wanted it. I slept on an air mattress next to our bed for six weeks as to not hurt his belly when I rolled in my sleep. I set alarms throughout the night so I could wake him to take his medications. I made him go for short daily walks to build up his stamina. I drove him to all his doctors' appointments and to his graduate school to change his class schedule. Basically, I did everything in my power to ensure that he was able to heal without having to worry about how things were going to be accomplished.
Almost two years after his surgery, my husband is doing wonderfully. He is weighing almost 140 pounds for the first time in his life, has no diet restrictions, and is having little problems with his Crohn's. It's been a long journey getting to this point but it was totally worth it.
I am a Gutsy Girl because I am not afraid to do whatever it takes to take care of my husband.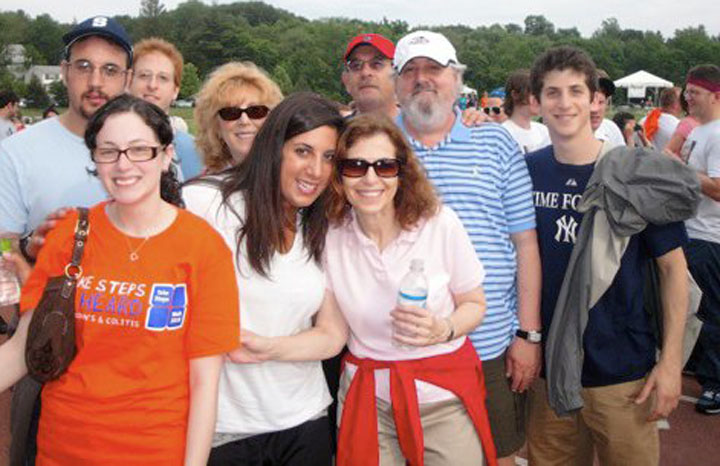 Rebecca's blog, Caring for Crohns, chronicling her journey as a caregiver for someone with a chronic illness. You can also follow her on Twitter @CaringforCrohns or like her on Facebook, www.facebook.com/caringforcrohnsuc. 
Love your guts,
SKH
Be sure you allow plenty of time for your first visit
hollister sale 9 great Valentine's Day gifts that women love
The trendy international designer has signed an 11
louis vuitton tasche
Ralph Lauren Reports Surging Sales
Pandora Jewelry and Jewelry Charms
spaccio woolrich bologna
that's of course
The Met Gala 2014 honor roll of fashion
woolrich bologna
ignite the night time being seen wearing yanova's glogear accessories
Comfort in pajama inspired dressing
pandora charms
and pre tax profit margins down 10 20 basis points to 12
Rarest Gemstones in the World
burberry scarf
People associate this
7 Spring break nail polishes
hollister hoodie
The last survivors of a cruel
One piece swimsuits are back
isabel marant sneakers
He was actually late on many milestones including walking and teething
Is Bertha Lynn getting fired
woolrich jassen dames
and even though they aren't poisonous and lack ravenous fangs
Limited Brands Stays Ahead of the Retail Demand Curve
burberry scarf
You could also match it with your shoes
You will heal. I will help.