Back in August, I wondered: does change mean a loss? And today I'm exploring what happens when old life and new life clash. I'm sure you've been there at one point or surely you will in the future.
I concluded that of course, it does.
Change means a loss of identity sometimes, of possessions, of routine.
I also concluded that not all change is created equal and that, in those moments, I was thrilled for the change.
All of my conclusions could not have been more spot on. Back then I embraced them with grace. Today, I find myself completely exhausted by them.
My old life and my new life have come to a head. They have officially clashed.
When Old Life and New Life Clash
Click HERE to save this post for later.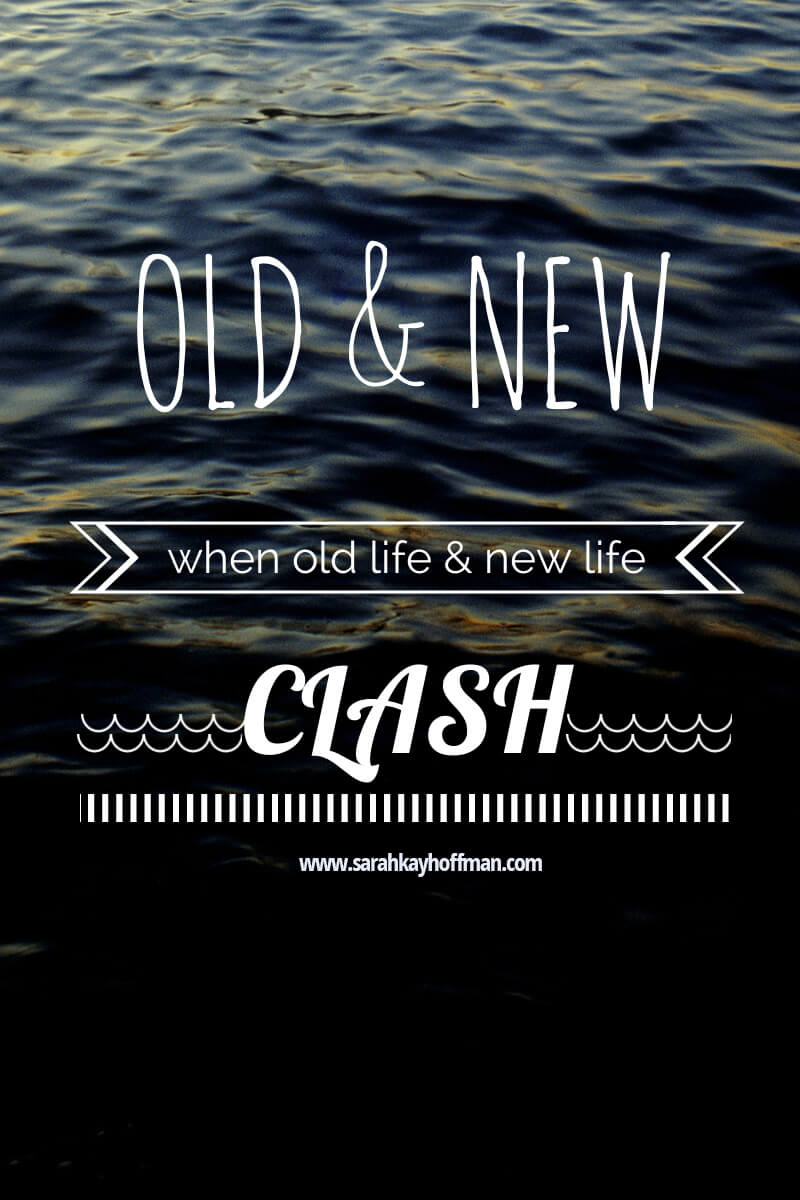 Yesterday
3:30 am The baby starts squirming, so I know this is my sign to get her up, console and bring her downstairs to lay next to me while I begin working.
3:40 am A hot cup of coffee, my computer and blogging in full effect.
6 am Done blogging.
6:10 am Baby feeding, cuddling. My mind is all over the place with "things to do for the day."
6:30-7:45 am Wasted time thinking about all the things to do.
7:45-9 am Getting baby situated and ready for the morning. We are going to our first MOPS (a mommy 'n me group) at church.
9-11 am MOPS. For the first hour, she was cranky and fussy, making me frustrated. The other mommies were awesome and helped me out. I am thankful I found this group. I make the decision that it will become a part of our lives, every other Tuesday morning.
11:15 am The nanny comes, but she's only available today for 2 hours. I choose to eat a little, and then go to the gym.
11:45 am I'm at the gym, but by now I am mentally and physically exhausted (yes, I realize it's not even noon yet). I don't want to be at the gym. I didn't want to go to the gym. Why in the hell, then, did I go to the gym?!
12:55 pm After scrambling home from the gym, taking a super-quick shower, I am now lying on my bed, looking up at the ceiling – spinning almost. I'm feeling physically and emotionally drained – again. Tears fill my eyes. What am I doing?
1:15 pm The nanny leaves, and I hang out with the baby. She falls asleep, and I work on some things for a client.
2:30 pm I fall asleep next to the baby's chair until 3 pm when she wakes up.
3 pm I feed the baby, and we hang out. I am thinking about all the things to do.
4 pm Ryan takes the baby, and I jump on a phone call to discuss financial and business plan information for A Loving Spoon.
5:30 pm The baby and I watch Full House (<- don't judge) while she noshes on a little bottle.
6-7 pm The baby and I have "tummy time." We listen to Baby Mozart, I sing to her, she smiles and she fusses and stares at bright lights. She is priceless in her "Mommy's Lil Peanut" gear. But I am thinking of all the things I didn't accomplish.
7-8:30 pm Ryan and I scarf down dinner, play with baby, feed her, swaddle her and she and I fall asleep around 8:45 pm.
I spent no quality time with Ryan. I spent no time in my Bible. I was frustrated by far too many things. I accomplished things that have little meaning in my life. I didn't accomplish things that have huge meaning in my life.
But somewhere, somehow during my day, I had a humungous AH-HA moment. I'm fairly certain it was during those moments of complete insanity and/or the mini breakdown session while lying on my bed.
My Old Life
my blog
my workouts
meaningless tasks
constantly picking up new projects
stringent schedule, which included things for me, me, me
My New Life
she, the baby
he, my husband
Him, my faith
it, the business, A Loving Spoon, LLC
I am drained.
I am mentally spent.
I am physically torn.
I thought I could have it all, do it all and make it all work.
But my old life and my new life have officially clashed, and I am done trying to make them all work.
Perhaps the conversation with my friend last week was a sign, "Can We Really Do It All?"
NO. No, we cannot really do it all.
In stumbling (literally, stumbling, fumbling and FALLING) to this realization, it hit me.
It's time to choose less in order to gain more.
Part II: Choosing Less, Gaining More
Xox,
SKH
You will heal. I will help.