Many a moon ago when I featured a supplement on Instagram for Supplement Sunday, someone asked, "What is Supplement Sunday?"
A couple weeks ago I made Supplement Sunday a mainstay feature on Instagram, so I want to use this post to explain what it is, with the hopes that you'll join us each Sunday.
The official inaugural Supplement Sunday was Sunday, November 25, 2018 (though I have been doing it off and on for about a year now).
What is Supplement Sunday?
Click HERE to save this post for later.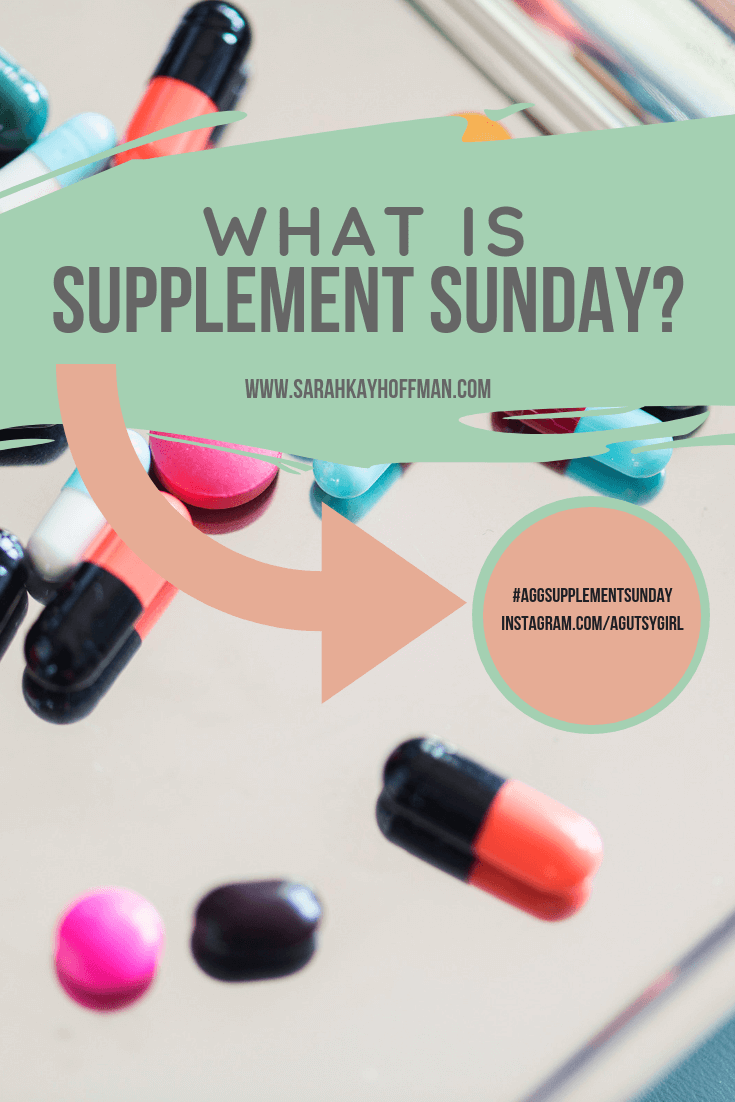 As mentioned, I have a taken a ton of supplements over the years. Now that I have healed to the place I am currently at, my goal is to share about as many of them as possible in case any one of them might help you on your own journey.
The supplements I have taken and talk about on Supplement Sundays are focused on: gut, adrenals, thyroid, and general women's health. When relevant, I may share something for children's gut, immune, and general wellness because, well, I have three small children and I'm very cautious with what we give them (which is barely anything – have yet to try a probiotic for them that I love)!
How Does Supplement Sunday Work?
Each Sunday, check in to the A Gutsy Girl Instagram. There will be a post (and sometimes Stories to go with it) about the Supplement Sunday feature.
In addition to my Instagram
You will always find it tagged, #AGGSupplementSunday (= A Gutsy Girl Supplement Sunday) as well. (I do tag with #SupplementSunday, but a lot of junk supplements use that tag, too, so it's definitely not all mine.)
I'll talk about the supplement, what I use(d) it for and why, and then provide a link via my profile where you can find more information if you want.
But wait, there's more…..
A Gutsy Girl Supplements on Pinterest
I promise that when you tell me you want something, I make it happen.
I started getting requests to put all Supplement + Supplement Sunday stuff in one organized board on Pinterest.
So I did it. You'll find it all in one, nice place right HERE.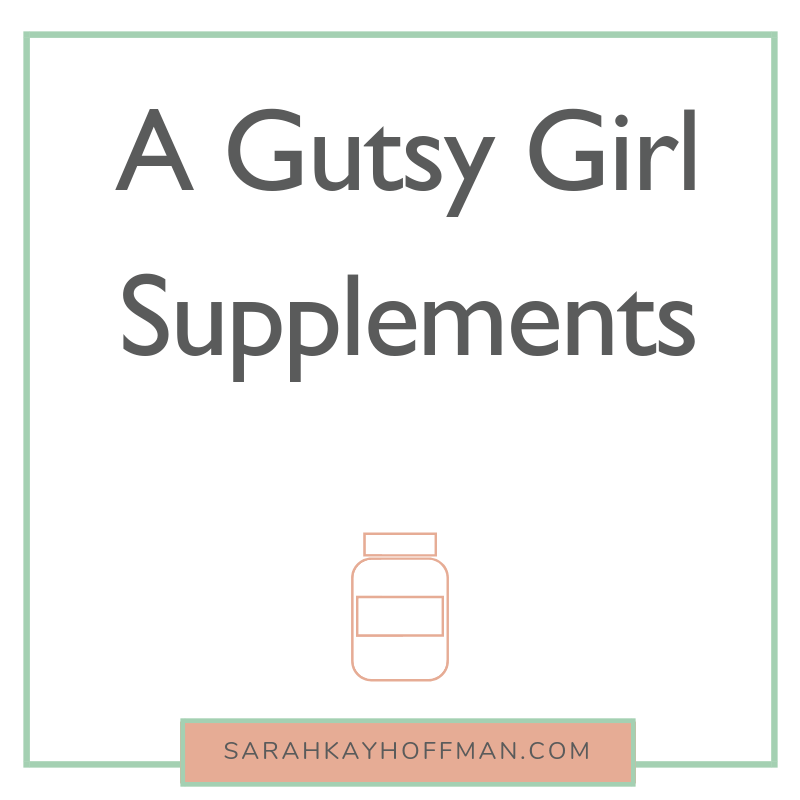 Disclaimer
I love this new feature I'm sharing with you, but I would be doing you no favor without this disclaimer.
By now you should know that I am not an RD or doctor. I am a Certified Holistic Health Coach through the Institute for Integrative Nutrition, wellness expert, and lover of food as a way to heal the gut while soaking up all the beauty that life truly gives. My intentions are not to substitute for the advice given by a licensed healthcare professional.
You are ultimately responsible for any and all actions taken.
Furthermore, I do not believe in supplements as a "cure." I do not even believe that you should be over-supplementing on your own and/or without first being appropriately diagnoses. Ladies, Dr. Google (which would also be my website) is not an accurate diagnosis.
The definition of supplement is, "something that completes or enhances something else when added to it." And this is exactly how you should view each and every single supplement I feature for Supplement Sunday; the icing on the cake, not the ingredients that make the cake in the first place. Read: Minimalistic Approach to Supplements
My number one goal is always to help your progress, never to hinder it.
So with that, make sure you're following me on Instagram and click "Turn on Post Notifications" so you never miss a post.
If you have a supplement you love, feel free to tag me in it on Instagram so I can check it out.
Comment below if there is a supplement you'd like to see me feature.

Xox,
SKH
You will heal. I will help.