This page is dedicated for those of you wanting to know how to start a blog.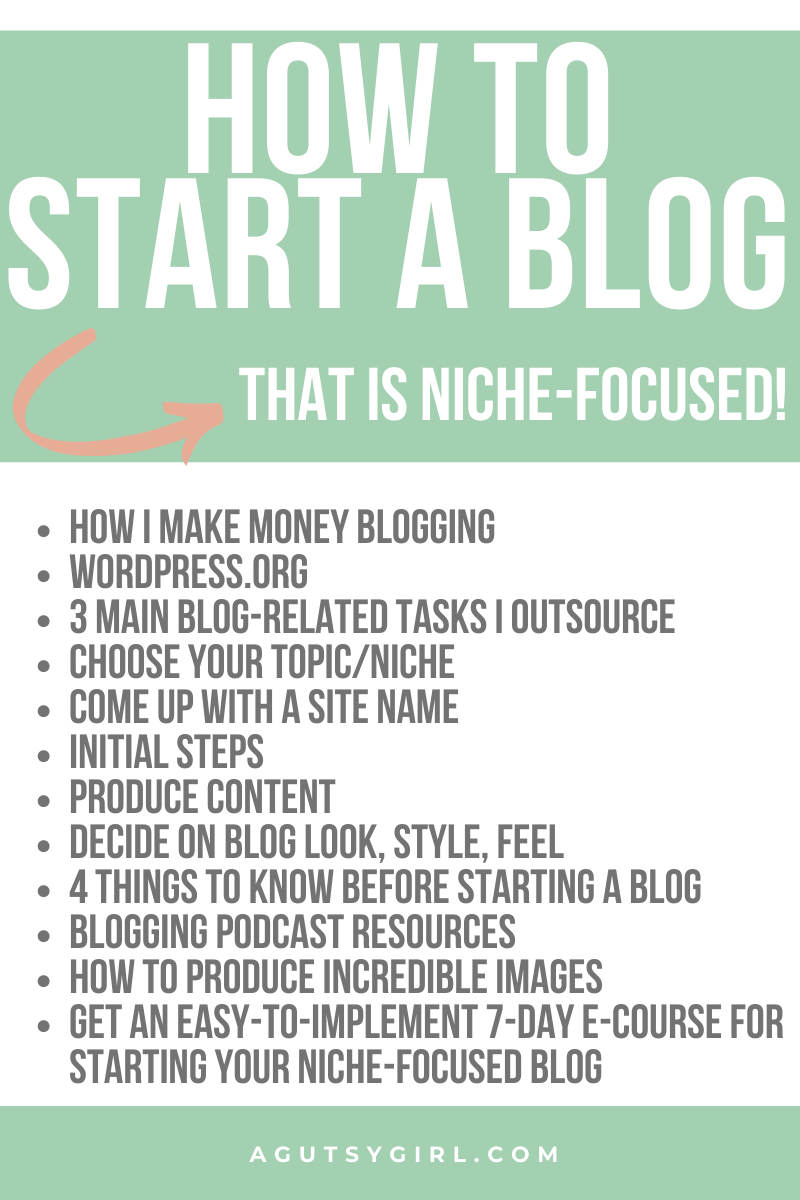 Why? Because I have been contacted on numerous occasions for help with starting a blog.
But first, here are a couple of related blog posts I've already written to help inspire you to start a blog:
Okay, now grab a cup 'o coffee or (better yet) bone broth, and let's get you started with how to start a blog!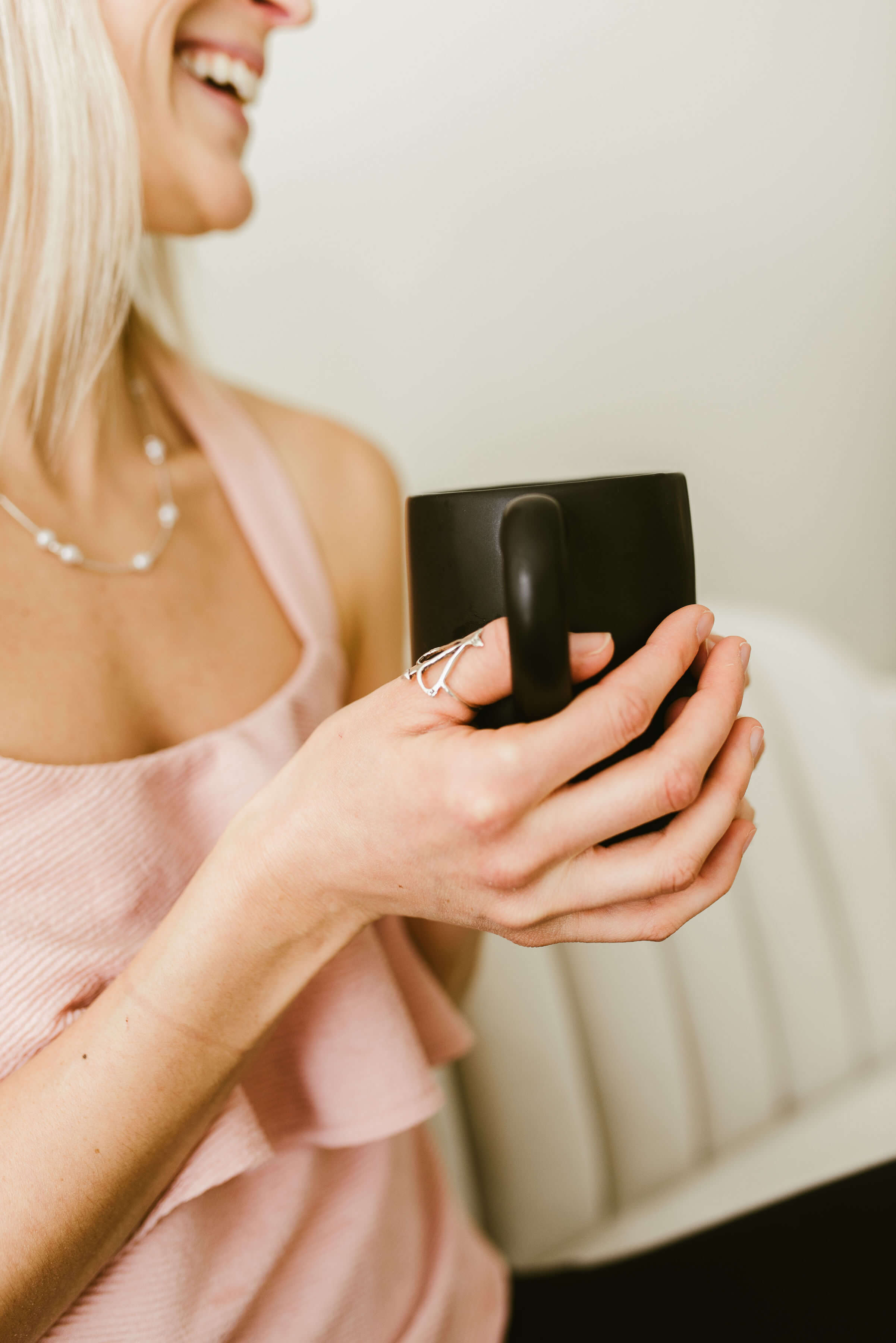 How to Start a Blog
Click HERE to save this post for later.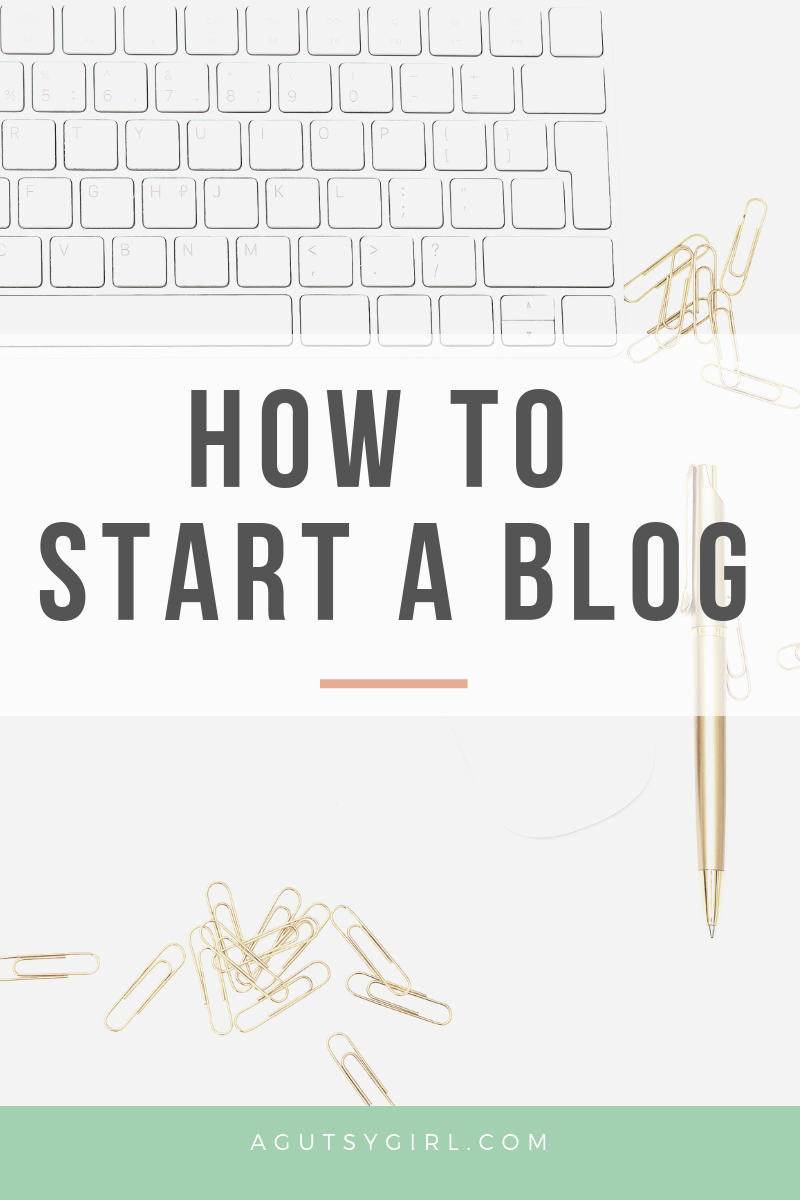 By the way, I run two different blogs both on WordPress.org.
This post, How to Start a Blog, is a little less technical and a little more on the practical and creative side.
If you want more of the technical side, take this simple course I put together. It has all my recommendations for getting set up.
Why? Because here's my number one secret for blogging growth: stick to what you know; outsource the rest.
I know, I get it. In the beginning, you don't have unlimited funds to throw all over the place for help get started. But for me, it made all the difference from a growth standpoint. I am scrappy wherever and however I can be, but I don't pretend to be a jack-of-all-trades.
Listen, tech and marketing are two very different skill sets. If you are highly skilled in both, all the high fives for you. I'm not. Tech is not my thing. Marketing, writing, creativity, color – those are.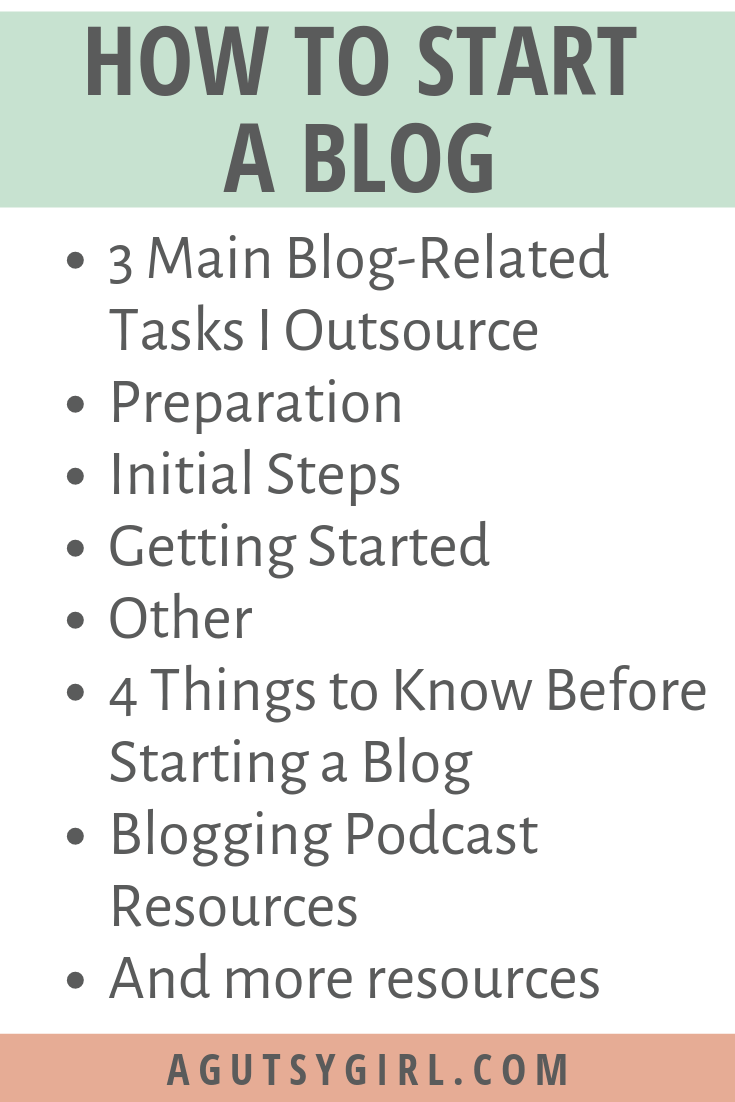 3 Main Blog-Related Tasks I Outsource
Technical

Almost anything that I am afraid I could totally mess up is outsourced. In fact, I have never even really gone through the full motions of syncing host with WordPress website. Additionally, all backups, and custom website features (i.e. the new "Search bar" you see on agutsygirl.com via mobile) are outsourced. I have zero clue how to do any of that.

Random Design

If I need e-books designed, specialized graphics created, or images altered in a certain way, I outsource those, too. It's not that I couldn't do it myself, but they are super time consuming and not the best use of my time. For these needs, I almost always use Fiverr.

Misc.

I don't do all my graphics, that's for sure. I have one VA (Virtual Assistant) who has worked with me for a long time, and she strictly does visuals. She does about 80% of my graphics. And then I have another VA who does anything and everything else from filtering emails to communicating with brands, compiling information, doing in-depth research, comment moderation, etc. I do every last thing I can, but I don't have the bandwidth any longer to do it all.
Blog Preparation
I'm not one to tell you that you must spend years and years preparing before launching.
In fact, I think if you have a sound enough idea, just go for it. Even if your idea is 'perfect' today, it won't be tomorrow, and you'll end up shifting as needed.
Therefore, get the main stuff down, and go.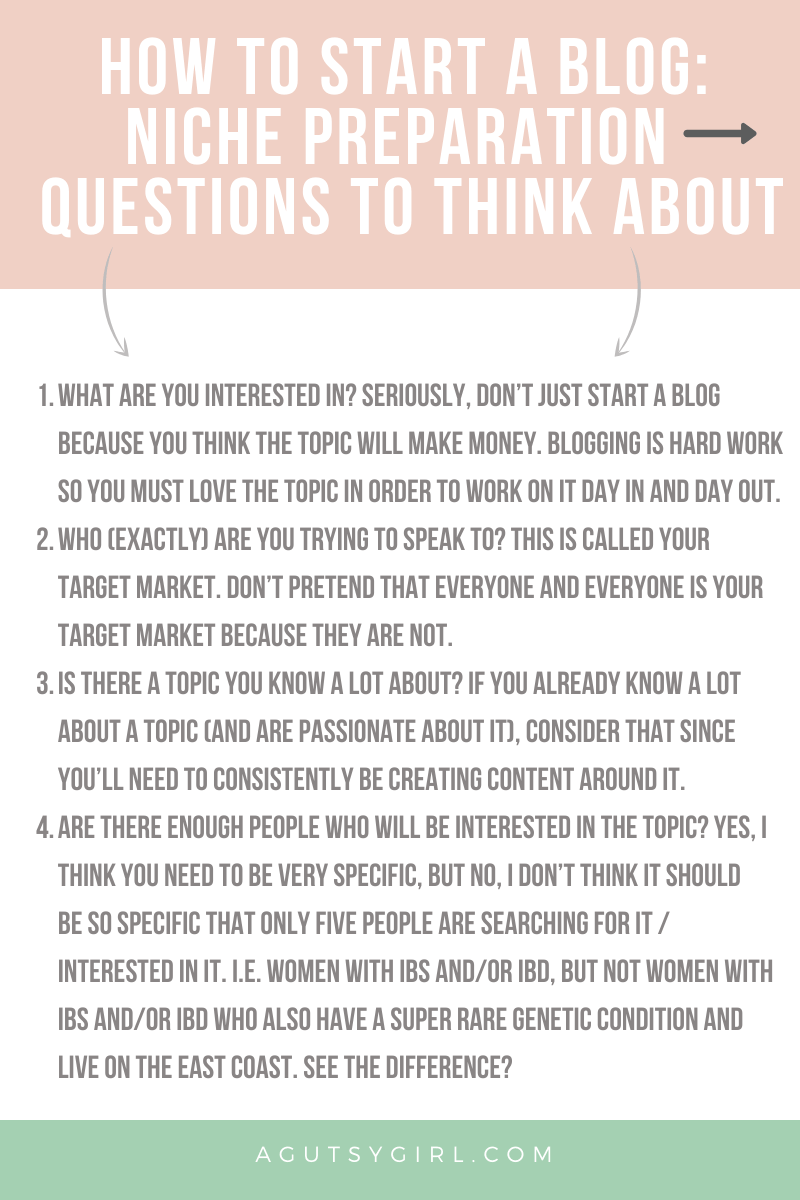 Choose your topic/niche

What are you interested in? Seriously, don't just start a blog because you think the topic will make money. Blogging is hard work so you must love the topic in order to work on it day in and day out.
Who (exactly) are you trying to speak to? This is called your target market. Don't pretend that everyone and everyone is your target market because they are not.
Is there a topic you know a lot about? If you already know a lot about a topic (and are passionate about it), consider that since you'll need to consistently be creating content around it.
Are there enough people who will be interested in the topic? Yes, I think you need to be very specific, but no, I don't think it should be so specific that only five people are searching for it / interested in it. i.e. Women with IBS and/or IBD, but not women with IBS and/or IBD who also have a super rare genetic condition and live on the East Coast. See the difference?
THIS is exactly what I'll teach you how to do with the 7-day niche defined, online business refined e-course.

Come up with the site name

And then, you'll need to make sure that domain name is available.
By the way, the course I mentioned above goes into this part in heavy detail. After the first few days of the course, you'll be clear about your niche.
Initial Steps for Your Blog
Get web hosting

There are many to choose from; here are two I've enjoyed. I currently use Flywheel for this site.

BlueHost. Bluehost is where I first started, and it's perfect for those of you about to start your journey. It is one of the hosting companies that WordPress recommends, and at a cost of just $3.95/ per month, it's just about impossible to beat on many different levels. And, if you cancel within 30 days, Bluehost will give you a full refund.
Flywheel. Here are some reasons you might choose Flywheel (as I've grown, these are the reasons I have): Flywheel offers managed WordPress hosting, and FlyWheel is faster.

Decide on a platform / software

As I mentioned in the beginning, I currently blog on WordPress (for both sites). I have also blogged on Medium, Blogger and Tumblr in the past.

WordPress
Medium

Grab a theme (free or paid), and install it.
Getting Started Blogging
In addition to the basics of set up, there are a few main pages and tasks you should do or consider for getting started.
Produce content

I am literally obsessed with creating and producing content. In fact, I taught a class at California State University – East Bay on it. Content is not just writing a 500-word blog post. It includes everything from text to video, images to infographics, and more….you'll find all tips, tricks and secrets via the 7-Day Niche Course.

Email

Here are the two I have used: MailChimp and ConvertKit. (I used MailChimp in the beginning, and now I use ConvertKit which is 1,000% better for me at this stage in the game. But p.s. HERE are the reasons you would not want to switch to ConvertKit.)

Decide on blog look, style, feel

—Overall branding and aesthetics. This one will constantly be evolving; can take years, but again, start somewhere. Light and bright? Dark and moody? Made to convert? Or to educate? Possibly to grow an email list? Ads? No ads? Literally so many things you get to choose.

Write an "About" page

Your About Page is important because it tells people about you, the site, etc. People will read your blog and follow your information because of you, at the end of the day. I have one of those and a huge My Story page.

Create a "Contact" page

Make sure people know how to get in touch with you. It can be as simple as THIS.

Form your Disclosure and Privacy pages

This becomes more important as you grow. And again, it can be simple. HERE is mine.

Add copyright to the footer

Don't let people (easily) steal your hard work (though they will try and oftentimes succeed).
Other things for Your Blog
I don't think these things are imminent in order to start a blog, but they will eventually, so you should know about them.
Editorial Calendar.
Make money blogging.
Social media to accompany the blog.

Instagram
YouTube
Facebook
Pinterest
Twitter

Set up an email account with your domain.
Again, if you want depth and detail on all of these (including a template for the Editorial Calendar pre-made for you!), be sure to get in on the e-mail course.
4 Things to Know Before Starting a Blog
Click HERE to save these things for later.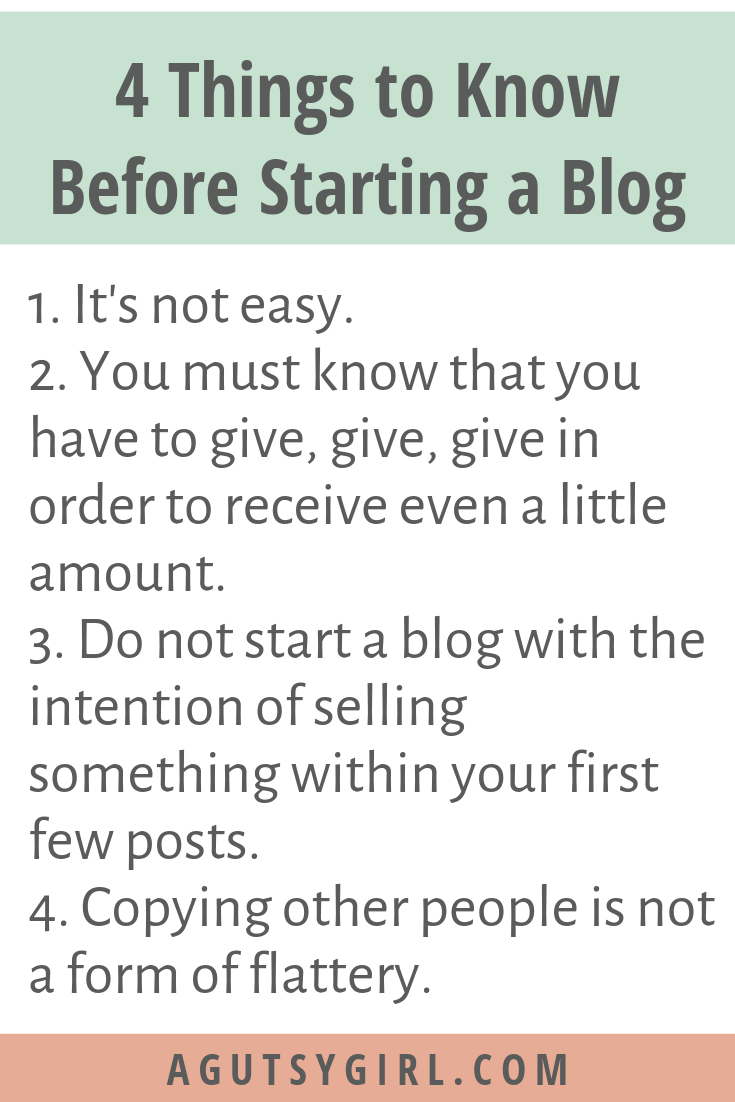 I couldn't finish this post without telling you some of the realities about starting and maintaining a blog because I think too often people glamorize it – acting like it's a simple, get-rich-quick scheme. Ha! It's not…. not even a little bit.
No, I would not trade A Gutsy Girl or A Thyme for Milk and Honey for anything, but it's super hard work that I've only recently started to reap some incredible benefits from.
So, here are 4 things to know before starting a blog:
It's not easy

Again, some people think I just write a few words, sit on the 'Net and make money. HARDLY!!!! This is hard work – every single day, whether or not you see a brand new post. From start-to-finish, producing content is a lengthy process.

Give

You must know that you have to give, give, give in order to receive even a little amount. I have given away, for free, so much of what I know. That's the reality. If you think you can start a blog, not share anything you know and try to sell an e-book within the first week, good luck!

Selling

Do not start a blog with the intention of selling something within your first few posts. See number 2. I was knee deep before reaping any benefits. I know that some people have success much sooner, but it's not likely – especially if you are starting a blog on the side like I did.

Copying other people is not a form of flattery

Seriously! I have been blogging about the gut for over 10 years now. When it really started to trend is when I noticed my stuff getting ripped off – stolen in plain sight. I'm all about sharing with appropriate credit, but please – don't just steal. Besides, people want to hear about the topic in your own voice anyways. Otherwise, they wouldn't follow you in the first place.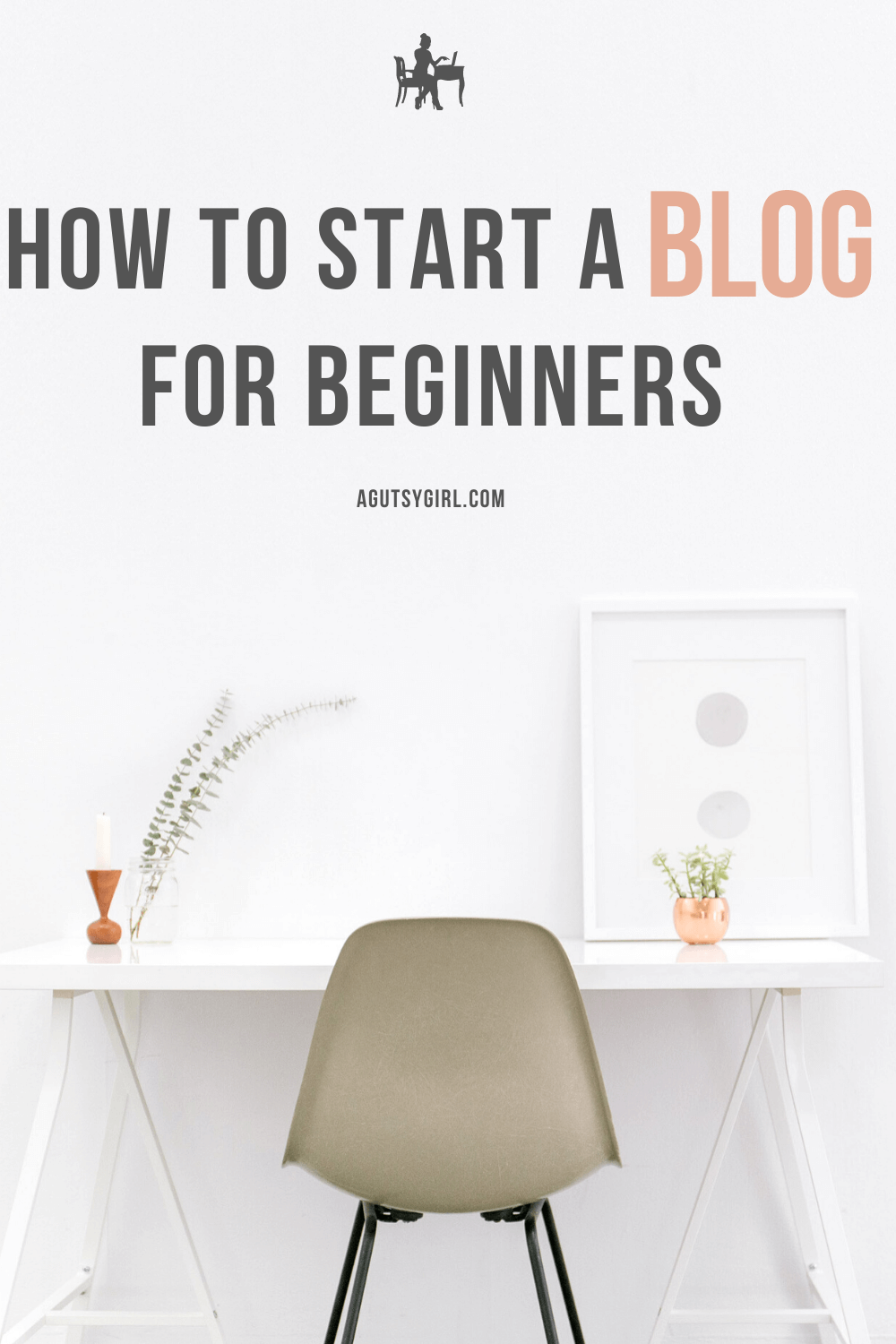 Blogging Podcast Resources
I'm a huge fan of learning via podcasts. If you are, too, here are some great blogging-related podcasts to check out:
Also, HERE are my top 32 podcasts for entrepreneurs.
And More Resources
Serial Method. If you are a blogger or influencer who is struggling to create content that gets likes, eyeballs and true engagement (and make money!), then the Serial Method is for you!
Shift University. Have a blog? Awesome. What do you do next? Try a FREE Master Class today by going HERE.
Want to produce incredible photo images? You'll need some things to get started: a good camera, some backdrops, a tripod, and a clicker. Beyond that, you could get super detailed, creating an entire studio, but I'll save that for another post!
Get the Full Course
If you're interested in a course around this and more as it relates to blogging, check out 7 Days to a Niche Defined and Health Coaching Refined Business.

Xox,
SKH