This page is dedicated for those of you wanting to know how to start a blog.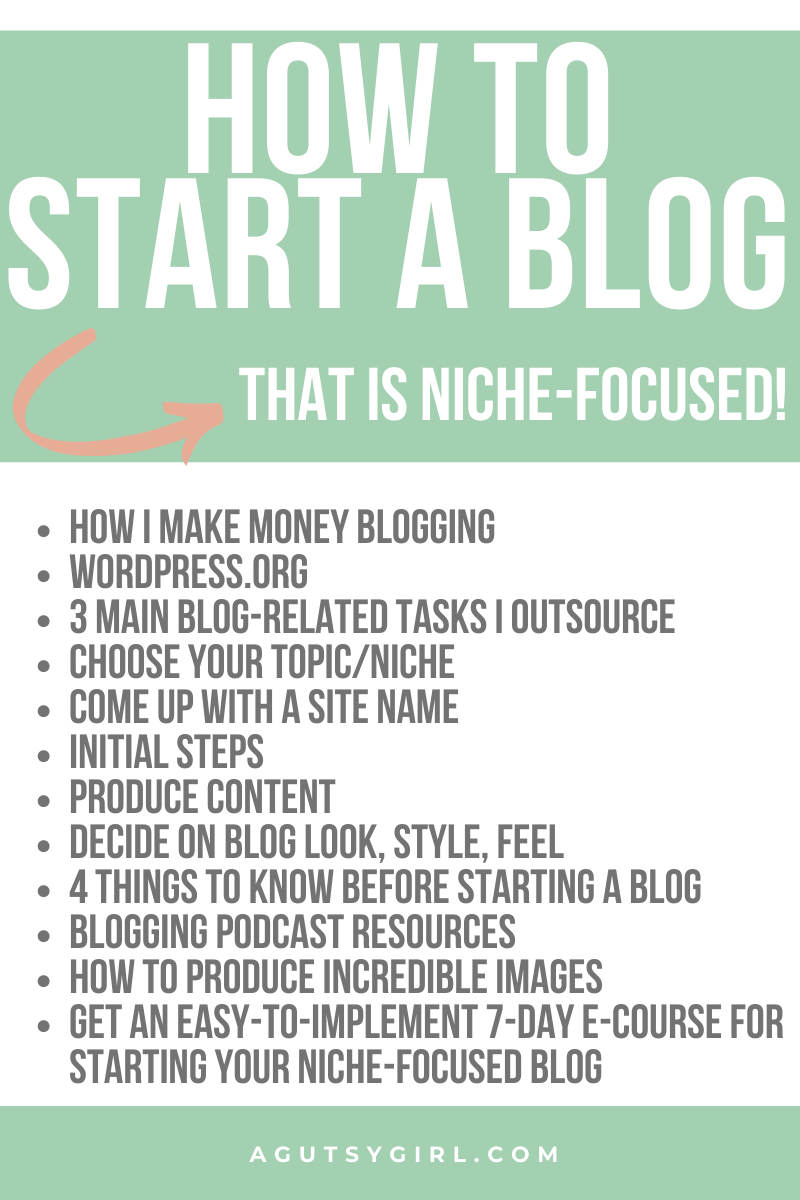 A Blog?
Yes, a blog. I realize this might seem sort of odd. I mean, after all, we mostly talk about poop, motility, and general gut health here, yes?!
However, "How to start a blog" is one of the most common questions I get besides,
Why am I bloated?
and
Why the h@#$ can't I digest sweet potatoes?
Actual truths.
And to be perfectly honest with you, this is exactly how I went about my own journey.
My Own Beginning with Blogging
I wasn't feeling well, my stomach was a mess, and I was constantly Googling all the things.
We lived in California at the time, and I simply wanted a way to document all these things online so my mom and dad (2,000 miles away) could see what was up.
And it was not easy trying to navigate how to start a blog all on my own.
So instead of sending you on an Internet goose chase trying to put the puzzle pieces together, I decided to put together a page dedicated to helping you start your own blog.
6 Top Reasons for Starting a Blog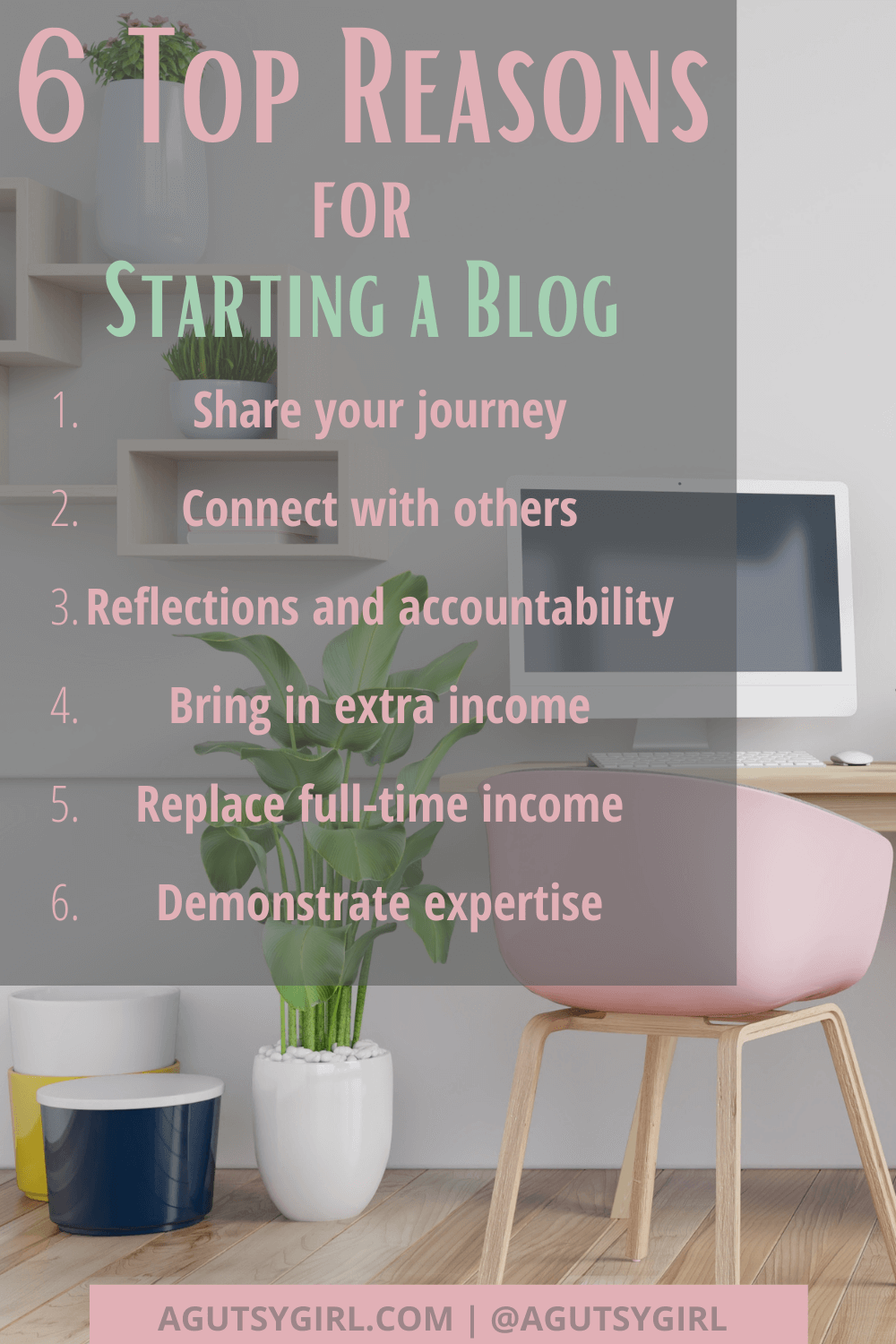 Now, most of you reading this are likely interested in starting a health-focused blog.
In that case, many of these reasons pertain to you mostly.
However, many of the reasons also are just in general; reasons for anyone to want to start a blog.
Share your journey

Sharing your journey can be a source of massive inspiration for someone else.

Connect with others

Creating a blog and sharing the journey is a great way to connect with others who are on a similar journey. Gosh, I am humbled by the people I have connected with over the years. You will be, too.

Reflections and accountability

Though this blog is more of a website than a blog (blog = web + log) these days, I can go back to the beginning and reflect. Back then, it was a blog. I was sharing the journey; ups and downs, and everything in between. When you create a blog in this way, you are keeping accountable while also able to reflect over time. It's actually pretty cool.

Bring in extra income

The opportunities for making extra income through your blog are unlimited. See the below post I linked to, "How I Make Money Blogging."

Replace full-time income

And yes, yes you can replace your full-time income and blog 100% of the time….if that's what lights your fire. It's my INSANELY massive passion. So I sought out to have this blog replace my full-time income starting at the end of 2019. I have never looked back; also never been happier. You can make it a reality!

Demonstrate expertise

Do you know a topic like the back of your hand? Are you an expert in something, anything? And are you passionate about showing it? With a blog, especially one that is highly niched and focused, you can demonstrate that expertise. This also can lead to opportunities.
Blog Inspiration
Here are a few related blog posts I've already written to help inspire you to start a blog:
Okay, now grab a cup 'o coffee or (better yet) bone broth, and let's get you started with how to start a blog!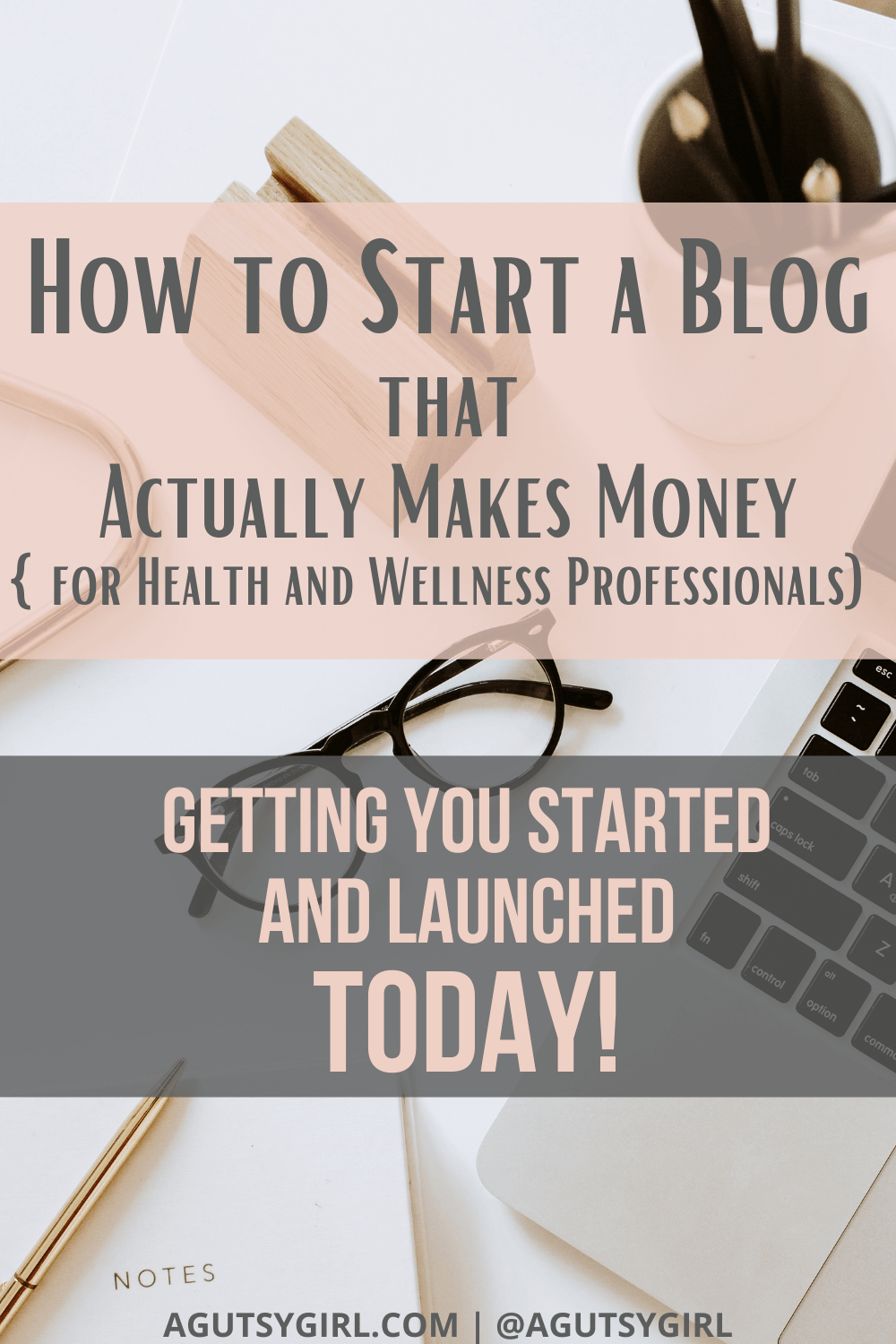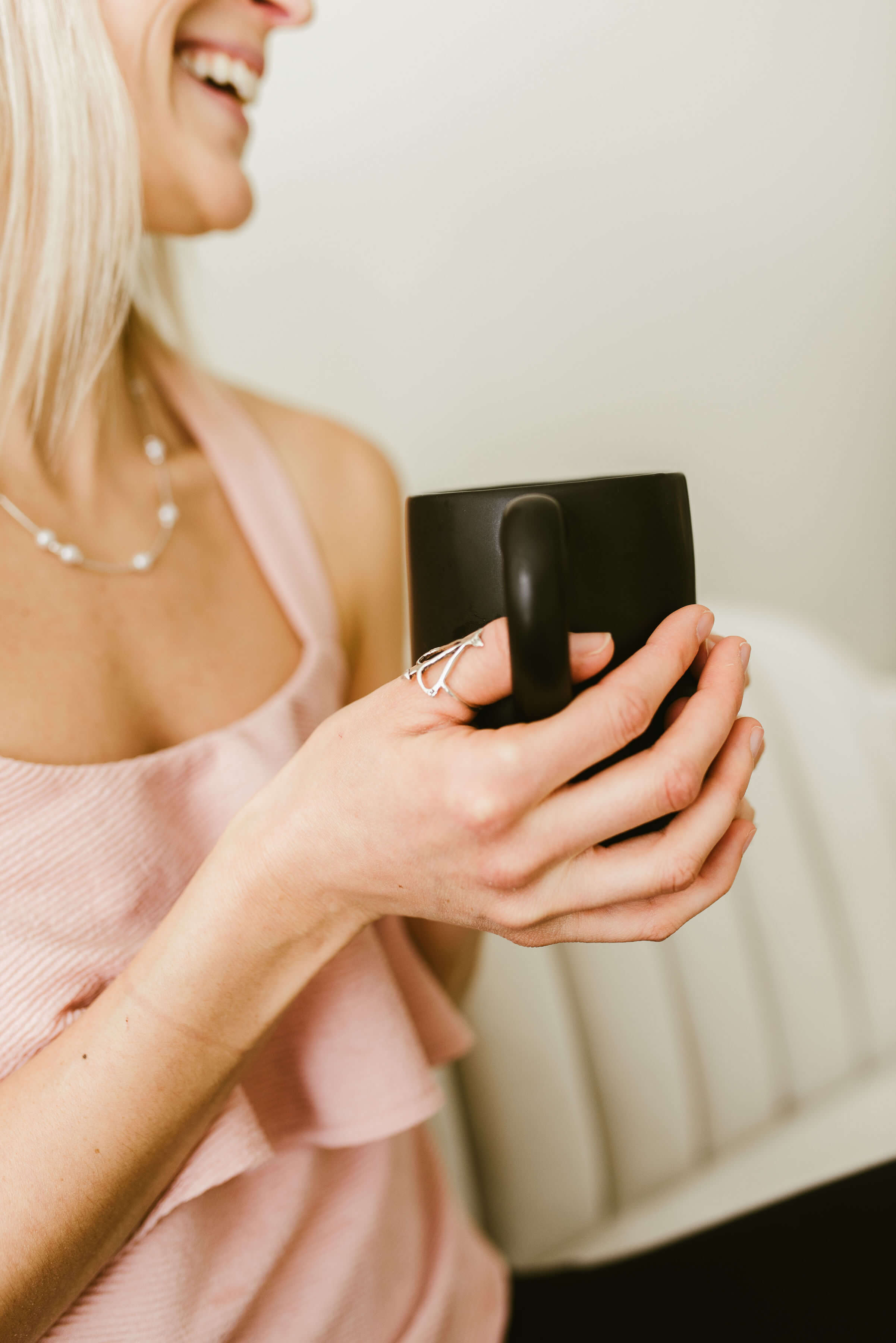 How to Start a Blog
Click HERE to save this post for later.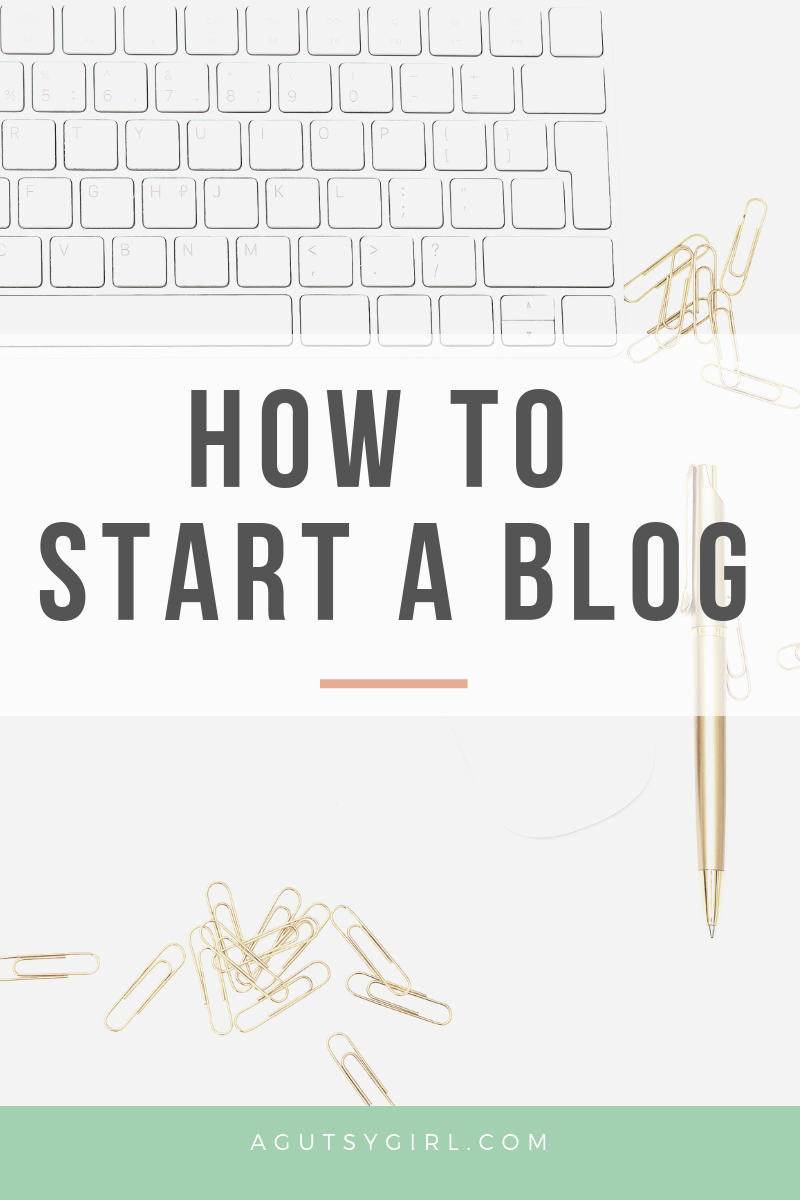 By the way, I run two different blogs both on WordPress.org.
Therefore, when talking about the technical side of starting a blog, I will only really address this platform.
So if you want to get started on your own blog today, you can!
You'll need to start with these 4 basic steps:
Domain – the address of your blog (ex. agutsygirl.com)
Hosting – where it all "lives"
Installing WordPress – WordPress is the blogging software that I use to produce all this content
Theme – the creative part; the look and feel of your blog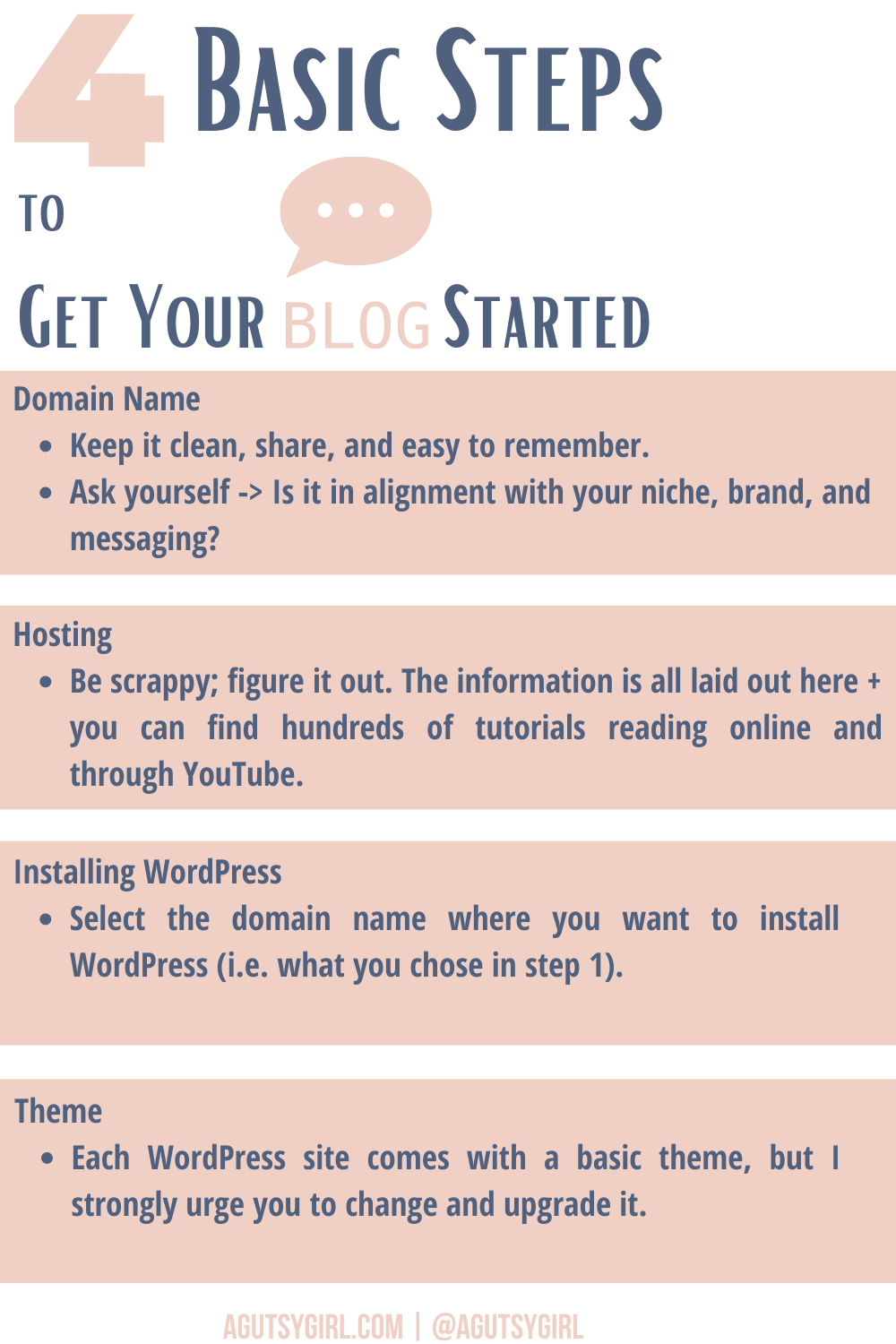 So let's walk through each one of them.
Quick Note on Setting Up a Blog; Technical
This post, How to Start a Blog, is a little less technical and a little more on the practical and creative side.
Why? Because here's my number one secret for blogging growth:
Stick to what you know; outsource the rest.
I know, I get it. In the beginning, you don't have unlimited funds to throw all over the place for help get started.
And that is precisely why I wanted to put this together for you.
However, for me, it made all the difference from a growth standpoint. I am scrappy wherever and however I can be, but I don't pretend to be a jack-of-all-trades.
Listen, tech and marketing are two very different skill sets. If you are highly skilled in both, all the high fives for you. I'm not. Tech is not my thing.
Marketing, writing, creativity, color – those are.
But nonetheless……let's get you blogging.
4 Basic Steps to Get Your Blog Started
Domain Name
The domain name is just the URL someone types in to get to your place and space on the Internet. For example my domain name is agutsygirl.com.
My other domain name (for my 2nd blog) is athymeformilkandhoney.com
Picking out your domain name should be fun, not stressful. However, it is important to pick the right one because once it is purchased and you start writing on your blog it will be difficult to change.
Believe me, I know this first hand. I had to have extreme professionals change me from sarahkayhoffman.com –> agutsygirl.com. That was not cheap or easy. But worth it. Because the right domain name is critical.
People will start to associate you with your blog name so you don't want to switch it up and confuse everyone.
Here are some of my suggestions to help you with the domain name process:
Keep it clean, share, and easy to remember.
Check to see if you'll be able to get that name on various social channels (or if it's already taken). If someone already has it, I'd advise against it. i.e. I also own @agutsygirl on Instagram
Don't use funky letters, signs and symbols (i.e gutz vs guts)
The top three most credible endings are: .com, .org, and .co (shoot for the .com first)
Think forward. What is your ultimate goal? Are you looking to have the domain name match your LLC? Will the domain name be a book or service or anything else like that at some point? Don't choose a domain name that might only be relevant for a year or two.
Consider using your name and/or buying that domain in addition to. Many people prefer to just use their name, especially if you'll ultimately blog from a business standpoint. Even if you don't want to, you might want to buy it just so you have it. For example, while I use agutsygirl.com, I also bought and own sarahkayhoffman.com.
Ask yourself -> Is it in alignment with your niche, brand, and messaging?
Don't wait. There are 1000's of blogs and websites starting everyday so try to purchase the domain name you want as soon as you can because if you wait it could be gone when you want it. Back in 2012 when I wanted to start this, I wanted it to be "The Gutsy Girl." However, thegutsygirl.com was taken, so I had to move on. (In hindsight, I'm glad, though.)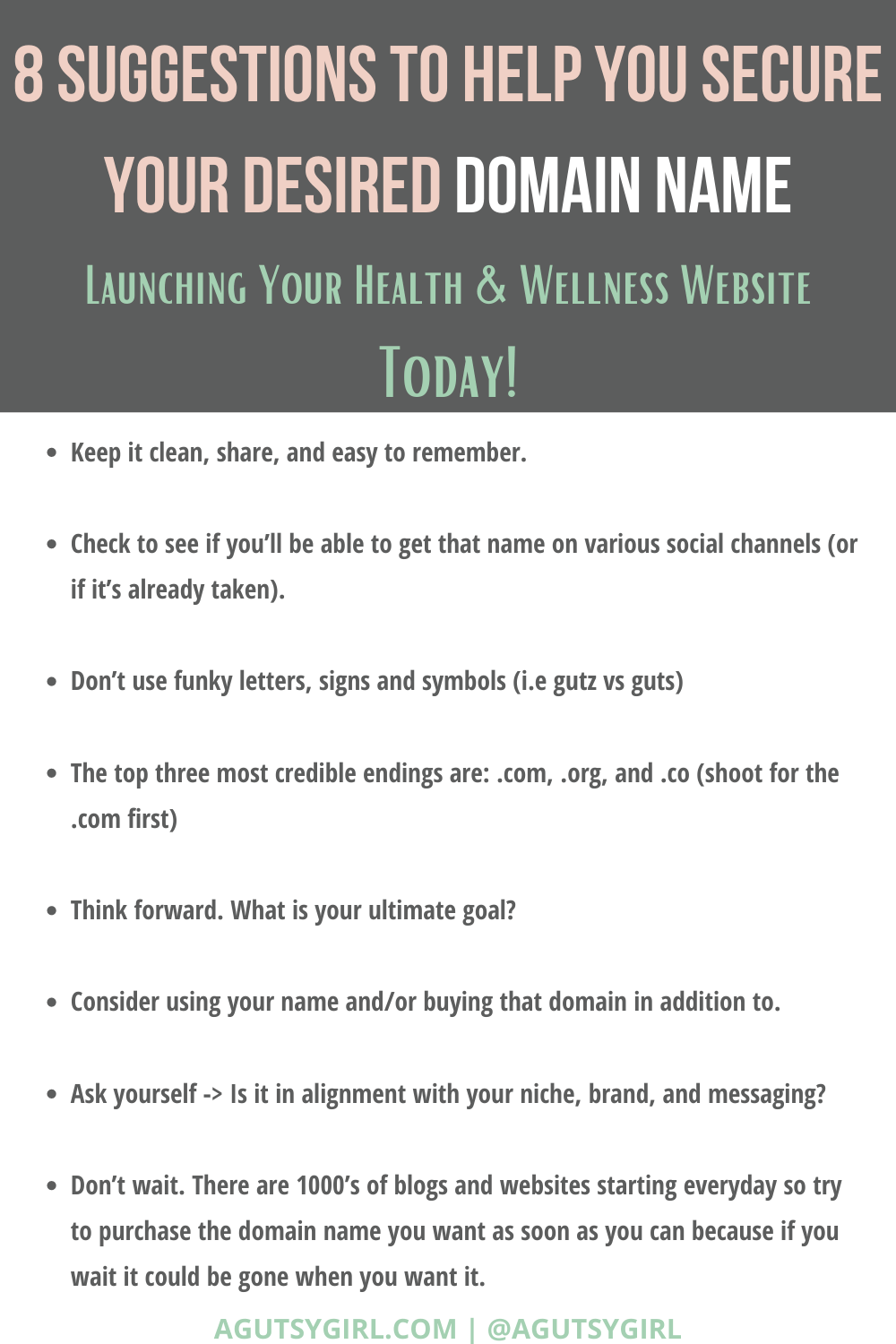 How to get your domain name
Once you are clear on the name you want, you'll have to make sure it's actually available.
This can be done by typing the name into Google domains and/or Go Daddy.
Or, here is how you can do it right here from my website.

If it is available, and you're ready, then purchase it.
Congrats! You have your domain name.
Hosting
Grabbing your domain name is the fun and easy part.
Once you hit this next step, you might start to get confused. It's okay, I always was, too. And while you might want to skip this step and just get to the "fun," you unfortunately can't.
Without a host, you can't make that URL "live."
Bluehost Hosting
When I first started, I used Bluehost as my hosting service. Was I happy with them? Yes.
In the beginning, they did the trick. In fact, I think they are an excellent choice for anyone who is just starting out.
<<– Click to get started with Bluehost.
But as my blog grew, I needed more. So I moved over to Synthesis. Eventually WP Engine bought Synthesis, so now I use Flywheel, which was recommended by Synthesis (whom I trusted).
Flywheel Hosting
So let's chat about Flywheel hosting.
Top 5 Reasons I Love Flywheel Hosting
Click HERE to save these 5 reasons for later.
WordPress is their thing

They have made it a point to know WordPress inside and out. Their servers are specially optimized for the needs of WordPress sites. They take pride in being able to help with a wide range of WordPress issues – something traditional hosts can't do.

Light speed is normal speed

Say goodbye to bottom-of-the-barrel shared hosting environments. Their servers are tuned for optimal WordPress performance, so your site is always super speedy. Plus, they configure caching on the server-side, meaning you'll never have to fuss with caching plugins again.

Backed up

Finally! A "backed up" we can be excited about. (C'mon you didn't think I'd make it through an entire non-Gutsy post without a gut reference, right?!) With Flywheel, you can sleep well at night knowing your important sites are backed up and easily restorable. Don't worry about configuring backup plugins or figuring out how to do manual restores – will will have you covered!

Hackers are not welcome!

Because of its immense popularity, WordPress has become a target for hackers and malicious users across the internet. Nobody wants to have tasteless ads show up on their homepage or spam go out from their email, so Flywheel works hard to make sure your site is always malware-free. In the unlikely event that your site is compromised, they will fix it for you – for free!

Support isn't an afterthought

Their team of WordPress experts is ready to help with pretty much anything, anytime, 24/7. Their focus on WordPress means they go a lot deeper than your typical hosting company, because they can help with everything from "My server is down" to "Can you recommend a plugin that does xyz?" I can confirm this, as my customer service woman (Leigh) is constantly helping and checking in with me.
I use Flywheel hosting for both of my websites.
If you aren't sold on Bluehost or Flywheel, here are others to consider:
Once you purchase the hosting, you'll receive an email with information on how to login. I recommend just saving this login site to your bookmarks. Then, login. (At least this was my experience when I used Bluehost and FlyWheel.)
After that, here's what you'll do:
Install WordPress. You can do this in about 5-10 minutes. HERE are the instructions; laid out simply.
Then, select the domain name where you want to install WordPress (i.e. what you chose in step 1).
Congratulations! Your WordPress site is set up…..well, sort of.
Special Notes
If your domain is purchased separately from hosting, DNS (domain name system) will need to be set on the domain to point to the proper server where the files are hosted. This contains some instructions for WordPress setup on various popular hosts. Each one really has different steps to setup: How to Install WordPress
There is some mention of the DNS settings under the wp-engine install instructions, but you could also look at GoDaddy's instructions (again, like hosting, each domain providers DNS is managed slightly different): Learn more about that HERE.
The FTP process HERE is what is looks like to install from scratch without help from a host using install scripts.
Company branded email are often another thing most people want. It is generally offered by hosting companies, but not all offer it. So for instance, my email (sarahkay@agutsygirl.com) is hosted at GoDaddy, along with my domain. But my website is currently hosted at Flywheel. Explore your options.
If you have separate email hosting (for instance Microsoft office 365) MX records also need to be set on domain name along with an A record for the website itself.
This step might feel really murky to you.
So you have two choices:
Be scrappy; figure it out. The information is all laid out here + you can find hundreds of tutorials reading online and through YouTube.
Hire someone for this part. **HI** this is me.
Regardless, you'll need to complete this step before moving on to the next step.
Website Theme + Design
The next step is to install a theme.
Once it's set up, you'll then need to login to your WordPress and get the theme set up. Here's the URL structure to get there: http://www.yourdomain.com/wp-admin (i.e. http://www.perfecthealthcoaching.com/wp-admin)
WordPress themes are professionally designed templates that you can install on your website to change its appearance.
In other words, this is what will make your website come alive.
Each WordPress site comes with a basic theme, but I strongly urge you to change and upgrade it.
Here's how to change the theme:
Start from the WordPress dashboard.
Then, click on Appearance » Themes page and then click on the 'Add New' button.
On the next screen, you will be able to search from thousands of FREE WordPress themes that are available in the official WordPress.org themes directory.
Choose and install it.
Alternatively, you can purchase a theme, which is what I typically do. You'll have more flexibility and freedom for personal and brand expression. StudioPress has awesome themes in general. I have used a ton of them. Here are some specific StudioPress themes you might enjoy checking out:
……could continue on for days
And……takeoff!
You can now start writing and producing content.
---
Wait, you thought I was done, right?
Nope. We're just getting started, darling.
Remember, the physical set up is just the very beginning (even though it's the most daunting for many).
Before we dig into even more, let me share with you the 3 main blog-related tasks I outsource because number 1 fits into everything I just talked about above.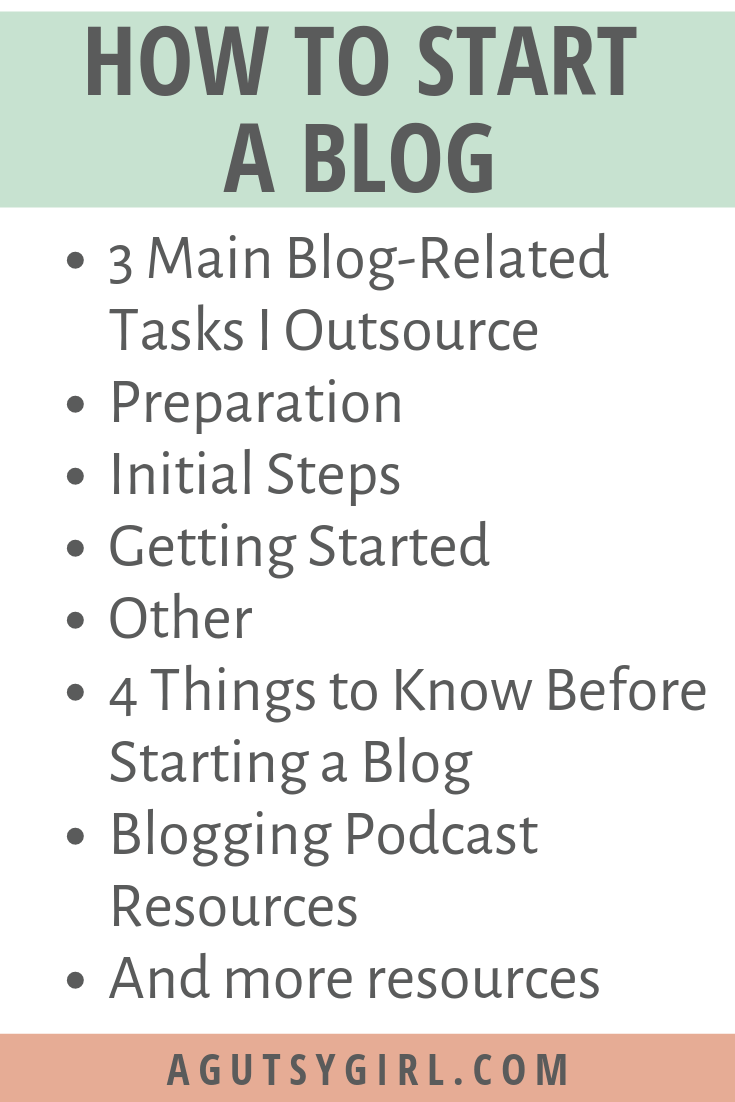 3 Main Blog-Related Tasks I Outsource
Technical

Almost anything that I am afraid I could totally mess up is outsourced. In fact, I have never even really gone through the full motions of syncing host with WordPress website.

Additionally, all backups, and custom website features (i.e. the new "Search bar" you see on agutsygirl.com via mobile) are outsourced. I have zero clue how to do any of that. Remember, you don't have to do it all nor do you have to pretend that you are. It's okay to get help and outsource so you can fly with your main passions and talents.

Random Design

If I need e-books designed, specialized graphics created, or images altered in a certain way, I outsource those, too. My 90-day gut healing journal? Yeah, The design was conceptualized by me, but I did not physically do any part of producing it.

It's not that I couldn't do it myself, but they are super time consuming and not the best use of my time. For basic needs, I almost always use Fiverr. And for my advanced, highly detailed works to be published, I outsource to a high end designer.

Misc.

I don't do all my graphics, that's for sure. I have two VA's (Virtual Assistant's) who do most of them. However, want t know a secret? I love doing them, and I find myself in those weeds far too often. It brings me joy!

However, my VA's do about 80% of my graphics. You see, I do every last thing I can, but I don't have the bandwidth any longer to do it all. You'll see that you won't either, give it a little time 🙂
Blog Preparation
I'm not one to tell you that you must spend years and years preparing before launching.
In fact, I think if you have a sound enough idea, just go for it. Even if your idea is 'perfect' today, it won't be tomorrow, and you'll end up shifting as needed.
Therefore, get the main stuff down, and go.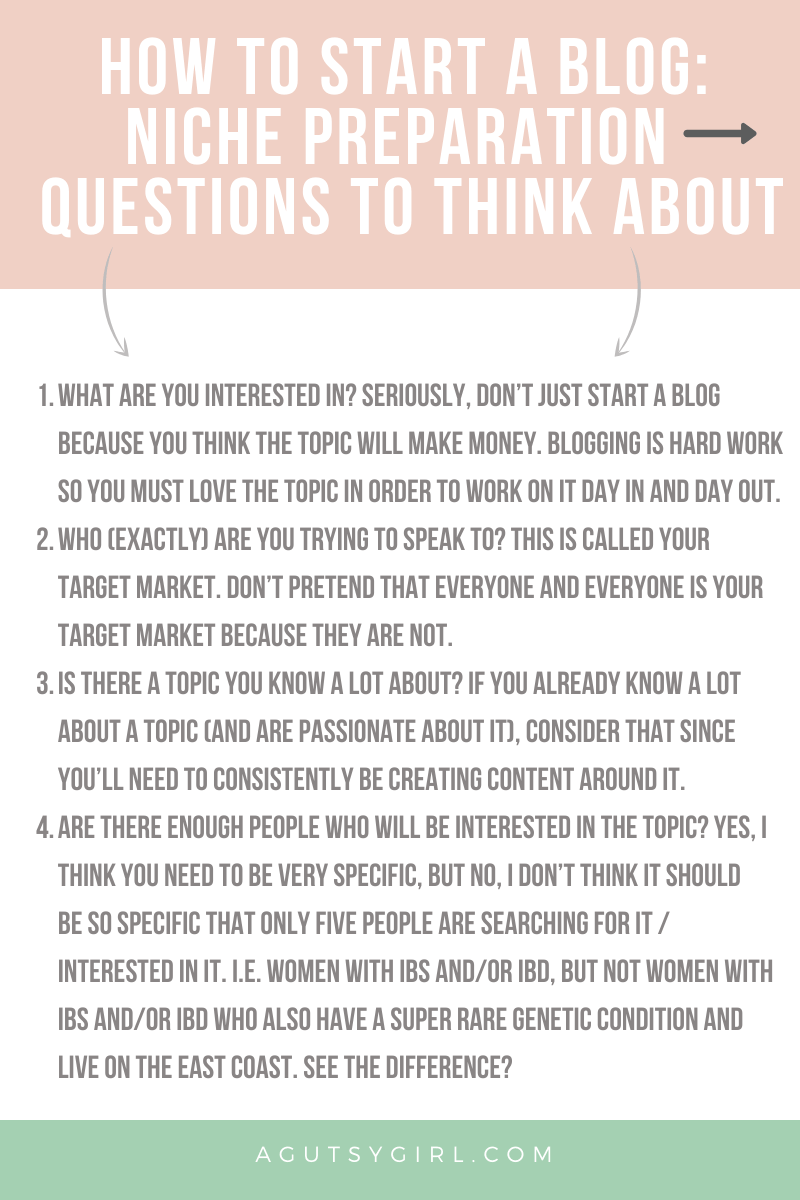 Choose your topic/niche

What are you interested in?

Seriously, don't just start a blog because you think the topic will make money. Blogging is hard work so you must love the topic in order to work on it day in and day out.

Who (exactly) are you trying to speak to?

This is your target market. Don't pretend that everyone and everyone is your target market because they are not.

Is there a topic you know a lot about?

If you already know a lot about a topic (and are passionate about it), consider that since you'll need to consistently be creating content around it.

Are there enough people who will be interested in the topic?

Yes, I think you need to be very specific, but no, I don't think it should be so specific that only five people are searching for it / interested in it. i.e. Women with IBS and/or IBD, but not women with IBS and/or IBD who also have a super rare genetic condition and live on the East Coast. See the difference?

THIS is exactly what I'll teach you how to do with the 7-day niche defined, online business refined e-course.

Come up with the site name

And then, you'll need to make sure that domain name is available.
By the way, the 7-Days to a Niche Defined and Health Coaching Refined course above goes into this part in heavy detail.
After the first few days of the course, you'll be clear about your niche.
Getting Started Blogging
In addition to the basics of set up, there are a few main pages and tasks you should do or consider for starting.
Produce content

I am literally obsessed with creating and producing content. In fact, I taught a class at California State University – East Bay on it. Content is not just writing a 500-word blog post. It includes everything from text to video, images to infographics, and more….you'll find all tips, tricks and secrets via the 7-Day Niche Course.

Email

Here are the two I have used: MailChimp and ConvertKit. (I used MailChimp in the beginning, and now I use ConvertKit which is 1,000% better for me at this stage in the game. But p.s. HERE are the reasons you would not want to switch to ConvertKit.)

Decide on blog look, style, feel

—Overall branding and aesthetics. This one will constantly be evolving; can take years, but again, start somewhere. Light and bright? Dark and moody? Made to convert? Or to educate? Possibly to grow an email list? Ads? No ads? Literally so many things you get to choose.

Write an "About" page

Your About Page is important because it tells people about you, the site, etc. People will read your blog and follow your information because of you, at the end of the day. I have one of those and a huge My Story page.

Create a "Contact" page

Make sure people know how to get in touch with you. It can be as simple as THIS.

Form your Disclosure and Privacy pages

This becomes more important as you grow. And again, it can be simple. HERE is mine.

Add copyright to the footer

Don't let people (easily) steal your hard work (though they will try and oftentimes succeed).
Other things for Your Blog
I don't think these things are imminent in order to start a blog, but they will eventually, so you should know about them.
Editorial Calendar.
Make money blogging.
Social media to accompany the blog.

Instagram
YouTube
Facebook
Pinterest
Twitter

Set up an email account with your domain.
Again, if you want depth and detail on all of these (including a template for the Editorial Calendar pre-made for you!), be sure to get in on the e-mail course.
4 Things to Know Before Starting a Blog
Click HERE to save these things for later.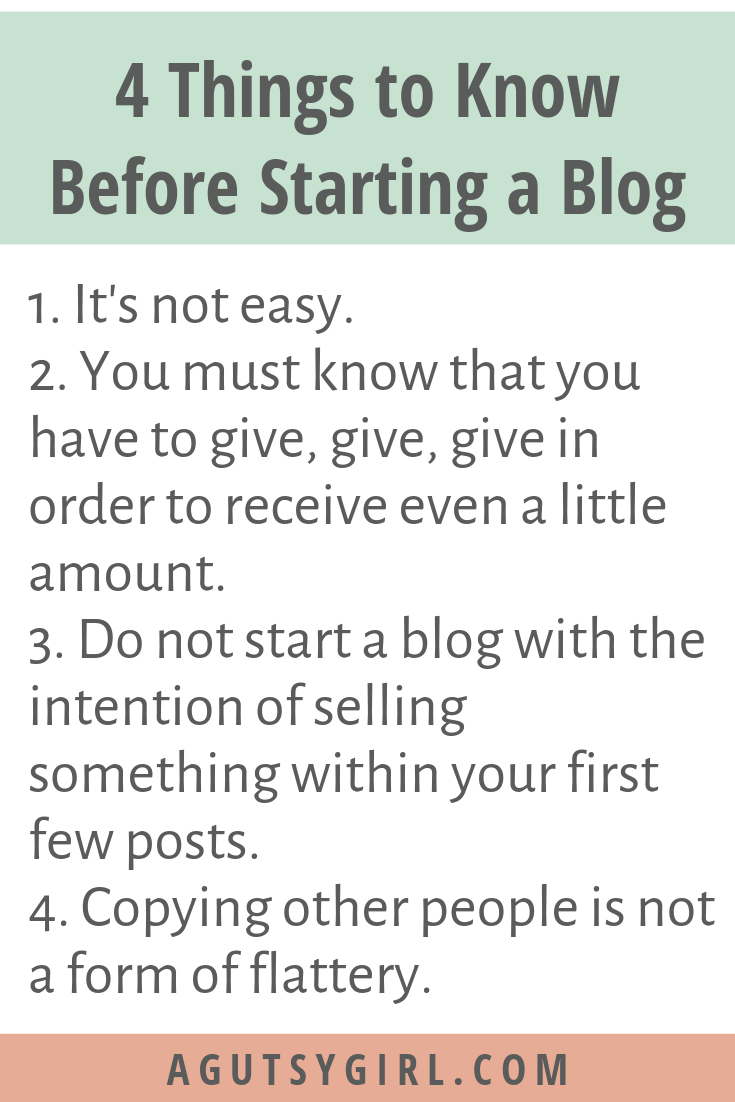 I couldn't finish this post without telling you some of the realities about starting and maintaining a blog because I think too often people glamorize it – acting like it's a simple, get-rich-quick scheme. Ha! It's not…. not even a little bit.
No, I would not trade A Gutsy Girl or A Thyme for Milk and Honey for anything, but it's super hard work that I've only recently started to reap some incredible benefits from.
So, here are 4 things to know before starting a blog:
It's not easy

Again, some people think I just write a few words, sit on the 'Net and make money. HARDLY!!!! This is hard work – every single day, whether or not you see a brand new post. From start-to-finish, producing content is a lengthy process.

Give

You must know that you have to give, give, give in order to receive even a little amount. I have given away, for free, so much of what I know. That's the reality. If you think you can start a blog, not share anything you know and try to sell an e-book within the first week, good luck!

Selling

Do not start a blog with the intention of selling something within your first few posts. See number 2. I was knee deep before reaping any benefits. I know that some people have success much sooner, but it's not likely – especially if you are starting a blog on the side like I did.

Copying other people is not a form of flattery

Seriously! I have been blogging about the gut for over 10 years now. When it really started to trend is when I noticed my stuff getting ripped off – stolen in plain sight. I'm all about sharing with appropriate credit, but please – don't just steal. Besides, people want to hear about the topic in your own voice anyways. Otherwise, they wouldn't follow you in the first place.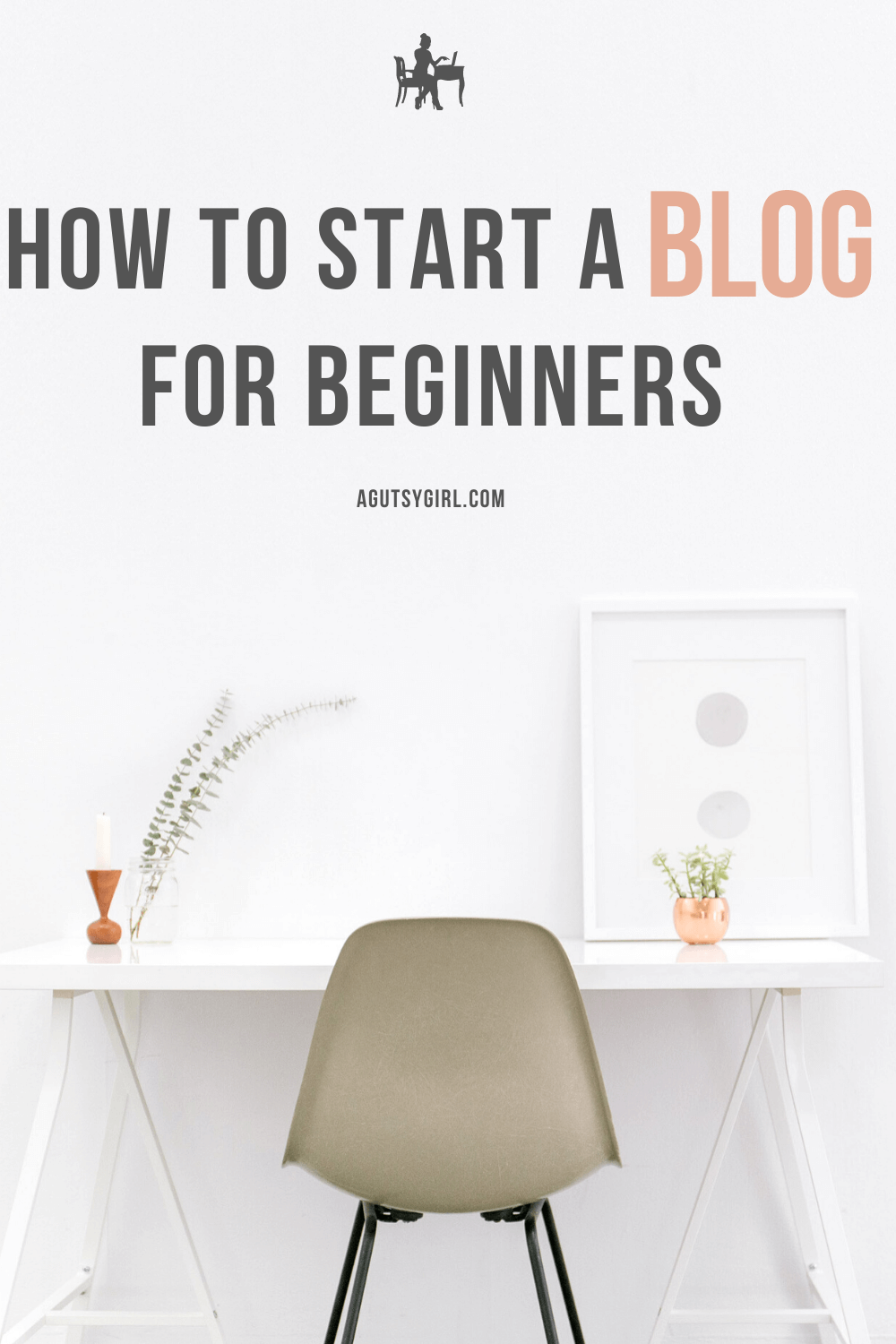 Blogging Podcast Resources
I'm a huge fan of learning via podcasts. If you are, too, here are some great podcasts to check out:
Also, HERE are my top 32 podcasts for entrepreneurs.
And More Resources
Serial Method. If you are a blogger or influencer who is struggling to create content that gets likes, eyeballs and true engagement (and make money!), then the Serial Method is for you!
Shift University. Have a blog? Awesome. What do you do next? Try a FREE Master Class today by going HERE.
Want to produce incredible photo images? You'll need some things to get started: a good camera, some backdrops, a tripod, and a clicker. Beyond that, you could get super detailed, creating an entire studio, but I'll save that for another post!
Get the Full Course
If you're interested in a course around this and more as it relates to blogging, check out 7 Days to a Niche Defined and Health Coaching Refined Business.

Now, please don't hesitate to reach out with any questions. Leave them in the comments below. I'm happy to add more to this post because I want you up and running ASAP.
Xox,
SKH