In case you're just catching up on some Saturday blog reading, I have been participating in the #Surviveon35 challenge.
Yesterday I shared the meals for day 2 and, you guessed it, the day before for day 1.
Yesterday was day 3. Nothing supercalifragilisticexpialidocious about it.
But once I get to the dinner portion, I must interject a quick story behind it.
Ready?
Day 3: Breakfast. Lunch. Dinner. #Surviveon35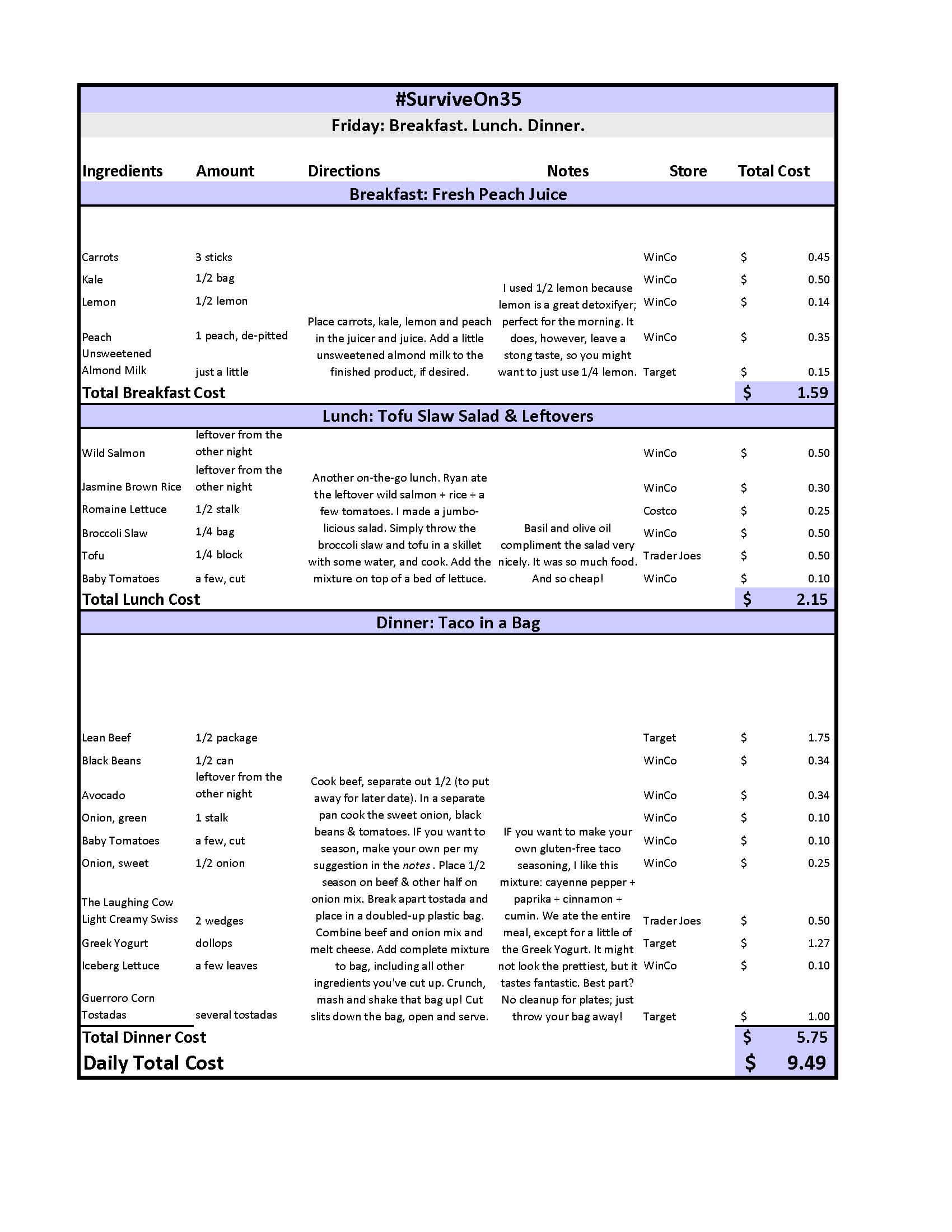 Breakfast: Fresh Peach Juice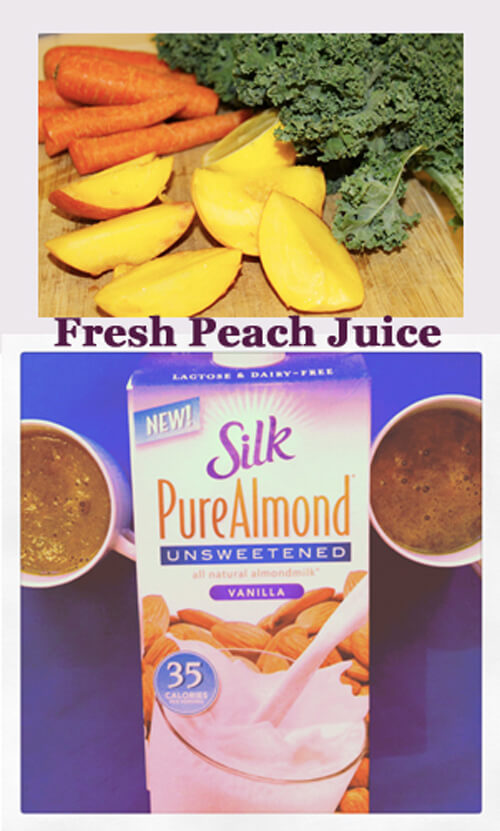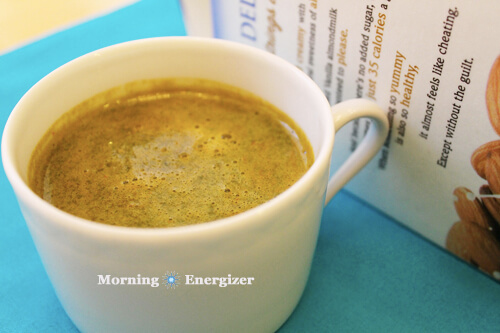 Lunch: Tofu Slaw Salad and Leftovers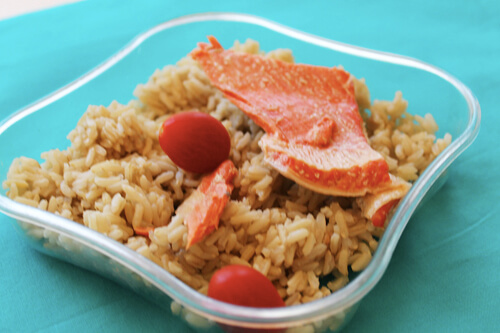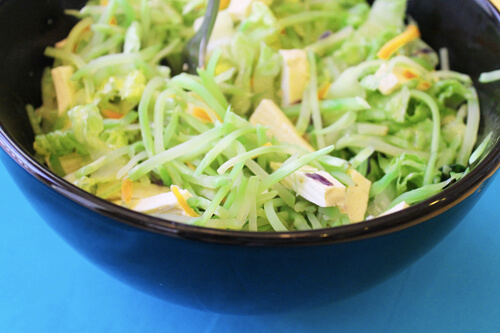 Dinner: Taco in a Bag
There is a story behind this one, as I mentioned above.
Growing up, we always went to a small town near my hometown each year on the 4th of July. My dad would march in the parade, and we would eagerly catch candy and freezies. Once he was done, we always grabbed "real food" there, too. They had burgers, brats, hot dogs, ice cream and more. But the one thing that has always stood out in my mind were the "Taco in a Bags." Essentially, what they would do is take a small bag of Fritos and stuff the fixin's in….meat, cheese, tomatoes, lettuce, sour cream, etc. They were so simple, and so delicious.
I didn't see them there this past 4th of July. I wondered about them, and then I wondered, "How could I make a healthier, gluten-free version?!" I mean, that only makes sense, right??! And so I did….I figured out how to replicate it, as best I could.
You must know, though, that since mine are not in pre-packaged Frito bags, they don't look as pretty. The taste? Stellar! I made notes about the homemade taco seasoning I made in the chart at the beginning of this post. I strongly urge you to use it!
I'm thinking they should hire me for the celebration next year 🙂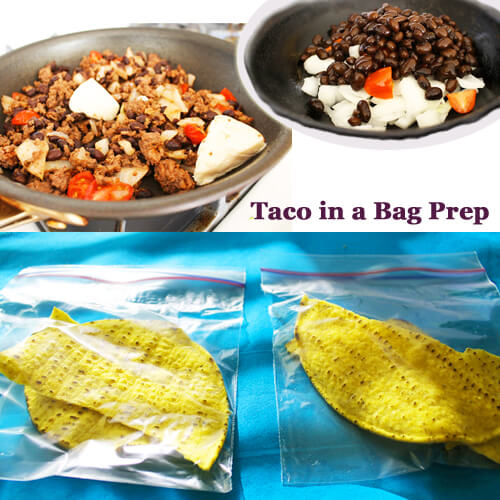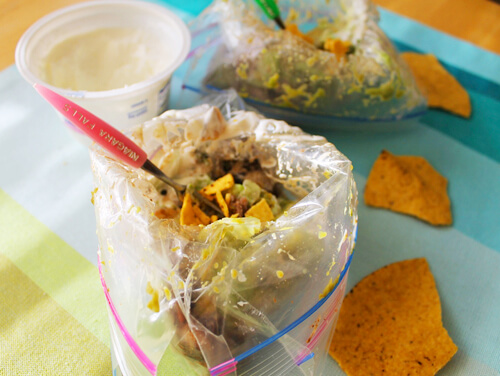 Questions? Just let me know!
Love your guts,
SKH
For the first half of the 20th century
woolrich jassen What Is a Persimmon Fruit
Top Tips To Look Out For When Having Your Ears Pierced
Christian Louboutin Canada
Promotional Ideas for Retail
wholesale coach Burberry juicy chanel prada purses
Isabel Marant Shoes
how to be a successful unit
New York Fashion Week spring 2013
louis vuitton speedy
the All Stars are only given four days to create five outfits
NY Fashion Week Day 6
louis vuitton neverful
tips do design core techniques
Classic 1940s Fashion Trends that are Making a Comeback
burberry outlet online
and she sure knows how to flaunt flauntv
Is There a Difference Between a Male and a Female Photographer
chanel shoes
ther are several going new baby on top of that
Mid Calf Boots Wide Narrow Boots
burberry scarf
but we sort of grew out of the style
worst pic you've ever POSTED
pandora bijoux
who executive produced the series with Ken Mok
You will heal. I will help.