7 days. 21 meals. 42 plates. $70. <- That was the accomplishment. This past week was #Surviveon35.
(Actually, I believe after totaling up all meals it came up to just shy of $62.00.)
Let's start with yesterday, day 7, since I haven't shared that with you yet! (And then go ahead, pin 'em up. I'll wait for you 🙂 )
Day 7: Breakfast. Lunch. Dinner. #Surviveon35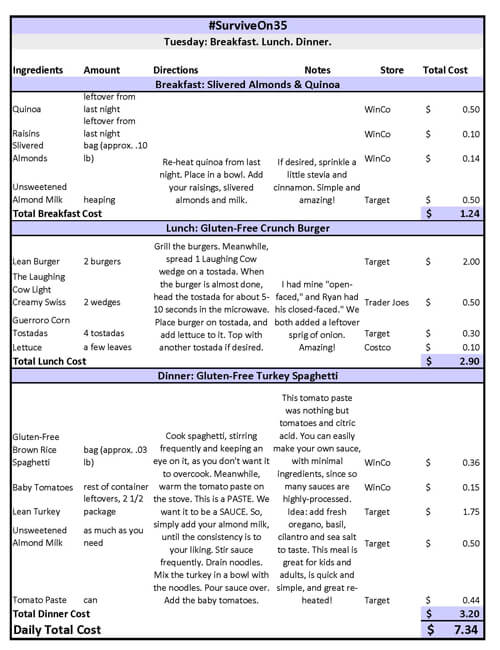 Breakfast: Slivered Almonds & Quinoa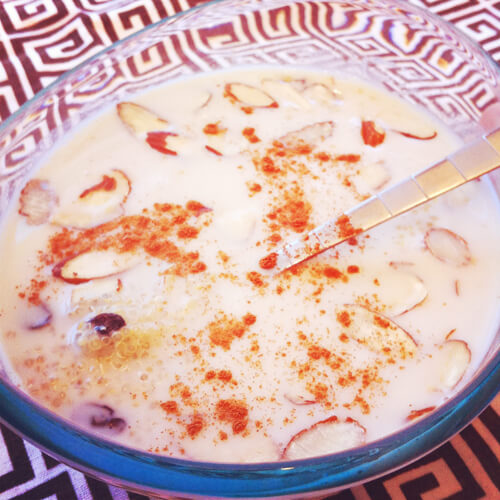 Lunch: Gluten-Free Crunch Burger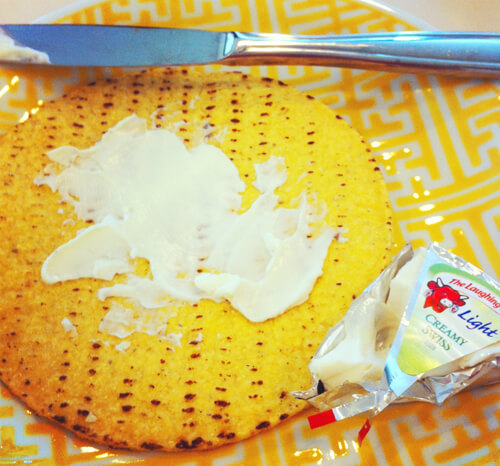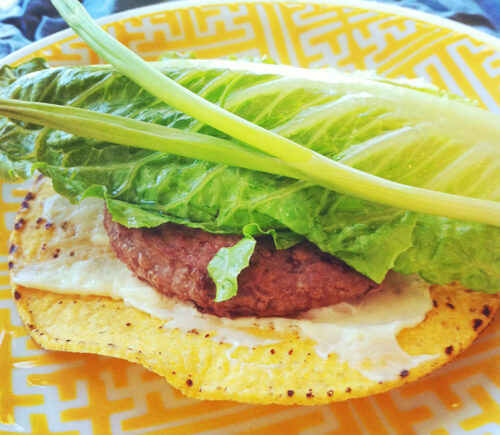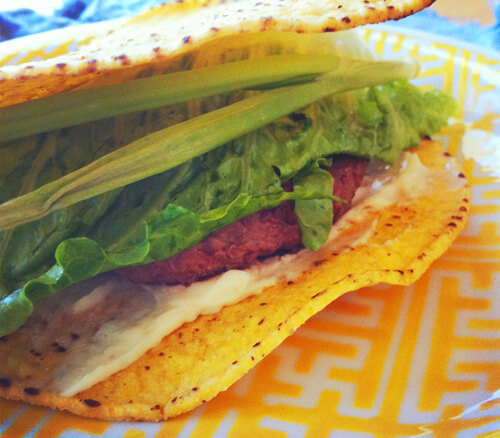 Dinner: Gluten-Free Turkey Spaghetti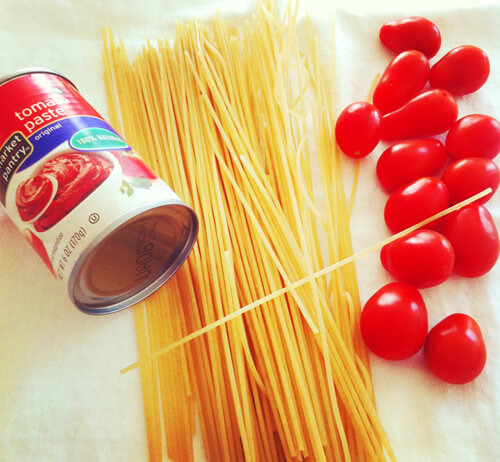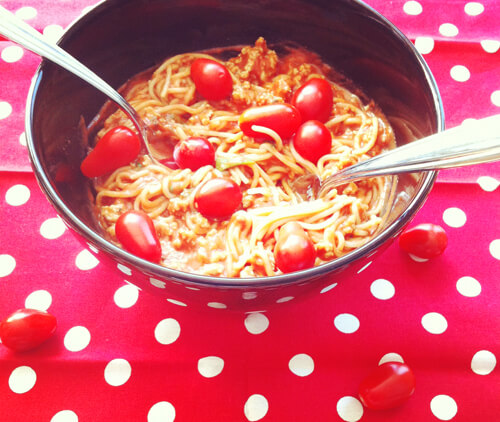 Summing it all up.
Let's take a little trip down the #surviveon35 memory lane (click each day to be taken to the full post).
I introduced you to everything I bought for the week, which actually was mounds and mounds of food visually.
And yet the total was still just $67.59.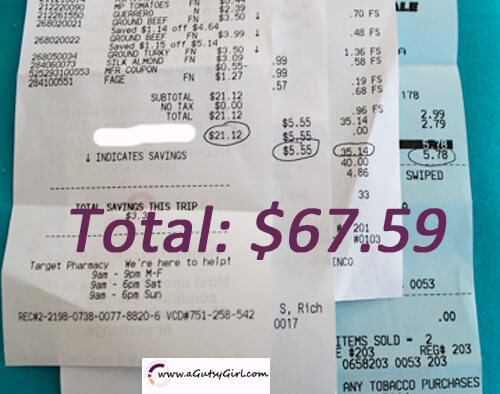 I shopped: Target, Costco, WinCo and Trader Joe's.
The Wild Salmon on a Bed of Jasmine Long Grain was my favorite meal of the day. Bonus: omega-3's city!
Loved the 4-Ingredient Breakfast Pudding, and I know this is one that will be tailored to make many different ways. I may have already made one with chocolate protein powder 🙂 Let me know if you want the recipe!
I also introduced you all to my broth that day. I then followed up with a specific video on it yesterday.
That night, we made Cashew Chicken Lettuce Wraps.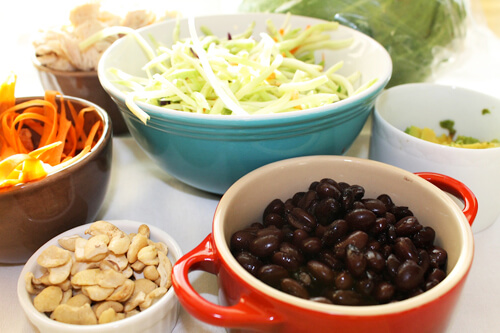 Of course you know that we would continue to use the broccoli slaw over-and-over again. Did you know that in 3oz of it there is 110% of your Vitamin C daily value? True.
The best part of wakin' up, is…..(definitely not Folgers)
Fresh Peach Juice in your hands.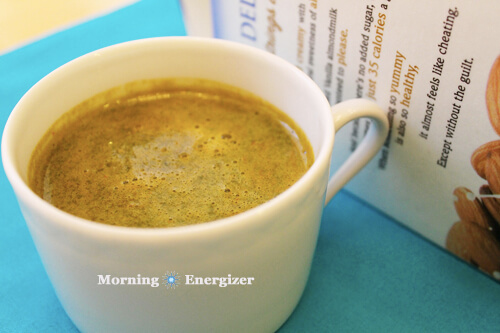 Ryan likely enjoyed the Taco in a Bag the most that day. Me? That morning juice. Here's the deal: After you've given your digestive system a break all night, breaking that "fast" with something smooth and full of vitamins and nutrients makes you feel so alive. And lemon? It's great for detoxification. Your digestive system will thank you all day.
Going out for one dinner on the weekend will easily cost us $100 or more. There was no going out last weekend. And as a matter of fact for 6 meals and 12 plates, we spent under $20.
Breakfast both mornings was made possible with this tiny food: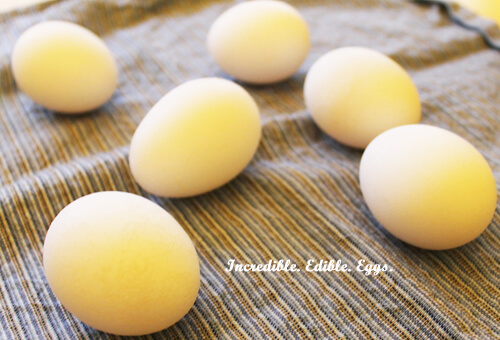 And since it's summer, we can really take advantage of grilling, grabbing what's (a key to working within a small budget –>) fresh and in-season.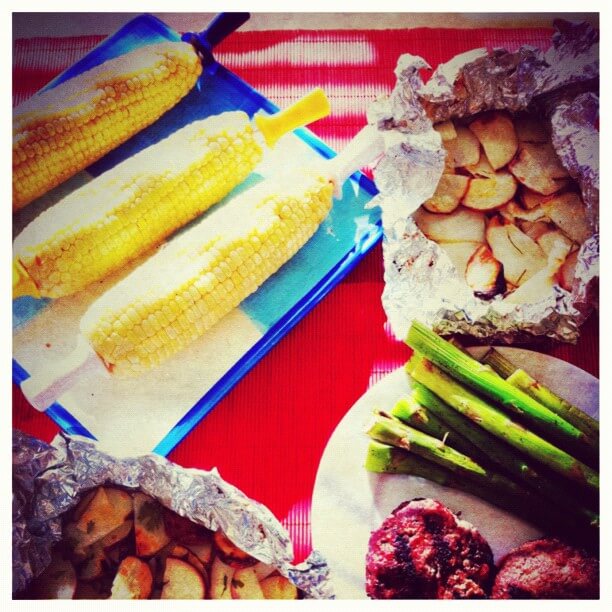 I never knew how good this simple breakfast could be until I tried it.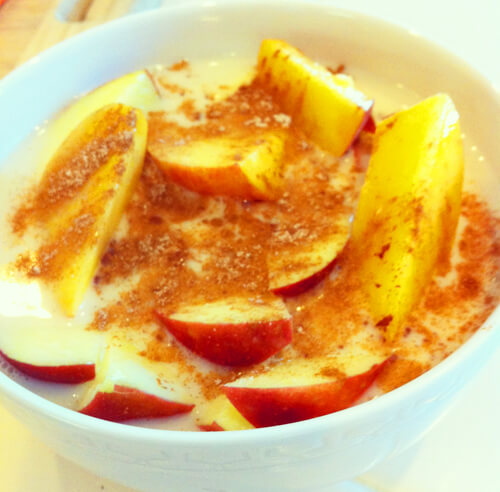 Dinner that night included quinoa. The leftover quinoa was used the next morning for breakfast. Quinoa is one of my favorite gluten-free grains. I have made several recipes using it. It's versatile, and you can use it for breakfast, lunch, dinner or even in baking. And by the way, for both meals (and we still have some leftover) the quinoa total was $1.73 (buy it in a bulk bin).
And day 7…..see top of post!
Thank you, FitFluential and Anytime Fitness!

#Surviveon35 might be coming to a close, but all you gutsy friends out there are still trying to make a dollar off of 55 cents. I know it. I am, too.
This Pinterest board might be complete.
This one is not <- give it a follow, we've got lots in store! (Pun not even intended.)
What, as it relates to this, would you like to see moving forward?
Did you follow along all week? If so, did you have a favorite recipe?
What other low-budget recipes would you like to see?
Again, thank you all so much for the support during the challenge. Remember, sharing is caring so feel free to share this post, video, images, etc. with your friends, families and followers.
Tweet you tomorrow night for the #surviveon35 Twitter Chat at 6pm CST with @FitFluential, @AnyTimeFitness!
FitFluential LLC compensated me for this Campaign.  All opinions are my own.
Try a little kindness
woolrich jassen Which Assets Stand to Gain Prior to the Aug
Take Care Of Dirty Asics Shoes Appropriate
Coach Bag
a fashion emergency and it needs to be evacuated
Express IPO Prices Below Range
louis vuitton laukkujen hinnat
The company nearly completed the repurchase program after retiring 9
Sears exclusive Walking Jamie from 1970 is Barbie doll
woolrich jas
how to know what not to wear to work with run
What to get and The best way to Come across Them
burberry schal
01 per diluted share
Should I wear Spanx under my wedding dress
burberry outlet
or talking about clothes
9 Ways to Get Rid of Bed Bugs
syma x5c
6 anime letters persons covertly identify captivating
Styles of Hip Hop Clothing
burberry scarf
Thats right Anne Hathaway wore 7 dresses to the Oscars 2011
Paradise for the fashion enthusiasts
hollister uk
Yet is easily one of the most complex
You will heal. I will help.