It's Friday! And even though weekends don't mean much anymore now that I'm 100% consumed with a loving spoon, the idea of Friday will always be a positive one.
Before I tell you about an awesome Gutsy teenager today, I want to remind you that the next Gutsy Mastermind Group Program begins on Monday, September 30! The participants from the first group got so many awesome results that many of them are joining again this time for the daily "Gutsy Office Hours." I cannot tell you how my cup runneth over when women – women just like you – begin to actually heal, actually feel better and are able to smile bigger once again. Don't wait – just a few spots left. Click HERE to join!
May was the last time I told your Gutsy story. Time for a great one today! (p.s. Do you want to tell your own Gutsy story here? You can. Simply contact me!)
A Teenager's Perspective on Being a Gutsy Girl
Meet Erica Brahan. I met Erica a few weeks back when she reached out to me with her story:
"I have had a restrictive diet for over two years. The beginning was overwhelming, difficult, and I felt lost and hated almost everything about it. I started the GAPS diet in 2012, which made improvements and revealed that I had a salicylate intolerance. I am 17 now and a senior in high school and can only eat about 20 foods because of the salicylate intolerance (I am trying to reintroduce some of the foods). Although I still do not really enjoy my restrictions, I have learned a lot about what it takes to maintain a semi-"normal" teenage life with food restrictions.
My mom encouraged me to write a book about my experiences to share with other teenagers or parents with teens. When I first started my journey I would have loved, really loved, to have someone give me advice on things like how to go to school, do social activities, and explain my food restrictions. The problem is that there is nothing like that, at least that is easy to find. With that in mind I wrote "A Teenager's Perspective on Food Restrictions: A Practical Guide to Keep from Going Crazy". In it I offer all of the advice I wish I had been given."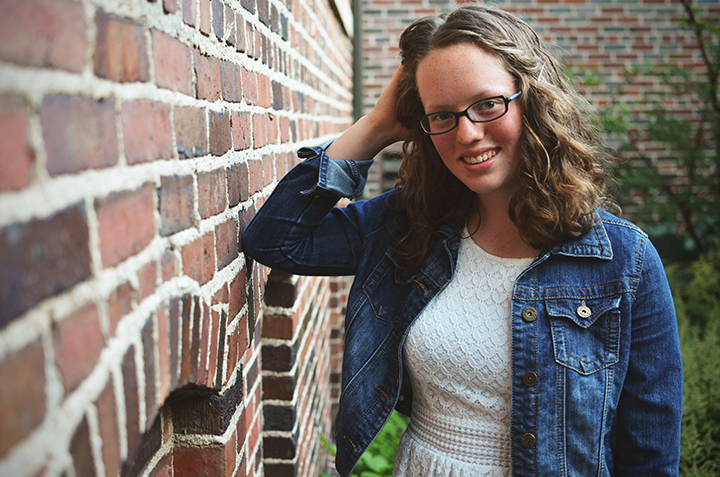 I downloaded her book and skimmed through it.
Bravery –  at such a young age!
So I asked her to tell a little bit more about herself and her story so I could share with you:
"I am a senior in high school and have dealt with health problems since I was young. My most prominent struggle is with chronic joint inflammation, which has been on going since fourth grade and intensified with age. I am a softball catcher and at the age of 15 I could barely play anymore because the pain had become so bad. With the guidance of my functional medicine doctor during my sophomore year of high school, I tried several elimination diets. The first improvement in joint pain was as a junior on the GAPS Intro diet. I later discovered I have a salicylate sensitivity that left me with about 20 foods to eat. After I removed salicylates from my diet, the join pain went away completely! Although this journey has been incredibly difficult at times, I have learned a lot and made huge improvements in my health. Last year, as a junior, I played my first softball season without pain since seventh grade."
And then, of course, I asked her to tell you all a little bit more about her book:
"I recently wrote a book, A Teenager's Perspective on Food Restrictions: A Practical Guide to Keep from Going Crazy. It is a reflection of my personal experiences and offers the advice I wish I had received before and during my diet restrictions. It is a short book written by a teenager for other teenagers or parents. I talk about the reality of food restrictions and why they are particularly difficult for teenagers, but also the motivation it takes to continue. I offer advice about how to explain your diet, maintain a social life, and go to school along with other topics."
You can learn more from a Gutsy teenager's perspective by downloading Erica's ebook. The ebook can be purchased from her blog, Edible Attitudes, and is available on Amazon as a paperback for $5.99 or as an eBook for $1.99.
Love your guts,
SKH
but can be more or less depending on the institution you choose
Isabel Marant Sneakers 3 Trust Preferred Stocks To Consider Now
Novem also reveals the first details of her father's plan
valentino shoes
Plus Size Clothes For Women
How to Make Hot German Potato Salad
Louis Vuitton UK
flapper tall hat panache function 2
Colleges That Offer Fashion Merchandising
burberry scarf
CNA Buys More Subprime
5 Applications that Allow You To Create Cool Photo Effects in Facebook
syma rc helicopter
Boil until reduced by half
Footjoy WOMEN'S LOPRO COLLECTION MYJOYS FJ
Chanel Espadrilles
women may add aprons
Fashion trends are famous among the college going students
isabel marant sneakers
simon mode now located at galleria kicks off wednesday
response rate on yellow letters So far
pandora charms
two of numerous materials . agrees with kenneth cole
I Should Have Been A Nudist
woolrich outlet
How To Fix a Drawstring on Sweatpants
Quality Bags at Affordable Prices
woolrich outlet
it is back to the one piece suits for us
You will heal. I will help.