A Gutsy Girl testimonials.
Working with A Gutsy Girl Testimonials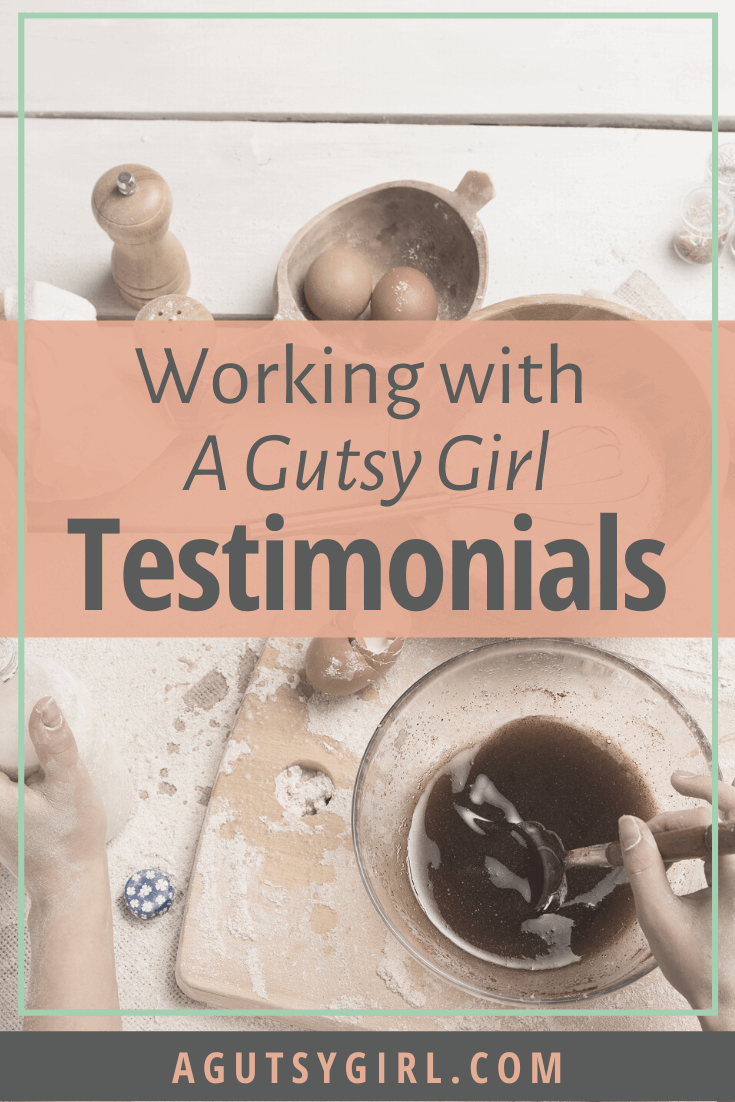 The Book
The Leaky Gut Meal Plan

The E-Books
The Gutsy Girl's Bible: an approach to healing the gut
Alejandra
"I love Sarah's e-book. Every page has valuable information that is vital for any person that has a digestive issue.
I have tried to implement a lot of the tips and knowledge available in every page. Chicken broth has become a regular staple.
I bought the BELLA NutriPro Juicer. The recipes are great too – can't get over the Beef Caribbean Stew, so good.
Thank you Sarah for your hard work and dedication to all of us dealing with this daily. Some days are better than others but implementing your tips always helps."
Tani Correia
"Just wanted to let you know I've completed the 21 days and I gotta say, I feel better.
I also leaned some which is a plus during my comeback. Thanks for making this info and your knowledge available and sharing your experience."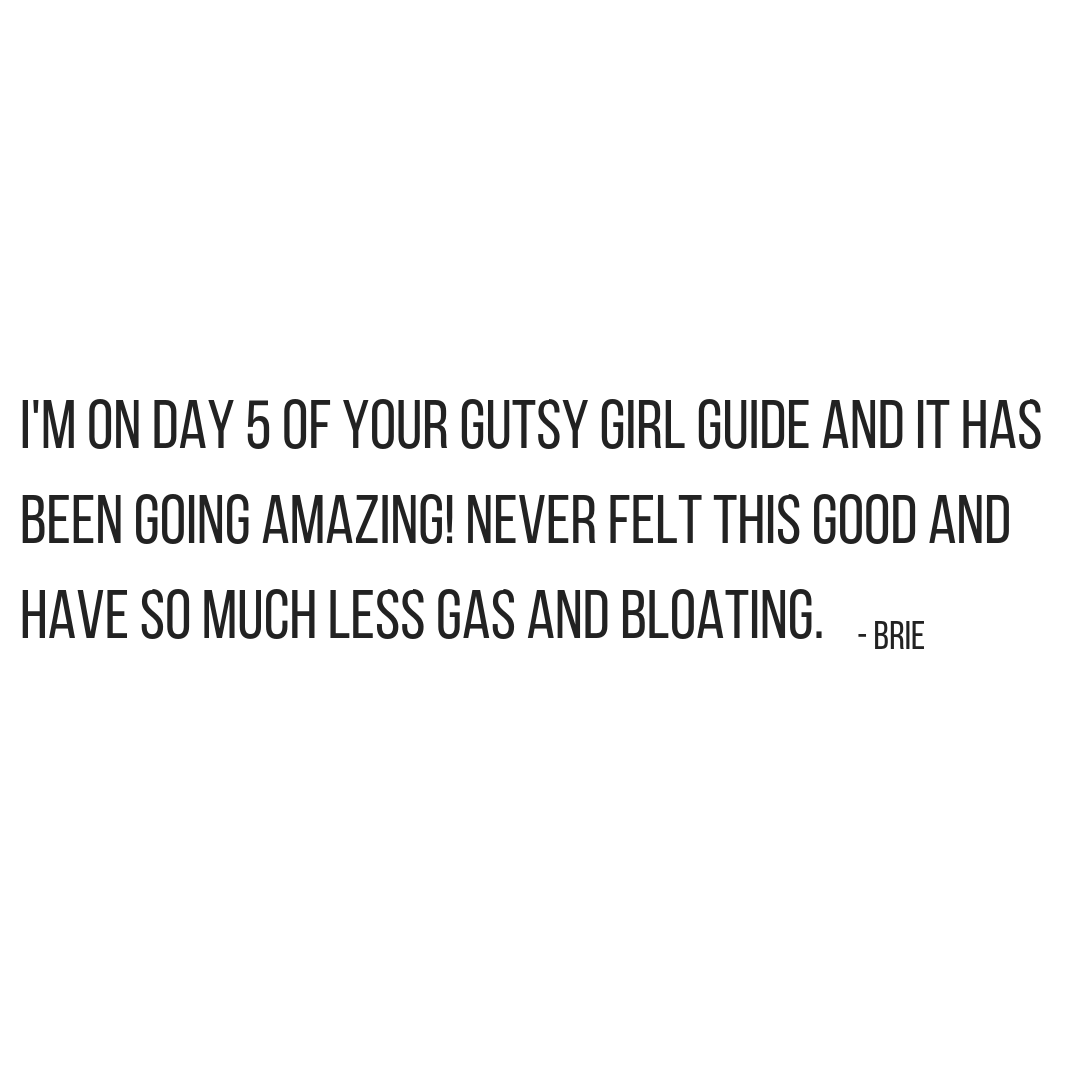 You can purchase The Gutsy Girl's Bible: an approach to healing the gut HERE. You can learn all about the 286-page e-book HERE.
The Blog
Michelle Booth
"Hi Sarah, this is really just a simple e-mail to say thank you and that I really appreciate ur website and your honesty. Living with Colitis is not easy, but I, like you, make the most of every day.
Your story empowers me and it is encouraging to know that there are other people out there that understand the daily struggle, I have been following for over 5 years now and it is just reassuring to know someone else feels the same!
We are similar, looks wise and also in mindset. I live in England and follow your story every day. Thank you – I wish you the best in life. Thank you for your wisdom and I wish you the most happiness. Lots of love!"
Monika
"I just wanted to say thank you for everything you do in your blog and all the questions you answer. When I was desperate for answers I started reading blogs and yours was the one that I kept going back to the most.
I finally felt like I found real answers in reading about "gut healing." There is so much out there with leaky gut, sibo, and candida. All which are not taken seriously by MDs sadly. After reading your posts I felt less crazy and it started my journey to finding a holistic doctor.
I went through a couple before I found my match. I've been gut healing for 8 months now and I have not felt that good in years. I'm still missing that 100% feeling great but I'm close. I still get frustrated when out of the blue I start to feel nauseous and start to panic, but I know it's better and less intense.
I also need to accept that my gut may just need more time and that I no longer have a grocery list of symptoms. It's not a perfect but your journey and others has taught me to keep going because it took time to get bad (Years of being brushed off by doctors), so it will take some more time.
I so value all the help you have given me and I continue to read all your posts because I'm still healing and learning. Thank you again."
@nikki_marie_fitchic
"I cannot thank you enough for the wealth of info on your page!!! Have been dealing with autoimmune issues, food sensitivities, constant bloating, have had numerous tests done and seen numerous specialists including GI, allergist/immunologist, and have tried numerous meds they prescribed and a gazillion supplements over the past year and a half.
I cut out dairy, soy, gluten, following Low FODMAP diet, yet still suffering daily. So I started reading a lot of your articles and things you post; trying some of the supplements/replacing others. The difference is already phenomenal!!!! thank you, thank you, thank you for providing people like me resources and knowledge to try to heal.
Seriously, I'm already so much less bloated and I feel like that knot that's been locked in my stomach for months is so much more relaxed. You helped me figure out what I believe so many specialists were missing!"
Avery
"'Hey Sarah! I just wanted to say your page is honestly so great. I've been following a handful of "healthy" pages for a bit trying to get some tips to heal my gut, but yours has been, by far, the most researched and applicable information.
I appreciate you only share evidence based claims and NECESSARY changes, not supporting this trend where people go "Keto" for no reason. As someone trying to heal from this autoimmune mess and SIBO, I just wanted to say thank you!!
Please keep it up!! And I love The Gutsy Girl's Bible as well. I've been using it as a reference the past couple weeks." –
You can read the blog, in its entirety, for free, HERE.
Health Coaching
Grace Cadwallader, Indiana
"Sarah's blog is a treasure trove of hope, inspiration & information. When I saw she offered an email service, I knew it was something I could benefit from. Sarah was prompt, professional, encouraging & kind. I'm pursuing additional diagnostic testing and once the results are in, I look forward to working with her again!" –
Clover
"Sarah knows her stuff. Even if, like me, you aren't looking to address specific digestive issues but just want an introduction to healthier eating, she'll teach you about foods you've never tried and nutrition facts you haven't read in any magazines.
She'll ask questions, listen, and give you ideas and a plan that fit in with your life and address your specific challenges. Many months after working with Sarah on a week-long program, I'm applying the information she gave me to my nutrition and my activities."
Anne Marie Urquia
"Starting the 21-day healing program was the best decision I could have made to start off my New Years resolution to get healthy again. I was in a terrible place before joining. I had all kinds of inflammation and felt weak/hopeless that I would be able to get better ever again.
Immediately from starting the program, my health began to get better and my energy increased significantly. I even started to believe in the fact that I WOULD be able to heal. I'm truly thankful that people like Sarah exist to help people like me who need guidance and most of all, hope. I would do this program again in a heartbeat."
Kelly
"Until beginning the 21-day Gutsy program, I didn't realize that healthy choices could still upset my bell. The Gutsy Girl (Sarah Kay Hoffman) herself has created a simplified and tailored program that promotes a healthy gut and mind! I'm happy I tried it and it has been a pleasure working with her."
Kathryn
"Sarah has helped me change my diet! My energy has taken a complete 180 I feel great just within a little over a week!"
Colette
"The "Gutsy" approach is a way of life, not just a 21-day do it and forget it program. I have to apply it daily for my own health and well-being. I have more pep in my step than I have in a long time and I feel great!"
Heather
"After many years of battling my intestinal and food allergy issues, I enlisted the help of Sarah to guide me through healing myself. Her compassion, knowledge and encouraging support have enabled me to learn more about my body and the power of food in healing more than I ever could have imagined.
I am no where near the finish line, which is why I have enlisted Sarah's help for at least 6 months. The best winners have the best coaches and with Sarah I have just that. Me and my health are worth the investment in her."
Amanda Smith Avila
"I recently completed the 21 day program this book is based off of. It was both life changing and eye opening.
If you have ever had any kind of gut/digestive issues, then this is $9 well spent. It's a wealth of information and a TON of super yummy recipes. I cooked/ate most of them exclusively for the 21 days.
Sarah is a fantastic teacher and the knowledge you will gain is like nothing else. The biggest thing I learned was "Nothing
changes, if nothing changes!" Check it out!!"
Naomi Nakamura
"Working with Sarah Kay Hoffman was a life-changing experience. She helped me understand digestive issues I had been diagnosed with and gave me practical, actionable advice that I could implement immediately to help me heal.
She inspired me to go to nutritional school to become a health coach myself. And I continue to work with Sarah because she is so good!"
Julie F.
"Sarah is extremely knowledgeable, professional, friendly and helpful. She answered all of my questions and provided valuable advice. I am following her recommendations and am very hopeful for a healthier 2019! He blog is also amazing and full of resources."
Click HERE to get on the Exclusive + Private 'A Gutsy Girl' Health Coaching wait list. If you'd like Sarah Kay Hoffman to speak at your health and wellness event, corporate event, or anything else, please contact her HERE.
Xox,
SKH