The next chapter in our book club book, Present Over Perfect, is Dethroning the Idol. It was another short chapter, but I didn't feel a whole post could come from it, so I'm skipping that one and onto the next chapter today which is titled, You Put Up the Chairs.
And this chapter could not have come at a better time.
Background (page 45): With "you put up the chairs" Shauna was referring to a Pastor whose church was rapidly growing. He continued saying, "We had nothing to do with it." Another Pastor said, "Well, not nothing. You kept putting up more chairs."
The idea is that the more you do and the faster you do it, the more you are aiming for growth. Hustle, work, grow.
Shauna argues that, while these might be the "fun" things to do, they are not always the most meaningful.
Her words (page 46),
Being good at something feels great. Playing ninja turtles with two little boys for hours on end is sometimes less great. It's so easy to hop on a plane or say yes to one more meeting or project, to get that little buzz of being good at something, or the pleasure bump of making someone happy, or whatever it is that drives you.
You Put Up the Chairs
Click HERE to save this post for later.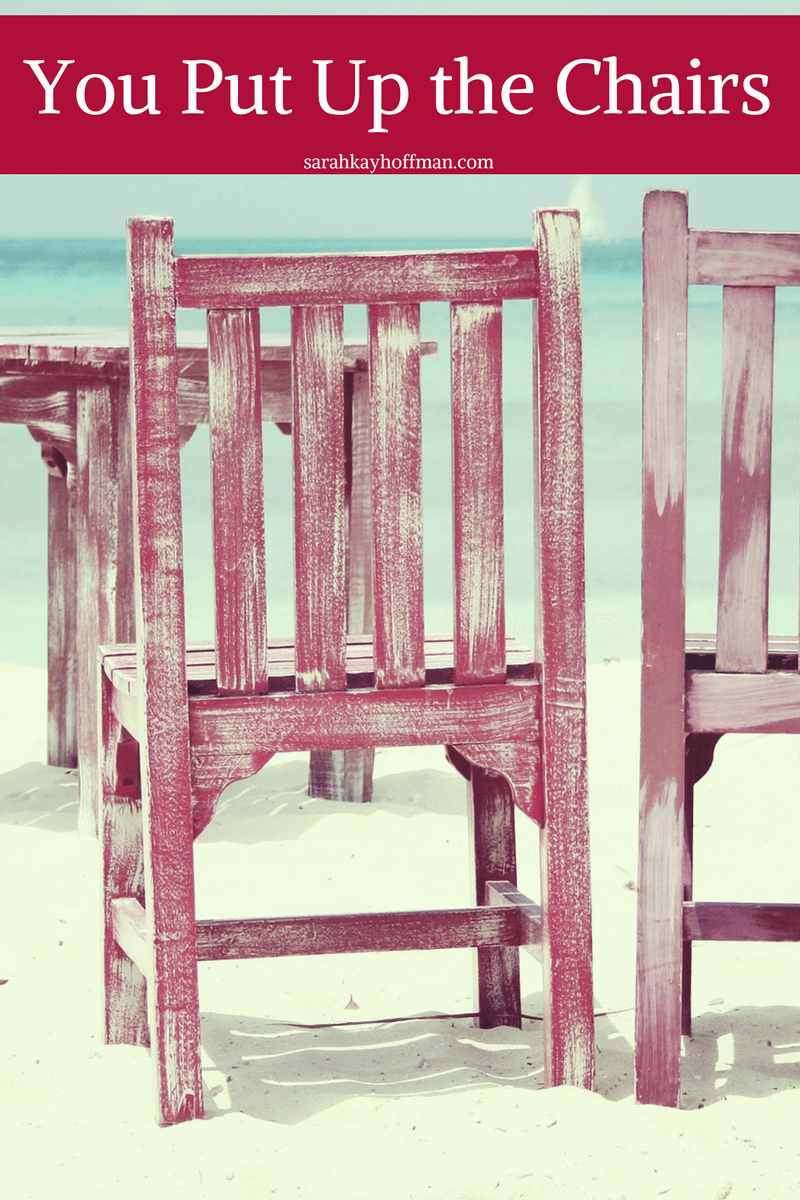 Since going back to work full-time, I've been thinking a lot about the chairs in my life. I feel zero guilt for going back to work full-time, and I also feel zero guilt for enjoying that feeling she describes – being good at something.
In the real world, many families have to have a dual income in order to make ends meet, and so this idea that being a stay-at-home mother is somehow superior to working mothers solely from a "priorities" standpoint is ludicrous.
My children and my husband mean no more to me now than they did a few months ago.
I didn't have to work by any means. I chose to, and with that choice, I'll tell you what it gave me…..
Appreciation for the babies when I'm not working.
The ability to turn down anyone and everyone who wants me to do things for them, for free, just because. Your priorities are not my priorities, and I am striving daily to live my priorities.
An opportunity to work on projects in an industry that does so many great things for the world, from sustainability issues to women's issues and even just basic food quality issues.
Flexibility with money so that I can give back on a deeply personal level to people and organizations that matter to the work I believe I was always meant to do – with foster care children.
Shauna's last statement of the chapter stated (page 47), "I'm going to take down some chairs."
You might have read this whole post and thought, "She wants to keep putting up more chairs." Not so fast.
I've almost arrived at the right number of chairs, and I believe the secret to present over perfect is knowing that just right amount for you, which, by the way, is not the right amount for anyone else.
On the whole, I don't want to put more up (I mean, unless they are unique and old farmhouse chairs, which is another conversation :)). I only have a couple more to take down.
But I refuse to let anyone tell me which chairs should be there, which should be taken down, and how to arrange the ones that do exist.
You put up the chairs. How are yours arranged?
Question: You put up your own chairs. What are you going to do? Put more up? Take more down? Keep them as-is? Re-cover them? Rearrange them?
Xox,
SKH
To Join
Grab the book, "Present Over Perfect" at your local bookstore or on Amazon by clicking HERE (hardcover) or HERE (paperback). Spend this week just getting the book and perusing through it.
Read the beginning of the book through The Word that Changed Everything (which is what I'll write about next time).
Optional: Click HERE to let me know if you're joining!
If you have my blog in your feed, you'll never miss one of these posts.
If you follow my main Pinterest board, you'll also never miss a post because I'll always pin the latest post there.
THESE newsletters will include blog posts about the book when I send them out (typically every week or every other week).
This book will live under "Faith." All books will be tagged with, "Virtual Book Club," so you'll be able to click that tag at the bottom of the post to revisit all past books, posts, and topics.
You will heal. I will help.