The focus today is all about Back Chest Abs Pull Ups.
It's been about a month since I started my new workouts.
The Good
I feel fantastic. I am working out a ton. And by a ton, of course, I mean many 2x's/day. Also by a ton, of course, I mean that I feel like a human garbage disposal constantly. My food intake increases accordingly to my workouts, but green veggies and protein have become my new BFF's.
I am getting more endurance, likely more than I even had as a running junkie.
I feel stronger. Each lifting session I'm adding more weight (or more reps, depending on the exercise) and am surprising myself with what I can do.
The Frustrating
I have been taking "progress" pictures for about a month now. I can see a change already. I mean, not huge change or anything, but when I compared last week to my "prior," I noticed my back muscles look a little stronger – a little more defined.
So today I thought, "I'm going to try a pull-up."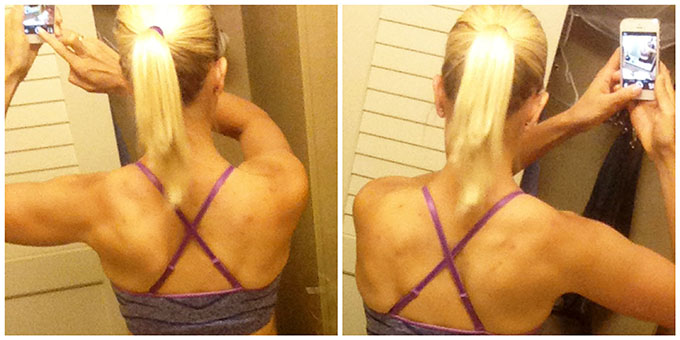 Keeping in mind….
#1 – It was 6 am.
#2 – We don't have the fancy pull-up machine at our gym…we only have a bar, the bar where true pull-up dreams are made.
I put a band around the bar, placed one knee in and did a pull-up.
Just kidding.
I barely made one. I was horrified. Horrified!
The Focus
I have so many things I'm working on at the gym currently.
My favorite is kickboxing.
Back Chest Abs Pull Ups
My second favorite is abs, and this is an odd twist of thinking for me since I used to hate working abs.
My least favorite? Back. Chest. Pull-ups (which, yes, includes the back – but so much more).
I cringe when I have to work those, but if we don't focus on strengthening the weaknesses we're still left with nothing changes if nothing changes.
Now more than ever I am determined to master the pull-up so that I can eventually crank out pull-up after pull-up. I have a pull-up bar at my house, and after my embarrassment this morning, it's time to put it up again this weekend!
I think month 2 is going to be even better than month 1! All of this made possible because I'm truly gutsy🙂
Question: Least favorite body part to work? Most favorite?
Xox,
SKH
You will heal. I will help.