Knowing when to give up is key.
Everything in life I've ever given up on, I cared about and felt something for.
Back in October, after the Nike Women's Half Marathon I stated,
I'll never be ready to give up on anything that makes me feel something.
So I kept on running, and I signed up to run the San Diego Rock 'n Roll Half Marathon and set out to do it in a PR for me – 1:45.
Training in the beginning seemed OK on some days, but most days my lower back and leg bothered me a lot. I pushed through because running still made me feel something.
At the end of March, longer runs began interfering with my gut. I'd flare more often, and Colitis was mad at me for running so much. The flare would subside, and I pushed through for another run because running still made me feel something.
Mid-April came and I got sick – really sick. I haven't been sick like that in years. I found myself in Urgent Care on a Saturday and was given a round of Antibiotics. I knew that it was, perhaps, time to back off a little from running, but I would not stop altogether because running still made me feel something.
By the time May rolled around, I had gotten so busy with A Loving Spoon nut butter and the release of my new e-book that, quite honestly, the only cardio I was doing was 20-30 minutes HIIT and gentle walks at night with Ryan, Samarah, Maraduke and the little dog, too. My back and leg still flared a little and during some workouts, the awful female cramps would settle in, (this is why that happens to me) but quite honestly it was nothing like before.
I started thinking about this concept of not giving up just because we feel something.
What happens when feeling something becomes detrimental to our health?
Knowing When to Give Up
Click HERE to save this post for later.
We get caught up in moments of feelings, but those feelings are sometimes false. For me, for running, it was the temporary runner's high. The runner's high lasted but for a few moments, but the effects left on my body could sometimes last for days and surely has prohibited my body from long-lasting and real healing.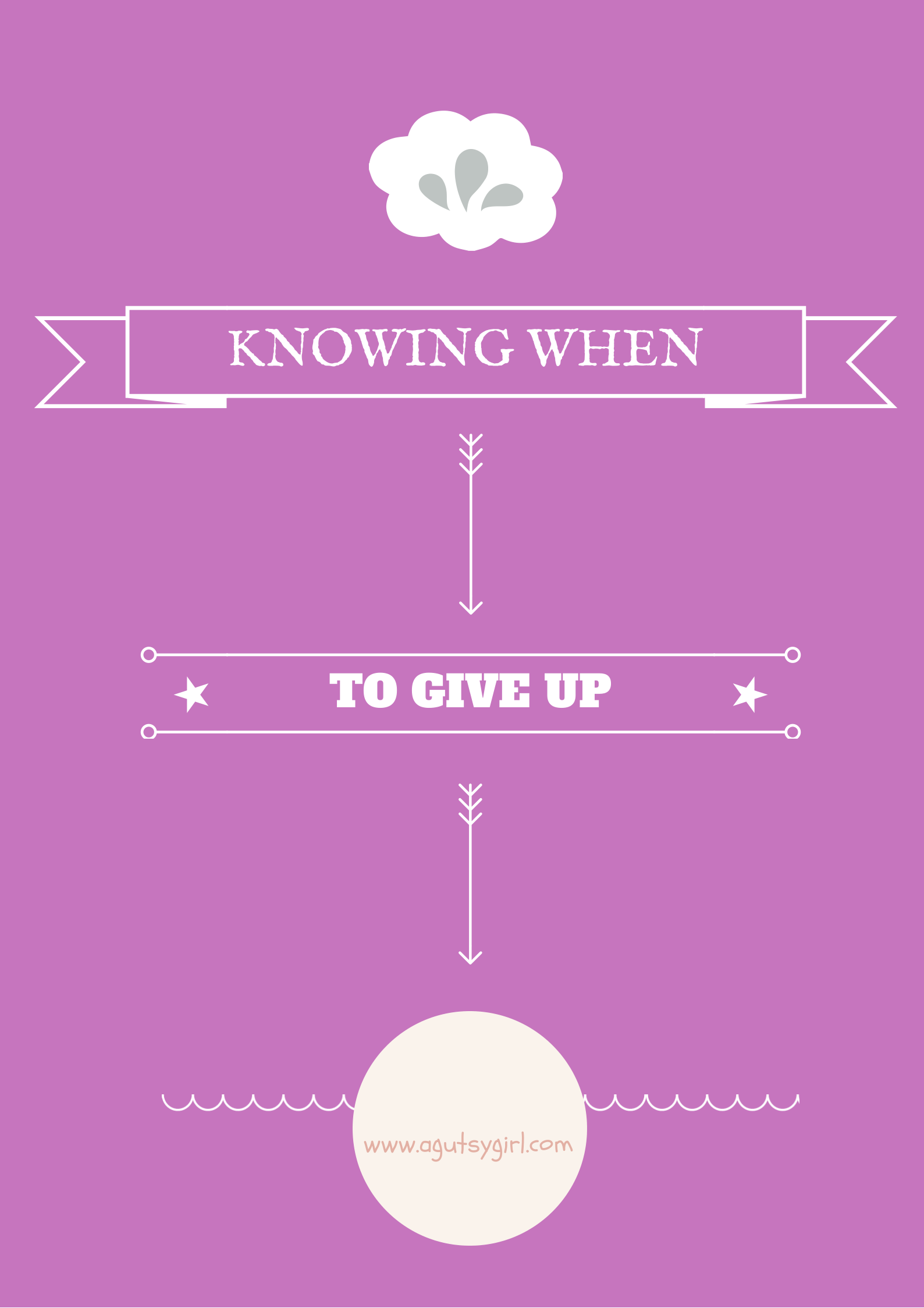 I let feeling something go on for far too long because I didn't want to give up.
We all do this far too often with workouts, in relationships, careers, addictions, and life in general.
Knowing when to quit took me right up to yesterday in my trainer's office, at the gym. He's actually not "my" trainer yet, but he's about to be (I'm fairly confident he's qualified – he trains guys in the NFL and athletes in general).
In my professional opinion, if you run another half marathon you are going to do far more damage than just giving in and not running it.
He spent a lot of time with me, and he told me something else that stuck with me,
Look at this as a new opportunity for you. Clearly something needs to change. You are going to learn how to work with your body instead of against it. You will learn how to lift in new ways than before, and you will ultimately make progress.
I told him I'd let him know by the weekend what my decision for running the half was.
I got home. It took me all of two hours to decide.
I became a quitter.
I will not run the San Diego Rock 'n Roll on June 1st. I will not sign up for another half, a 10-K or even a 5-K (at least not until my body is really healed, which could be a year or more). I will not even do 20-30 minutes running HIIT any longer.
Good-bye for now, dear running. It was a good race while we had each other, but now it's time for me to give you up.
I am so grateful that I finally know when to give up….and finally understand that letting go isn't giving in, but instead moving on…moving up.
Xox,
SKH
p.s. Yes, we are still going to San Diego that weekend. We decided a few day getaway is exactly what we need right now, and of course that baby still deserves to see Disneyland for the first time!
You will heal. I will help.