The 11 Week Half Marathon Training Week 3 was rough. I'm not even going to pretend I was a rockstar runner this past week.
Previous Weeks
Week 3 was WEAK. I somehow managed one more mile than last week for a total of 28 miles this week, but it was a struggle each and every single day at the gym and outside. Nonetheless, here we go….
11 Week Half Marathon Training Week 3
Click HERE to save this post for later.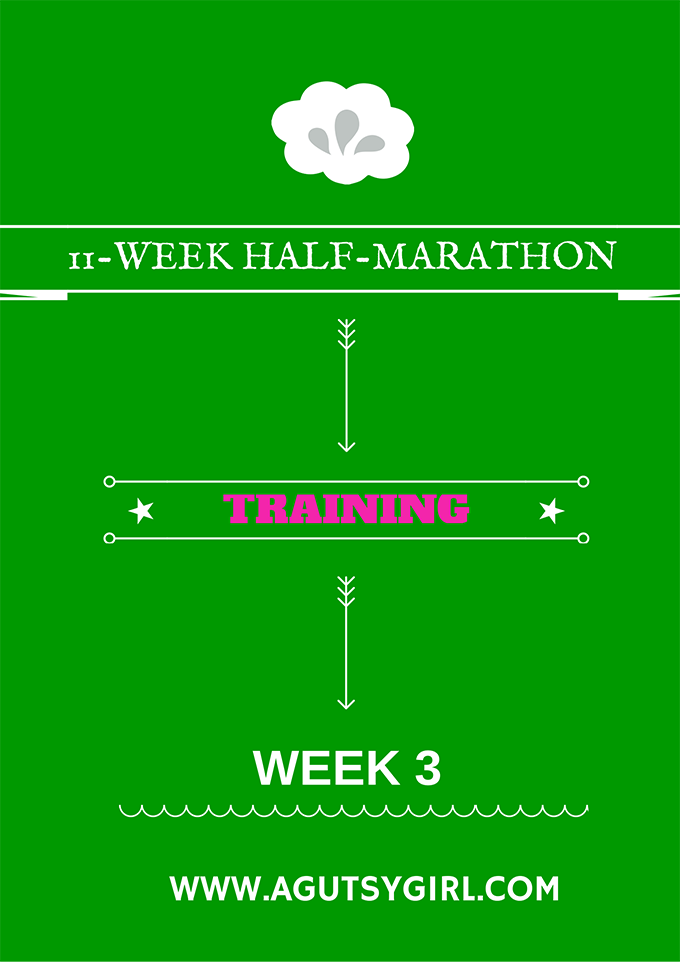 Monday
I got a deep-tissue massage today. It hurt so good. I thought that having this would someone loosen me up and ensure an awesome week of training. During the massage, my guy told me that I'm essentially a big, hot mess. This was not any surprise to me. From my lower back to my feet, everything is unbelievably tight. I need much more work done, and I have every intention of starting to address it all. It's been since 2009 since these muscles have been getting tighter and tighter (2009 = when I really started working out). Later that day I went to the gym for a 30 minute "E" + 6 stride run and upper body workout.
The run fell flat when awful cramps set in. I made it 25 minutes into the run, but the cramps and chills took over my body.
I listened. I stopped until it had "left" my body. I finished with the following light upper body workout (3 sets on all):
pushups, 15 reps
DB bench press, 15 reps
1-arm DB row, 15 reps
bodyweight bench dips, 18 reps
cable triceps pushdown, 15 reps
* I also did 25 rope jumps in between each exercise so that I essentially was able to superset on all, for a total of 375 jumps.
Tuesday
Off today. I was "glutenized" last night, and so today was a super downer and fatigued day.
Wednesday
Workout: 200R + 200jg + 200R + 400jg + 400R + 200jg (repeated sets)
I began with a 15-minute "E" run. I then completed 3 sets of the above, with times at:
200R = 9.3 (6:27 minute/mile)
200jg = 5.5
400R = 9.1 (6:35 minute/mile)
400jg = 5.5
I cooled down with another 15-minute "E" run.
Thursday
I did a run similar to the one on Monday with only "E" tempo.
I ended with some legs work (3 sets of all the following):
leg press, 15 reps
ball hamstring curl, 15 reps
standing calf raises, 15 reps
reverse sit up, 15 reps
stiff leg deadlift, 15 reps
bodyweight squat-to-bench, 20 reps
My legs feel sore, tired and very heavy.
Friday
I had every intention of completing this workout today: repeated 2 miles at "T" pace with 2-minute recoveries + 4 x 200R with 200jg.
Instead, I ended up running at a speed of 6.2-7.6 for 57 minutes. I only made 2 of the 200's. The cramps returned during this run. My body was so tired and fatigued. I am certain that the gluten has still taken over because I'm never this tired. I was thankful to do the workout, but I also knew that I could not push on for an even more intense one.
I finished with some ab work, which included:
3 sets – circuit
ab rope pull down, 11 reps
mountain climbers, 11 reps/side
swiss ball sit up, 11 reps
3 sets – super set
ab rope pull down, 10 reps
kettlebell side bend crunches (standing), 10 reps/side
Saturday
Off. Desperate for this day to come.
Sunday
Workout: L run, 8 miles
I somehow finished this run. Again, awful cramps around mile 3. Between the cramps and my tight/fatigued feet and legs, I feel like I stopped a lot. So even though I had an average pace of 8:07, that's kind of a lie (I had more resting time throughout, making me able to run faster overall).
Upcoming Week
I had every intention of taking the planned workouts for this week and cutting them drastically to focus on ice, foam rolling, stretching and lifting. When I went to look up my training for the week last night, I noticed that I accidentally skipped this week when planning this training program out. And it makes sense, too, as I didn't understand how I always thought it was a 12-week program but then suddenly I only had 11 weeks.
I have to believe the good Lord was looking out for me and knew my body would need an ease up this week!
I'm not taking the whole week off, but my goals for this upcoming week include:
15-20 miles running MAX
ice, foam, stretch, lift (maybe some cross train in there)
new shoes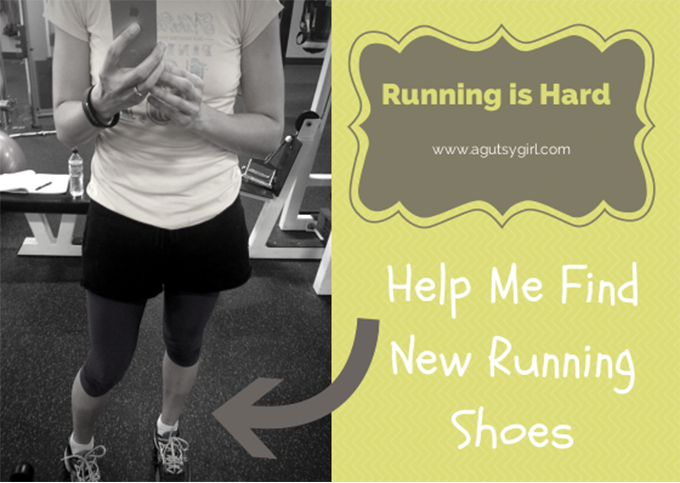 Xox,
SKH
You will heal. I will help.