Love this Gluten Free Tropical Dessert Parfait, and you will, too. In fact, you may have even stumbled here after Greatist shared it via 62 Healthier Gluten-Free Desserts. (Thanks, Greatist!)
Confession: I try not to look horizontal. Sometimes I can't help it.
There are so many amazing blogs out there with food images and recipes I could only wish to enjoy. I am envious of the bloggers who can eat anything and everything they want. Their recipes are so much sexier than mine….for the most part anyways. I do my very best to help Gutsy girls not sit around and daydream about the things we can't have 🙂 I know that for everything we want, there is always a substitute just waiting to be used.
I swear on every "Top X Foods to Eat While in an Airport/Traveling," I see a Healthy Yogurt Parfait option. And the part that always gets me is the granola. The damn granola. I'm going to go out on a limb and assume that that granola is never gluten-free granola. And thus, I am never able to enjoy them while out and about.
Light bulb moment: parfaits, while they taste awesome with granola, can be made with a granola substitute.
This light bulb moment had me in the kitchen, making my very own parfait. For Ryan and I, it was dessert. But for you, and for us at a later date – totally travel-worthy, too!
Gluten Free Tropical Dessert Parfait
Click HERE to save this recipe for later.

Gluten Free Tropical Dessert Parfait
Prep time:
Cook time:
Total time:
Ingredients
1 cup Greek Yogurt
(3) The Laughing Cow Smooth Sensations Classic Cream Cheese (1/3 less fat)
2 Tbsp Nutiva Organic Chia Seeds
2 Tbsp flax seeds
2 Tbsp raw cacao powder
½ mango
1 small peach
½ banana
Instructions
Mix together in 3 separate bowls (1/2 of the mango + 1 cheese wedge, ½ of the banana + 1 cheese wedge, ½ of the peach + 1 cheese wedge). Set bowls aside.
Mix together in another bowl (aka the "new" granola): chia seeds, flaxseeds, and raw cacao powder.
Slice/dice/cut the other ½ of the mango, banana, and peach. Set aside.
Take your cup or bowl and begin the layering. Layering I used was as follows (beginning from the bottom, and working your way towards the top): dollop Greek yogurt, "new granola,"cream cheese mango flavor, diced mangoes, dollop Greek yogurt, "new granola," cream cheese banana flavor, sliced bananas, dollop Greek yogurt, "new granola," cream cheese peach flavor, sliced peaches.
Top it off with a dollop of Greek yogurt, "new granola," and a peach slice.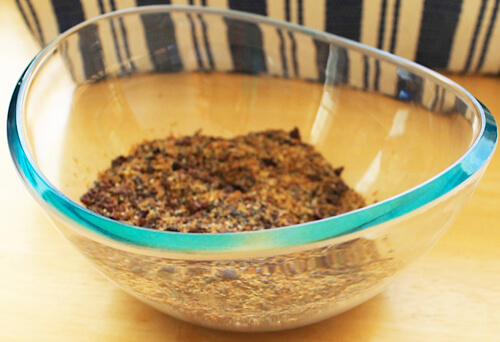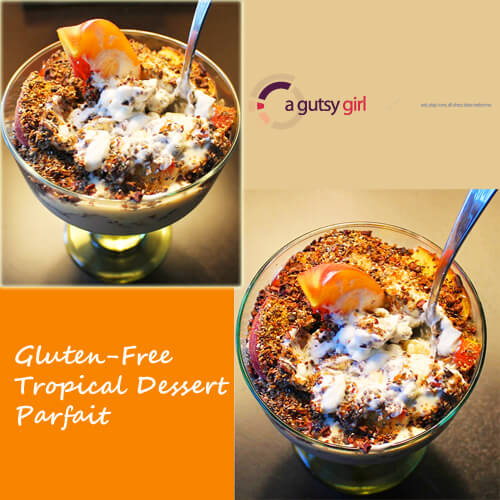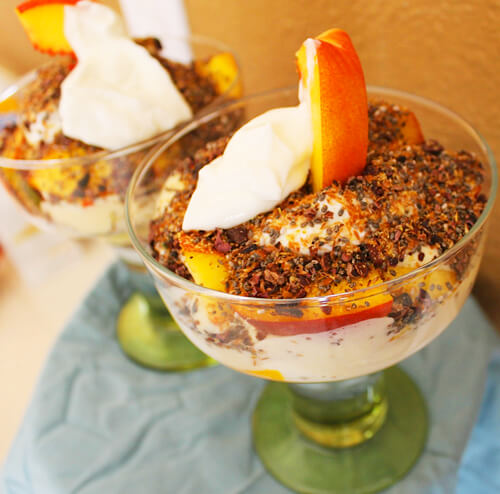 This parfait not only makes an awesome, savory dessert, but you could also turn it into a breakfast! I mentioned breakfast the other day. No, you don't have to have it. But this will make you want to. Chocolate? For breakfast? Yes, please!
Alright, your turn! Tell me about the best gluten-free parfait you've ever had or make! I'm kind of on a roll….
Xox,
SKH
You will heal. I will help.