Looking for ideas on what to blog about? I have 51 of them for you today!
I took many creative writing classes in college. At least one class per semester would be devoted strictly to the "writer's block" phenomenon that is all too common. We have all been there before and will likely be there at some point in the future as well. It's a frustrating place to find yourself when all you want to do is get your post in and create value for someone else. What it comes down to is, if you were reading your Blog, what would you want to read? What would you find useful? How could someone spin current content to make it relevant? Or what content could you create to make relevant?
Before you scream and shout (or worse yet) throw away your "blogging days," here are 51 Things to Blog About. Just try it, you might be pleasantly surprised! (Keep in mind that even though I have broken these up into the "Professional" and "Personal" Blogs, many of them could toggle and be used for both. Really – the sky is the limit!)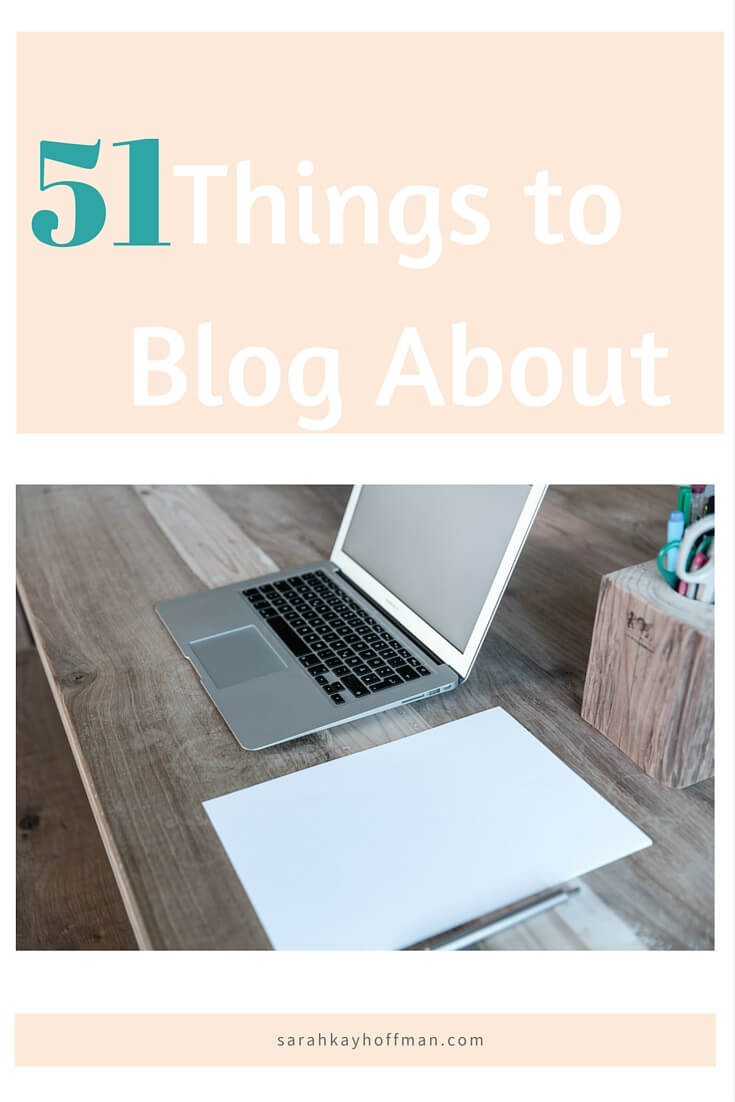 The Professional Blog
Top new trends in your industry.

Take an industry article and respond to/comment on it.

Tools, tips and tricks for your industry.

Insider vocabulary, terms, and meanings.

"How To…."

The best marketing tips for your industry.

Interview an Industry Expert. Blog about him/her.

A Blog Post completely unrelated to your industry (but don't do too often).

How your industry is similar to a popular TV show or series.

Make a Top "X" List (or any relevant list).

Review an industry-related product.

Attend an industry event. Then blog about it.
Make a list of favorite industry resources

Create an industry-related infographic. People love visuals!

Do a business article review.

Tell about what is happening in your company.

How is your company "digitally" current?

Ways to increase earnings in your industry.

Choose a "theme" and write about a topic within that "theme" each (Ex. Wednesday) of the week.

Discuss current business and/or industry events.

Show some personality through pictures or video from a team/company event.

Analyze an industry case study.

Talk about what not to do in your industry.

Comment on an industry controversy.

Conduct a poll. Blog the results.

Find humor in your industry via photo/video/article and share it.

Host an industry-specific meetup and then blog about it.
The Personal Blog
Show your expertise on a topic you love – perhaps through a "product service" review.

Showcase events through picture or video.

Discuss daily routines and shortcuts someone else may benefit from.

Showcase locals.

Showcase local business.

Put a "fresh and new" spin on their products/services.

Take an everyday occurrence and write about it.

Make list(s). "Top 10 Tips for Cooking with Colitis"

Your view on a music genre of choice.

Comment on current events.

Find great local deals and local shopping and share the knowledge.

Read a book. Review it.

Do an activity you've never done and blog about it.

Find a series of quotes or inspiration and post them.

Give a "social" Happy Birthday to someone far away.

Rewrite an old post. Update it. Comment on it. Take a fresh perspective on it.

Use Google Trends, Hubspot's Blog Topic Generator, Lockerdome, etc. to find any topic you/your audience will find interesting and write about it/comment on it.

Give 37 reasons why someone should follow your blog.

Ask a question. Blog post follow up on the answers/comments.

Rant or rave post.

Blog about your favorite Follow Friday person (on Fridays).

Create a Blog devoted to one subject and one subject only. Write posts only about that subject. Be a true expert.

Discuss different food and restaurants.
If you enjoy my posts, recipes + the blog in general, be sure to place it in your feed or subscribe to my email list.
Xox,
SKH
You will heal. I will help.