Settle in for the fallish October Bone Broth Chat.
Are you part of the Rated-G club? Okay, I'll get to that in a bit if you are not. If you are, then you know what this post is all about.
If not, it's simple.
Monthly Catch Up
Do you remember when I used to do my monthly "Bone Broth Chats?" They were posts that had nothing to do with gut health and healing, research and lists, but instead real life.
Some of your favorite bloggers might still do them, but they are not bone broth chats. The "normal" people call them coffee chats.
The premise is still the same. It's the opportunity to just sit down, be real, and chat…..anything goes.
When I used to write these, they contained a lot of family happenings.
But in this new era of A Gutsy Girl where I mostly keep personal family things over on A Thyme for Milk and Honey, you won't find the family chat here.
Instead, I just want a place to sit down, reflect, talk, pose questions, and connect with you.
Hope this is okay. And I hope you'll get a big cup of broth to enjoy the fallish October bone broth chat with.
Fallish October Bone Broth Chat
Is it even fall? Or is it winter? Wait, maybe it's spring or summer…..or a combination of all four seasons?
Well, that's been life in Minnesota anyways.
So today as we sit down to chat, let's just pretend that it's most definitely fall. I love fall and I've missed its overpowering presence this year.
Q4
October starts Q4, which means that work life picks up. But this October was just insanely busy. And I'm not talking busy like, "I'm busy doing busy tasks."
I'm talking busy like, "There was meaning and purpose in the things I worked on."
In October, I:
Released Reasonable SIBO: 2.0
Shot my forthcoming course with Clean Eating Magazine
Clean Eating Magazine
And yes, I can finally share that I have partnered with Clean Eating Magazine to bring you a 30-Day Gut Reset Course which launches this January!
I'll give you the quick rundown.
In August one night, just as our friends from Nebraska arrived for the weekend, I received an email from them with the subject line,
Clean Eating Opportunity
I didn't even think it was real, maybe I was misunderstanding something. But the guy who reached out to me was incredibly kind.
So, I agreed to at least learning more and hearing about the opportunity.
The rest is history.
This past week I flew to Colorado (my mom came with me, too!) and spent the entire week producing the on-camera content.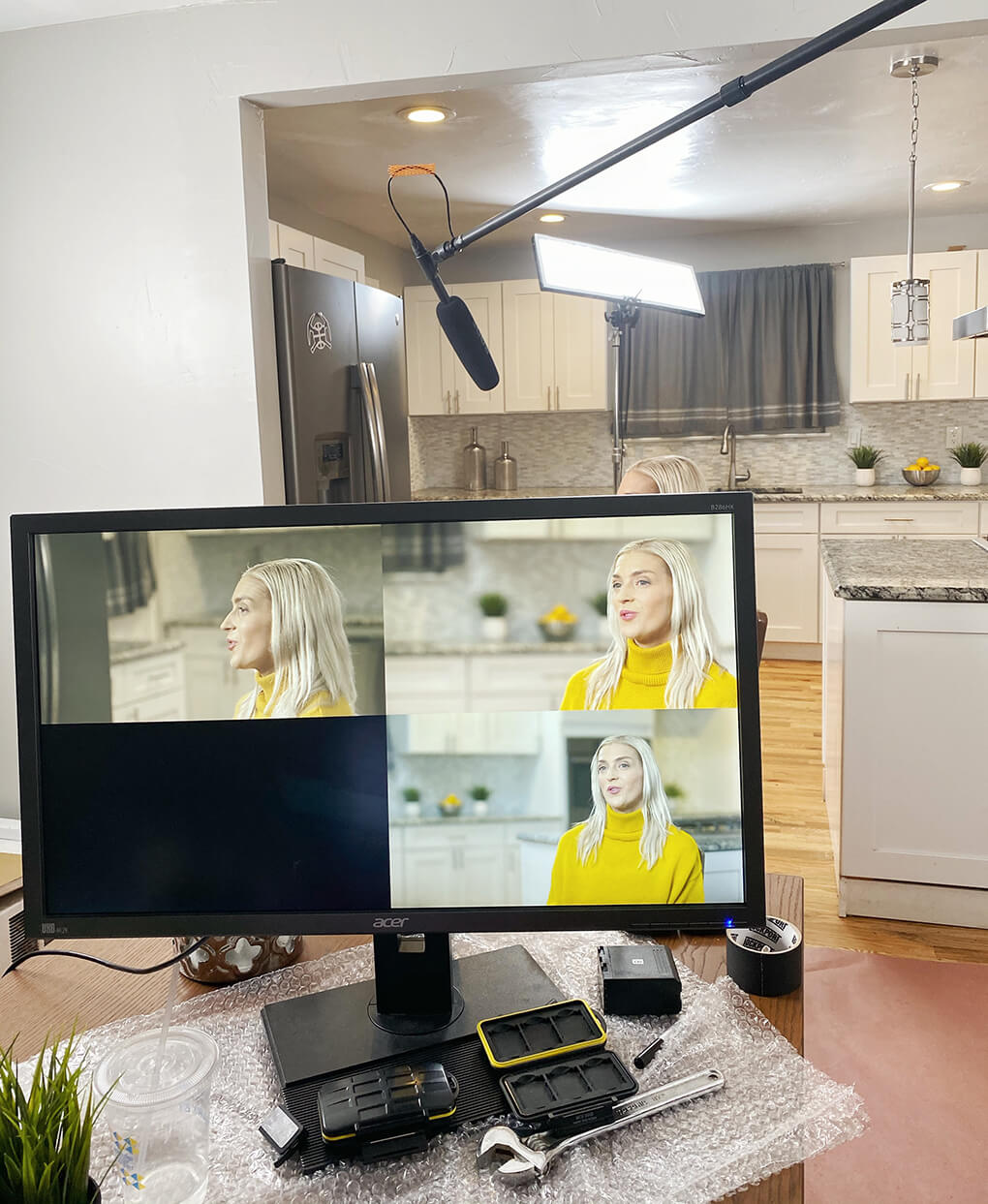 It was such an amazing experience working with phenomenal producers, food stylists, photographers, and film experts. I even had my own hair and makeup professional on set with me 24/7 and if you know me, you know how different from real life that is.
But the team was legit, and we made some beautiful, inspiring, and lovely gut health and healing content come alive.
They really let me run with my thoughts, ideas, and message I wanted to share with the world.
The course won't launch until December 28, 2020, but you can already grab your spot HERE. And if you want to join me for the month-long course, feel free to use my special code at checkout to save 20% — SKHSAVE20.
More details on the course soon. Here is what I'll say for now – if you use my 20% off code, the month-long course is cheaper than any January group program I've ever run in the past.
Clean Beauty
Here's something else I think you might be interested in hearing about.
By now you know that I do not believe we heal in the silo of any one of my 3 pillars for ultimate gut healing.
It takes a village to raise a child; it also takes one to heal your gut.
This village takes form with people, products, and services.
So, during the past few years I got into learning more about clean beauty and skincare (among many other things). Because I actually do believe this….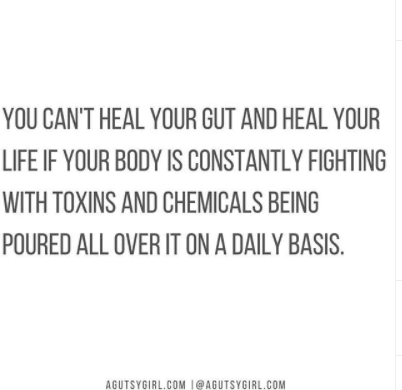 Anyways, I've always been the biggest advocate of Beautycounter. Yes, you might consider it an MLM, but yes I do sell it.
And that's because I believe in and love/use it. In fact, what Beautycounter has done for cleaner skincare and makeup altogether is really remarkable.
HERE are some of the things I use every single day from Beautycounter.
But there's obviously more options out there for clean beauty than just Beautycounter.
And honestly? If you don't ever want to buy a Beautycounter product from me, oh well!
The truth is that I just want you to choose better – whatever that looks like and means for you.
So this past week while in Denver, I met Beth. She did my hair and makeup each day. But here's the thing about Beth – she's an eco-friendly makeup artist.
While I'm super basic, this was still a beautiful sight for me to see.
Okay, so how does this apply to you?
I've asked Beth to come on in the near future to share her favorite brands and products with you.
She is an encyclopedia in that industry, and I want to share it with you.
Anything in particular you want to know? Any certain products you're looking for?
By the way, just look at how innocently stunning she is HERE. If I lived in Colorado, she and I would be fast friends.
The Flu Shot and Vaccines
Holy he#$, right?! How did I go from clean beauty to the flu shot and vaccines?
Don't worry. I'm not about to talk in detail about either, but I'm constantly getting questions about both.
Here is what I will tell you as a blanket statement:
I do not get a flu shot; no one in our family does. We haven't since the kids were in Fostercare and had to. But all my kids are fully vaccinated, and this is again, because they had to be while in Fostercare. They are current on all vaccines today because we have to show proof.
And here is what I think:
We aren't likely to ever get the flu shot. But you might and that's okay.
I have been spending a lot of time down the vaccine rabbit hole. I'm still formulating my opinions. The only thing I have definitely concluded at this point is that, in the past, I just relied on the vaccine narrative and fear around not having all the vaccines. I don't play in that court any longer. Like healing my gut, I empowered myself to keep doing the research and finding the facts. When it comes to vaccines, I'm not into anything woo-woo. But what I'm finding has been eye-opening.
And now here's what I really think about both the flu shot and vaccines:
We just need to stop shaming.
Choosing to vaccinate? Great. That's your call.
Don't want the flu shot? You do you.
No matter what side of the coin we fall on, someone always says, "Oh you're one of those people."
And you're not, darling.
You're just doing the very best you can with what you have.
By the way, one of my best friends is a nurse. She has a deep passion for studying and researching all things vaccines. I'd love to get a guest post from her for you to check out. I'm mostly interested in the idea around vaccines and the gut.
Is that interesting to you?
Rated-G Email Club
Well, we've already been hanging out awhile today, so I guess it's time to recap on the Rated-G Email Club, as mentioned at the beginning of the post.
It's simple, the Rated-G'ers are my jam.
Rated-G stands for 'Rated-Gutsy.' So clever, yes? And this club includes ladies (maybe some gents) who receive my exclusive weekly e-newsletter.
Because the Rated-G'ers are in my club, I send them information first. They get to voice opinions (which is how I knew the Bone Broth Chat had to return). And when I launch products, they know about them first with discount codes.
If you're not already in the club, be sure to join HERE.
If you think you are already in the club, but haven't been getting my emails, then you need to make sure you check your JUNK/SPAM and move me to your "Inbox," marking "not junk/spam."
Meet Her
And last, but certainly not least.
Meet her.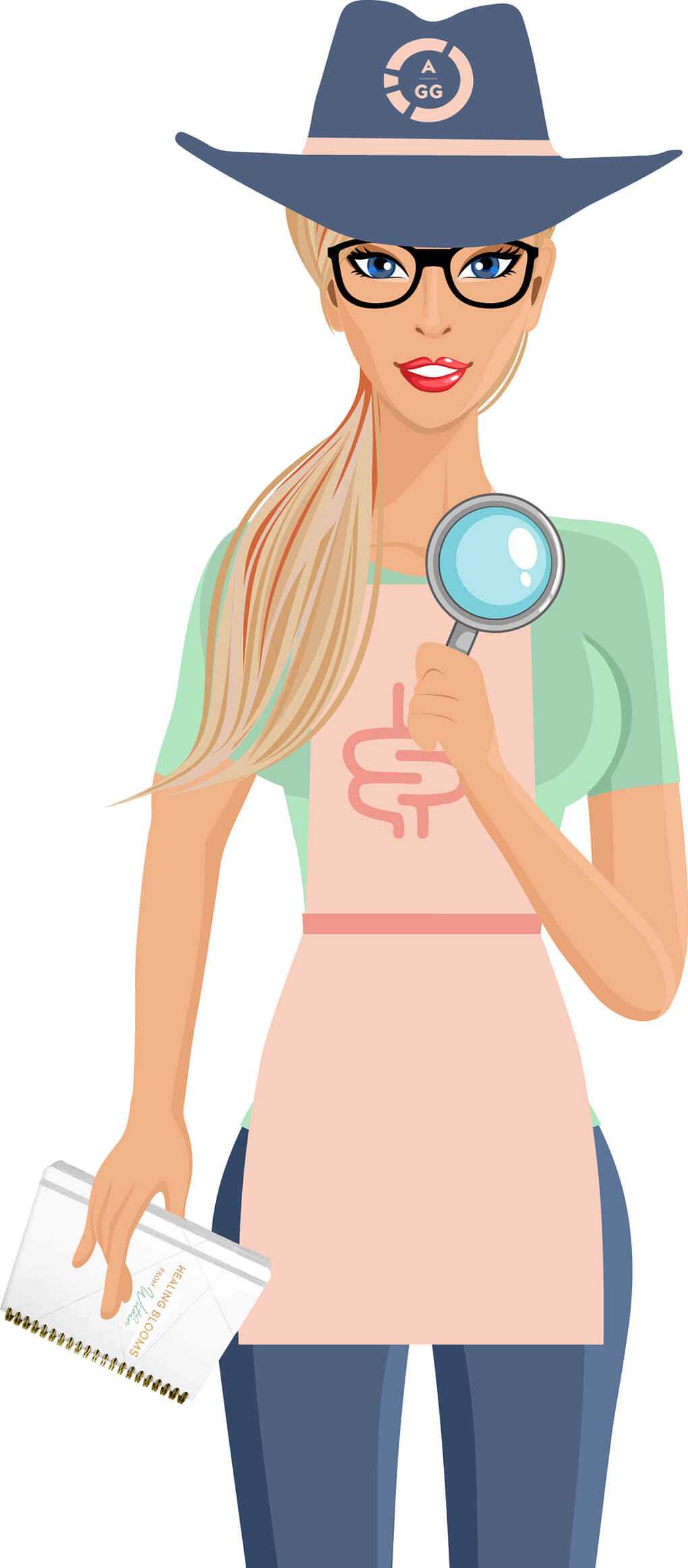 Actually. I have no clue what her name is.
Do you? Let me know in the comments below if you feel she jives with a certain name.
So who and what is she?
I have been desiring something more for A Gutsy Girl. By "more," I mean a face and image that's not just me, Sarah Kay Hoffman.
While I am the original A Gutsy Girl, I continue to do this for you. I know that IBS, IBD, and infertility knows no boundaries.
All women are welcome here and all women can fit the "Gutsy" profile no matter age, ethnicity, status, etc.
Sure, this image is a spin-off of me, but that's only because I want her to always welcome you with open arms.
Always.
Time to wrap this fallish October Bone Broth Chat up.
Tell me about your October. Or anything else.

Xox,
SKH
You will heal. I will help.