Do you love pumpkin season as much as I do?
So many years eating all things pumpkin pie spice has me wanting to share about pumpkin pie spice for gut health.
Because yes, yes the actual pumpkin pie spice has gut health benefits.
All things Pumpkin Spice have gotten a bad reputation in the past years due to the explosion of Starbucks' Pumpkin Spice Latte.
According to the Starbucks website, here are the latte ingredients:
Milk, Pumpkin Spice Sauce [Sugar, Condensed Skim Milk, Pumpkin Puree, Contains 2 Or Less Of Fruit And Vegetable Juice For Color, Natural Flavors, Annatto, Salt, Potassium Sorbate], Brewed Espresso, Whipped Cream [Cream (Cream, Mono And Diglycerides, Carageenan), Vanilla Syrup (Sugar, Water, Natural Flavors, Potassium Sorbate, Citric Acid)], Pumpkin Spice Topping [Cinnamon, Ginger, Nutmeg, Clove, Sulfiting Agents]
So when you hear everyone say it's not a "real" pumpkin spice latte, that's why.
But actually? I'm not here to judge the beverage itself. Listen, I have already had a Pumpkin Spice Latte from Caribou this season. It probably boasts similar ingredients, and I'm cool with that. 
Once you're healed, nothing once in awhile matters much. At least not in my 2+ years of being healed experiences.
That said, actual pumpkin pie spice is truly good for the gut.
So let me show you.
Pumpkin Pie Spice for Gut Health
Click HERE to save this post for later.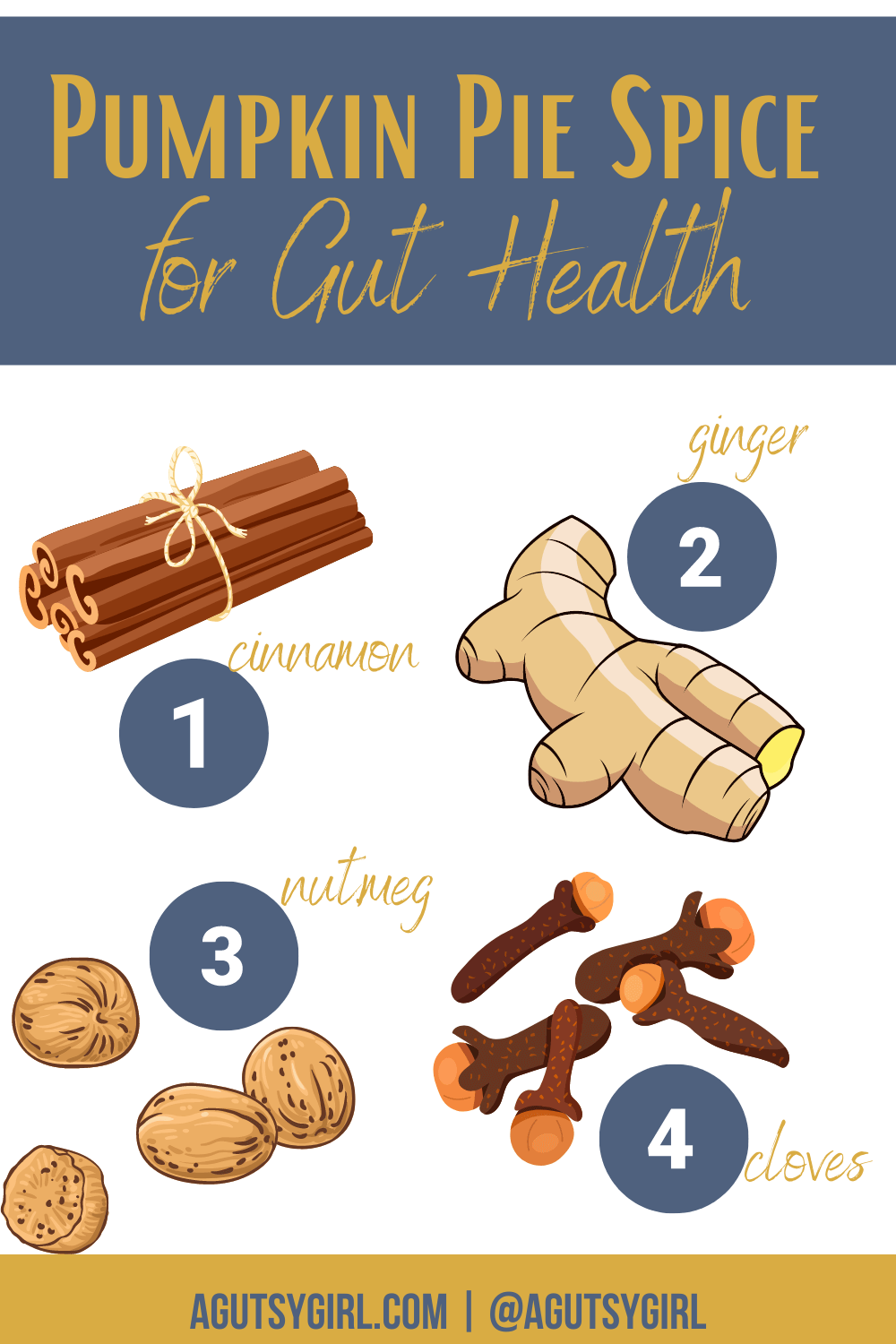 Pumpkin Pie Spice traditionally consists of these four ingredients:
cinnamon
ginger
nutmeg
cloves
So let's chat about each for a quick second.
Cinnamon
Cinnamon is such a champ. If you used it when making the 3-Ingredient Baked Apple Chips, then you already know how and why cinnamon is great for gut and overall health.
As a refresher, though, cinnamon:
Ability to modestly lower blood sugar and improve insulin sensitivity.
May help relieve diabetic neuropathy and promote weight loss.
Could lower triglyceride and cholesterol levels.
Indications for digestion, diarrhea, and bleeding and as a potent antimicrobial, astringent, anti-inflammatory, and antioxidant herb.
Can help tighten, tone, and heal gut damage.
Since it's sweet, it can also replace sugar sometimes.
Can improve heart health.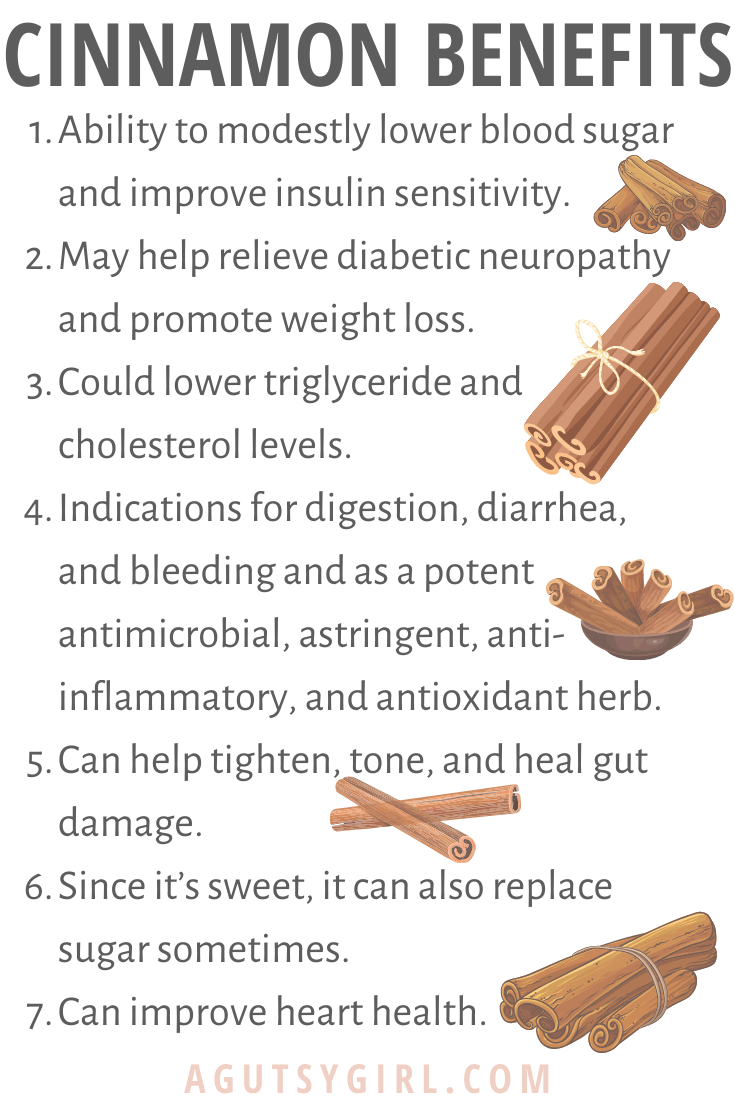 Ginger
Ginger is a warming spice that is always on the "best things to use" for gut health and gut healing.
The number one reason ginger is my jam is because it's a prokinetic which means that it helps stimulate movement or gastrointestinal motility. 
Here are some other reasons ginger is great for the gut:
Anti‐inflammatory, antioxidant, antitumor, and antiulcer effects of ginger have been proven in many scientific studies.
Possesses a carminative (relieving flatulence) effect.
Helps alleviate nausea and vomiting.
Warms up a sluggish digestive system.
Can promote beneficial bacteria.
Kills gut pathogens.
Sources: HERE, HERE, and HERE.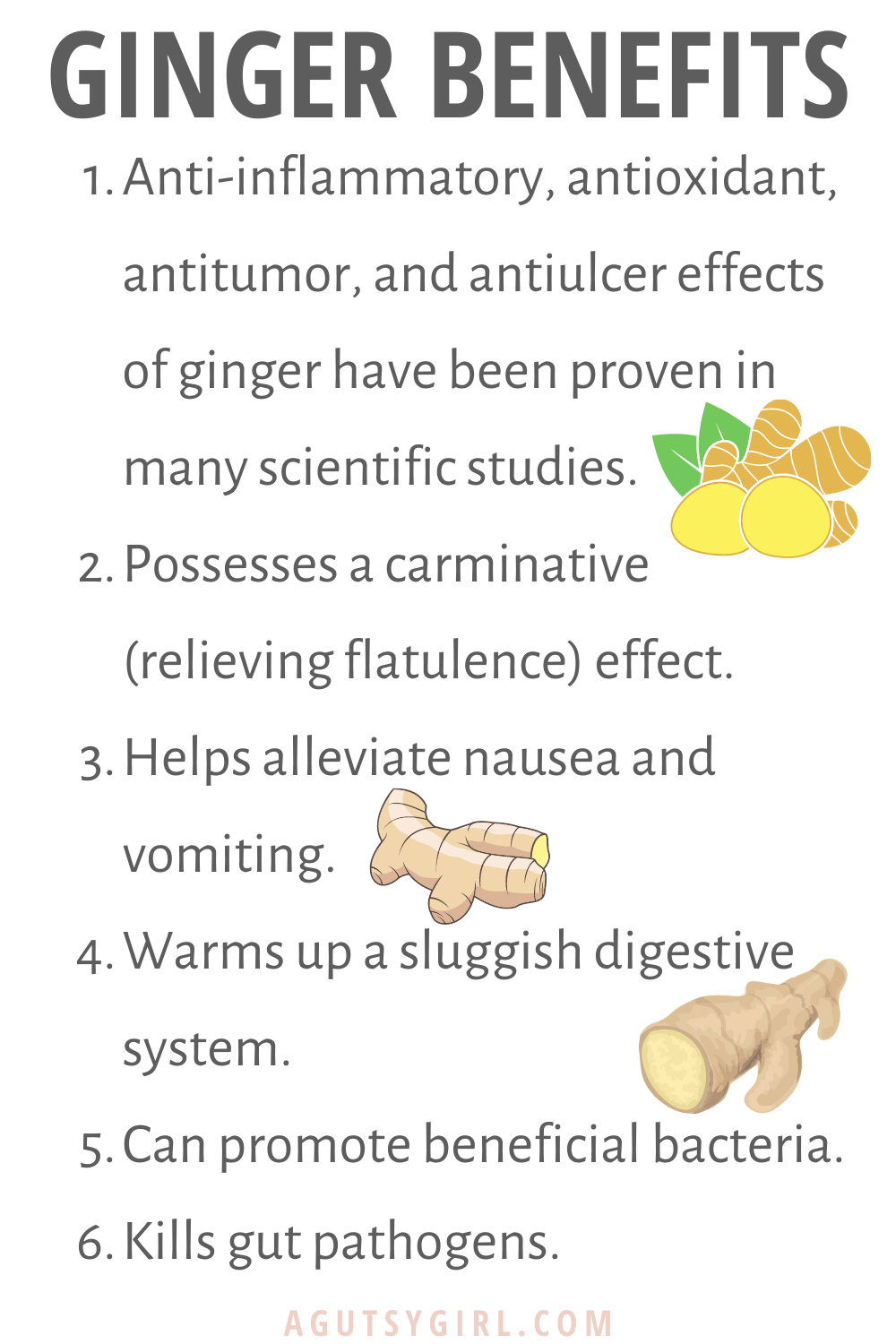 Nutmeg
Is the nutmeg spice sort of a mystery to you, too? Good. It always has been to me because when I look at and smell it, nutmeg seems to be a mashup of various spices.
Nutmeg is a spice from the seed of a nutmeg tree. Nutmeg is the inner seed, while mace is the red, lace-like substance that covers the seed.
Both nutmeg and mace contain 7 to 14 percent essential oil, the principal components of which are pinene, camphene, and dipentene. The oils are used as condiments and carminatives and to scent soaps and perfumes. 
While nutmeg might not boast the direct gut health benefits the others do, it does contain properties that ultimately help with overall gut health:
Contain powerful antioxidants.
Studies have shown its ability to reduce inflammation.
Has antibacterial properties.
It is commonly used for constipation, bloating and gas and even helps in treating stomach ulcers due to its warming properties.
Supports better sleep.
Might help decrease loose stools to treat diarrhea plus support regularity.
Sources: HERE, HERE, HERE, HERE, and HERE.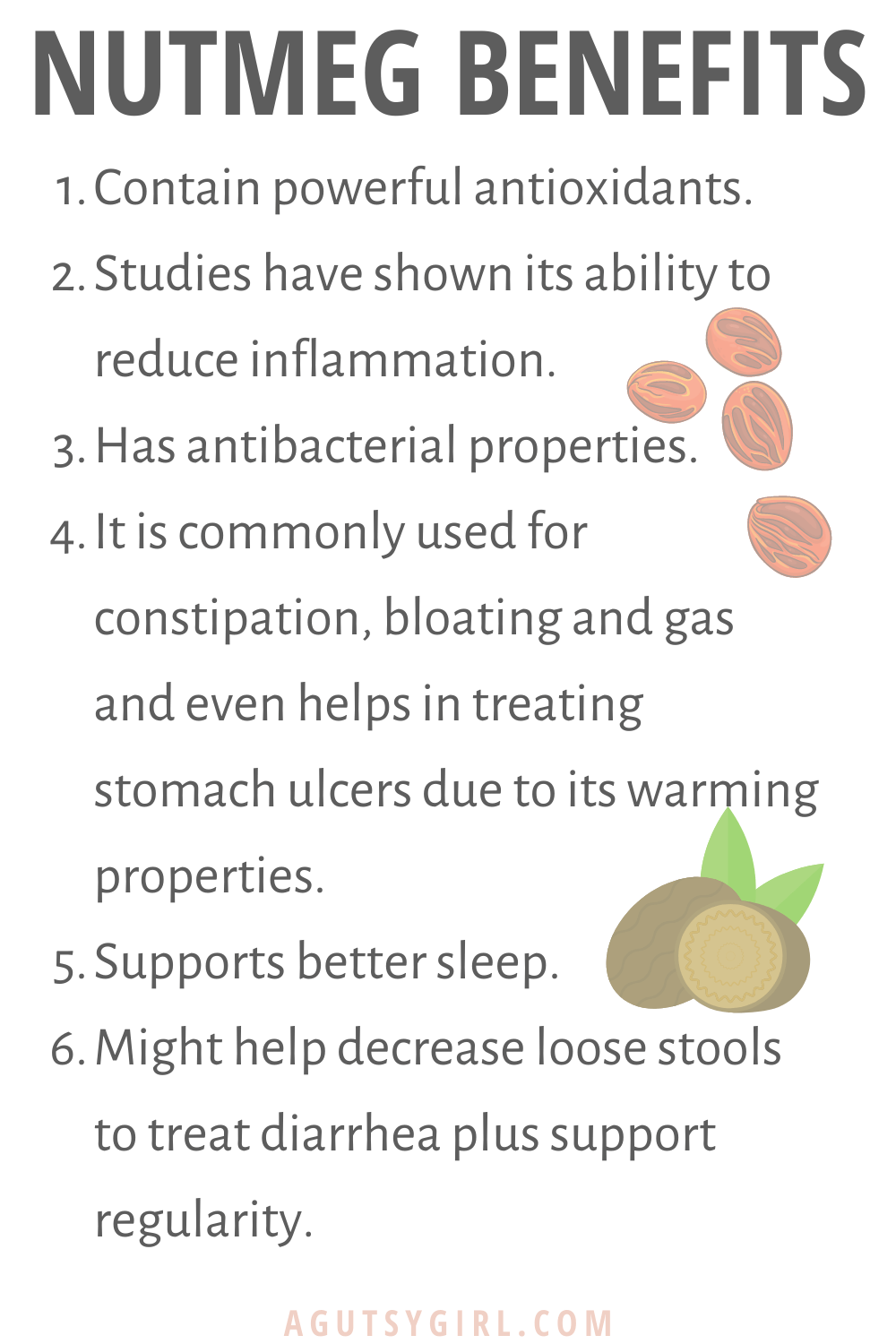 Cloves
And last, but certainly not least, in the pumpkin pie spice for gut health roundup, cloves.
Cloves are a spice made from the flower buds of an evergreen tree called the clove tree. Their flower buds are harvested in their immature state and then dried.
Whole cloves are shaped like a small, reddish-brown spike, usually around 1 centimeter in length, with a bulbous top.
Cloves can be used whole or ground, and they have a very strong, pungent flavor and aroma.
Cloves are a warm spice with an intense flavor and aroma. They are sweet, bitter, and astringent.
Cloves boast the following benefits:
Used to relieve nausea, bloating, and diarrhea.
They are a powerful antibacterial and anti-fungal oil, making it ideal for treating stomach illness and pathogenic overgrowth.
Known to be an antioxidant and anti-inflammatory.
May improve liver health.
Might help reduce stomach ulcers.
Can help with bacterial overgrowths.
One herbalist even stated,
Clove is helpful with most forms of dysbiosis, be it SIBO screened for with a SIBO breath test, large bowel infections and overgrowths of bacteria, fungi and even parasites often found using stool testing like The Complete Microbiome Mapping test (the Australian version of the GI MAP).
Where are my SIBO friends at?!
Sources: HERE, HERE, HERE, and HERE.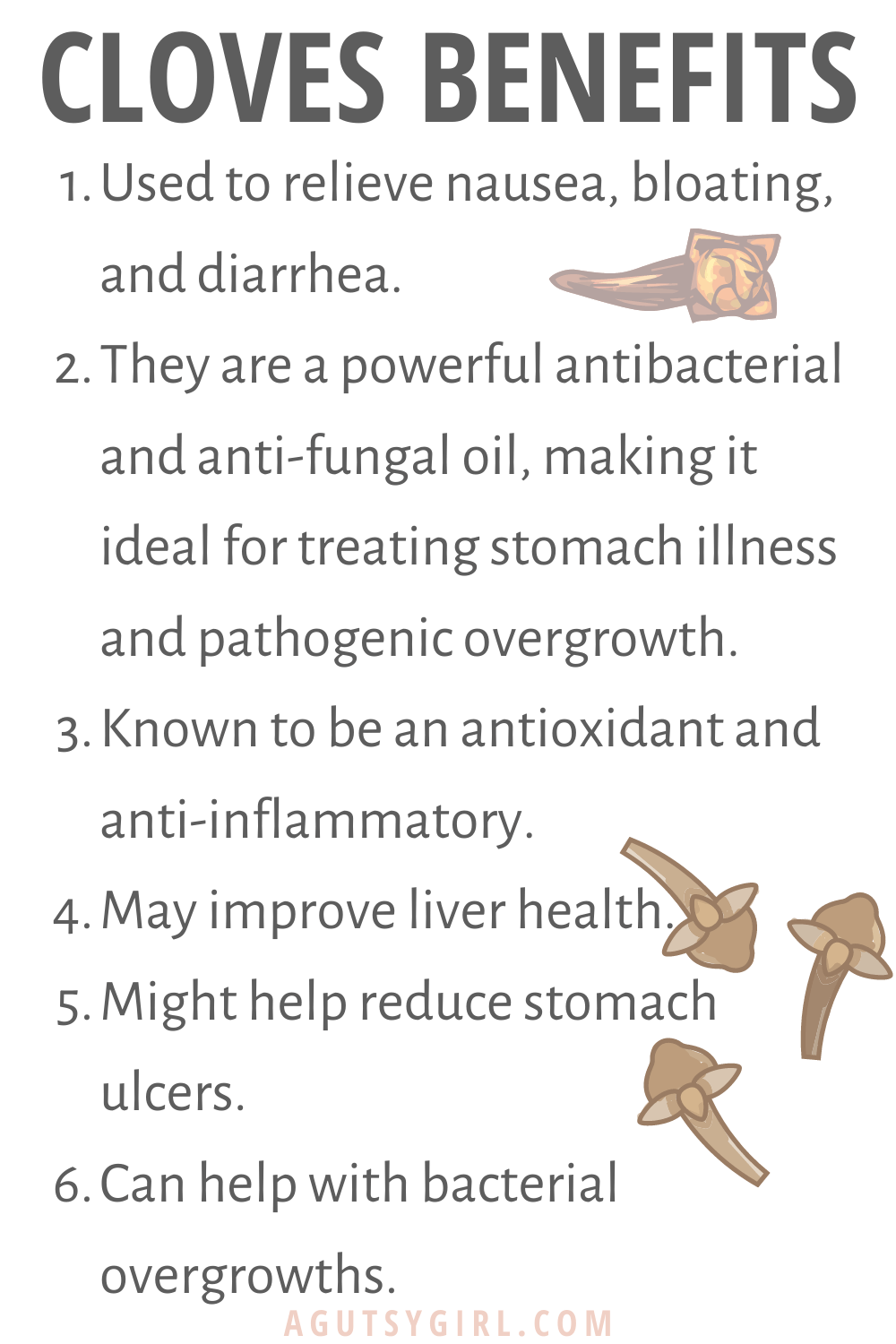 Spices and Herbs Cautionary Note
Spices and herbs are incredible. I'm beginning to study more about them as they relate to overall health and healing. 
However, it should be noted that with all spices and herbs, you must do your own research and work with your medical practitioner for any and all individualized health conditions. 
The beauty, but sometimes curse, of spices and herbs is that they are powerful beyond measure.
---
Did you know? 2 of the 4 pumpkin pie spices for gut health are on my list of 7 Essential Oils for Gut Health? In fact, I have Clove diffusing everywhere in our house currently. 
Grab the 7 Essential Oils for Gut Health HERE.
---

Pumpkin Season
And there's more!
Pumpkin season always requires a lot of recipes so I have a recipe to go along with this because…..gut health.
Yes, it's true. This muffin recipe is not only insanely delicious, but it also contains all the pumpkin pie spice pieces as described above.
Though this recipe makes for a wonderful breakfast option, it's such a treat that it can be served as dessert, too.
It contains no gluten, grains, soy, refined sugars, or dairy. The recipe is Paleo, and it's so good that no one will know they are eating such a high-quality muffin.
Pumpkin Spice Muffin Recipe
Click HERE to save this recipe for later.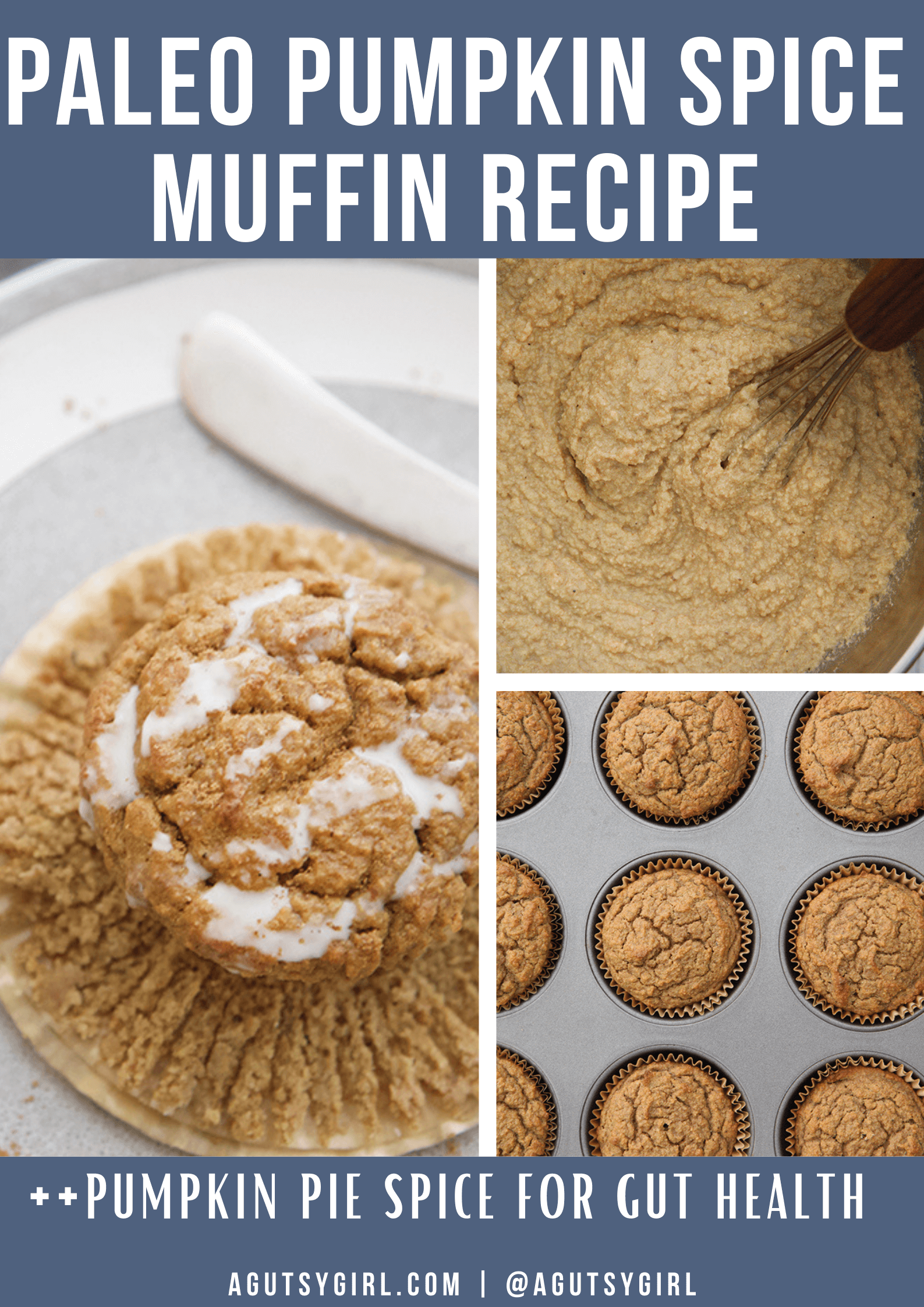 Paleo Pumpkin Spice Muffin
Prep time:
Cook time:
Total time:
Fall-inspired with gut-healthy spices Paleo breakfast muffin.
Ingredients
1 cup coconut flour
1 cup unsweetened almond milk
5 eggs
⅓ cup maple syrup
¼ cup Nutiva Organic Vegan Shortening
¼ cup canned pumpkin
1.5 Tablespoon pumpkin pie spice
1 Tablespoon + 2 teaspoon vanilla extract
tsp lemon juice
½ teaspoon sea salt
baking soda, ½ teaspoon
nutmeg, ½ teaspoon
Instructions
Preheat oven to 350 degrees.
Line a 12-count cupcake holder with liners (or coat very well with oil / spray).
Place all dry ingredients in one bowl. Stir, and set aside.
Place all wet ingredients and beat together by hand (or with a handheld or immersion blender).
Add wet ingredients to dry ingredients and stir together by hand.
Pour batter into cupcake liners, filling a little more than ¾ way full.
Place in the oven and bake for 29-33 minutes, until the tops are golden brown (depending on your oven).
Remove from oven, and enjoy!
Notes from the recipe
The Nutiva Organic Vegan Shortening is my favorite shortening on the market. If you have the Master Spreadsheet, you'll find it (and many other items) under the 'Holiday Baking' tab.
I think the best unsweetened almond milk is from Elmhurst because it contains just two ingredients: almond and unfiltered water. If you don't want to use almond milk, HERE are many other non-dairy options to choose from.
To make the super simple drizzle you see on top of the muffins via images, simply:

Measure 1/2 cup coconut butter, then melt.
Place coconut butter and 1 Tablespoon liquid coconut oil in a pan over low, stirring until fully blended and melted together.
Drizzle over the muffins.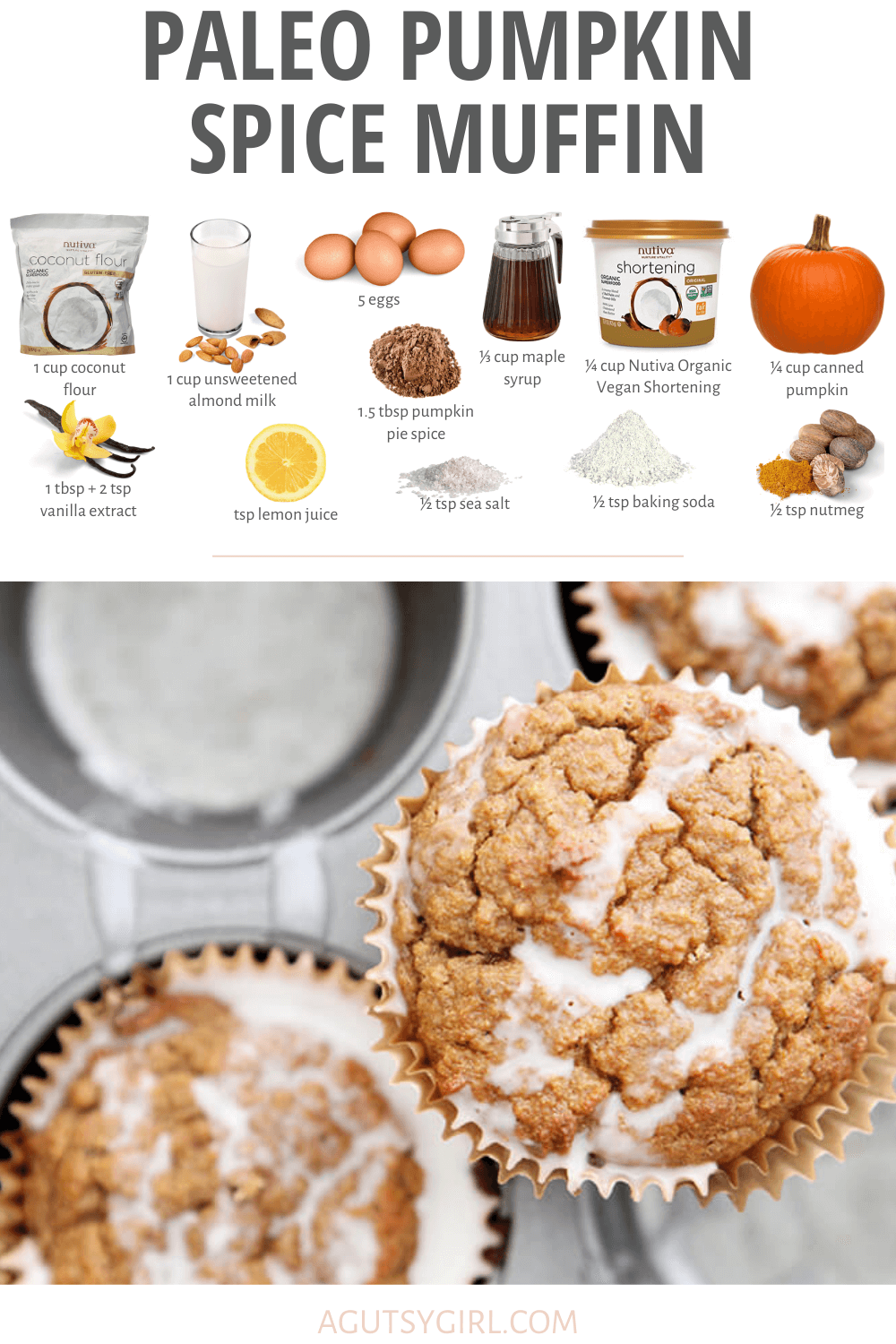 Both the coconut butter (Nutiva's Manna) and liquid coconut oil can both be found under the same 'Holiday Baking' tab. You're welcome.
Whew – that was a whole lot of pumpkin spice. But so worth it!
If you liked this post, you might also enjoy:
Xox,
SKH
You will heal. I will help.