Ready to play this Monday morning? Here we go with A Gutsy Girl's Favorites Issue 19.
One thing I've been super grateful for this summer is the desire, freedom, and flexibility to be outside a ton. From walking the lake to being at the pool, sitting on the porch and watching the kids play…..outside, all the time.
As summer is closing in, this year I feel an awful sadness. Usually I can't wait for fall to arrive; but I can definitely wait this year.
Anyways, this summer, all things considered, has actually been truly great! And here are some of my favorites from it.
A Gutsy Girl's Favorites Issue 19
Click HERE to save this post for later.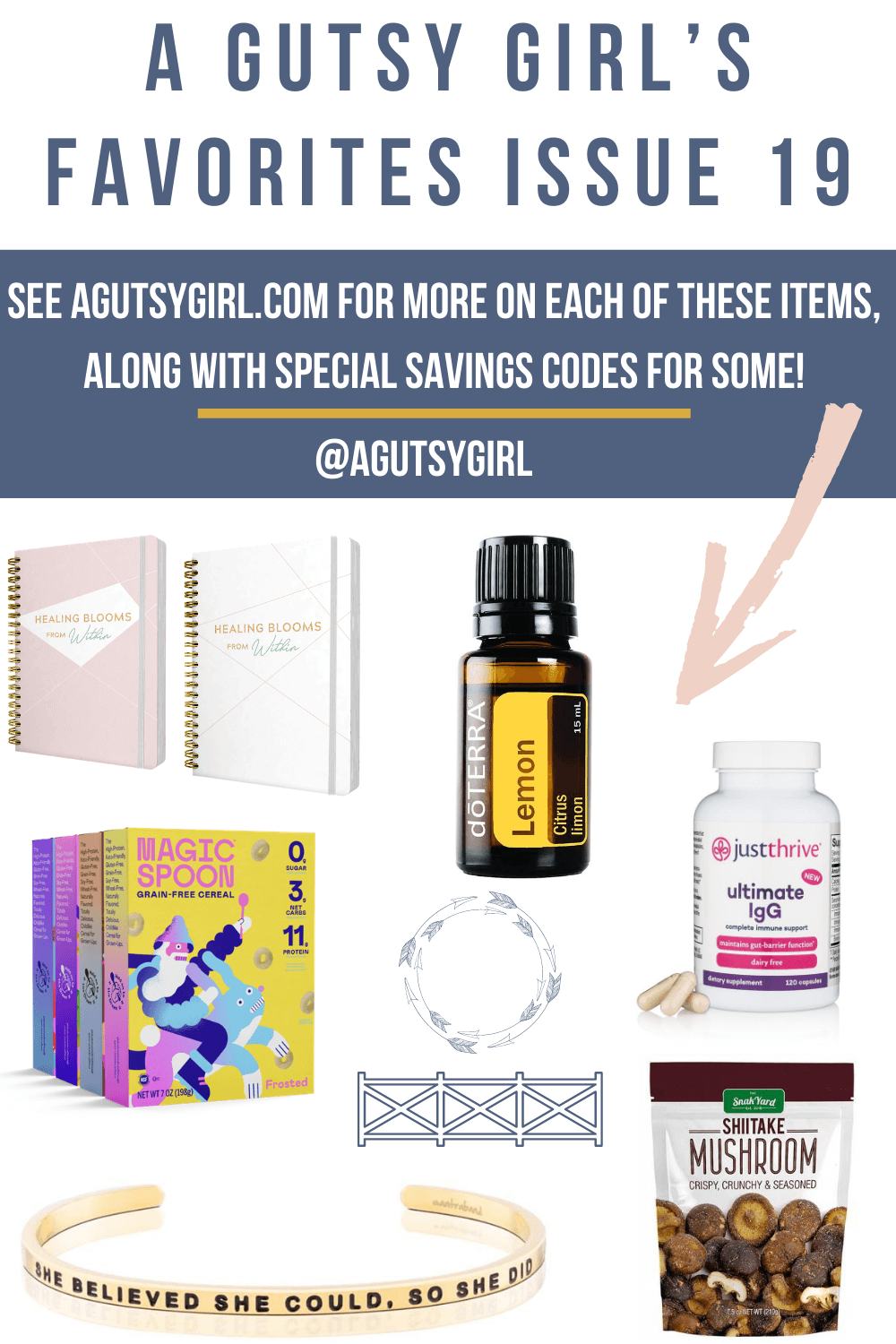 Journal

Creating my own, 90-day gut healing journal was an idea that you brought to me in the 2020 New Year. Honestly, I wasn't sure I could make it happen. There are a lot of moving parts with creating a physical product, but here we are. Healing Blooms from Within was born. The very first batch of them should be shipping by end of August.

This one is in the number one spot on this favorites list because I'm obsessed. Actually am obsessed. When I was just starting my journey (or for every round of Rifaximin/Neomycin), this would have been invaluable. Even though I'm healed, I will also use it – because there are implications for overall gut health and daily happiness. You'll see once yours arrives. If you don't have yours yet, you can get one HERE.

dōTERRA

There are really only two brands of essential oils I have purchased and used during the past several years: NOW Foods and dōTERRA. The NOW Foods Chamomile is incredible! However, on the whole, I think the dōTERRA oils are much stronger.

This summer, we have been in love with the lemon and lemongrass scents. We use them in everything to make our house smell as summery-fresh as possible. And listen, that's hard to do when you have a 4, 5, and 6 year old and a 1-year old Peekepoo and two male Great Danes! Do you see what I mean?!

Boho Farmstyle

Remember, darling, my favorites list is not only for gut health and healing. It's to share all the things I'm currently loving on. Believe it or not, there is more to me than poop chat. Not much, but some 🙂 The longer we live in our house (which is our forever home), the more I am able to see exactly what I want it to become. My style has always been very farmhouse-style-ish. But that look has changed in different ways over the years. What I started noticing was that I felt drawn to Boho (Bohemian) Style as well. Actually, I wouldn't call it full Boho Style by any means. It seems so much like Boho Farmstyle.

And as I started collecting some Boho things, placing them about the house, I wondered, "Is Boho Farmstyle even a thing?" Turns out is is, in fact. Just do a "Boho Farmstyle" Google search; you'll see. Anyways, you can check out my Boho Meets Farmstyle Pinterest board HERE. If you want to watch our house evolve, you can. I did my first DIY project – the Painted Bookshelf – post last week, with before-and-afters. I'll be sharing the new Boho style chandelier my brother put up this past weekend soon, too.

Ultimate IgG Immune and Digestive Support

I'm not about to make anyone paranoid, but I'm sticking with the Ultimate IgG Immune and Digestive Support forever (especially during these times). Not all that long ago, I ran out. And during that time, I came down with a minor cold. A new supply couldn't get here fast enough! I'll never allow the supply to run out again.

I now take 4 capsules per day; 2 in the morning, and 2 at night. This is how Tina, the company founder and CEO, takes hers as well. There is nothing like a rockin' immune and digestive system. Nothing. As always, when you use my code AGUTSYGIRL at checkout, you'll save 15% on THIS product and all their products.

MantraBand

I've been wearing three of these almost daily. The three I wear are: She believed she could, so she did (in gold), What if you fly (in rose gold), and One day at a time (in silver).

And I wear them on my right wrist, which is also where I have my tattoo (III:XI). So simple, and so much joy. MantraBand has everything inspiration. They make awesome gifts, for yourself or others, and I'm hoping to do a custom band with them at some point. Until then, you can use code AGUTSYGIRL HERE to save 10% on anything MantraBand.

Costco Mushrooms

From bands to mushrooms. But seriously. I'm not talking about plain old mushrooms. I'm talking about the snack, The Snak Yard Shiitake Mushroom. You can see them HERE. Each time I go to Costco now, I'll buy at least 1, if not 2, bags. There is something ultra-addictive about them. Crunchy, sweet, salty, all of it. If you like mushrooms, you'll love these. But even if you don't love mushrooms, you still might like these.

Magic Spoon Cereal

I did not want to love this cereal, but it is – hands down – one of the best cereals on the market. Have you seen or heard of Magic Spoon yet? Okay, check them out HERE. We got THIS variety pack, which includes the following flavors: fruity, frosted, cocoa, and blueberry. Now, I wish I could tell you I had a clear-cut fave, but I can't. They were all too good to pick just one.

Fruity tastes like fruity pebbles
Frosted tastes like birthday cake
Cocoa tastes like cocoa puffs
Blueberry tastes like blueberry magic
This cereal is not cheap. However, it is high protein, low carb, contains 0g of sugar, gluten free, grain free and no artificial anythings. There is dairy in it, but the label is ultra-"clean." No, this won't be a staple cereal for us because we don't do cereal daily and also because it is expensive. But I will buy it again-and-again because it's that good. If you want to try it, you can use my code AGUTSYGIRL at checkout HERE to save 10%.
Favorites
And that's another A Gutsy Girl's Favorites Issue 19 wrap.
Anything you're currently loving?
Previous Favorites

Xox,
SKH
You will heal. I will help.