The idea behind the Gut Garden GoodGut Program is another example of the gut healing vs gut health scenario.
Remember, this is what gut health vs gut healing looks like.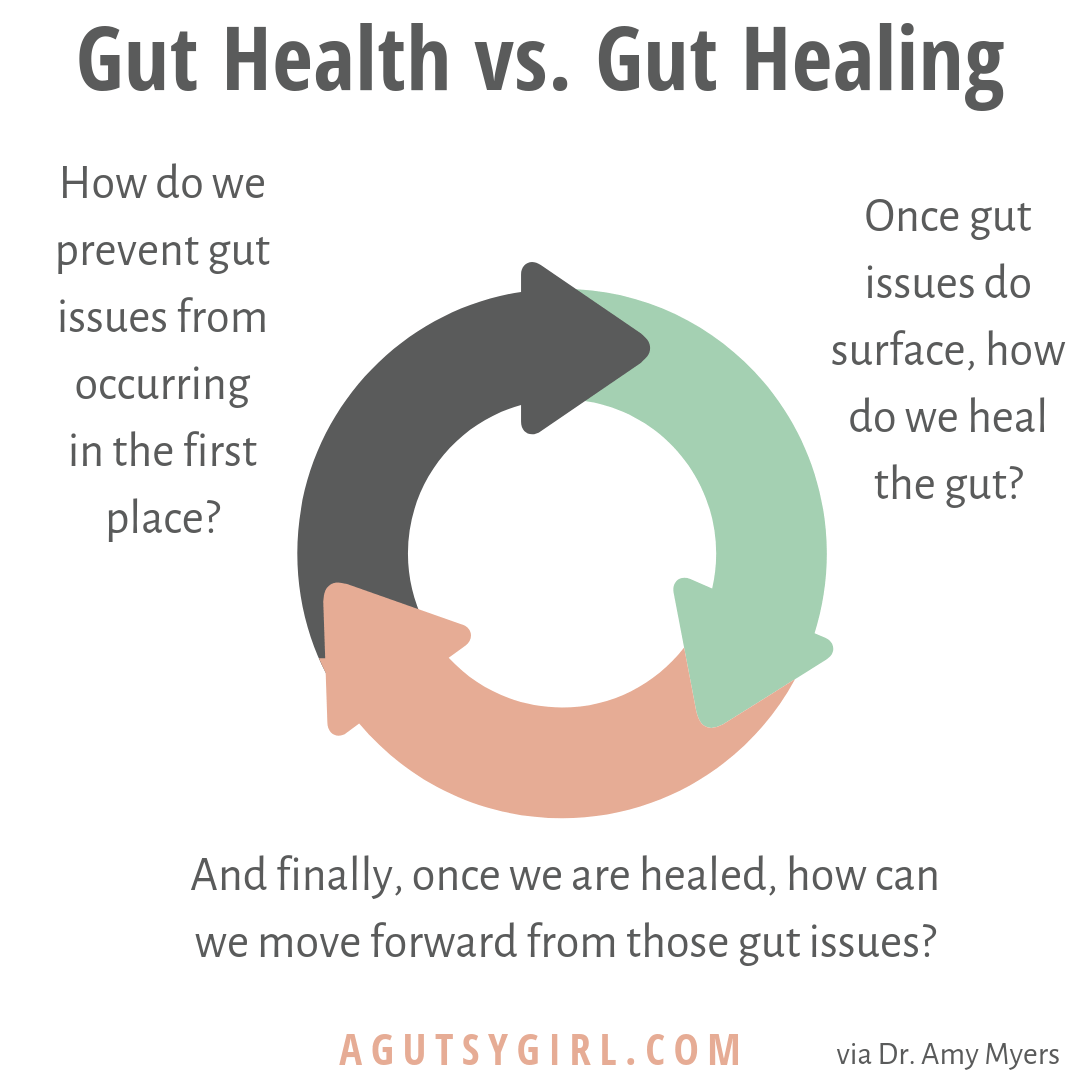 Healing Leaky Gut Syndrome fast includes the following healing to health steps: remove, replace, repair, rebalance.
And in Gut Garden's GoodGut Program there are 5 steps to optimal gut health: clean, prepare, plant, feed, and protect.
Give me any scenario, product, meal place, etc, and I can tell you which phase and for whom each part is meant for.
From the above three examples, here is where I'd place each of them.
Gut Healing
once gut issues do surface, how do we heal the gut?
remove
replace
clean
prepare (in this instance, prepare goes on both sides)
protect (this one goes on both sides)
Gut Health
and finally, once we are healed, how can we move forward from those gut issues?
how do we prevent gut issues from occurring in the first place?
repair (could probably be on both sides)
rebalance
plant (depending on the situation, this one could go on both sides)
feed
Is this starting to make more sense now?
The idea really is that it's all supposed to work together in some way, shape or form. You shouldn't be in a strict healing phase forever or you'll never achieve optimal gut health. Trust me, I know. I've been through it all – which is why my healing journey lasted a decade.
Lily Berman Lopez, the founder of Gut Garden knows it all too well, too. She created the GoodGut Program after a journey with two parasites, SIBO, and more.
If you are interested in listening to her story and how she healed, she and I recorded a podcast episode.
Gut Garden GoodGut Program
Click HERE to save this post for later.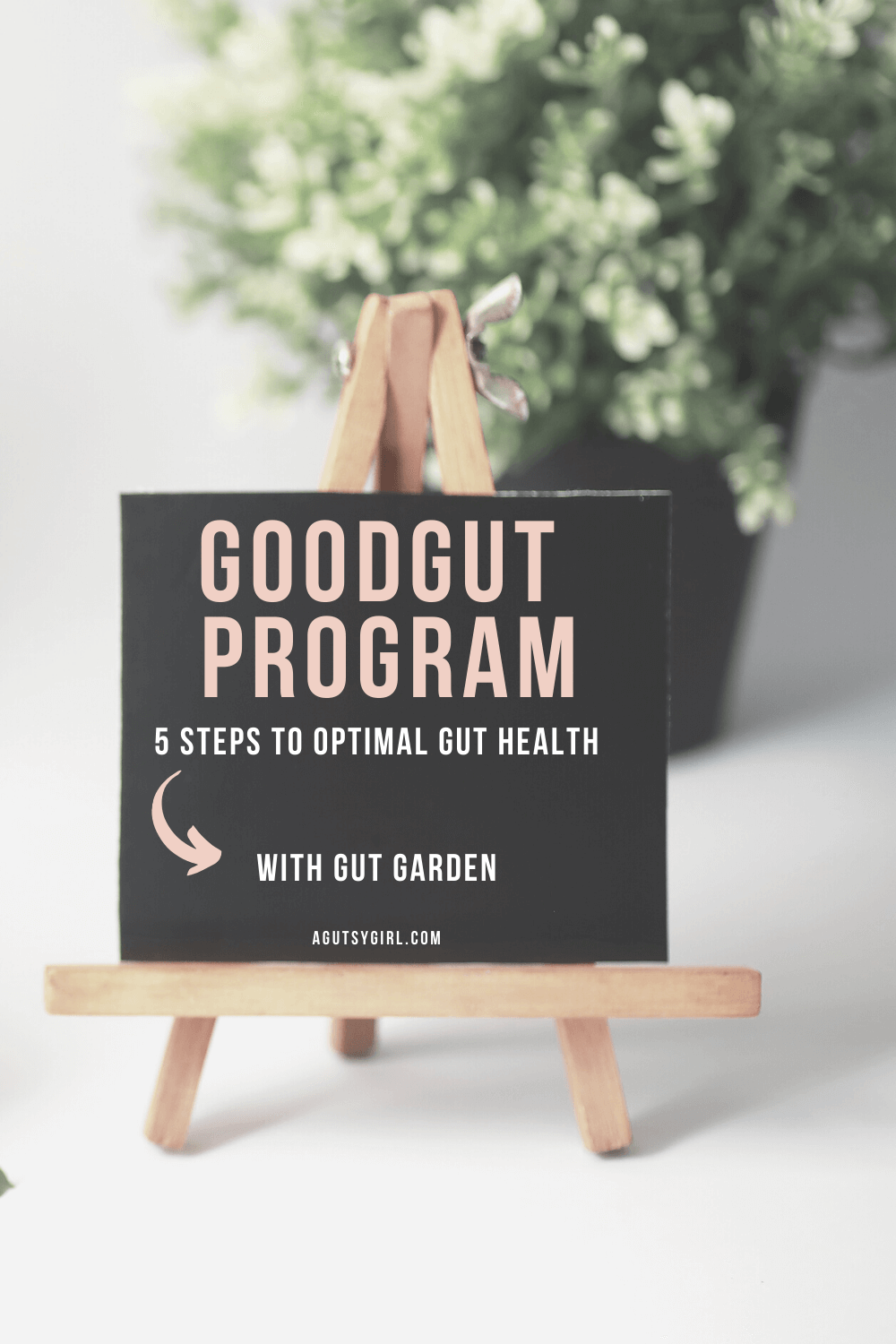 The GoodGut Program is a 5 step program to optimal gut health. The program is based on the functional medicine approach to digestive health and consists of the following five steps.
Each step, or supplement, is symbolic of healing your gut as you would treat and take care of a treasured garden.
Below you'll find each of these 5 steps, along with the GoodGut Program product to coincide with the step. If I have written a post about that specific product (from Gut Garden), it will also be linked for you to review.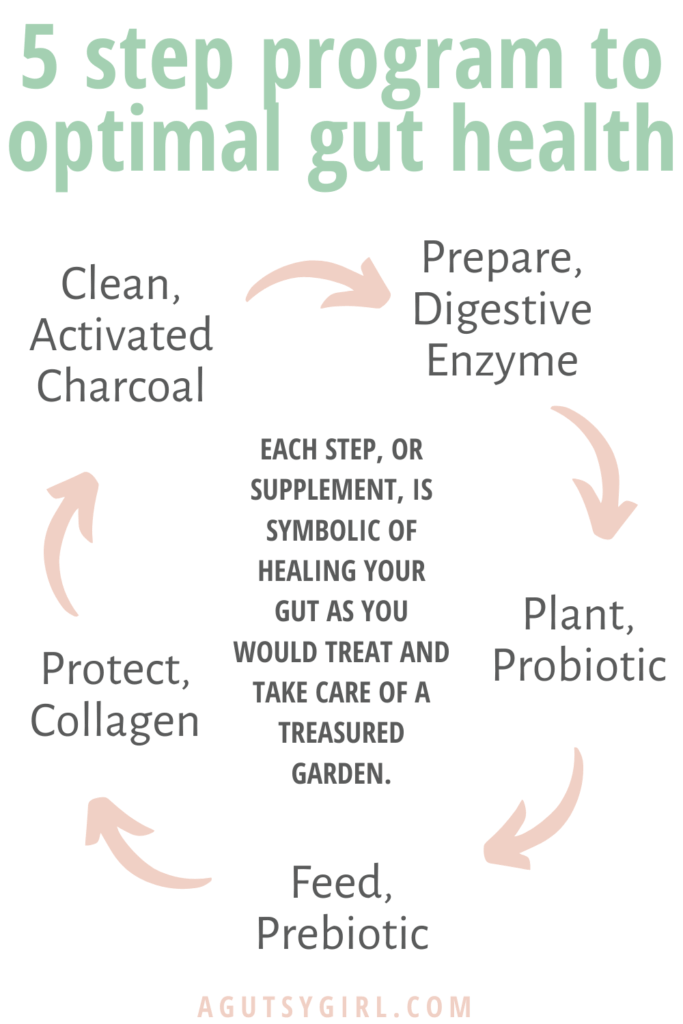 Clean
Safely absorb and remove toxins and unwanted material through the digestive tract and out of the body. The product used to do this is the activated charcoal.
Prepare
Replace digestive function that may have been depleted or compromised over time to help digest fats, carbohydrates, lactose and protein.
For this, a digestive enzyme is used.
Plant
Reintroduce beneficial bacteria with probiotics to optimize metabolism, digestion, and immune function.
Feed
Many beneficial bacteria thrive by feeding them with a broad spectrum prebiotic to promote bacterial diversity.
Protect
Restore and strengthen the intestinal linking with the amino acids and nutrients found in collagen.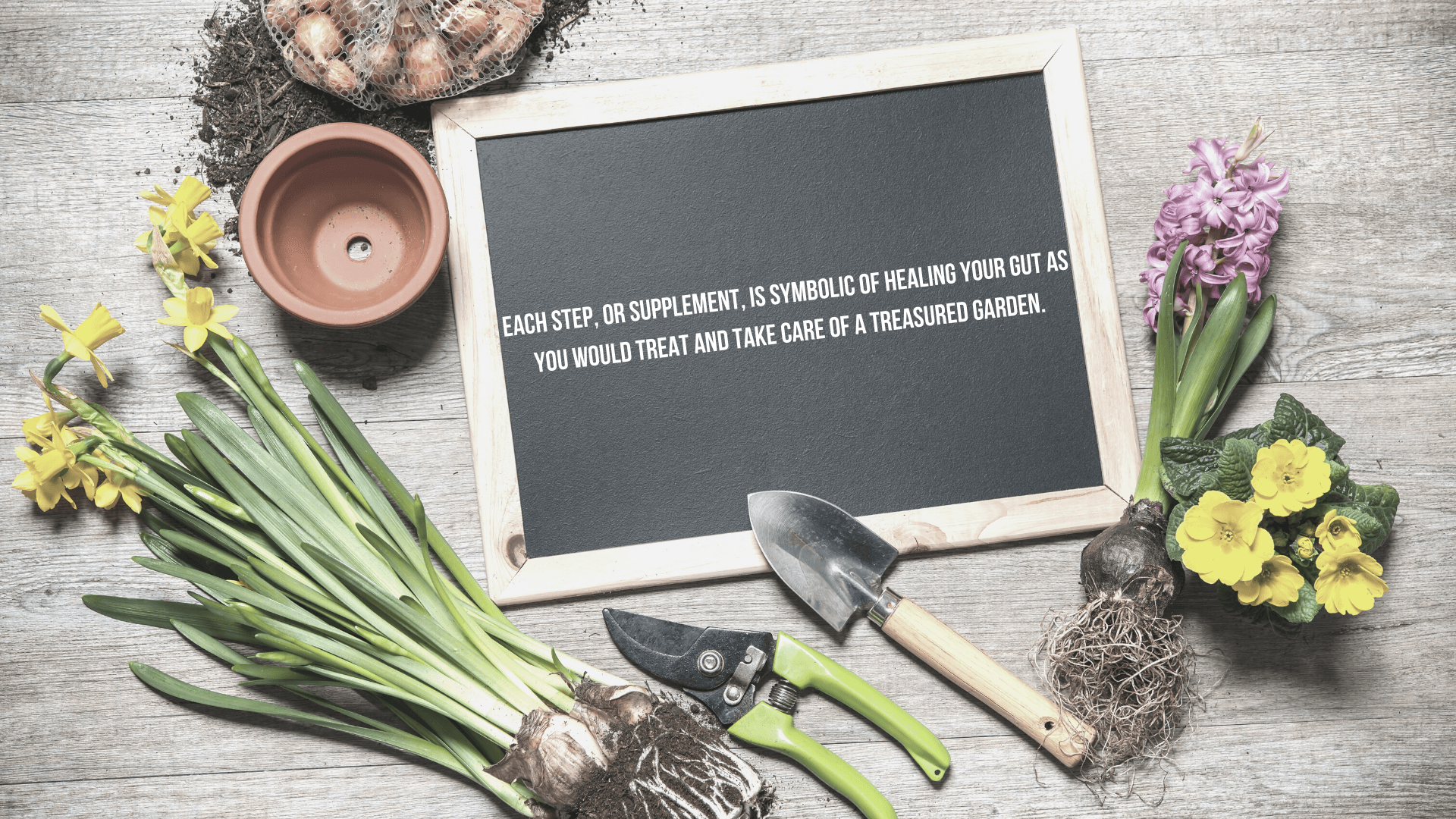 Suggested Product Schedule
Here is the suggested schedule for how and when to take the products (based on a 30-day protocol):
Activated Charcoal: Take 1 capsule with a full glass of water 2 hours apart from meal and any medications on days 1-5. After the first 5 days, use as needed to resolve occasional indigestion, gas and bloating.
Morning, wake up: probiotic and work up to 1 scoop of Resistant Starch per day
Breakfast: enzymes, take 1-2 capsules with meals, especially meals high in protein and fat. Also, stir 1-2 scoops of the collagen into hot or cold liquids.
Lunch and dinner: take 1-2 capsules with meals, especially meals high in protein and fat.
Note: These are all SUGGESTIONS from Gut Garden. Some of these might not be right for you at those times (or even at all).
For example, if you have active SIBO right now, the Resistant Starch is a product you won't likely want to include. Set it aside for when you're more in the gut health phase.
Work with your practitioner on all.
And keep track of it all in your 90-day gut healing journey journal. It's the simplest, truest way to watch (and monitor) progress over time.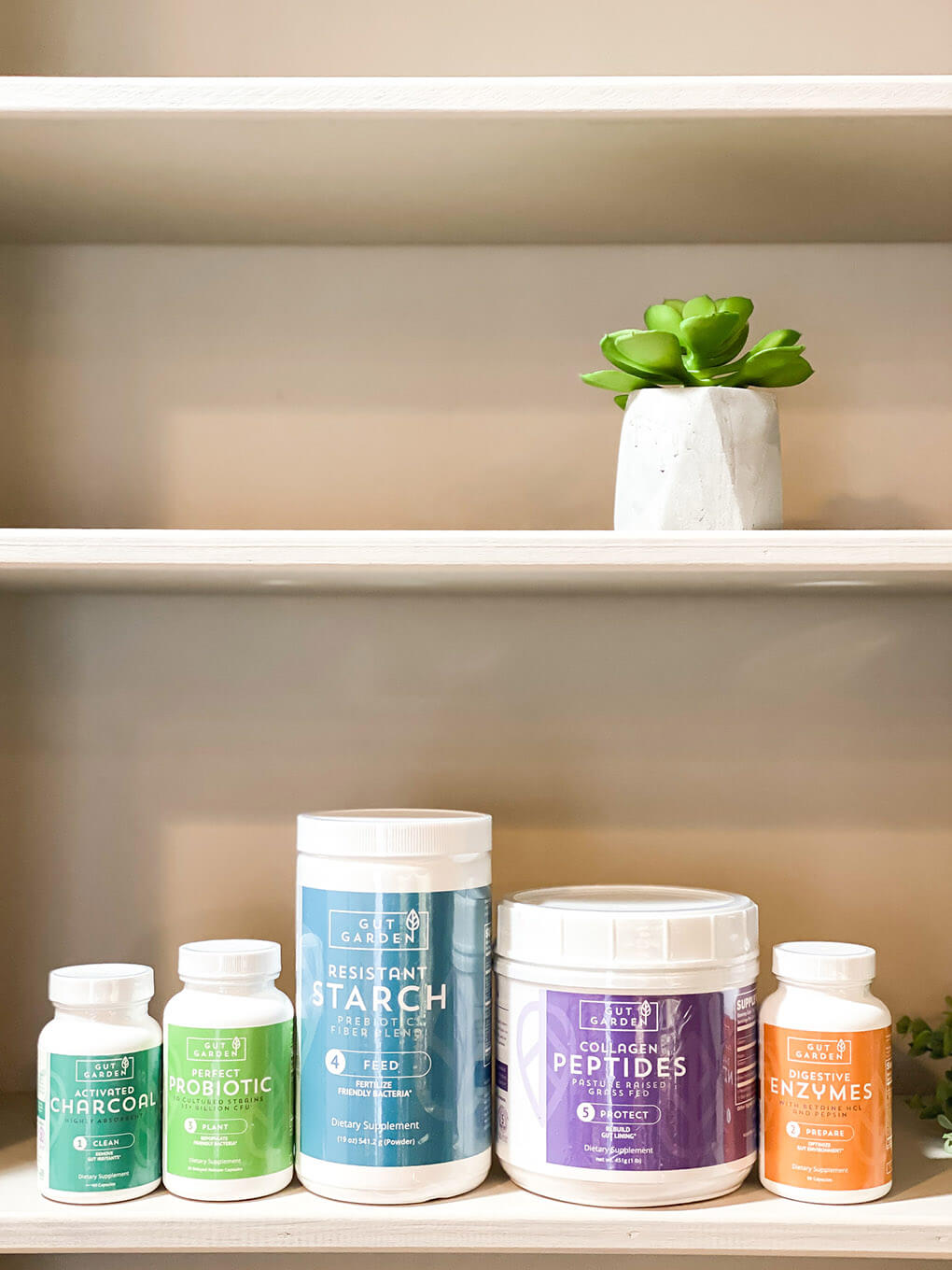 Supplemented: Who is the GoodGut Program For?
I wanted to feature the GoodGut Program finally for two reasons: it's a program that's completely put together for you. Because of this, there are two specific groups of people who might highly benefit from it right now.
At home, focusing on you. Are you spending time focusing on you currently? Is it sort of like a part-time job because you really want to heal? If now is your time, this might be for you.
Healthcare practitioners. If you are a healthcare practitioner and are interested in using this 5-step program to walk patients through, Gut Garden has a wholesale business. If you have moved your practice to teleconferencing appointments, Gut Garden can ship directly to your patient.
HERE are all of Gut Garden's products. See the "GoodGut Program" under the Shop tab.
---
And, of course, as always, you should work with a healthcare practitioner to treat any underlying infections, parasites, bad bacteria or yeast. Consult with your practitioner on the regimen and any implications it might have for your personal health and healing journey.
---
If you enjoyed this post, you might also enjoy:
Disclosure: This post is a paid partnership with Gut Garden. All opinions stated here are 100% my own. I appreciate your support, as this compensation helps with expenses to keep this blog up and running, and for me to continue sharing all that I can with you. For my full disclaimer and disclosure click HERE. Thank you for your support!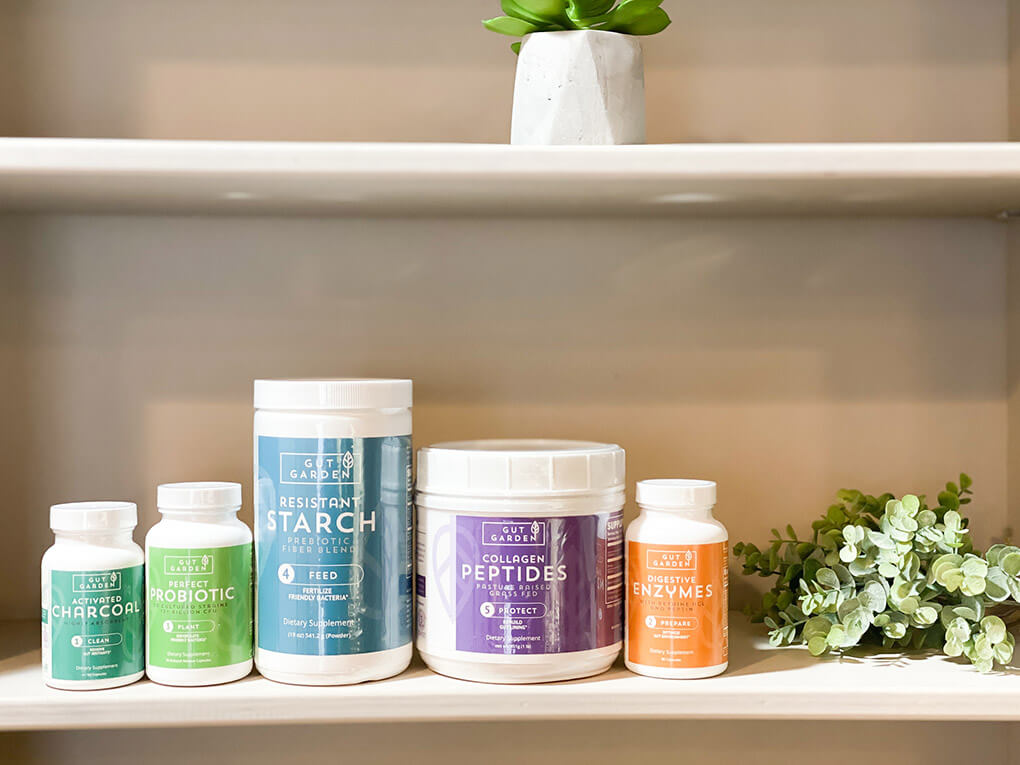 Xox,
SKH
You will heal. I will help.