I'm doing a DL MD Liquid Multi-Vitamin Supplement Review today, the first multi-vitamin review I have ever done on A Gutsy Girl.
There are two main reasons I decided to finally dig into this topic:
Nutrient deficiencies are very common in those with IBS and IBD. In fact, if you have SIBO, I do a series on specific nutrient deficiency associated with the condition.
I'm constantly being asked, "What multi-vitamin do you take," and "Is there a multi-vitamin you like for your kids?"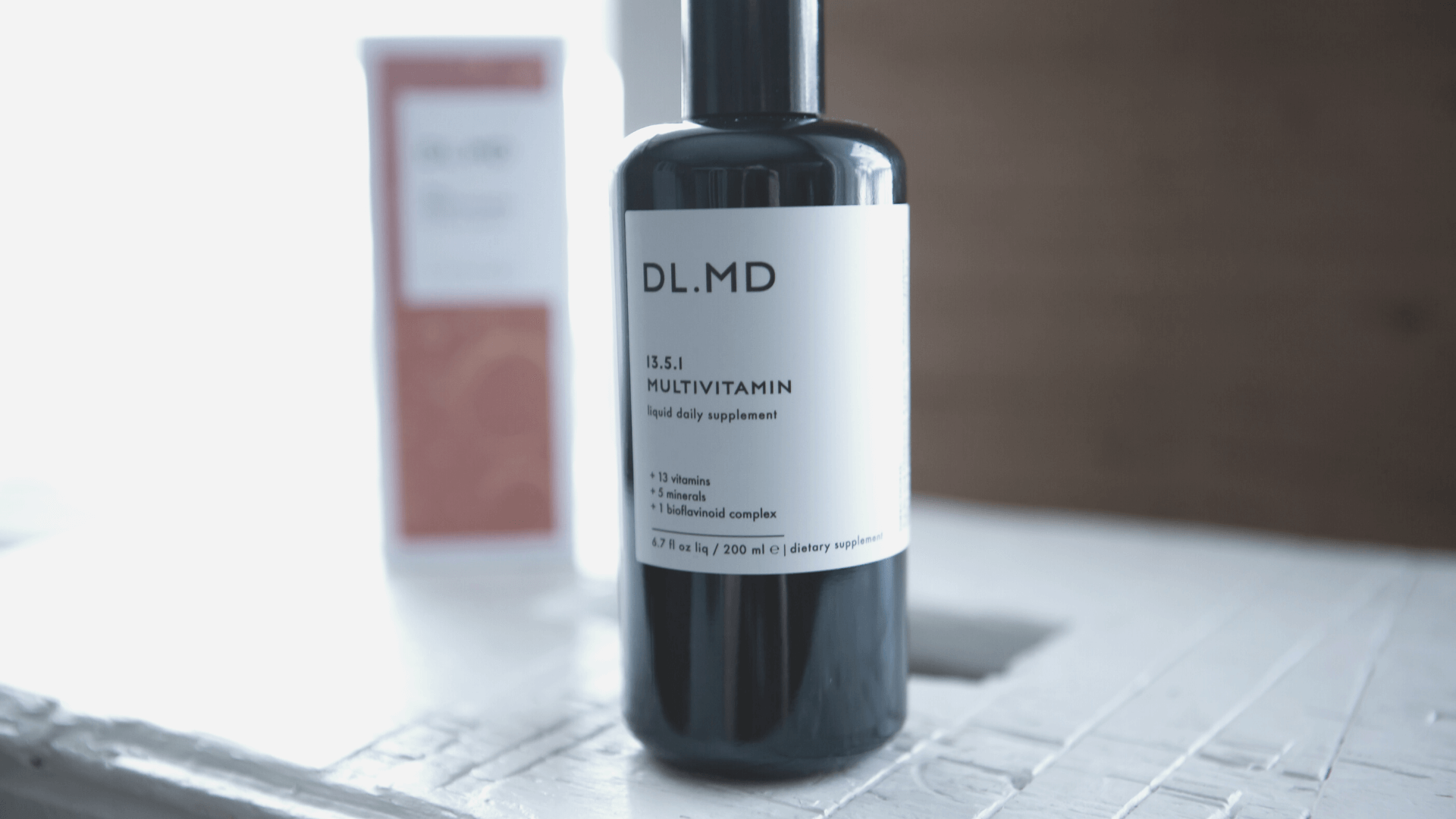 Ladies, mama, this is you time. I'm starting with you, and not the kids. I'll get there eventually. But guess what? 'Tis the season for illness and if you do have children you'll understand this….if Mama is sick, ain't nobody well 🙂
I'm not just writing a one-and-done post on the DL.MD Liquid Multi-Vitamin Supplement. This is a series of three posts because I believe in equipping you with the best, most comprehensive and digestible information.
After the general review today, I'll also be sharing:
You're welcome for both the information and guinnea-pig-ness. Can you tell I was part English major?!
DL.MD Liquid Multi-Vitamin Supplement Review
Click HERE to save this post for later.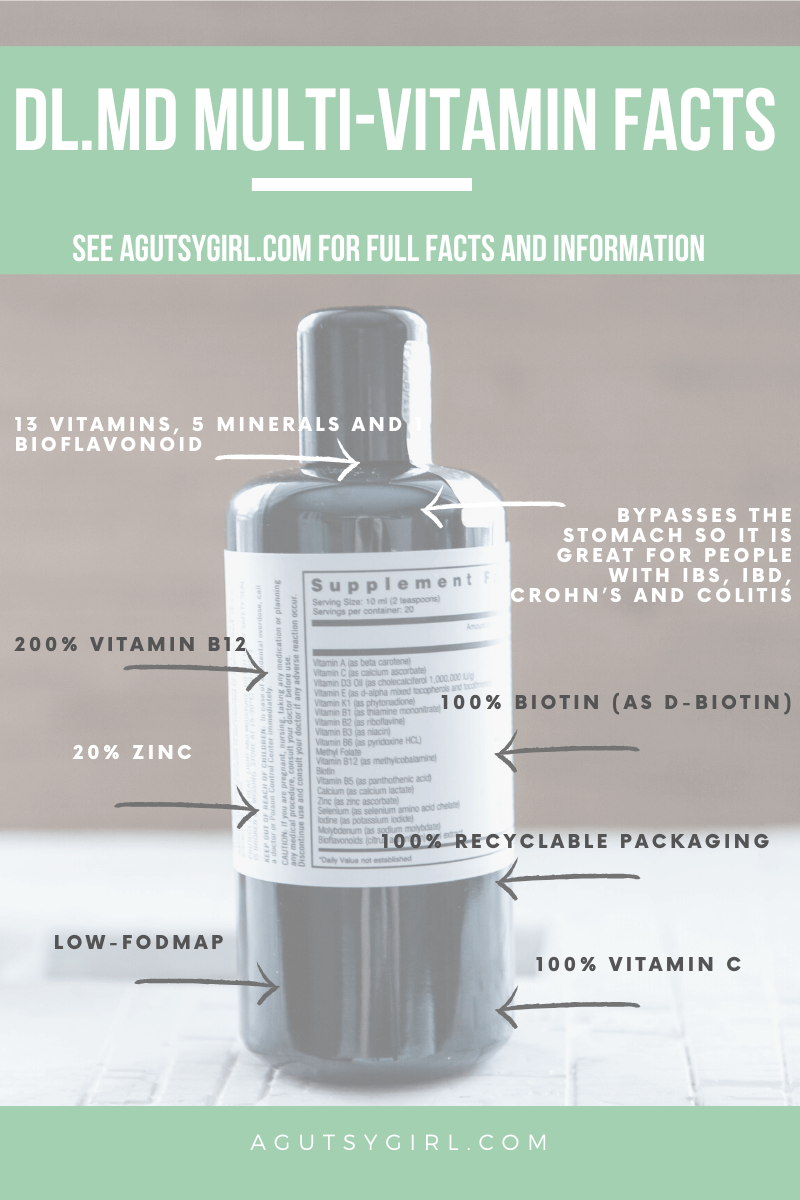 DL.MD claims they are all you need, nothing you don't. The liquid supplement has undergone independent lab testing to make sure they contain the percentage of ingredients that is written on the label.
And here is more about what goes into the claim.
What is the DL.MD Liquid Multi-Vitamin Supplement?
DL.MD is a highly absorbable (98% nutrient absorption compared to 3-20% from pills & gummies) liquid multivitamin.
Dr. L is a medical doctor who created the product. She got tired of taking 15 different supplements a day, so she formulated a multivitamin that has the 13 essential vitamins your body needs with 5 minerals and 1 bioflavonoid for your body to most effectively use the vitamins.
DL.MD Multi-Vitamin Facts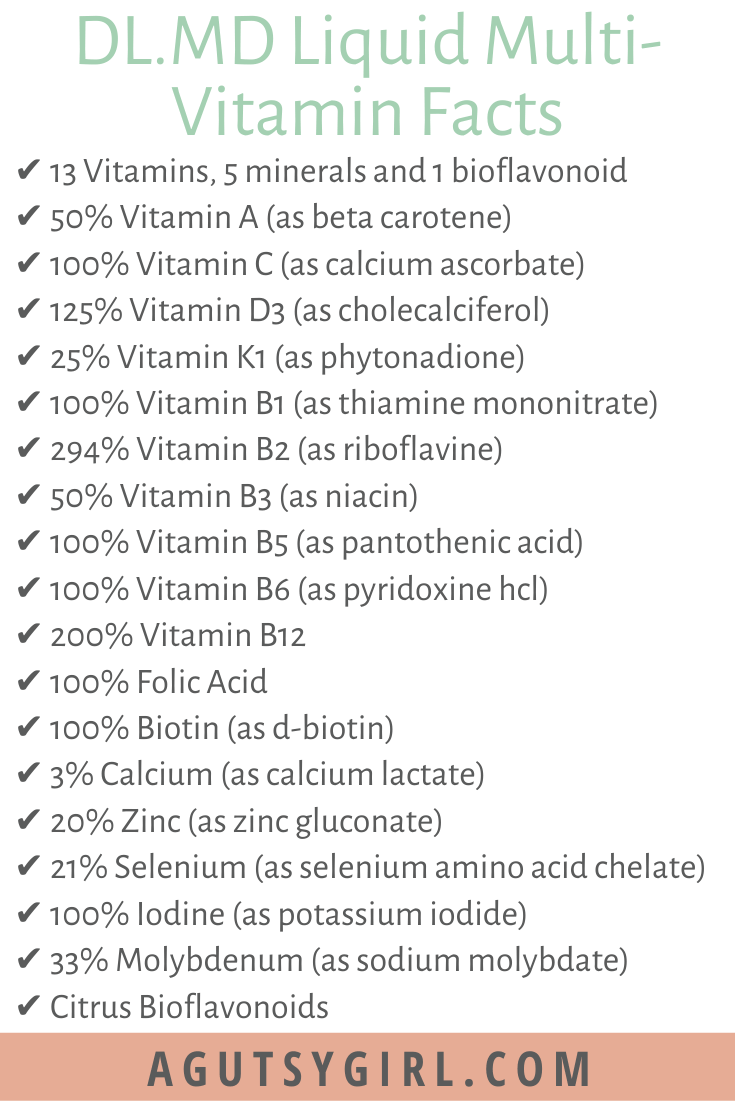 The meat-n-potatoes of the product looks like this:
13 Vitamins, 5 minerals and 1 bioflavonoid
50% Vitamin A (as beta carotene)
100% Vitamin C (as calcium ascorbate)
125% Vitamin D3 (as cholecalciferol)
25% Vitamin K1 (as phytonadione)
100% Vitamin B1 (as thiamine mononitrate)
294% Vitamin B2 (as riboflavine)
50% Vitamin B3 (as niacin)
100% Vitamin B5 (as pantothenic acid)
100% Vitamin B6 (as pyridoxine hcl)
200% Vitamin B12
100% Folic Acid
100% Biotin (as d-biotin)
3% Calcium (as calcium lactate)
20% Zinc (as zinc gluconate)
21% Selenium (as selenium amino acid chelate)
100% Iodine (as potassium iodide)
33% Molybdenum (as sodium molybdate)
Citrus Bioflavonoids
Other Information About the Supplement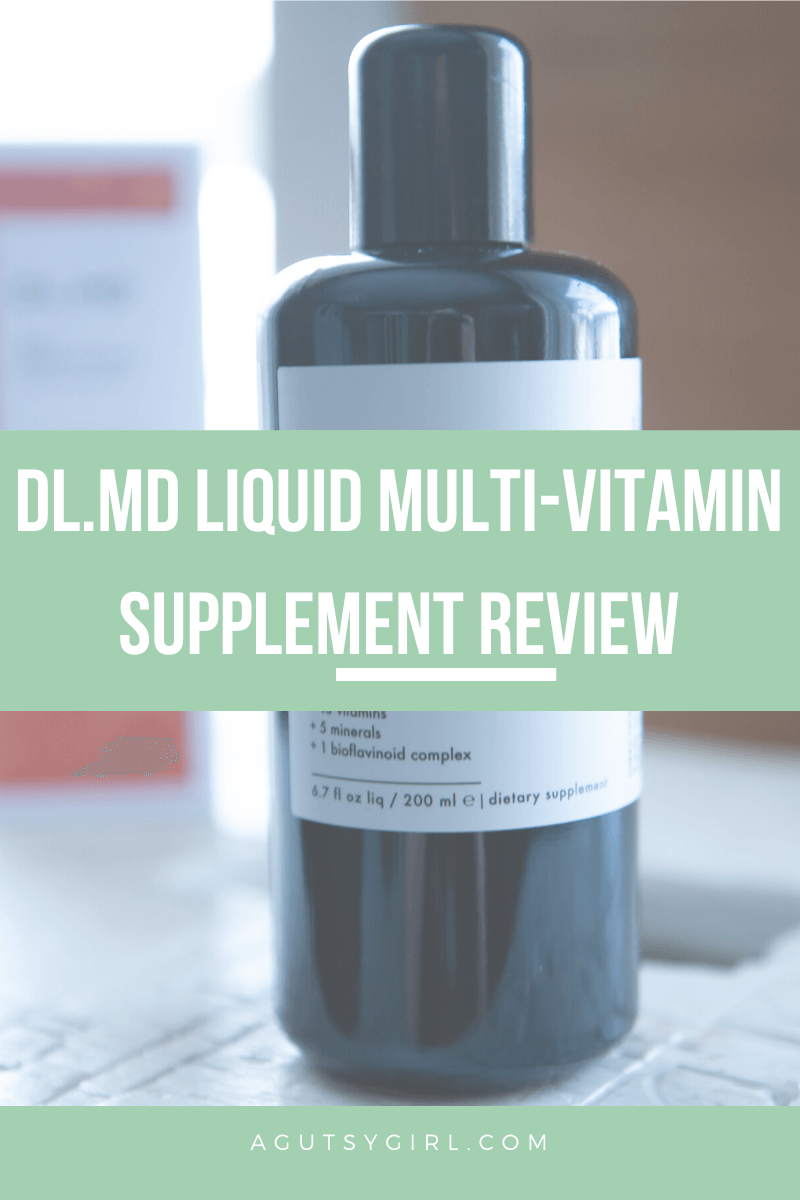 But wait, there's even more.
If you take it on its own, it tastes like berries. When mixed with water, flavorless.
You can take it anytime of the day. With/without food. 1-2 teaspoons a day everyday with/without water.
It is a clean and safer formula. Even though the FDA doesn't regulate vitamins and supplements, DL.MD is tested by an independent lab to ensure it contains the percentage of ingredients that is written on the label.
Men, women, and children over the age of 4 can take it.
Two Interesting Facts about the DL.MD Multi-Vitamin Product
The product's packaging. The product comes in a Miron glass bottle. This is because liquid stored in Miron glass stays fresher for longer and the glass also preserves the dynamic energy of what is stored inside. Miron glass also offers:

Protection in the visible spectrum from blue to red
Quality protection for long term storage
Preservation of bio-energy
100% recyclable

Giving back. By supporting the brand, you're giving life-saving vitamin supplements to children in need. They believe that good nutrition, especially in childhood, delivers important lasting gains. Each year, more than 2 million children under 5 years of age die due to malnutrition. DLMD helps support nutritional programs and vitamin supplementation for those in need through Helen Keller International. We help deliver Vitamin A, Iron and other critical micronutrients to children and pregnant women.
Bonus: You can reuse your miron glass as a water bottle, to store juices, teas, rosewater, etc.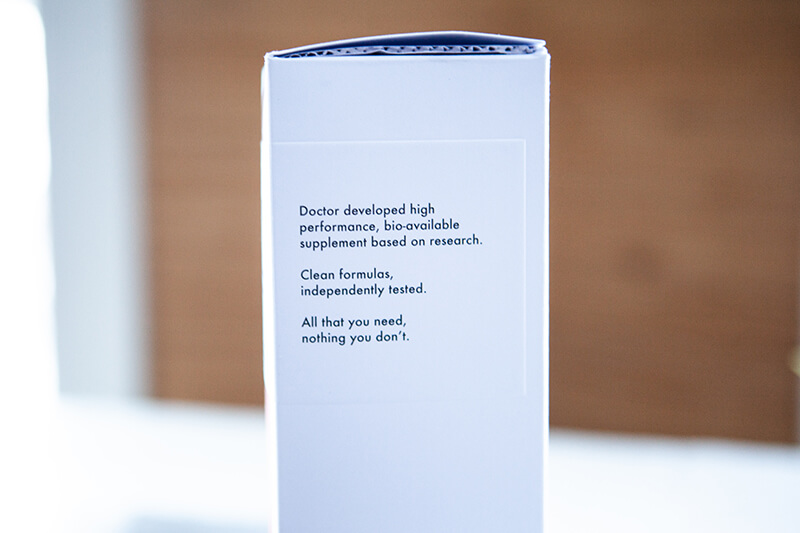 Why I Chose DL.MD Multi-Vitamin
I ended up choosing this multivitamin for all the reasons mentioned in the post, but also because it bypasses the stomach so it is great for people with IBS, IBD, Crohn's and Colitis. Additionally, the product is low-FODMAP. So, on multiple levels I felt great about recommending it for the Gutsy community.
If you're interested in grabbing a bottle, click HERE to purchase. I don't make anything when you purchase, but after researching it, believe this is a high-quality multi-vitamin for those of you in the market for one.
Stay tuned for the next post in this series when I talk more about why supplement with a multivitamin and if/how it can help with gut health and healing.
Disclosure: This post is a paid partnership with DL.MD Multi-Vitamin. All opinions stated here are 100% my own. I appreciate your support, as this compensation helps with expenses to keep this blog up and running, and for me to continue sharing all that I can with you. For my full disclaimer and disclosure click HERE. Thank you for your support!
Xox,
SKH
You will heal. I will help.