Have I told you yet that I love all things gut-health research? Today I'm giving you the Gut Connection Digestive Balance review.
When I wrote Minimalist Approach to Gut Healing Supplements, I stated,
While I now take a minimalist approach to gut healing supplements (and believe you should do the same), I'll continue sharing all about different supplements, all the time – whether or not I take them both here on the blog and for my Instagram Supplement Sunday feature.

Why? Go back to my peanut butter, ants, and mice analogy. The supplements on my list above might be completely irrelevant for you, but something like Adrenal Glandular (which I no longer currently need) might be very relevant.

I'm here for you now that I have healed to the place I have. The goal is to provide any and all information possible, and then leave the decision up to you (+ your doctor).
And I still stand behind this whole-heartedly. My job is to provide you new products, resources, and information so that you can make the best decision for you.
Remember, I am healed so I'm no longer in the ring for trialing and needing all the things.
Gut Connection Digestive Balance Review
Click HERE to save this post for later.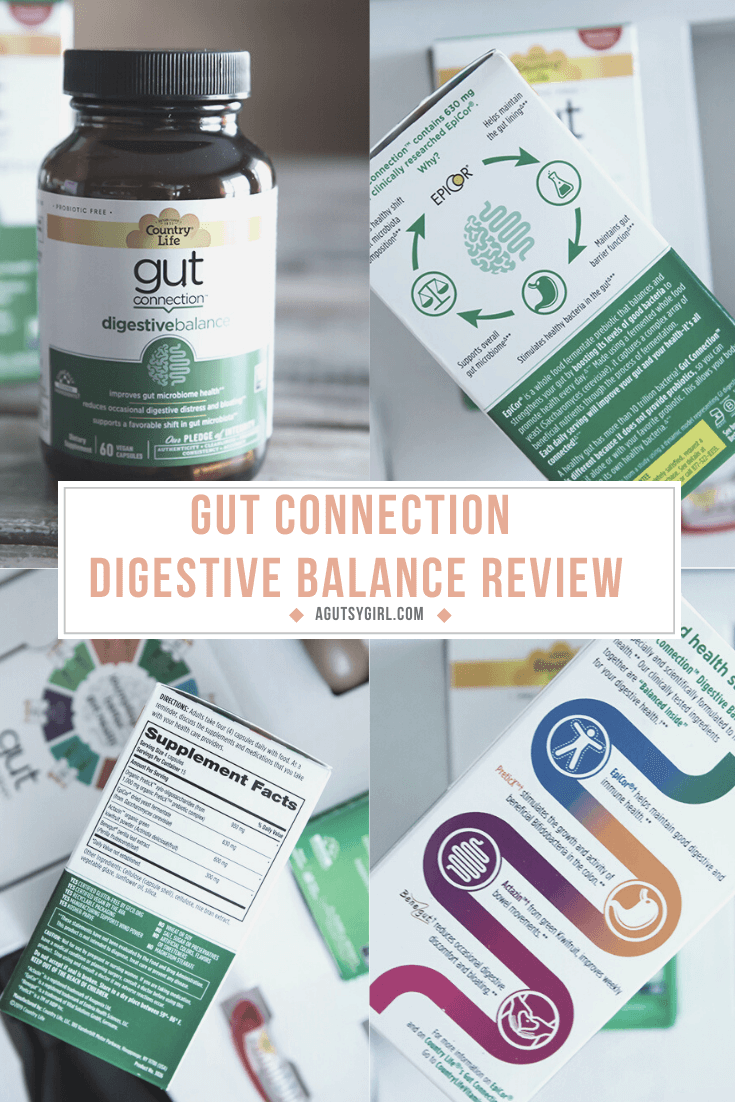 I was first introduced to this new line by Country Life Vitamins last year at Expo West when I attended a presentation my friend and colleague Ashley Koff was doing for the brand. I was intrigued to hear what she had to say.
Shortly after, Country Life reached out to me to see if I would be interested in working with them. My thoughts simmered in order to formulate in a cohesive manner prior to putting this together for you.
Let's dive into the facts.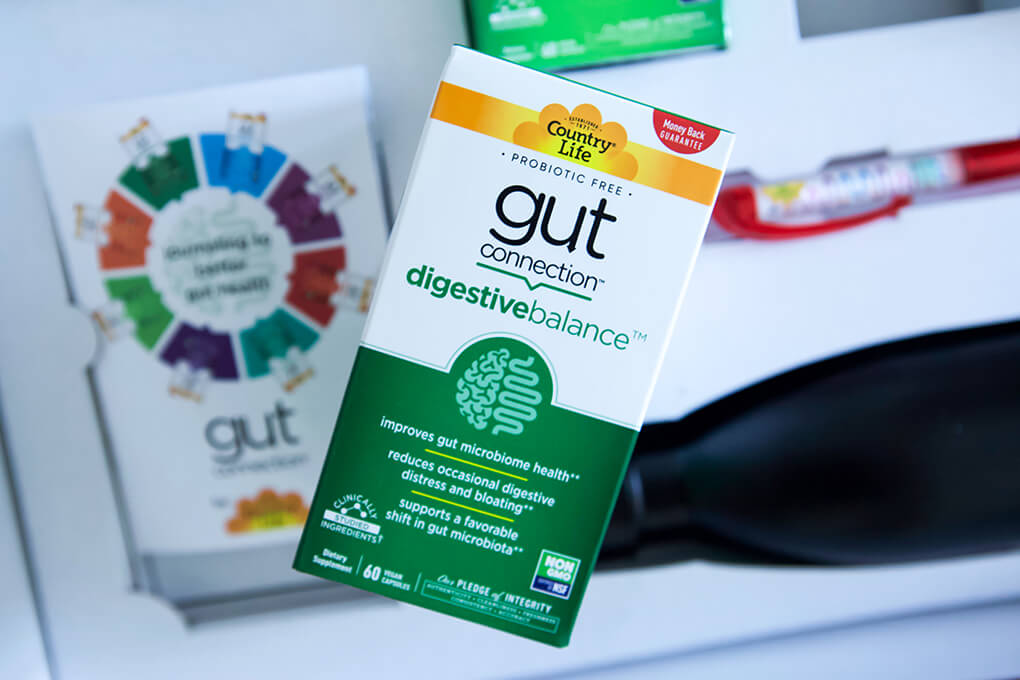 What is the Gut Connection Digestive Balance?
According to their website,
Gut Connection® Digestive Balance™ by Country Life® is specially and scientifically formulated to help to improve your digestive health.
The products hold three primary goals:
Improves gut microbiome health
Reduces occasional digestive distress and bloating
Supports a favorable shift in gut microbiota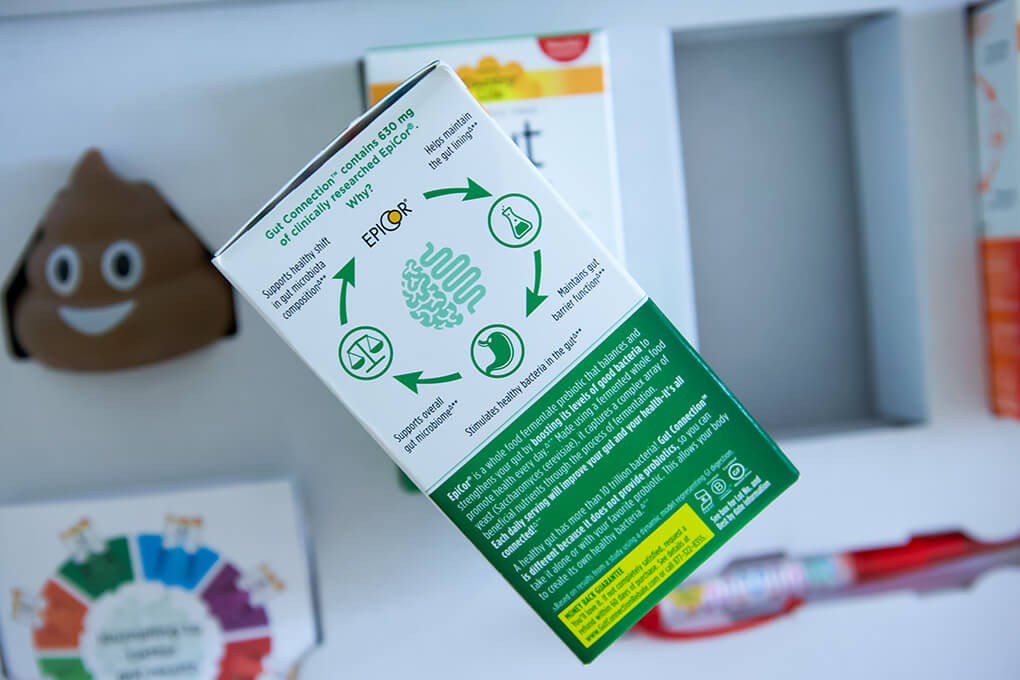 This product is certified gluten free and vegan. It's kosher and comes in recyclable packaging. It contains no wheat, soy, milk, salt, sugar, preservatives, artificial colors, flavors, or sweeteners.

Ingredients Contained in the Gut Connection Digestive Balance
The main ingredients include the following below.
Organic PreticX xylo-oligosaccharides
PreticX® significantly modified gut microbiota in both healthy and over-weight subjects, and resulted in dramatic shifts of four bacterial taxa (populations of organisms) associated with people who had abnormal glucose levels.
non-GMO project verified and has been clinically shown to increase bifidobacteria in the colon and aid in healthy digestion, effective at low inclusion rates, making it a versatile and stable ingredient for use in both supplements and food products
shown to decrease the Firmicutes/Bacteroidetes ratio in recent UCLA studies 1,2An increased Firmicutes/Bacteroidetes ratio has been suggested to be associated with over-weight gut microbiota3
presents a compelling option in both foods and supplements to effectively target and promote growth of specific gut bacteria that is already present in the large intestine, with an ingredient that is safe, efficacious, stable, and presents few side effects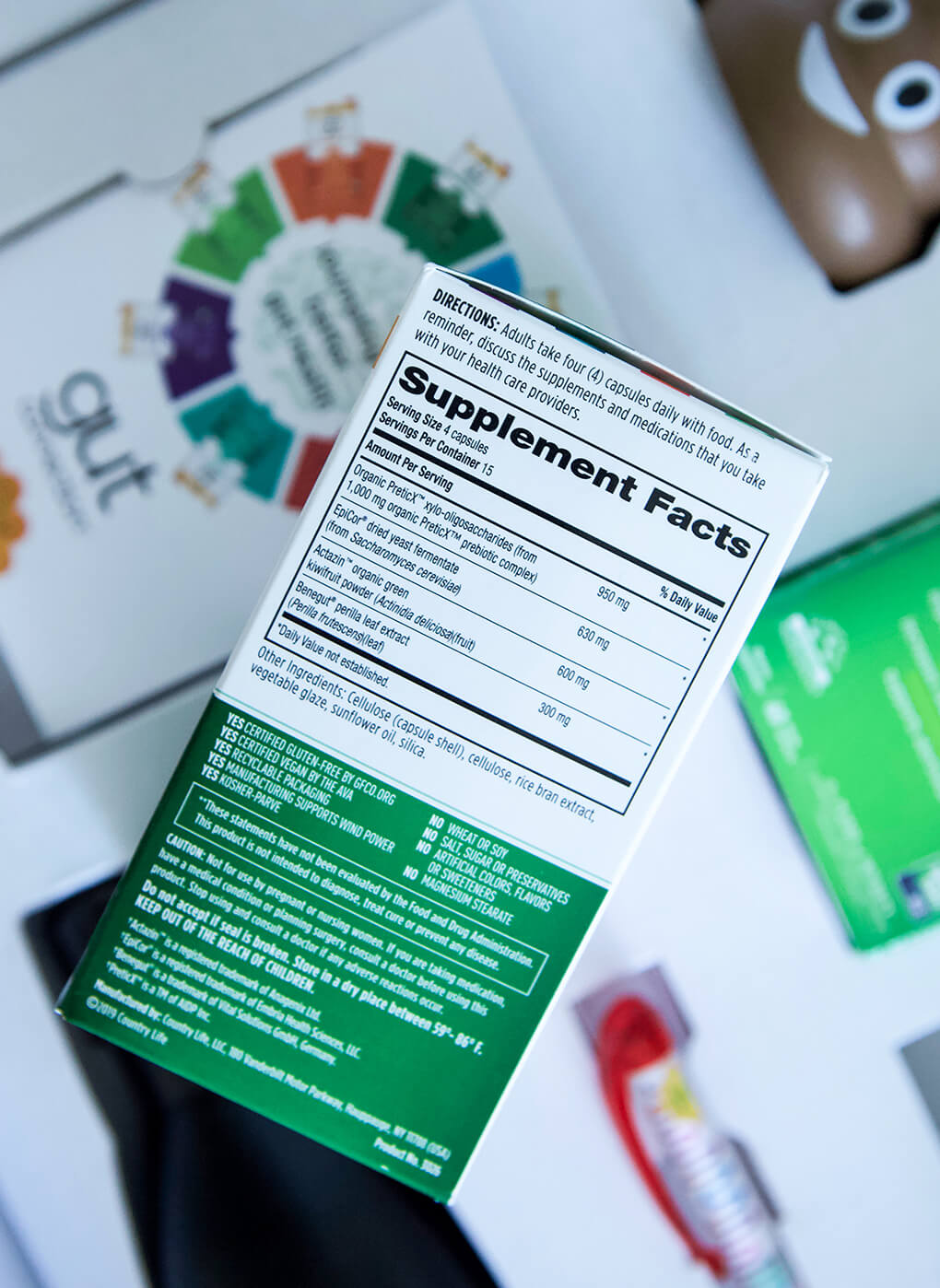 EpiCor Dried Yeast Fermentate
This ingredient is considered a whole food because it is minimally processed and refined. EpiCor is made using natural ingredients that go through fermentation processes to produce a whole, natural product. It is not an extract, chemically synthesized or made from by-products.
The point of using it is to strengthen rather than boost the immune system.
With this ingredient, you may:
see significant improvement of symptoms such as bloating/distension
improve stool consistency
help the constipation-associated quality of life and general perceived stress
The NIH also proved the reduction of inflammation through their studies.
Actazin Organic Green
Actazin Organic Green is a whole-fruit kiwifruit powder. Its intended benefit is to improve bowel regularity.
Here is a great demonstration for how it works.

Benegut Perilla Leaf Extract
This ingredient is an extract obtained by water extraction out of dried Perilla frutescens leaves, an annual edible herbaceous plant, native to Asia. Perilla frutescens is a member of the family Lamiaceae. Perilla fructescens extract is a food supplement. The extract is hydrophilic and can easily be dissolved in water. It comprises e.g. 10 different flavonoids, caffeic acid and rosmarinic acid.
In studies, Perilla extract improved all GI discomfort symptoms (bloating, passage of gas, GI rumbling, feeling of fullness and abdominal discomfort) significantly over the 4-week intervention.
Sources: HERE, HERE, HERE, HERE, and HERE.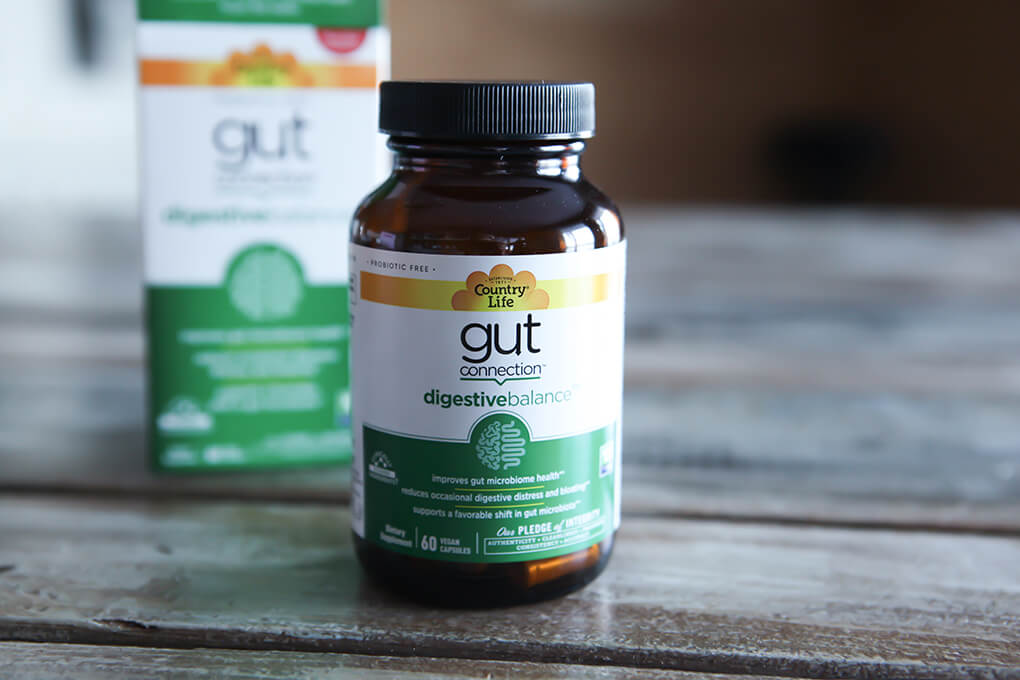 Final Review
After researching all ingredients, I will say that I can only have a positive Gut Connection Digestive Balance review viewpoint.
Though the ingredients aren't heavily researched, they definitely all have studies to back them up. Furthermore, every single ingredient assists and/or elevates the gut function.
I will say that I don't love the idea that one serving is four pills, nor do I love the size of the pills in general.
The Gut Connection Digestive Balance is part of a product line from Country Life. The line also includes:
Immune Balance
Energy Balance
Cognitive Balance
Stress Balance
Mood Balance
Sleep Balance
Weight Balance
You can grab any of them HERE and/or grab the Digestive Balance one HERE.
Let me know in the comments below if there is another one of the seven you'd like me to cover.
Disclosure: This post is a paid partnership with Country Life Vitamins. All opinions stated here are 100% my own. I appreciate your support, as this compensation helps with expenses to keep this blog up and running, and for me to continue sharing all that I can with you. For my full disclaimer and disclosure click HERE. Thank you for your support!
Xox,
SKH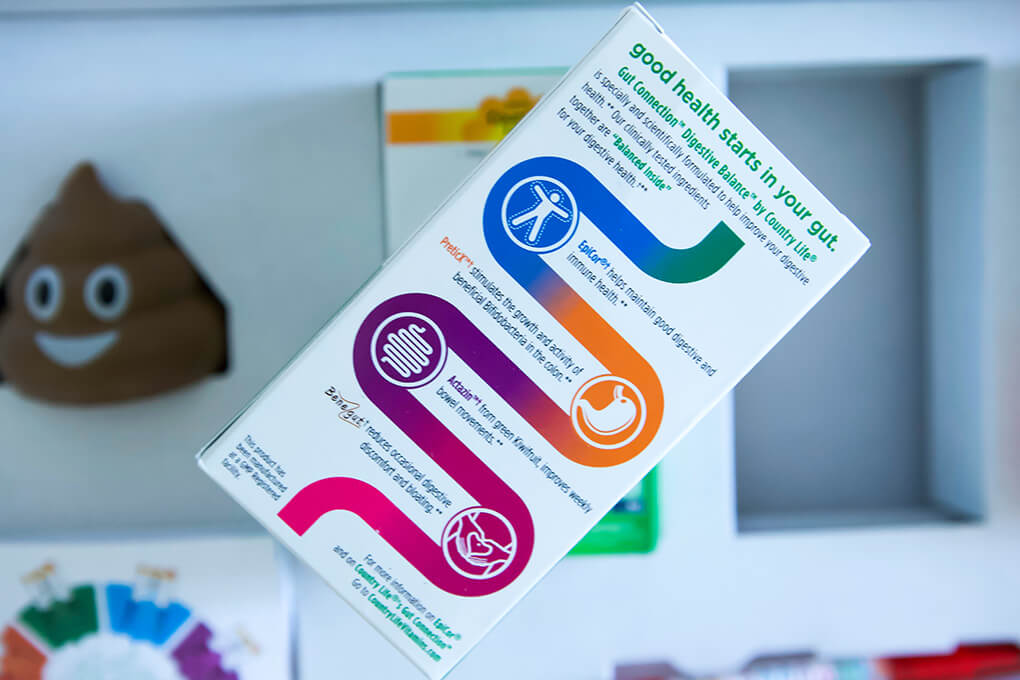 You will heal. I will help.