This is the last sort of "recap + goals" post I'll do before hitting all the new 2019 content I have planned here. Today I'm sharing the 2019 Reader Survey Results.
Thank you to everyone who weighed in your thoughts and provided valuable feedback.
The random winner of the Beautycounter giveaway is Carrie. I have emailed you, so please be sure to check your email. As a special thank you to everyone who filled the survey out, if you would still like to get something to try from Beautycounter to try, purchase it, drop me a line HERE letting me know, and I will refund you $10 off anything you buy.
2019 Reader Survey Results
What is your favorite way to consume content?
Your top 3 ways to consume content are:
Blog posts
Visual – images
Visual – graphics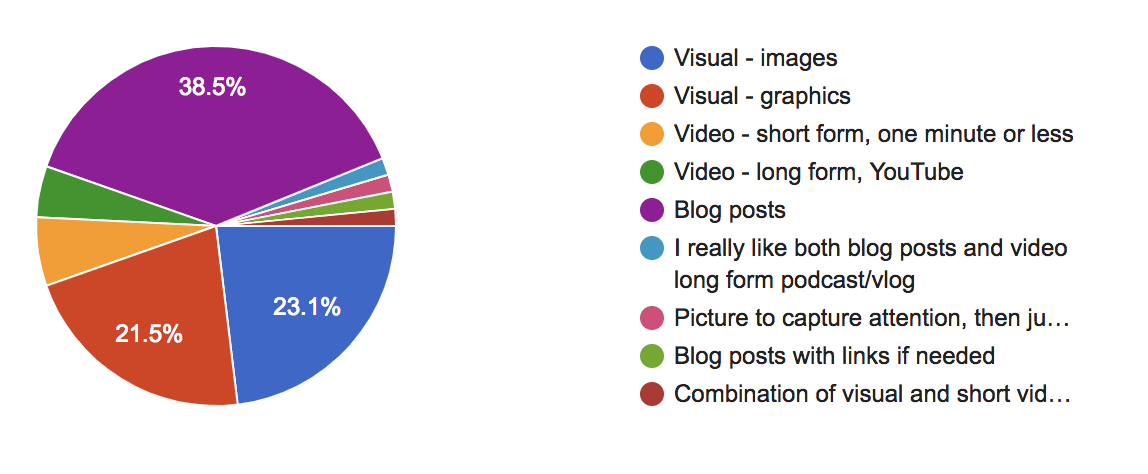 This is primarily what I have planned for 2019, though I am really interested in testing more of the video waters. I also have an idea for a new form of media on my blog. I'm currently exploring the best way to make it come alive.
What topic(s) do you enjoy reading about most on my website?
The top 3 topics you enjoy reading about here are:
Gut health and healing
General wellness
Everyday life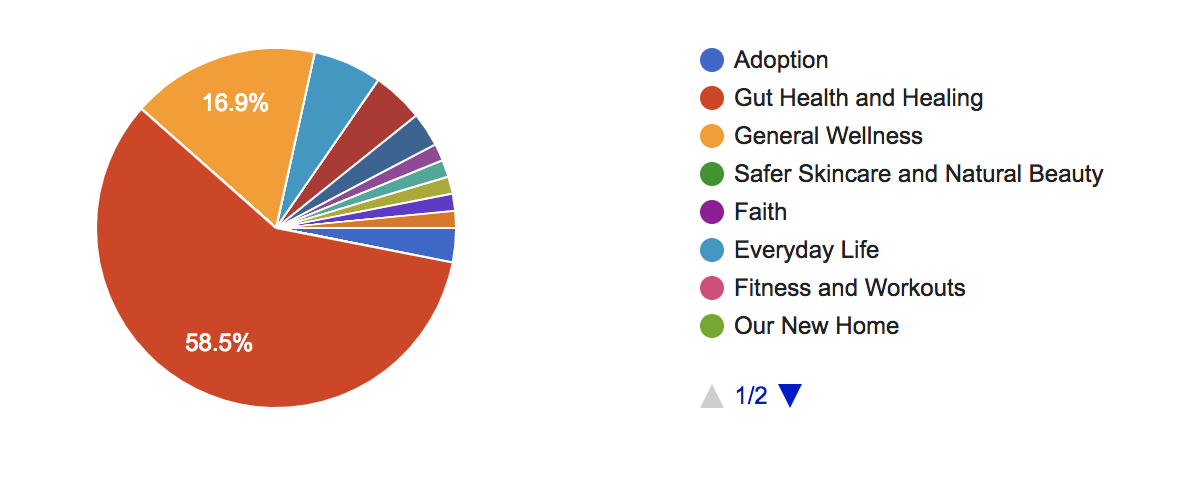 Those 3 outweighed everything else, by a long shot. It doesn't surprise me – not even a little bit. From a business growth standpoint, I started focusing on those 3 topics most of the time in 2018. And everything grew exponentially.
If you want the honest truth, it is also an area I struggle with. I could produce content 24/7 around those 3 topics. I love it so hard. But also, I love the foster-adoption advocacy work. I'm just not sure anymore that this is my outlet for it. I'm doing a planning session with my good friend Hilary of The Intentionists soon to tap into that more.
What NEW topics would you like to see? Now is your chance to tell me everything you'd like to see me produce in 2019!
Holy cows! I got so many awesome ideas from you guys. Hundreds. So I'll just share 6:
Gut health specific to children. You've touched on it in the past with Isaiah, but hoping to see more.
I quite liked your book. Maybe an ebook i.e just about FODMAPs or similar.
More recipes for the Vital Protein products.
I always enjoy quick healthy recipes for gut health!! I have been struggling with IBS/constipation, SIBO, and gastroparesis and learning how to manage!
You may have already covered this, but more about the gut-brain connection. I've been dealing with gut issues alongside anxiety and depression for most of my adult life.
Benefits of using natural products.
And these, totally for fun, which made my heart do a happy dance:
More about the challenges of 3 Little ones so close together; more about your friends and get togethers.
It's not a new topic but I would like to know more about how to begin the journey of working from home.
Running a home with simplicity.
Finally, I just have to share this one because it's so specific, and gets right to the point:
Help for those who are combining multiple intolerances. For example, a blog post about how to substitute coconut flour for nut flour successfully in a recipe (for those who are Paleo but have oxalate issues. Almond flour is SUPER high oxalate.). A blog post about how to bake without eggs… how to successfully use egg substitutes like "flax eggs" (for those dealing with sulfur intolerance or are allergic to eggs). AND how to bake with coconut flour without any eggs!! Also, many with Candida are told by their practitioners to avoid even natural sweeteners such as honey or maple syrup. Those in the Autoimmune Protocol community often cannot have stevia or monk fruit. But some fruit is allowed. Could you have a blog post or recipes that only use fruit as the sweetener, AND do not use nut flours or eggs? Like a successful coconut flour banana bread recipe (banana makes a great sweetener!), or a berry cobbler? Thank you!!!!!!!!!!!!!!!!
Would you like to see me run another 21-day group health coaching program in 2019?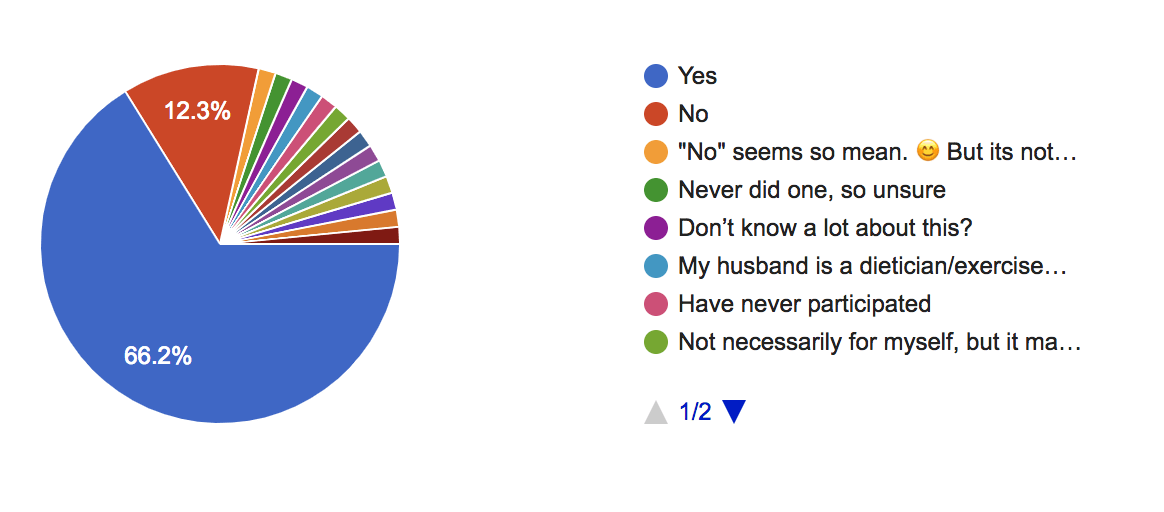 Well thank goodness I decided to move forward with one. And as a special bonus, I made it free this year. It started yesterday. You can still sign up HERE. (Each day I send out the email, I will have links to all previous days/emails so you don't miss a thing.)
What types of recipes do you enjoy?
Again, hundreds of responses, so I'll just share a variety of them:
Easy
Instant Pot / Crock Pot
Gluten and dairy free
Low-FODMAP
Paleo
Free from the top allergens
Comfort food made healthy
And my favorite, "Sorry I don't really cook anymore." I had to laugh, but I actually do address this with product recommendations. I believe there is something for everyone no matter what journey you're on or where you're at on it.
Loved all your suggestions. You better believe they are all written down in my new 2019 Bullet Journal + content planning spreadsheet.
Here were some of the top things stated:
Supplements
Your family and home
Life's ups and downs. I enjoy your realism. Also excited to see more of the house!!
Gut health tips and safe skin and household items.
Quotes, gut healing lists, stories of your hilarious kiddos.
Beautycounter highlights/demo.
More exercises
Quick ways to help IBS flare ups
Love recipes, supplemental Sunday's! And just that you share honest "real" life posts!
How you healed, via tests and how long it took, also Perioral Dermatitis.
What I saw as a main theme from this is that Instagram is the place where you want to see almost everything; business, healing, and family. It's kind of why I separated my Instagram spaces. For all things business and healing – almost 100% gut, it's A Gutsy Girl. For all personal and business, it's Sarah Kay Hoffman. See you there!
Any other thoughts or comments?
You guys are so sweet. Fact, the other night, someone left an awful comment on my blog (Updated to add: Everyone has been asking to see what it was. You can see it at the bottom of THIS post). I approved it and responded because when I tried to personally email her back, the email bounced (go figure). I'm getting used to developing a thick skin because I do get mean and hateful messages here and there.
But then I get messages and comments like this, from all of you, and I choose to focus on them instead.
Here were some of my favorites:
Thank you for understanding SIBO! Not many Instagrams do!
It's my favorite gut healing page, book, blog, insta etc! Best advice and presentation by far! Keep it up!
You have helped me more than you realize these last few years. I look forward to your 2019 content.
Keep growing. I'm so proud of you!
I love how real your blog is. The daily struggles make me feel less alone as I raise my littles.
I am glad I found your blog. I have been suffering for a long time and am now getting answers!
I love your blog and it is already helping me. It is nice to have support when no one around me personally understands the struggle of IBS and terrible stomach issues. Thank you!
Gracias por compartir tu experiencia.
My word for 2019 is "faith," I want more than ever to accept that there is a plan for me and to stop getting in my own way. Learning to listen will be key.
Cue the tears. And have I ever told you that I am so grateful you come from all over the world to hang out with me here?!
And now I'm ready to keep on giving, sharing, providing, and helping YOU as much as I can in 2019.
Don't ever hesitate to CONTACT ME with ideas, thoughts, comments, anything. As I grow, my response time usually isn't within 12 hours anymore, but I make it a priority to respond to every single person.
Xox,
SKH
You will heal. I will help.