Intention. Moving towards living intentionally.
I've been thinking on my one word for quite some time now. Initially it was actually three words. But as I sat down to create my 2019 bullet journal yesterday, it all became clear that one word was all I truly needed. Intention is where I landed.
This is now the seventh year I've chosen a "my one word." Here were the previous years:
It has been so much fun to look back on these year-to-year. After doing it for seven years now, I can see how my life has changed, where I have been at (on the whole) during certain years.
I see how 2013 – 2015 were massive years of trying to figure out my gut and heal. After that, it seems I wanted more (er, less?)
Last year, all I needed was to embrace change. And wow! Did I ever. There were the changes Y'all joined me for and saw daily; the California to Minnesota move, my dad getting sick, living in a rental house for a year, moving yet again, and helping us all adjust to this new life.
But there were, in fact, other changes in my life that were just as significant (if not more) that no one saw. They all happened during that time period of learning my hardest 2018 lesson.
When I look back on 2018, I see so much joy and happiness, but I also see a lot of super deep and emotional, real and raw trudging through the mud. So many things that were not fun; and yet, critical.
Without even knowing it, Embracing Change was the most perfect 'my one word' I could have set for 2018.
to willingly accept the act or instance of making or becoming different
The hardest part of that was "willingly," but once I gave in to it, I found myself truly embracing change.
Coming out on the other side when a brand new year is about to start, nothing struck a chord more deeply with me than this word, Intention.
My One Word Intention
Click HERE to save this post for later.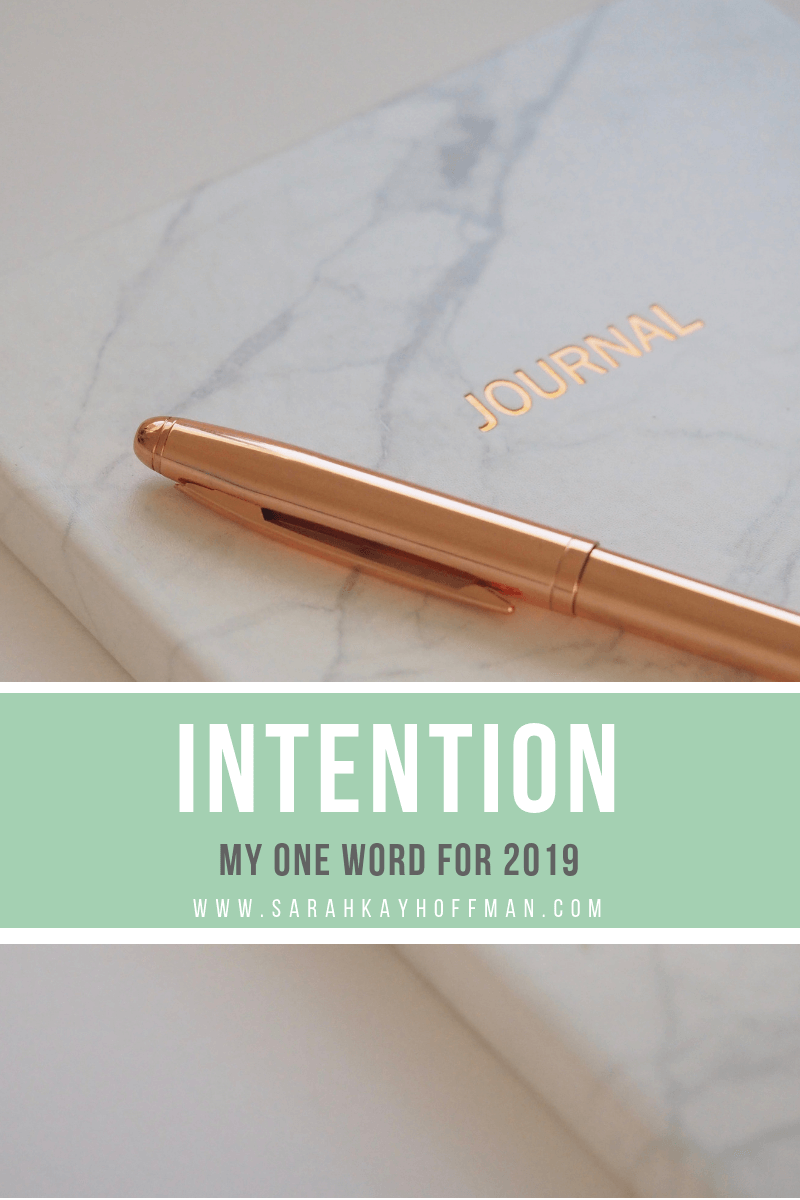 There are two meanings of the word intention in the thesaurus,
a thing intended; an aim or plan.
And the other, which you might not be aware of is,
the healing process of a wound.
When I saw the both, side-by-side like that, I knew this was all me, all 2019.
Every single last thing I have meditated on and written down during my last week of planning was approached with 1,000% intention.
They say when you share your goals and intentions you're more likely to achieve and stick with them.
I'll share mine (all but a couple) with you on New Year's Day. (Read it HERE –> Living with Intention.)
My hope is that by sharing 'my one word' and the actions that correlate with it, you will be inspired to create your own 'my one word' and actions to accompany it.
In the meantime, if you have not yet signed up for the Free 21-Day Gut Healing Inspiration Journey, be sure to do so before January 1, 2019. It's going to be 21-days of pure health and healing inspiration. I want this for you, too!
p.s. Have you already set your one word for 2019? Share it in the comments below. I love seeing what other people set.
Xox,
SKH
You will heal. I will help.