Oh mama, now a list for you! This week I covered all your Gutsy needs and the children's list, but today is for you…..all 37 wellness and lifestyle holiday gift ideas are just for you.
I realize that this is actually my list, but it's my hope that it inspires you for something of your own.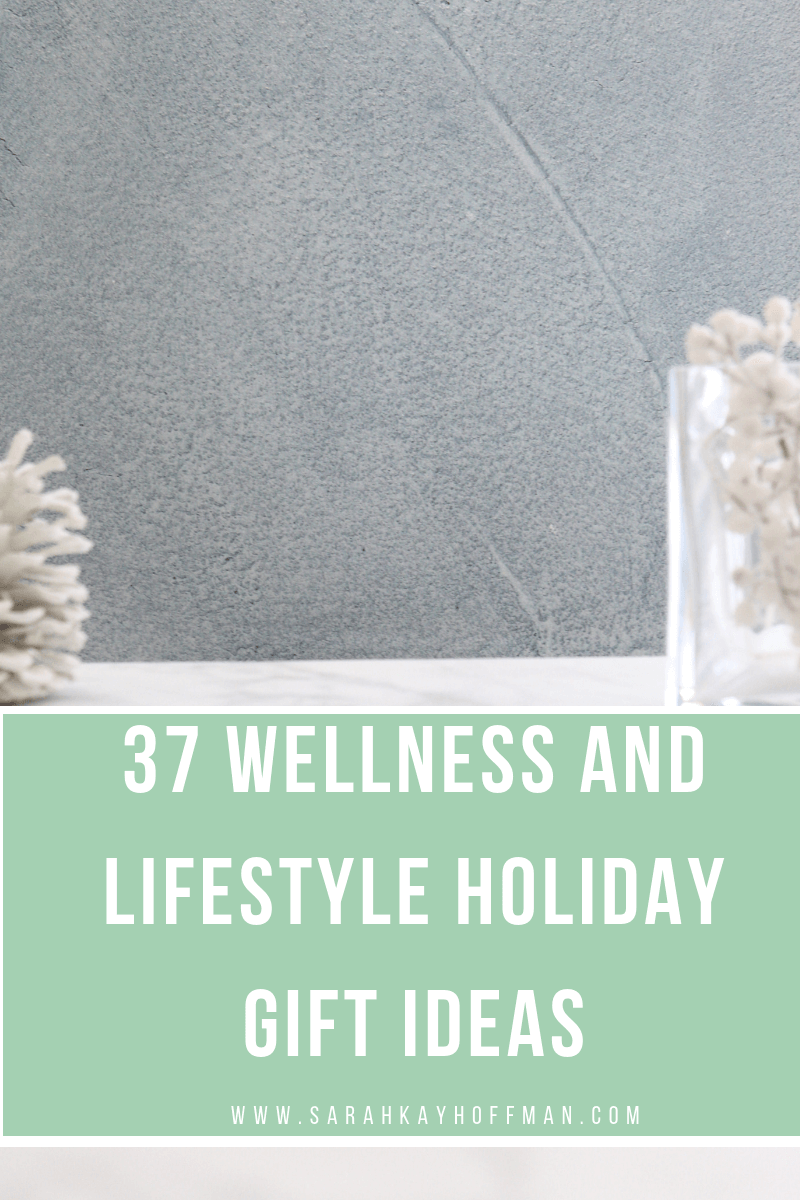 If you're interested in more wellness and lifestyle ideas, check out:
Here are all the 2018 Holiday Gift Guides:
37 Wellness and Lifestyle Holiday Gift Ideas
Click HERE to save this post for later.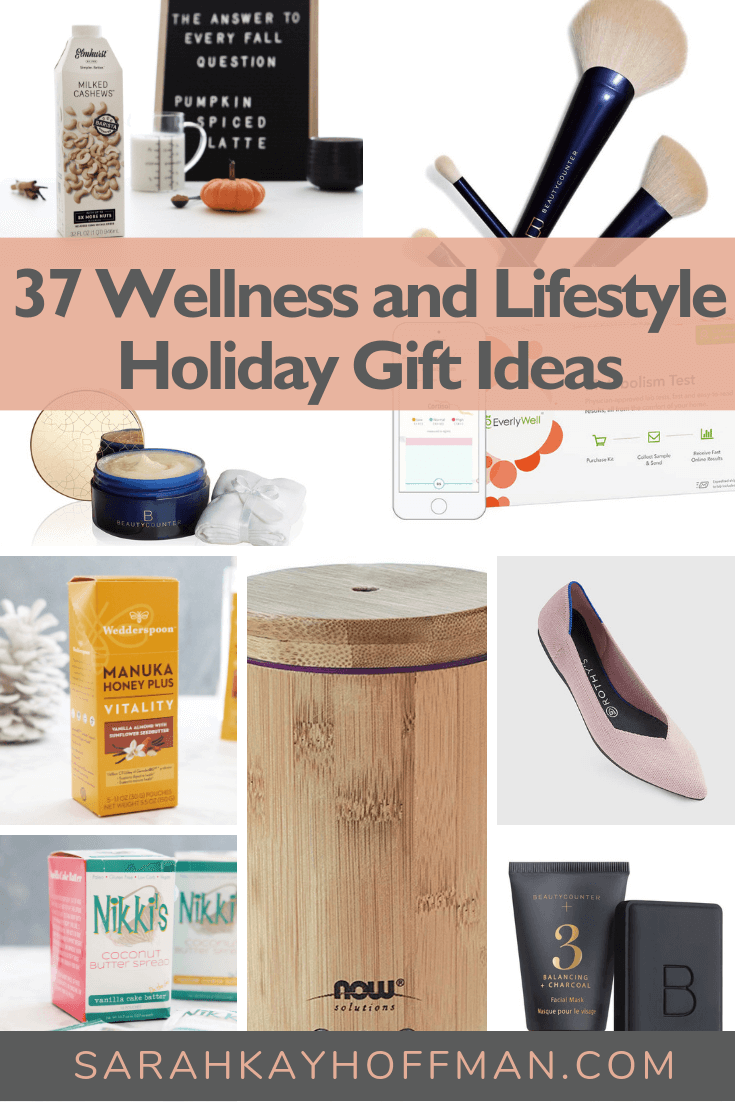 Beautycounter Cleansing Balm. I'm putting this one first because it's my current favorite Beautycounter product. I bought the original one first, and now I also grabbed this limited edition one. This is perfect for those of you with dry skin. It double acts as a deep nightly moisturizer, too, as you can leave it on all night instead of washing it away if desired (what I do).
Marshmallow Shaped Hot Chocolate Mugs. So much fun. I've been gushing over all things ceramic.
Smeg Kettle. Is this not the cutest kettle you've ever seen? I want it in Cream, but it also comes in colors like pastel blue, black, pink, and pastel green.
THRIVE Market Membership. I put two items on this list that were on the gut one. This is the first. If you don't have a membership yet, get one for yourself or ask for one this holiday season. A year membership is just $59.95. You'll always get free shipping over $49, and you'll have a 30-day trial membership (in case you don't like it). Each day they have free things you can get with your order, and all items are discounted from what you'd pay in the grocery store. For anyone who lives in rural America like we do, this is a must-have service.
Wake, pray, slay tank. Perfect.
Mitts. I love these stitch mitts from The North Face. Blue and grey are my favorite colors.
6-pack of Elmhurst Milked milks. When I was in Palm Springs at Wellspring Wanderlust, women kept saying that they were going to have 6-packs of these milks sent and would give them for gifts. Such a great idea. With just a $25 purchase, shipping is free and that's about 6 cartons of the milk. Mix-and-match as you choose. You could also grab my favorite, the Milked Cashews HERE.
Terra Cotta Planter. I'm kind of into Terra Cotta currently. Last summer I bought a bunch of succulents that I have been nurturing. Anyways, succulents are the gift that keeps on giving, so with the overflow I need some new planters.
Yoga Sling Sanuks. Sanuk shoes are incredible, and these are a new style that I absolutely love. Get some Sanuks if you've never had a pair. They are made from recycled yoga mats.
Avocado Mattress. This is definitely a big ticket item, but because I'm 99% certain we are getting this for our new room, I believe in it and wanted to include it on this list. It's an organic, natural mattress that gets really great reviews.
12-pack glass water bottles. This past year while living in the rental, we have bought far more plastic bottles than I'd like to admit. To compensate for it, one of my big goals for the first year of moving into our new house is to rarely ever have the need for buying them. We'll have ample fridge storage, and my mom gave me this idea. I can fill them all at once, set in the fridges around the house so we can grab-n-go as needed.
The North Face Women's Crescent Full Zip. In Blue Haze. I absolutely love jackets like this. I live in them, literally.
Makeup brushes. I'm in need of replacing all my old brushes and upgrading with these. I love that they are animal-free bristles and made with artistry-quality taklon fibers.
Color Wheel. Don't ask me why, but I'm still fixated on getting a super cool color wheel for my new studio apartment. Etsy has so many neat ones. Which one is your favorite?
Nikki's Coconut Butter Squeeze Packs. Yes! Nikki's finally came out with on-the-go packs. There is a Cashew Cookie Butter and Vanilla Cake Batter that would make pair perfectly in a health and wellness gift basket or as stocking stuffers.
Bose Wireless Headphones. I've been wanting these for the gym for quite some time now. They are a little pricier, but would get great use. The white ones are my favorite.
PurseN Travel Pillow Organizer. I have been traveling a lot lately. 2019 is not likely to slow down. I'm all about traveling in comfort.
Massage, massage. Seriously, gift certificates for massages. Ask for them. They are the best!
8 quart 7-in-1 Instant Pot. I already have this, but if you do not yet, it's a must add to your list.
NOW Solutions Ultrasonic Real Bamboo Essential Oil Diffuser. I love this Bamboo diffuser. I have been breathing in many essential oils lately, and I really believe it helps calm the nervous system.
Apple watch. I still haven't gotten one and I barely wear my Garmin anymore.
Mama (custom date) Mug. You know you want one, too. Put Est. 2013 on mine 🙂
Lita Lewis. If you don't know Lita Lewis, get to know her. I met her "coincidentally" (to which she responded, "nothing happens by chance") at Wanderlust. She had her clothing line along with her, which I adored. I'm wanting THIS and THIS.
Band of Beauty Membership. For just $29 you can have a Beautycounter Band of Beauty Membership which means you'l always have access to: free shipping on orders $100+, a welcome gift when you spent $50+, 15% product credit, and exclusive members only offers. Ask for this along with your favorite lipstick for a great gift.
Everylywell. This one was also on my gut holiday list, but from a health and wellness standpoint – especially for women – I think this company is going to change lives. The tests offer simple sample collection, free shipping, and physician-reviewed results and insights sent to your device in just days. In other words, you can get a test (like a Food Sensitivity one for example), take it at home, and find out results without ever stepping in a doctor's office.
PACT Lightweight Hoodie. I love the Shimmer Heather color.
Rogue Rowing Machine. I still want one of these to add to our home gym. It's been over a year since I've had a gym in our house, and I'm looking forward to getting it back.
Peloton Bike. Also for the home gym. They are all the rage, and I love spinning.
Groovebook. What to do with all those cell phone pictures you take? Groovebook it. Ryan and I have been doing one of these, monthly, since around the time we got Samarah. Each month, you upload any and all photos from your phone to the app and then once a month, Groovebook prints those images and snail mails them to your house so you have physical copies. See if you like it by taking advantage of one month free by using code: HOFFMAN193 at checkout. (BTW, a 12-month subscription is just $47.88 which is a great gift for family members.)
Wedderspoon Vitality. These are on-the-go, Manuka Honey Vanilla Almond with Sunflower Seed Butter packs. They would make a great small gift or stocking stuffer.
Fingerless gloves. My favorite. Sure, I need some super warm ones for the deep of Minnesota Winter, but I wear the fingerless ones on the daily.
Redmond Earthpaste Natural Non-Fluoride Toothpaste. My favorite toothpaste. Comes in a set of 4 (Lemon, Wintergreen, Cinnamon, Peppermint).
Winter Pom Pom Beanie Hat. How cute is this? I actually just bought it:)
Charcoal Essentials. If you've never dipped your toes into the beautiful world that is Beautycounter, starting with the Charcoal Essentials might be your best bet. This is skin detox at its finest; I have and use both weekly.
Homebody: A Guide to Creating Spaces You Never Want to Leave. I'm wanting the Joanna Gaines books for a dual purpose; to read and for decoration.
Magnolia Table. As a huge foodie and food photographer, this is a staple book I'd like to have in my house, too.
Rothy's. Okay, are Rothy's not the most adorable shoe out there currently for women? I love the Pink Petal Solid Flat (pointed) and the Navy Solid (curved).
There you go…..my list of 37 Wellness and Lifestyle Holiday Gift Ideas. Will you steal any ideas for your own list?
Disclosure: Several brands and companies have sponsored this post, and many of the other links are Amazon Affiliate links. All opinions stated here are 100% my own. I appreciate your support, as this compensation helps with expenses to keep this blog up and running, and for me to continue sharing all that I can with you. For my full disclaimer and disclosure click HERE. Thank you for your support!
Xox,
SKH