This is the first year I didn't include all the baby items on my holiday list because our house is now full of toddlers and preschoolers. For reference, our children are 2, 3, and 5 and for all you mamas in a similar boat, here are 34 holiday gift ideas for toddlers and preschoolers.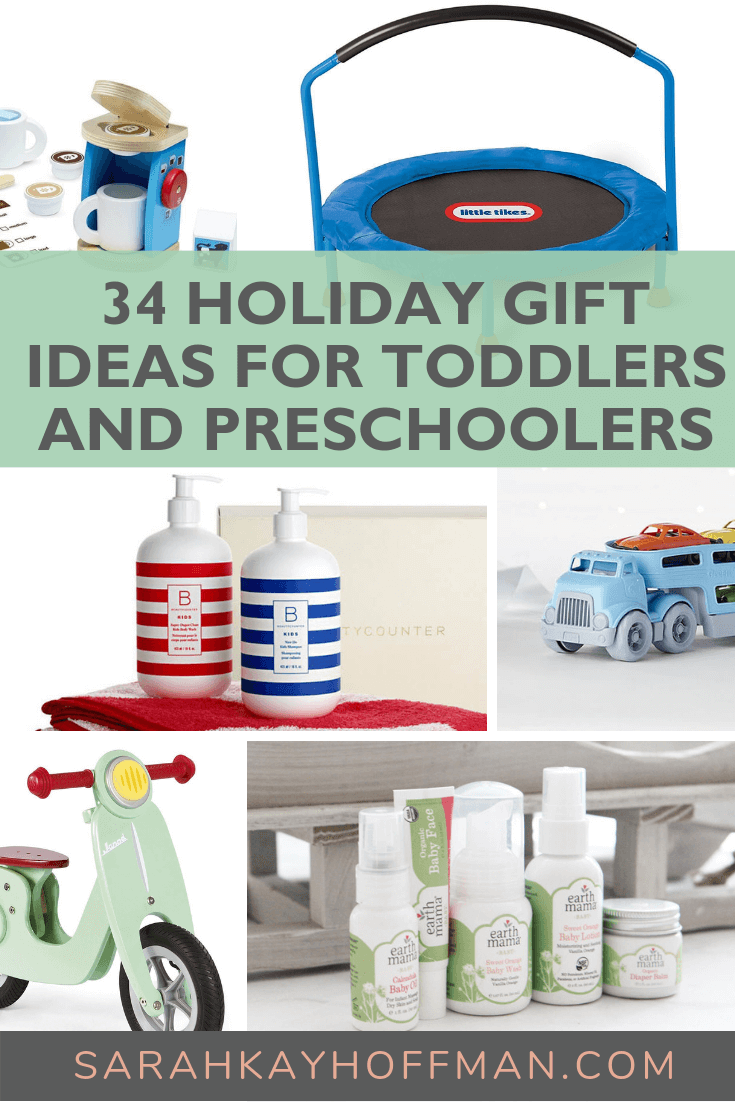 If you're interested in more ideas for babies and toddlers, check out:
Here are all the 2018 Holiday Gift Guides:
34 Holiday Gift Ideas for Toddlers and Preschoolers
Click HERE to save this post for later.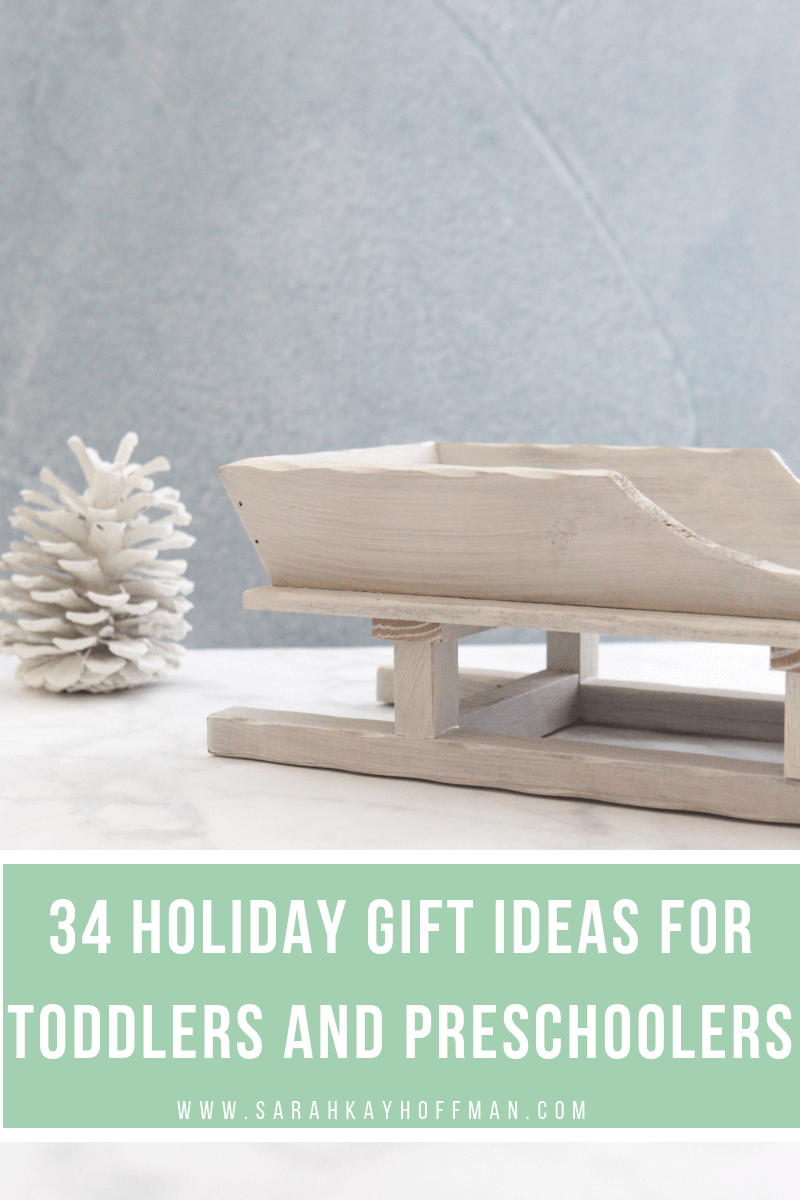 A Little Something for Baby. This is the only true "baby" gift item I included this year because I still use all of this on my kids. Earth Mama is incredible! An organic gift that's almost as sweet as a brand new baby. Because baby skin comes out wholesome — let's keep it that way! 6 piece set includes travel sizes in PVC-free pouch. Features: Organic Diaper Balm, Sweet Orange Baby Lotion and Wash, Calendula Baby Oil, and Organic Baby Face Nose & Cheek Balm. (Retails for $24.99.)

Zoo pass. I'm all about getting children actual gifts because they love them and are so excited when they receive them. However, I personally believe that, in the long run, experiences far outweigh things. A pass to the local zoo will be the gift that keeps on giving.
Splashtime Kids Set. I'm not sure about your house, but bathtime is the best time at ours. Safer shampoo and soothing suds make bathtime a breeze.

Mesh Bath Toy Organizer. Speaking of bathtime, the kids have a large new bathtub in our new house that they absolutely love playing in. Bath toys galore, so I need a little organization for it.
PAW Patrol Ultimate Rescue Fire Truck. Did I tell you that Isaiah was Rubble for Halloween? Last year he was Chase. The kid loves PAW Patrol. What kid doesn't?
Green Kid Crafts. Hands-on science and art kits delivered each month for ages 2-10+. I love the educational piece built right into this gift.
Green Toys Car Carrier. Spoiler alert, we got Isaiah THIS quilt for his new bedroom, so now I'm building around it. I love this toy for decoration.

Bulldozer Throw Pillow. A boy's pillow. Isaiah loves his pillows.
Children's museum pass. Like the zoo pass, this is another experience gift. When Katie was with us, we got this kids one of these and she took them all the time. I'm not sure who loved it most; Katie, us, or the kids?!
Rescue Runts. Adoptable pets that the kids can rescue, groom, and love. This is Samarah's heaven.
Interactive 100 Words Book. An educational book for 18 months to 4 years. Amiya likely has 100 words down already, but I think this would be good for expanding even more vocabulary.
Little Passports. I love this concept of a monthly basket the kids would receive to learn about different places around the world. Ryan and I love travel, and I hope to inspire that in the children as well.

Hape Wooden Toy Ukulele. My kids love music so hard. They have a couple guitars and are always strumming them.
Balloon Sham. Another spoiler alert. We got Amiya THIS quilt for her new room. This sham is its match. An adorable set for a little girl.
Pretend Coffee Maker. Ryan and I drink so much coffee that our kids are constantly "making coffee." The problem is when they try doing it with our real coffee maker. Problem solved. This is so cute.

Kids' Bath Wraps. I want one of these for each of the kids, and some towels for their new bathroom. Did I mention I'm a practical mama?!
Girls Can! Crate. Oh my gosh I love this so hard for Samarah. From Marie Curie to Bessie Coleman, Irena Sendler to Florence Nightingale, Patsy Mink to Malala – GIRLS CAN! CRATE inspires girls to BE and DO anything by introducing them to fearless women who made the world better. This is a monthly subscription box for girls ages 5-10 to help inspire and empower girls. How cool is that?!

Unicorn Underwear. Only one of the three children are potty trained. The one who is loves her some Unicorn undies. Did I tell you yet how practical I am?
Construction Plate & Utensil Set. Isaiah needs this. He would be so excited!
Baby Alive "Potty Dance" Baby Doll. Here and there, Maya started potty training. She also loves babies (like her big sister) so this would be perfect for her.
Mini Trampoline. We already have this so the kids don't need one, but if you don't, consider it…..especially those of you who live where long days tucked indoors are ahead. The kids love bouncing and flipping on this; I love the energy they expend.

Geosafari Jr. Talking Globe. This one is a little pricier, but for kids 3+, such a great learning tool. I'd love it for Samarah and Isaiah.
Build-A-Bear Workshop Gift Card. I love this one because it's an experience that also yields a gift at the end. There is a Build-A-Bear Workshop at the Mall of America, and I want to take the kids in the near future.
Foreign Language Blocks. Thank you, Dora! Samarah started showing an interest in learning Spanish. I'd love for my kids to learn Spanish. Ceci is fluent in four languages, so the kids have a fantastic role model to look up to!
Hot Diggity Dance & Play Mickey. If you've ever seen my children dance and sing along with anything, you know what a perfect gift this would make. For all your musical children, Mickey can help.
Unicorn Slippers. The options are endless, and my girls would love these. We are a cozy, slippers family during the colder months.
Vintage Pretend Kitchen. This is another item we already have, but if your kids don't yet, consider getting one. I can't count the number of hours our children have spent playing in their kitchen.
Janod Balance Scooter Bike. One of these for all three kids to share. I love all the riding and playing toys. The more active they can be, the better.

Children's Magazine Subscription. There are so many wonderful children's magazine subscriptions to choose from. A year subscription won't cost much, and they will have something to look forward to each month in the mail.
PJ Masks Deluxe Headquarter Play Set. All my kids love PJ Masks, but Isaiah would really love this.
Girls Dress Up Trunk. I'm all for girls being or not being whatever they do or don't want to be. Currently, though, our girls love dressing up. And when I say "dressing up," I mean, Samarah dresses up and then (even when she puts up a massive fight) gets Maya dressed in fancy things, too.
Echo Dot Kids Edition. I mean, don't all kids need one of these?
L.O.L. Dolls. Samarah got her first one this past year, and she really loves them now.
L.O.L. Surprise! Pop-Up Store. You know, to hold all those L.O.L's from #33.
So there you have it…..my list of 34 Holiday Gift Ideas for Babies and Toddlers. What's on your list?
Disclosure: Several brands and companies have sponsored this post, and many of the other links are Amazon Affiliate links. All opinions stated here are 100% my own. I appreciate your support, as this compensation helps with expenses to keep this blog up and running, and for me to continue sharing all that I can with you. For my full disclaimer and disclosure click HERE. Thank you for your support!
Xox,
SKH
You will heal. I will help.